Hellllloooooo internet! It's been far too long. I promise I've been cooking and eating a little too well during my absence.  Since it's a long weekend, I decided I could at least sneak in one blog post amidst my GMAT studying.  Only a few more weeks until I take the test, here's to hoping I get a good enough score the first time around that I don't have to do it again! Because I really miss brainstorming recipes to share on here.  As for my breakfast…it quickly disappeared after I took pictures of it 🙂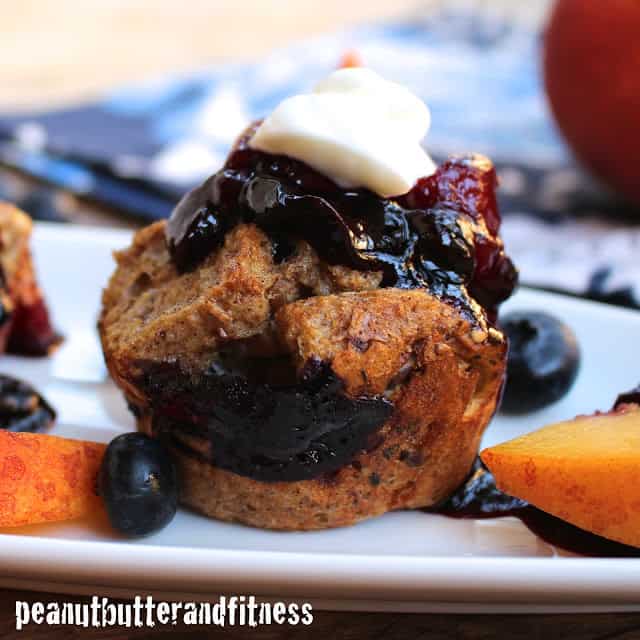 Can you believe that this is my first ever attempt at some form of French toast making during my adult life?  Some of you may recall my early attempts at diversifying my breakfast last year (ie. quitting cereal)…it took me a while to work up to making pancakes.  And here we are at French toast cups.  They're freakin' delicious!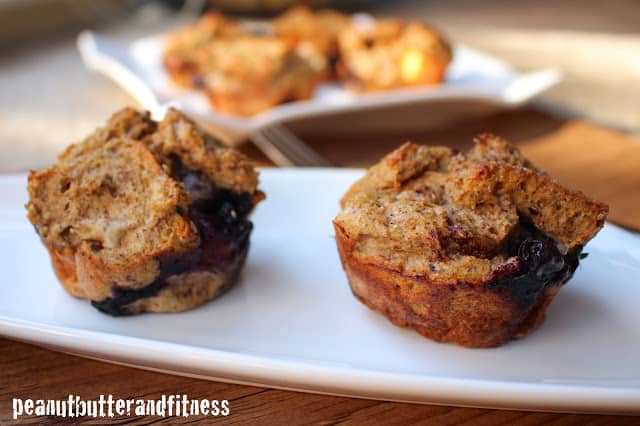 I was a little concerned with the type of bread that I used that these cups might be dry…but never to fear.  They soaked long enough in the egg mixture that they are perfectly moist 🙂  And such a pretty golden brown!  Oh, and guess what I added into the usual egg/milk French toast mix?  PROTEIN POWDER!  So two of these cups has 14 grams of protein 🙂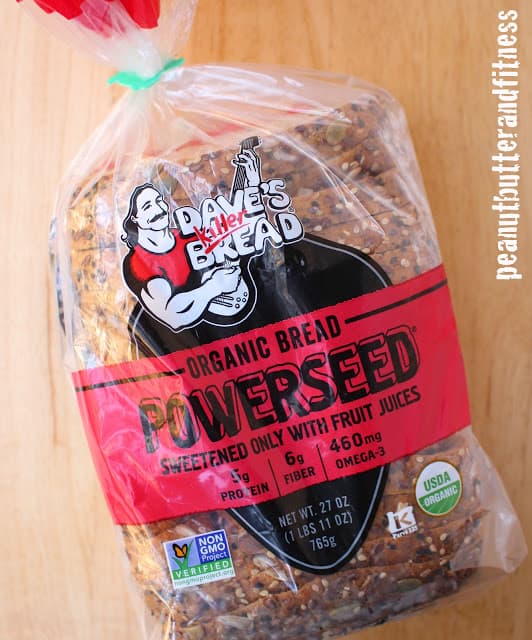 I buy this bread at Safeway…I like it because it's got lots of fiber and protein with minimal sugar.  I could do without all of the seeds on the crust but it doesn't really bother me except when I drop some on the counter and I later think it's a bug :/  But I did scrape off some of the seeds before I dropped the bread slices into the egg mix.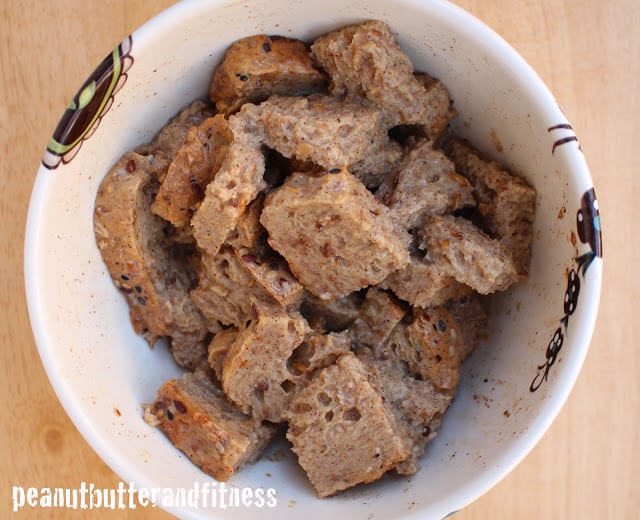 The bread will soak up all but about a teaspoon of the egg mix.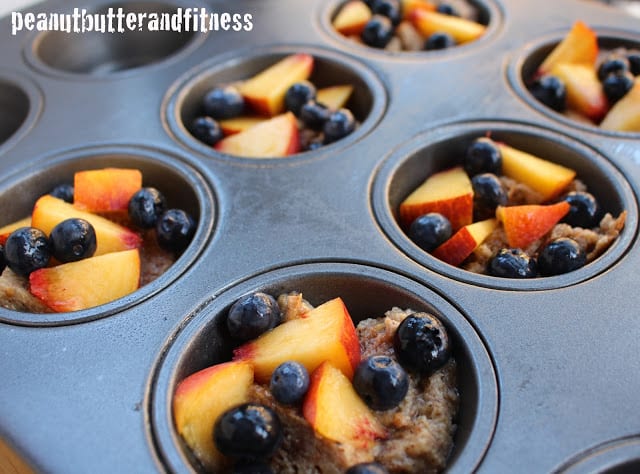 Layer on some peach chunks and blueberries…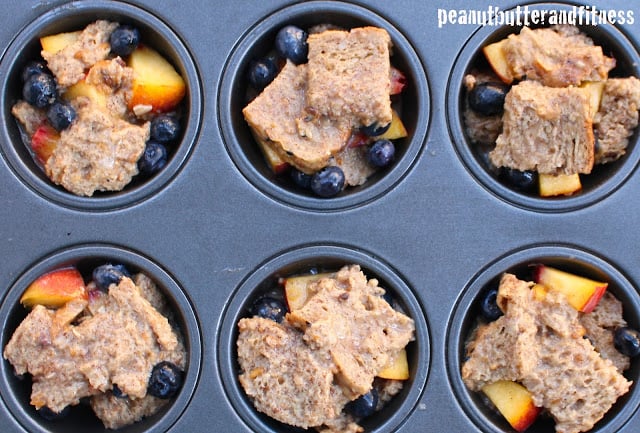 Then top it off with the rest of the bread.  Maybe do a better job at covering up the peaches with bread than I did here (I rearranged bread chunks after taking this pic, sorry for the misleading picture 🙂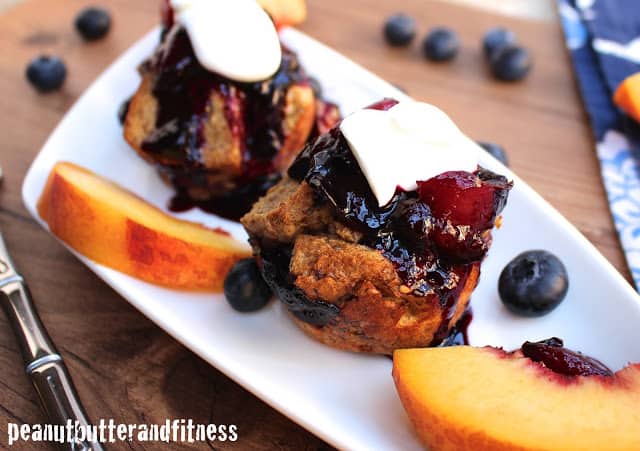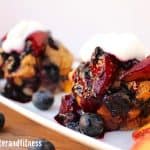 Peach Blueberry Protein French Toast Cups
Prep Time 20 minutes
Cook Time 20 minutes
Total Time 40 minutes
Servings 3 servings (2 cups per serving)
Calories per serving 223 kcal
Ingredients
3 slices  Power Seed Dave's Killer Bread
1 egg
1 egg white
1/3 cup unsweetened vanilla almond milk
1/2 scoop Cellucor Cinnamon Swirl whey protein
1 tsp vanilla extract
1/2 tsp cinnamon
2/3 cup blueberries
1 large peach
1 tbsp pure maple syrup
Instructions
In a bowl, whisk together eggs, almond milk, protein powder, vanilla extract and cinnamon.

Pre-heat oven to 350 degrees and spray a muffin tin with non-stick cooking spray.

Slice bread into 1 inch squares and gently dunk into egg mixture, completely coating all of the bread.  Let bread soak in egg mixture for about 10 minutes, it should absorb almost all of the egg mixture.

Place a layer of bread in the bottom of the muffin tin cups, then add some blueberries and a few chunks of peach on top.  Layer more bread on top of fruit and pour any remaining egg mixture on top.

Bake at 350 degrees for 18-20 minutes.

While French toast cups are baking, add remaining blueberries, maple syrup and about 1/3 of the peach to a small pan.  Bring to a boil over medium heat, then lower heat to a simmer for 10-15 minutes.

Pour blueberry peach syrup over French toast cups before serving and serve with remaining peach slices.
Nutrition Facts
Peach Blueberry Protein French Toast Cups
Amount Per Serving
Calories 223 Calories from Fat 36
% Daily Value*
Fat 4g6%
Cholesterol 76mg25%
Sodium 229mg10%
Carbohydrates 32g11%
Fiber 8g33%
Sugar 14g16%
Protein 14g28%
* Percent Daily Values are based on a 2000 calorie diet.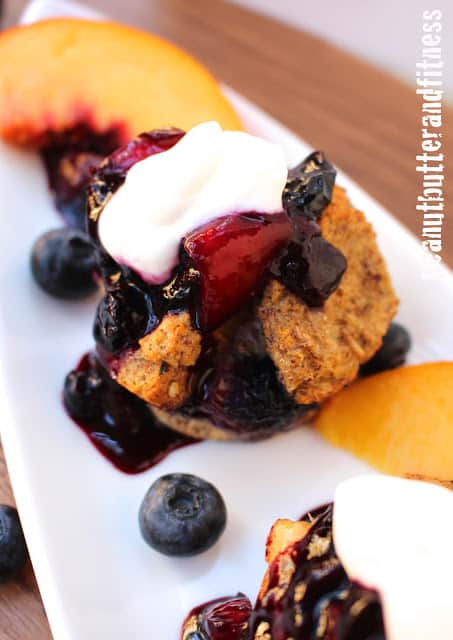 I have a Greek yogurt affliction, so I served my French toast cups with a dollop (or 5) of Dannon Light and Fit Vanilla Greek yogurt.  It's the perfect creaminess on top of these.  The peach blueberry syrup is so yum, but also pretty sweet, so I recommend serving it on the side.  And if you want to cut some carbs out of the recipe, swap the tablespoon of maple syrup for water or juice!  It will be slightly runnier but that's not necessarily a bad thing.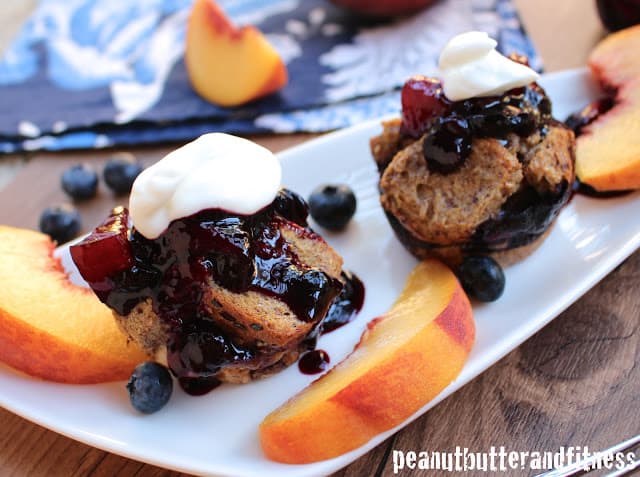 I added some slices of peach to the side of my plate and served mine with an egg white and Jennie-O Turkey Breakfast Sausage Links scramble.  I've done my research on breakfast sausage and Jennie-O is by far the best in my book – lowest fat and sodium content that I've found.