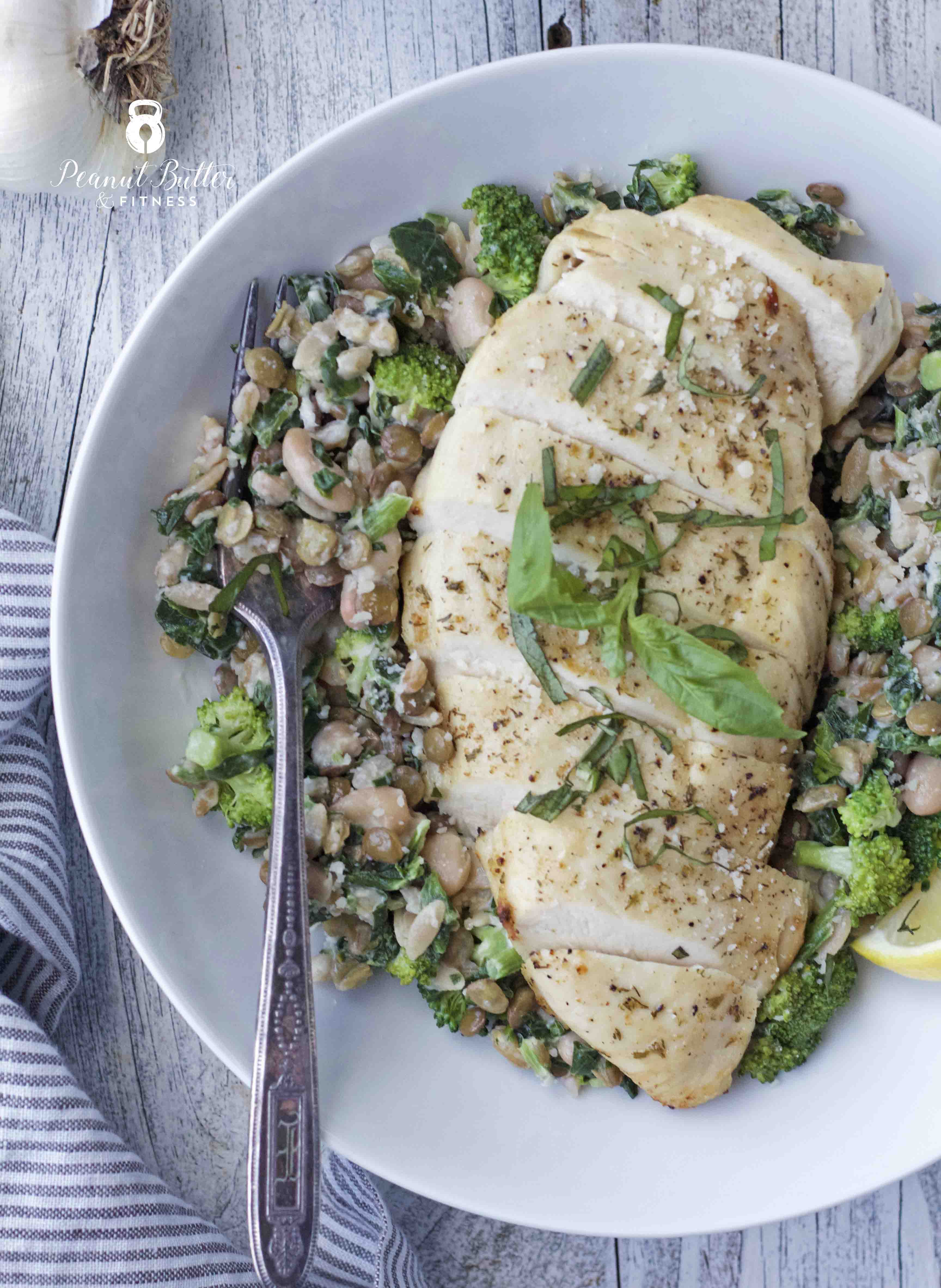 We've made it to Wednesday again! Today I'm sharing a recipe that I've recreated from one of my favorite pre-made freezer vegetable mixes. I'm calling this one a Parmesan Lentil Medley, which I based on the Birdseye Steamfresh Italian Style Protein Blend. If you've been around my site for a while, you know that I love using freezer veggie blends in my meal prep – especially this one!
I love that this particular veggie blend is high in protein thanks to the lentils and beans. The spinach and broccoli have protein too, just not as much as the other stars of this side dish. I served mine with some beautiful air fried chicken breast to complete the meal.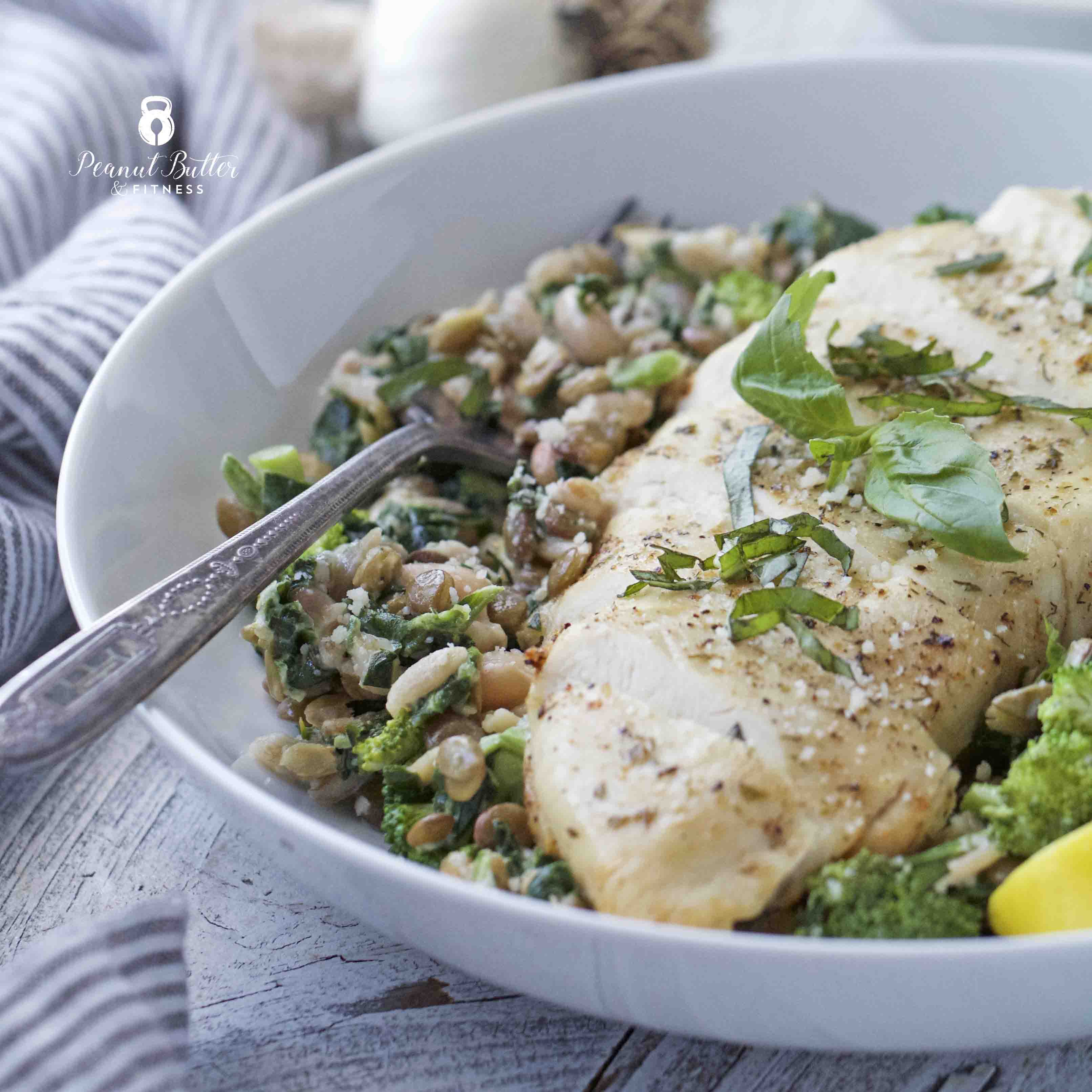 The great thing about recreating these kind of recipes at home is that you can really control what goes in there…add more of what you like, use less (or leave out) what you don't. Plus of course you can control the quality of ingredients more easily and try to avoid any extra preservatives.
The sauce here is really just a coating on the medley of goodies inside, similar to the Birdseye original. But if you're a saucier person, just add 1/2 cup of white white or chicken stock to the rest of the sauce, OR get wild and go for more cream. Either way, make it yours and enjoy!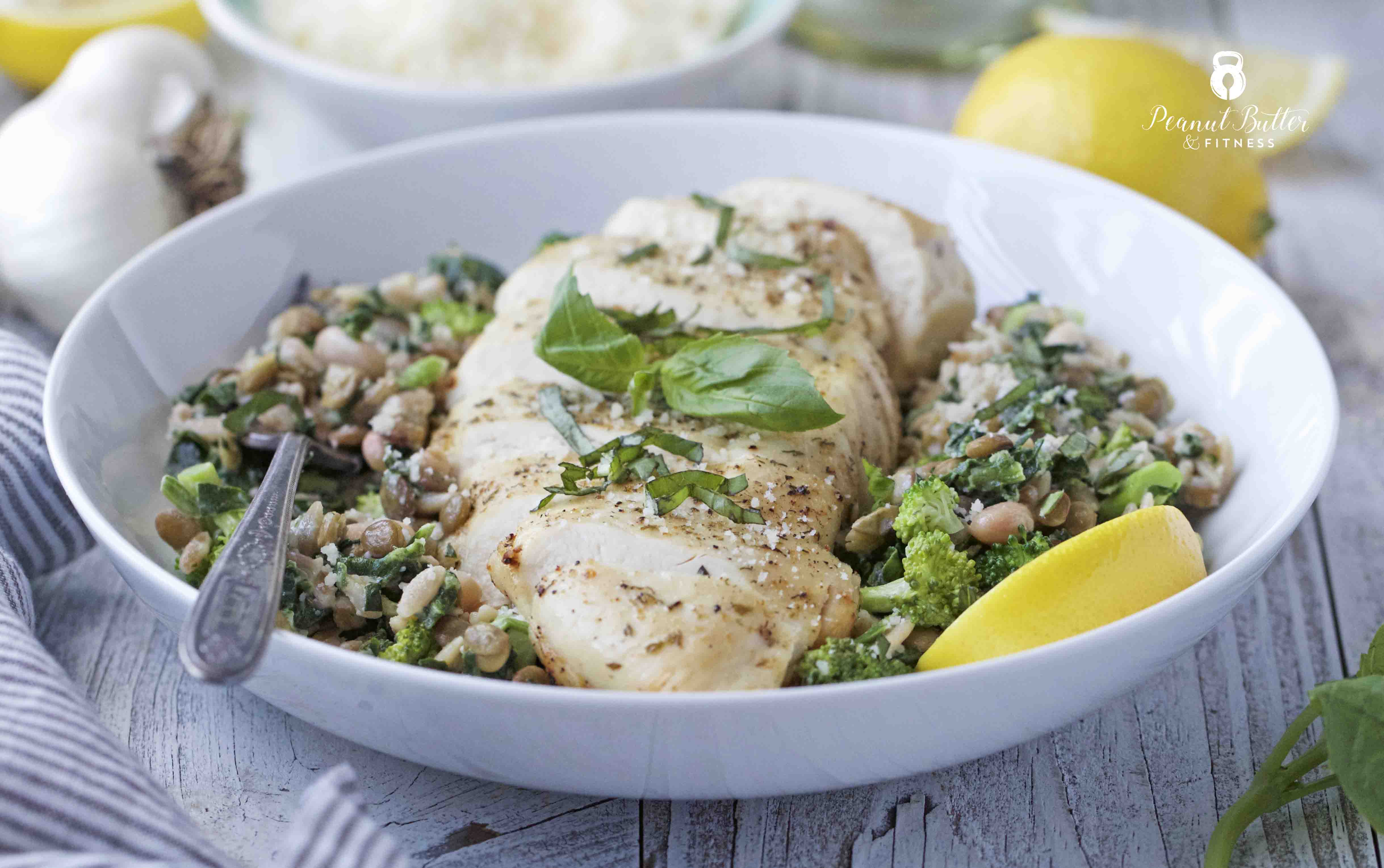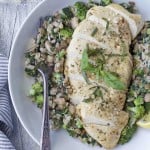 Parmesan Lentil Medley
Prep Time 20 minutes
Cook Time 20 minutes
Servings 7 servings (217 grams per serving)
Calories per serving 268 kcal
Ingredients
1/2 cup green lentils (70 grams)
1 10 oz bag frozen chopped spinach, thawed (284 grams)
4 cups broccoli florets (365 grams)
1 15.5 oz can Great Northern Beans, rinsed and drained (439 grams)
1/4 cup farro (50 grams)
1/4 cup whole wheat orzo pasta (42 grams)
Garlic Parmesan Sauce
1 cup light cream (8 oz)
1/2 cup grated Parmesan cheese (58 grams)
1 small lemon, juiced
4 cloves garlic, minced (16 grams)
1 tbsp fresh basil, chopped
1 tsp olive oil
1/2 tsp onion powder
salt and pepper to taste
Instructions
Cook lentils, farro, and orzo according to package directions. Drain and set aside.

Drain water from thawed spinach and dump spinach out onto a double layered paper towel. Wrap the paper towel around the spinach and squeeze out excess moisture. Set aside.

Place broccoli florets in a large, microwave safe bowl. Cover with a very damp paper towel and microwave for 2-3 minutes or until broccoli is bright green and tender-crisp. Set aside.

Heat olive oil in a large sauté pan (with straight sides) over medium high heat. Add garlic and sauté until fragrant.

Add remaining sauce ingredients except basil and stir until cheese begins to melt. Add spinach and broccoli, stirring to coat evenly, then add remaining ingredients and stir to coat.

Divide into 7 servings and serve immediately or store in an airtight container and refrigerate.
Nutrition Facts
Parmesan Lentil Medley
Amount Per Serving (222 grams)
Calories 268 Calories from Fat 99
% Daily Value*
Fat 11g17%
Cholesterol 30mg10%
Sodium 457mg20%
Potassium 541mg15%
Carbohydrates 33g11%
Fiber 10g42%
Sugar 4g4%
Protein 12g24%
* Percent Daily Values are based on a 2000 calorie diet.