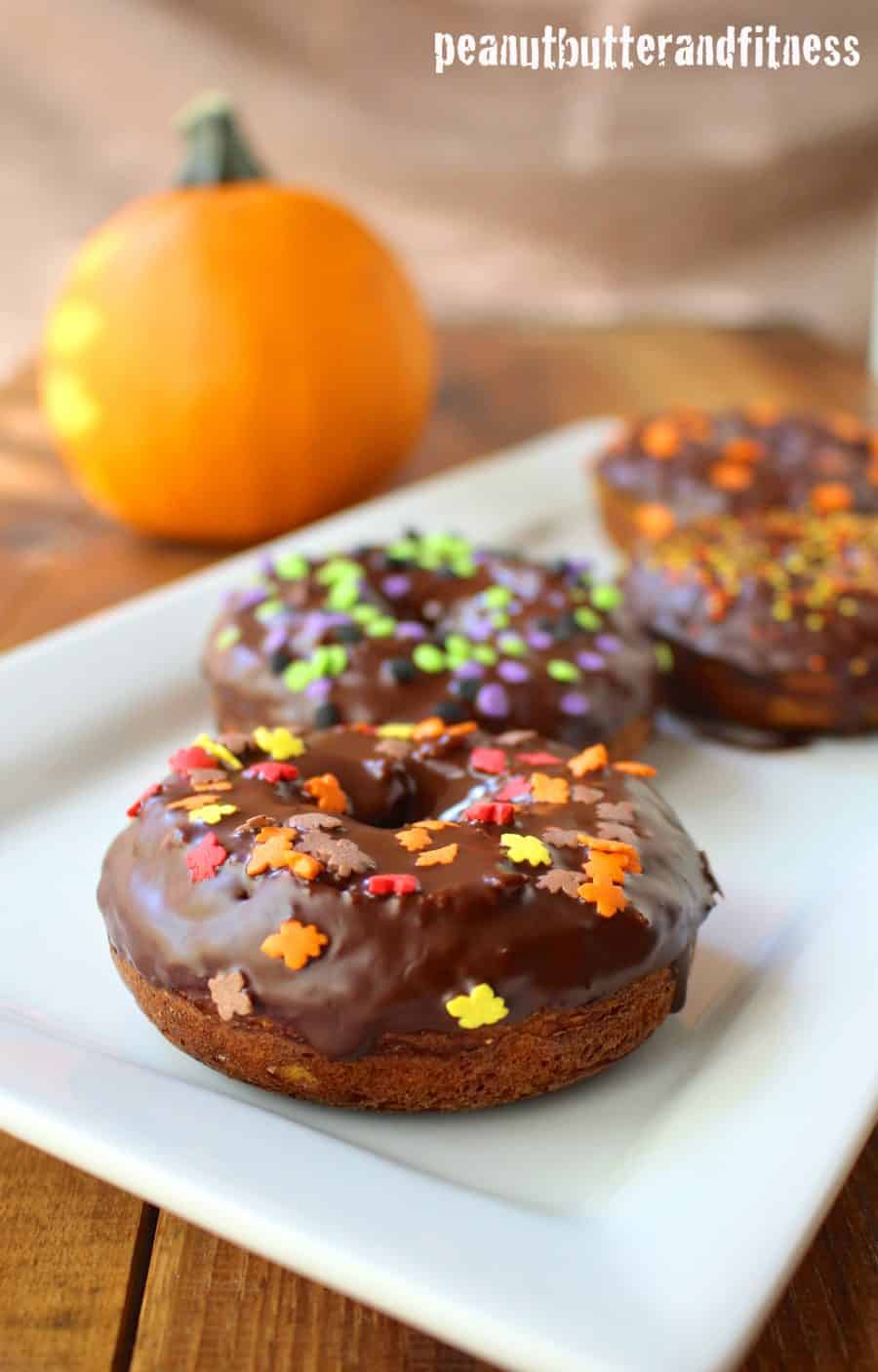 Now that it's officially fall I can bombard you with everything pumpkin and not feel even an ounce bad about it!  Besides, these pumpkin donuts are so freakin' easy to make and they turned out GORGEOUS that you should be speed racing to the recipe so you can make some of your own.  Of course, these are healthier donuts than you might find at DD, but they have a surprisingly great donut texture – the crust on the outside isn't crispy, but it's crisp…then you bite into it and the insides are fluffy and cake-y.  And don't forget the chocolate icing and sprinkles to really give you that real donut look and feel.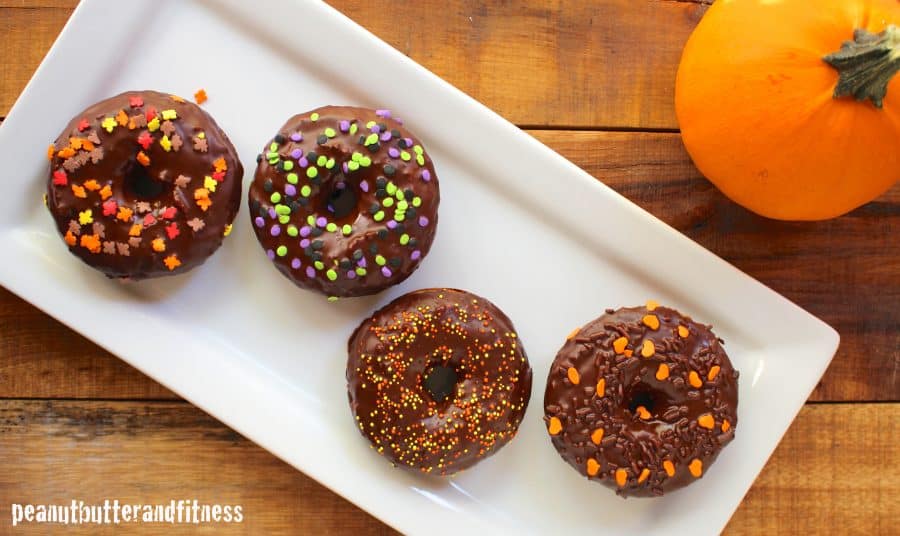 One of these donuts is not like the others.  It doesn't feel bad about it because it's just a badass little donut doing it's own thang…gettin' ready for Halloween.  Speaking of holidays, I'm officially registered for a Thanksgiving Day turkey trot.  I haven't done one of those since my first year living in Miami so I'm kinda excited.  There may or may not be costumes involved this time around.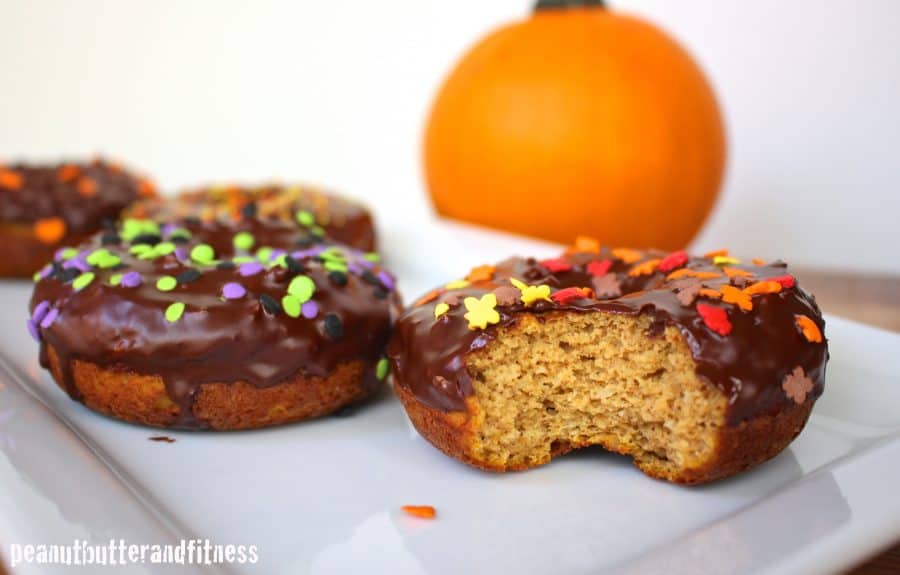 Make sure you pick up some fall sprinkles and a donut baking pan before making this recipe!  You won't be disappointed with the results 🙂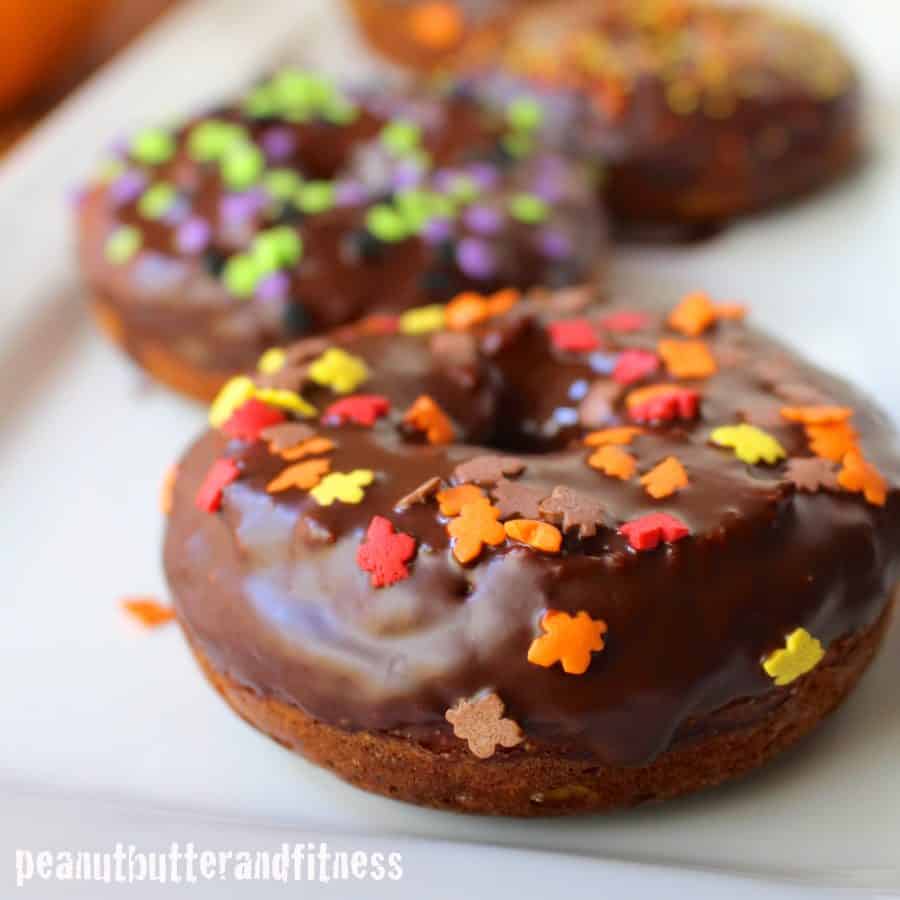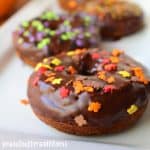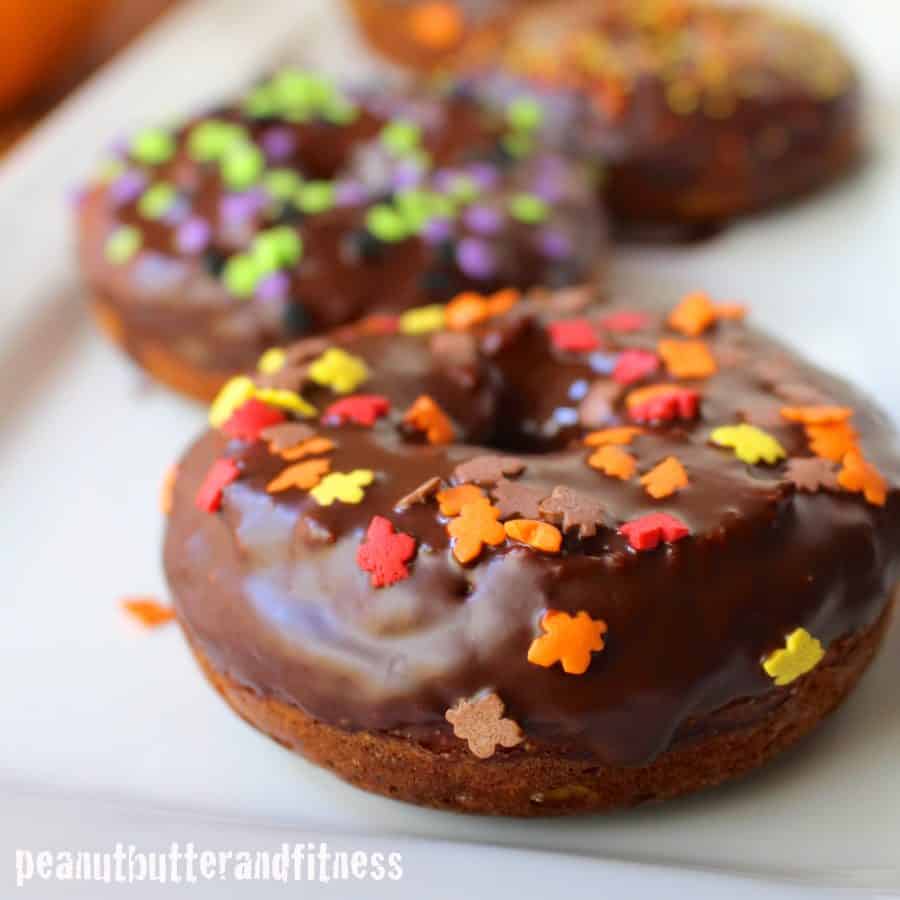 Pumpkin Protein Donuts with Dark Chocolate Frosting
Prep Time 15 minutes
Cook Time 20 minutes
Total Time 35 minutes
Servings 6 donuts
Calories per serving 134 kcal
Ingredients
Frosting Ingredients:
1/4 cup dark chocolate chips (use Enjoy Life chocolate chips for paleo)
1 tsp coconut oil
Instructions
Pre-heat oven to 350 degrees.  Spray a 6 donut pan with non-stick cooking spray and set aside.

Mix dry donut ingredients, then add wet ingredients and mix until just combined.

Spoon donut batter into prepared donut pan, leveling out the batter with the back of the spoon.  (Alternatively, you could pipe the batter into the pan for a smoother, more even texture.)

Bake at 350 degrees for 18-20 minutes or until a toothpick inserted into the thickest part of a donut comes out clean.  Transfer donuts to a cooling rack.

While donuts cool, melt chocolate chips and coconut oil in the microwave in 30 second increments, stirring after every 30 seconds until the chocolate is completely melted.

Dip donuts in melted chocolate and top with sprinkles if desired.  Allow chocolate to harden before serving.  Store in non-airtight container in the refrigerator for 5-7 days or on the counter for 3-4 days.
Nutrition Facts
Pumpkin Protein Donuts with Dark Chocolate Frosting
Amount Per Serving
Calories 134 Calories from Fat 72
% Daily Value*
Fat 8g12%
Cholesterol 31mg10%
Sodium 107mg5%
Potassium 77mg2%
Carbohydrates 13g4%
Fiber 4g17%
Sugar 4g4%
Protein 8g16%
* Percent Daily Values are based on a 2000 calorie diet.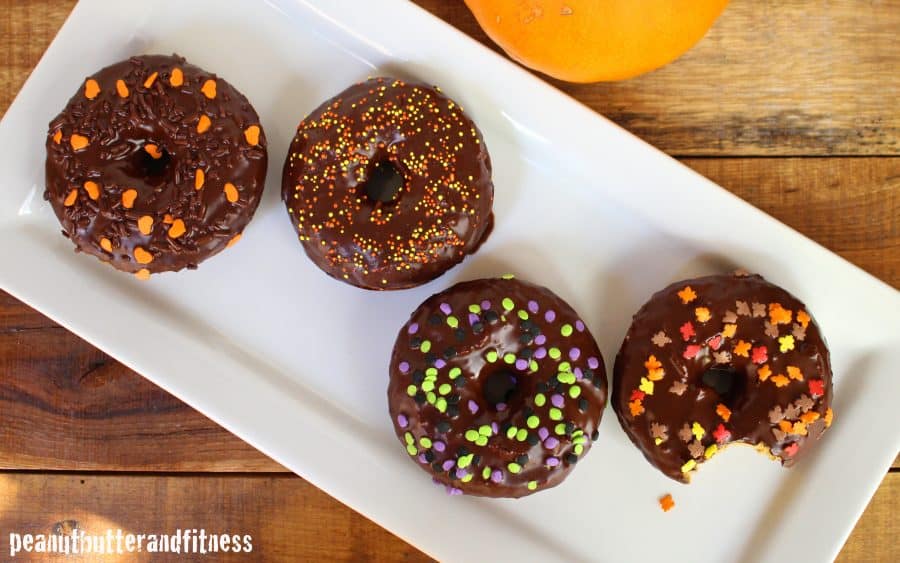 SaveSave