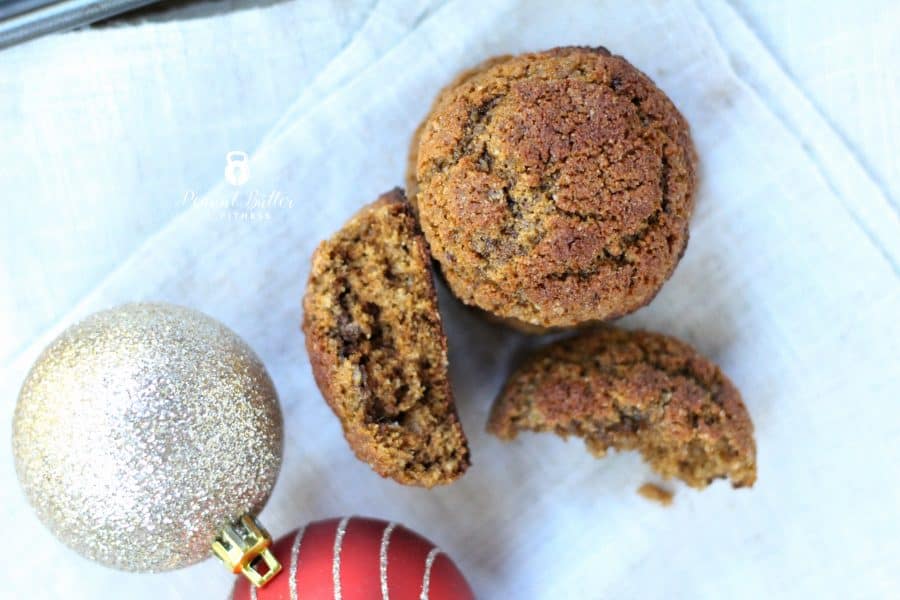 Bust out the molasses guys, it's time to up your gingerbread cookie game!  I made these protein cookies nice and soft because I mostly feel like the hard, flat gingerbread is meant for building gingerbread houses and it's not my favorite to eat when I want a gingerbread cookie.  And you know what the best part is?  These are protein cookies AND they're paleo friendly…you just have to make sure you use pure molasses (with no additives) and grass fed whey.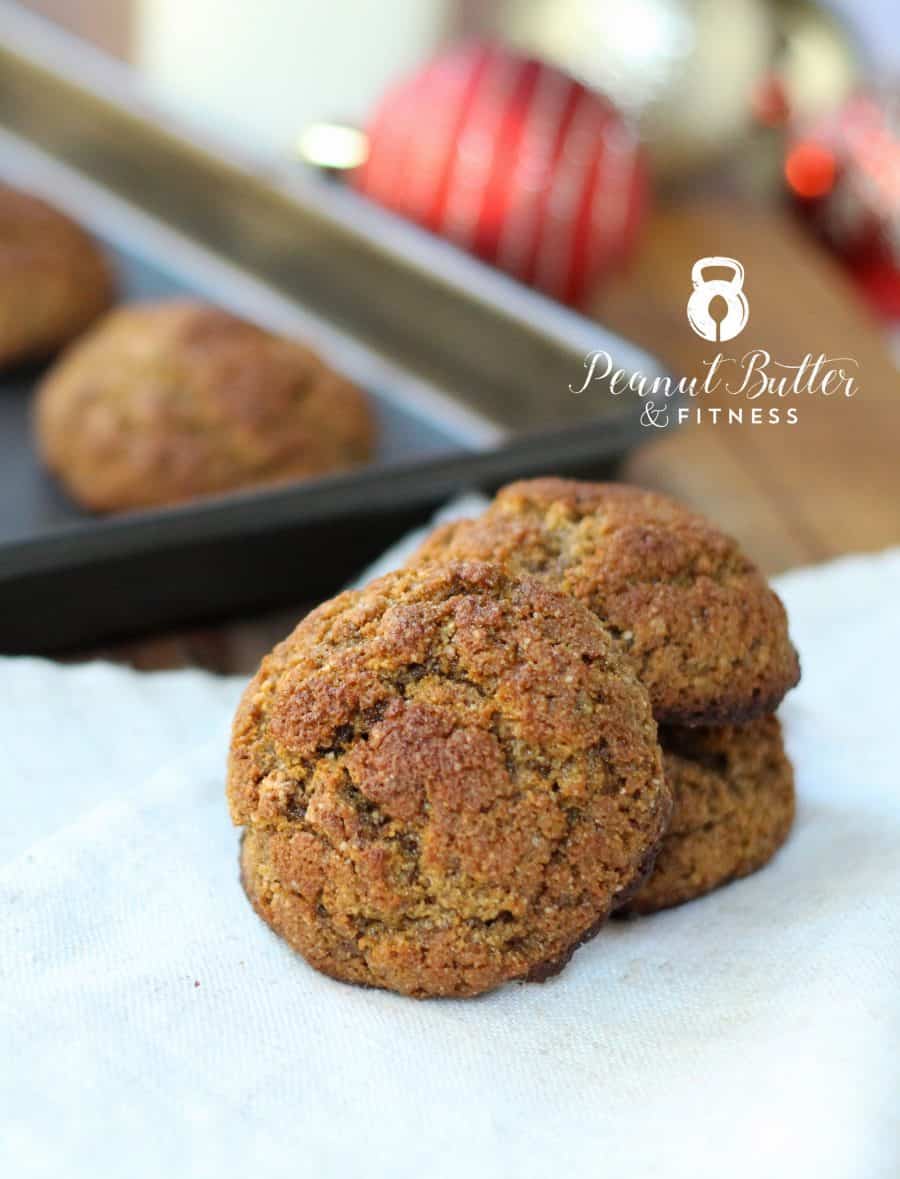 I made a few cookies that I didn't roll in the granulated Monkfruit sweetener before baking…they turned out fine but they lacked the nice golden brown crust on the outside of the cookie that the rolled ones had.  They just didn't look as pretty to me.  So roll your cookies in sugar of some kind!  Regular granulated sugar will probably stick around after being baked and look even prettier, so give that a shot!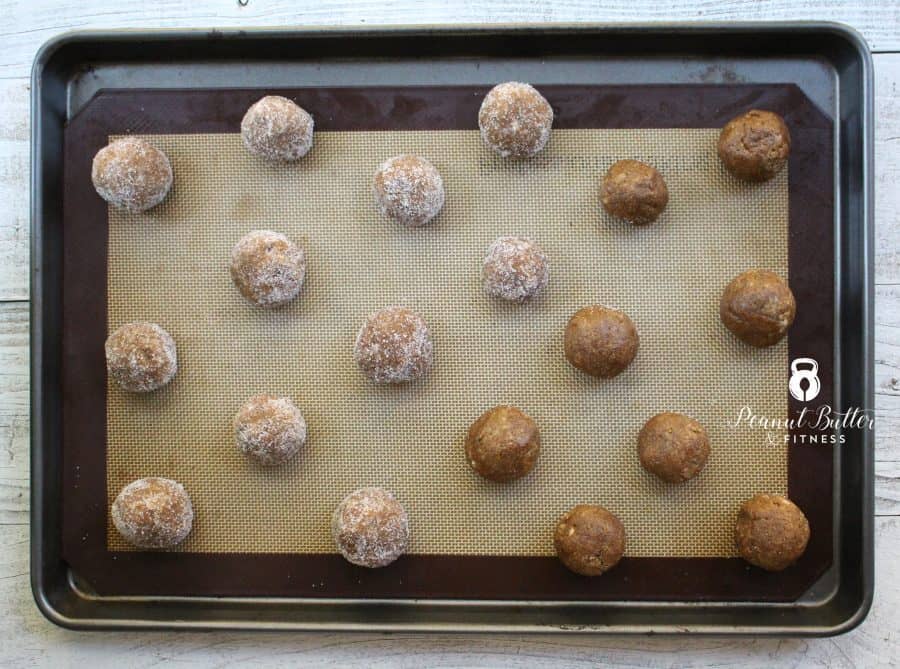 Don't forget the SILPAT on your baking sheet, it makes all the difference.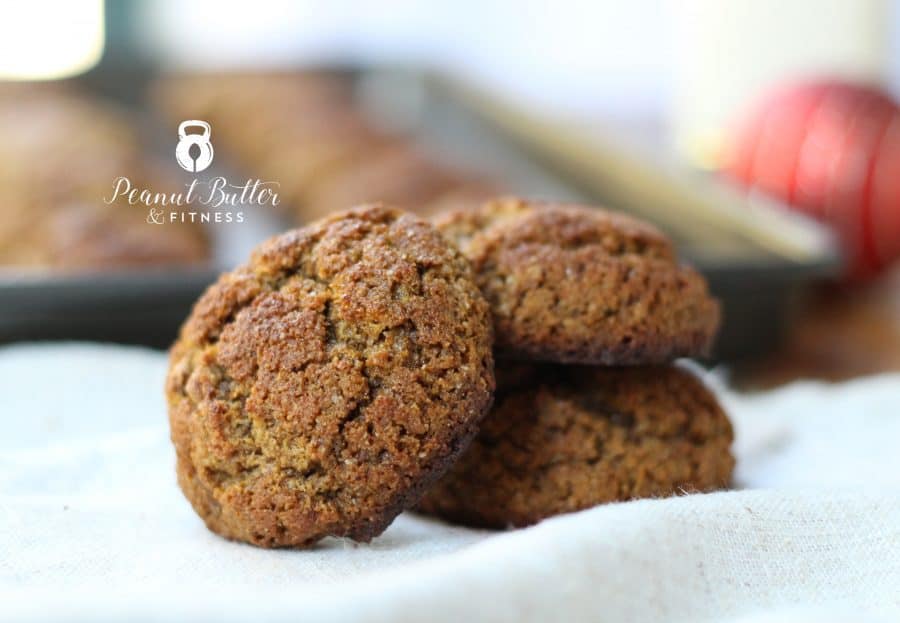 Okay guys, so I promised that I would make it my New Years Resolution to bring more video content to you, so here's my first blog video attempt (a few weeks early to boot)!  You can also see some quick videos on my Instagram story a couple times a week.  Of course I had to use Sara Bareilles (and Ingrid Michaelson) as the background music – it's their holiday collaboration called "Winter Song."  *swoon*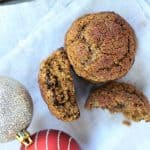 Paleo Friendly Soft Gingerbread Protein Cookies
Prep Time 45 minutes
Cook Time 10 minutes
Total Time 55 minutes
Servings 19
Calories per serving 122 kcal
Ingredients
1 1/2 cups almond flour
2/3 cup tapioca flour
1 1/2 scoops Cellucor Cinnamon Swirl Whey Protein (use vanilla grass fed whey + extra 1/4 cinnamon for paleo)
1/3 cup coconut sugar
1 tsp cinnamon
1 tsp ground ginger
1/2 tsp baking soda
1/2 tsp nutmeg
1/4 tsp ground cloves
1/4 tsp salt
1/4 cup coconut oil, melted
1 egg
3 tbsp pure blackstrap molasses
1 tbsp fresh grated ginger
1 tsp vanilla extract
Additional granulated sugar for rolling (I used Monkfruit sweetener for this part , use coconut sugar for paleo)
Instructions
Pre-heat oven to 350 degrees. Line a baking sheet with SILPAT or parchment paper.

Mix dry ingredients, then add wet ingredients and mix until well combined. Refrigerate dough for at least 30 minutes.

With the help of a small cookie scoop (dough will be sticky), roll dough into approximately 1 inch balls. Roll dough balls in granulated sugar until evenly coated, then place on baking sheet.

Bake at 350 degrees for 10 minutes. The cookies will feel slightly underdone. Cool the cookies on the baking sheet to help firm them up or remove them to a cooling rack for extra soft cookies.
Nutrition Facts
Paleo Friendly Soft Gingerbread Protein Cookies
Amount Per Serving
Calories 122 Calories from Fat 72
% Daily Value*
Fat 8g12%
Cholesterol 13mg4%
Sodium 53mg2%
Carbohydrates 10g3%
Fiber 1g4%
Sugar 7g8%
Protein 4g8%
* Percent Daily Values are based on a 2000 calorie diet.