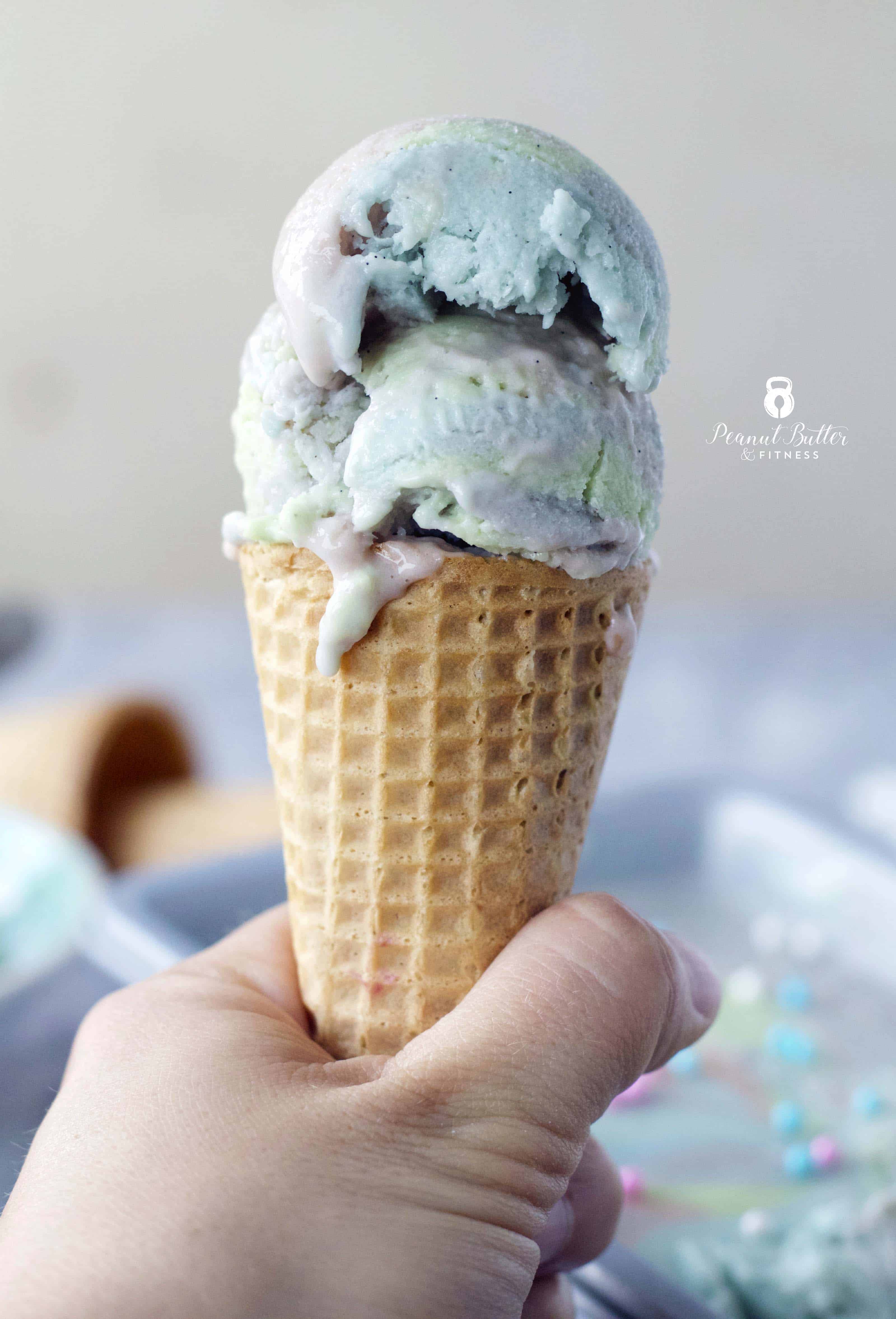 Wait, you guys have been saying unicorn everything?  I could have sworn I heard mermaid (*throws hands into the air and fake walks out of the room*).  Either way, watch out Starbucks, because these colors are way better than your unicorn frap-a-capa-suprema-latte whatever.  Maybe I'm biased because I'm in the Coast Guard and the water is where it's at in my mind.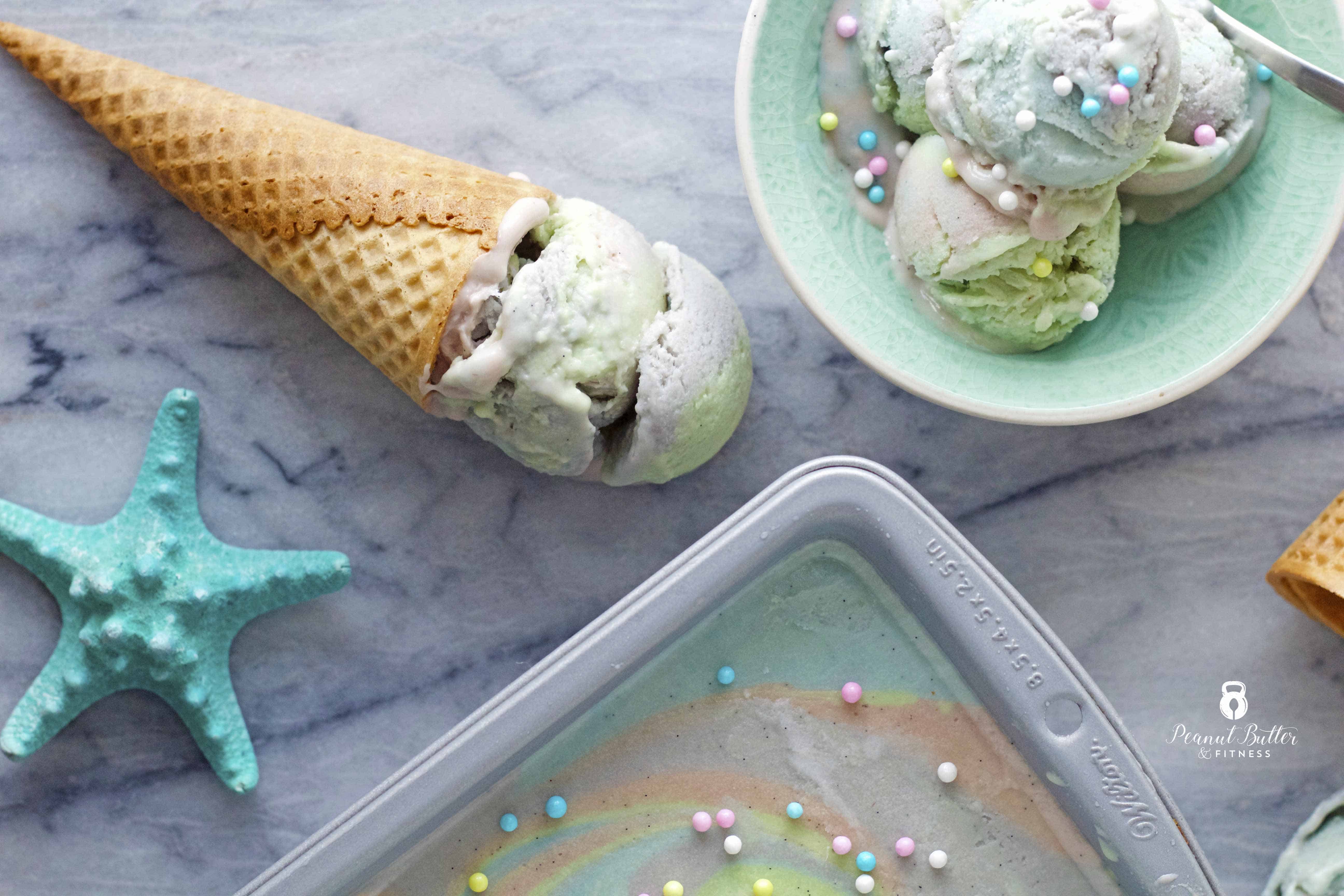 BTW, this ice cream has a little secret, and it's name is white sweet potato.  Yep, for real!  Sweet potatoes have a light sweetness that gives this ice cream a nice, smooth body without a ton of fat.  Throw in a combo of whey protein with casein protein and coconut milk and you've got yourself a facelift on the banana laden "nice cream" you've been seeing all over Instagram.
I actually came up with the idea to use sweet potato in this because although banana nice cream is an easy, creamy alternative to lactose-laden real ice cream, I'm kinda allergic to bananas.  They leave my stomach in knots for hours (and real ice cream doesn't do my stomach much good anymore either), so I wanted to create an ice cream that's got great flavor and texture without all the tummy issues for me.  Alas, I've done it 😉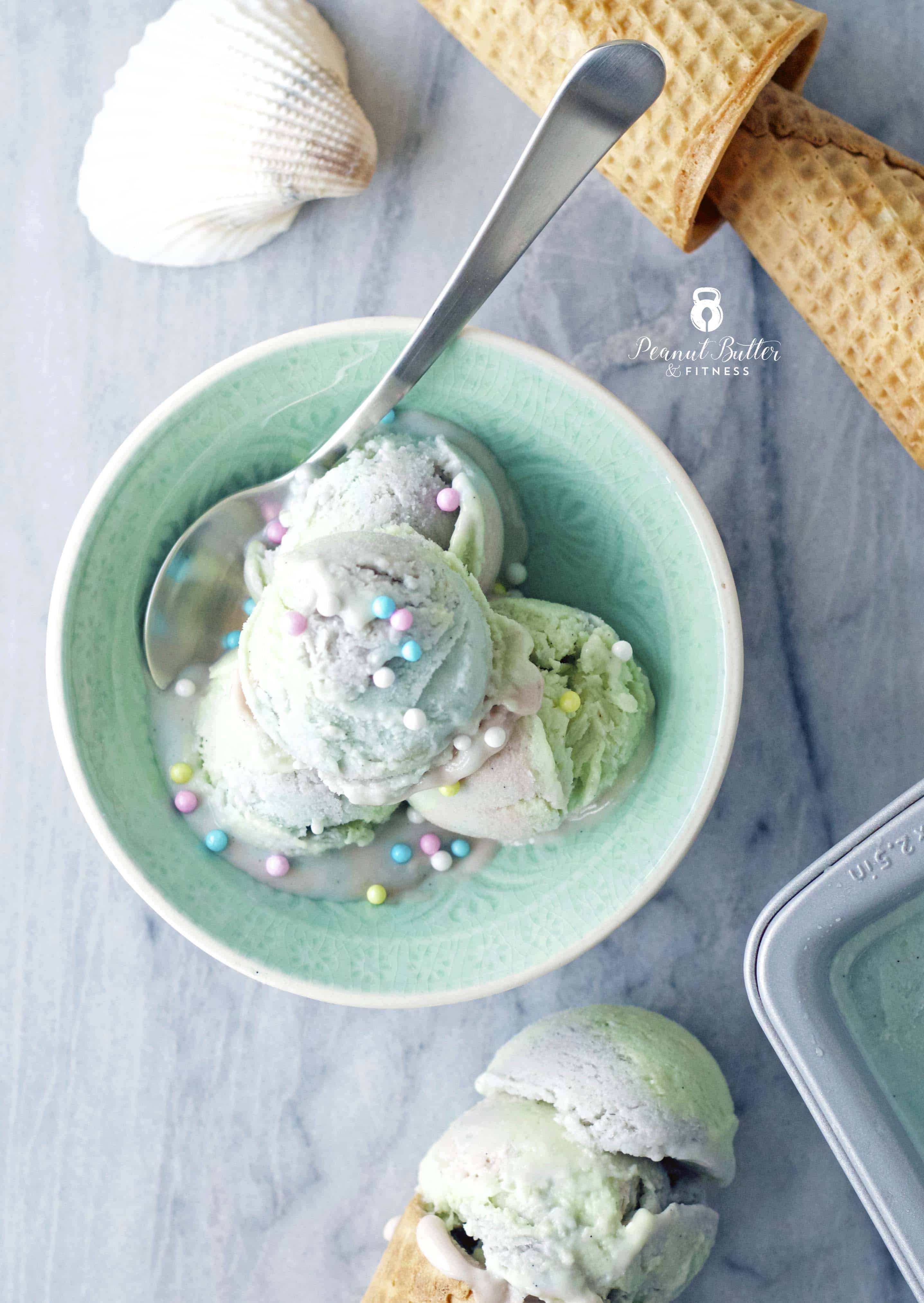 You can easily make this recipe paleo just by using grass fed protein powder.  It's also a breeze to make it vegan!  Just swap the whey and casein protein powders with a plant based protein powder – just be sure to then use full fat coconut milk to account for the creaminess that the casein powder lends to the ice cream.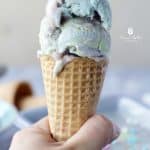 Paleo Friendly Mermaid "Ice Cream"
Prep Time 20 minutes
Cook Time 20 minutes
Total Time 40 minutes
Servings 5 servings (3/4 cup per serving)
Calories per serving 192 kcal
Instructions
Add all ingredients to a blender except food coloring and blend for about 1 minute to help incorporate air into the mixture.

Divide the mixture into 3-4 bowls, depending on your color preferences. Add food coloring to create blue, purple, green and pink mixture.

Pour mixtures into a bread loaf pan or plastic container. It helps to tilt the pan, add about half of one color, then about half of another color, continuing to layer the colors in blobs.

Once all the ice cream mixture is in the pan, gently swirl with a knife, being careful not to overmix the colors.

Freeze overnight or for at least 4 hours. Thaw on the counter for 15-20 minutes before serving.
Recipe Notes
I topped my ice cream with these pearly sprinkles!
Keep things paleo by using grass fed protein powders and skipping the sprinkles and vodka.
You can also color/flavor your ice cream using fruit puree.  I actually used some leftover raspberry puree to color the pink you see here.  Here's how you can do it yourself:
Pink - Boil 1/3 cup raspberries with a touch of maple syrup for 10-15 minutes.  Mash raspberries and strain seeds out.  Mix into 1/4 of ice cream mix.
Purple - 1/3 cup blueberries, same method as above except instead of straining, just add the blueberry mash to blender with 1/4 of the ice cream mix.
Green - Blend a handful of spinach with 1/4 of the ice cream mix.
Blue - It's hard to get that color easily with fruit puree, though you could use some blue spirulina - but I recommend just using food coloring for this one.
Nutrition Facts
Paleo Friendly Mermaid "Ice Cream"
Amount Per Serving
Calories 192 Calories from Fat 36
% Daily Value*
Fat 4g6%
Cholesterol 4mg1%
Sodium 101mg4%
Potassium 435mg12%
Carbohydrates 28g9%
Fiber 3g13%
Sugar 15g17%
Protein 11g22%
* Percent Daily Values are based on a 2000 calorie diet.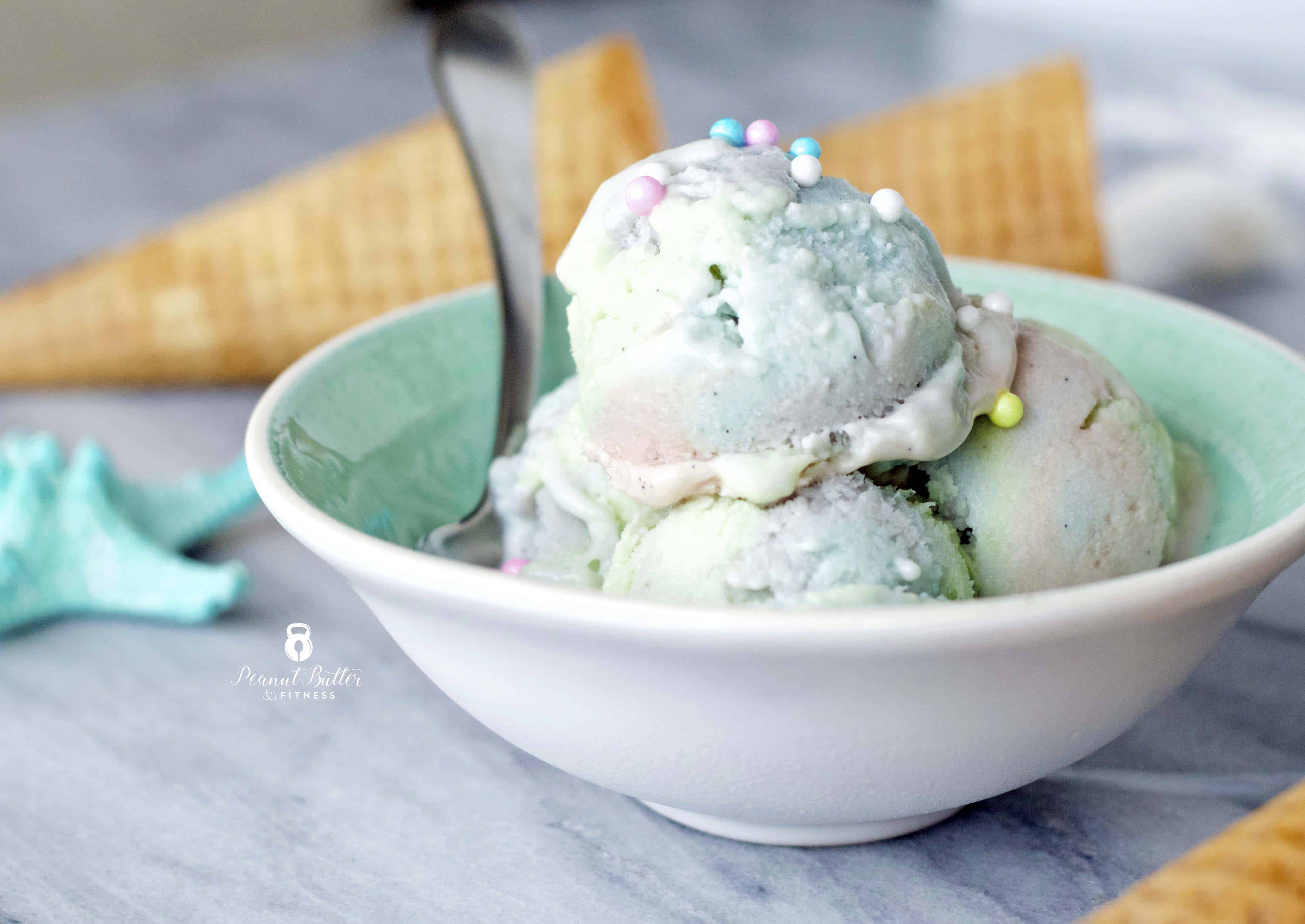 Enjoy!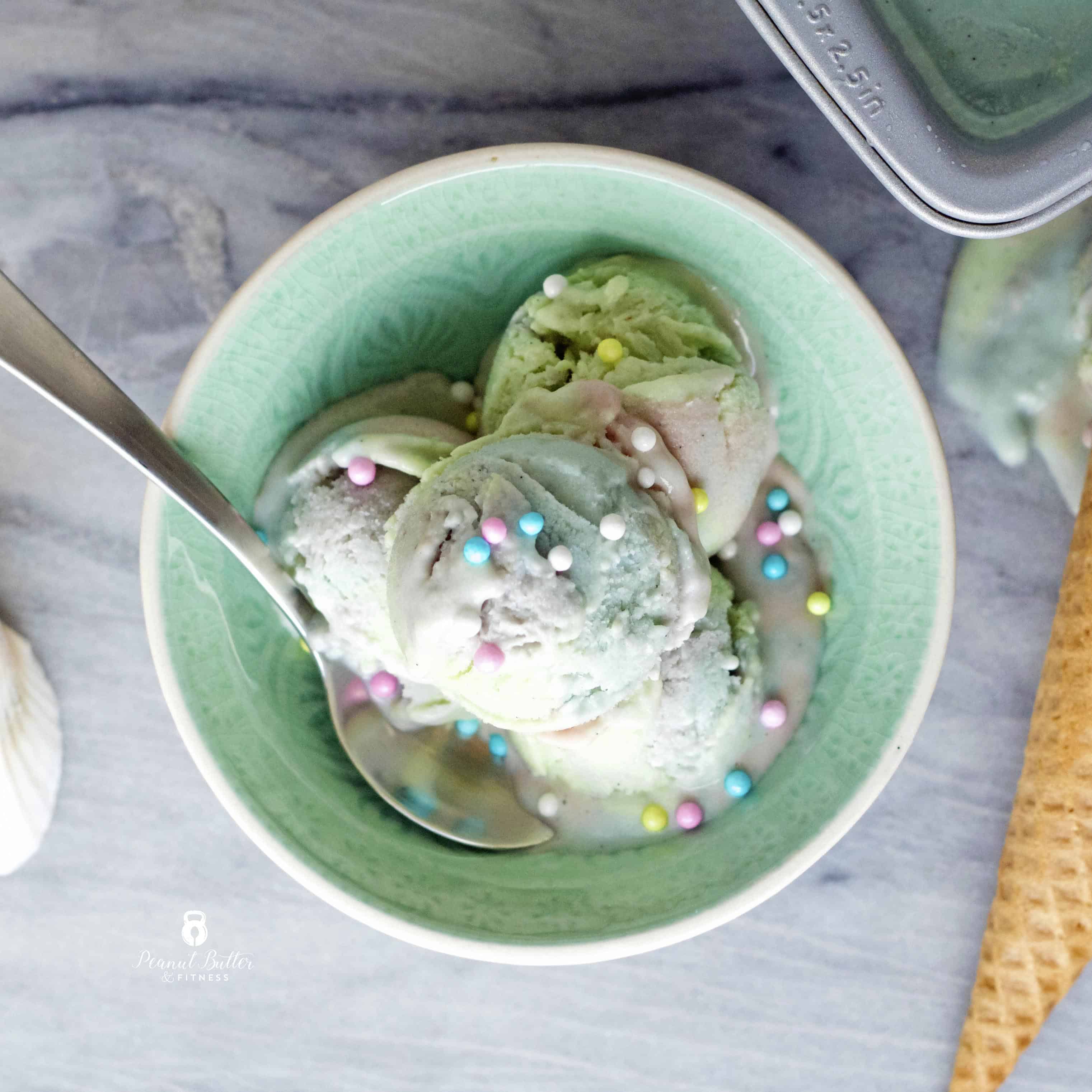 SaveSave
SaveSave
SaveSave
SaveSave
SaveSave