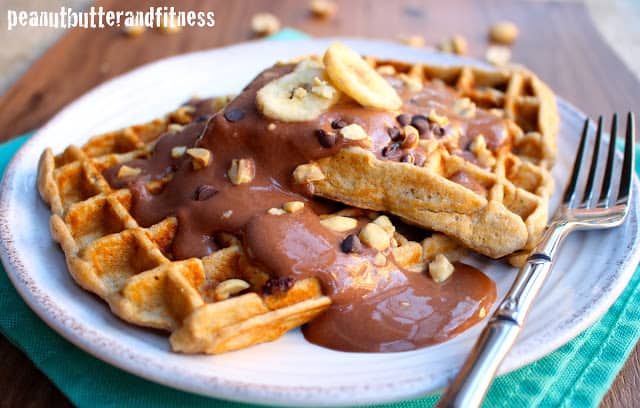 Happy Sunday!  I really wanted to bust out my waffle maker today but didn't really plan out a recipe before getting up this morning.  So instead of getting very creative (and wasting lots of time), I just remixed my favorite pancake recipe!  I subbed out some of the peanut buttery-ness from my
Peanut Butter Banana Protein Pancakes
with cocoa and turned them into chunky monkeys.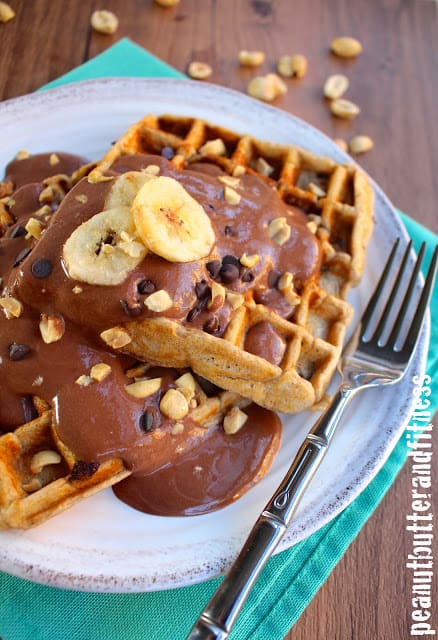 Because I just used unsweetened cocoa powder in place of the PB2 in the yogurt sauce that goes on top of these bad boys, it might be a little bitter for some people.  If you like your pancake and waffle toppings really sweet, swap out the cocoa powder for some 
Cellucor Molten Chocolate whey protein
.  If you're used to eating healthy, you'll enjoy the unsweetened cocoa powder just fine.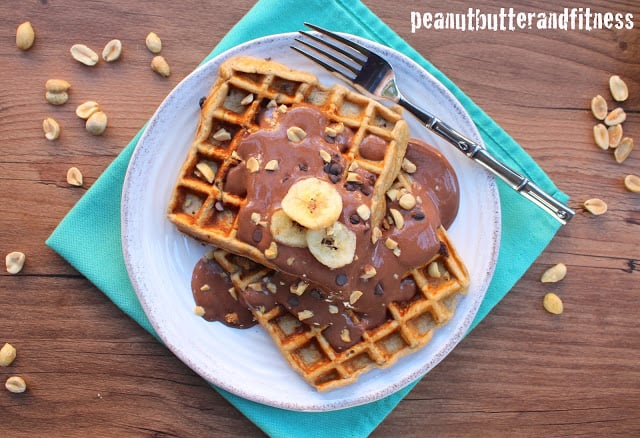 Not So Chunky Monkey Protein Waffles
Yield: 2 waffles • Serving size: 2 waffles • Calories: 354 • Fat: 4 g • Protein: 25 g • Carbs: 58 g • Fiber: 7 g • Sugar: 25 g • Sodium: 211 mg • Cholesterol: 19 mgIngredients:
1/3 cup rolled oats
2 tbsp PB2 powdered peanut butter
1/4 tsp baking powder
1/4 tsp cinnamon
1/3 cup mashed bananas
1/4 tsp vanilla extract
1 egg white
2 tbsp unsweetened vanilla almond milk, divided
1 tbsp pure maple syrup
1 tbsp unsweetened cocoa powder
2 tbsp Dannon Light and Fit Vanilla Greek Yogurt
Optional toppings: chopped peanuts and chocolate chips
In a small bowl, whisk together maple syrup, cocoa powder, 1 tbsp almond milk and yogurt.  Set aside.
In a food processor or Nutribullet, mill the oats until they form a fine powder.
In a medium bowl, combine oats, protein powder, PB2, baking powder and cinnamon.  Mix in mashed bananas, egg white, vanilla extract and 1 tbsp almond milk.  Add some chocolate chips if desired (not included in nutrition facts).
Heat a waffle maker and spray with non-stick cooking spray.  Spoon waffle mixture onto maker and cook for 3-4 minutes or until golden brown.
Top pancakes with cocoa yogurt sauce and serve.  Add peanuts and chocolate chips if desired.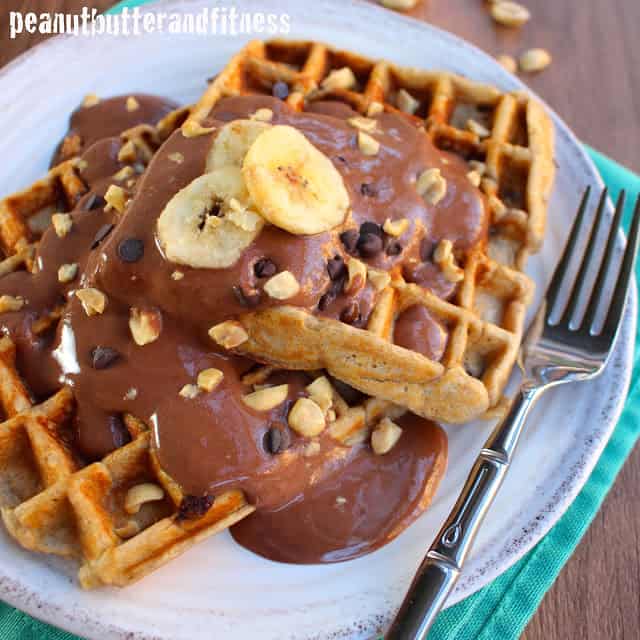 I highly recommend adding the chopped peanuts on top of your waffles!  It adds a perfect crunchiness to these waffles and makes them that much more like a true Chunky Monkey. Plus they look pretty.  I personally picked off all the chocolate chips because they don't fit my macros for today, but they look pretty too.