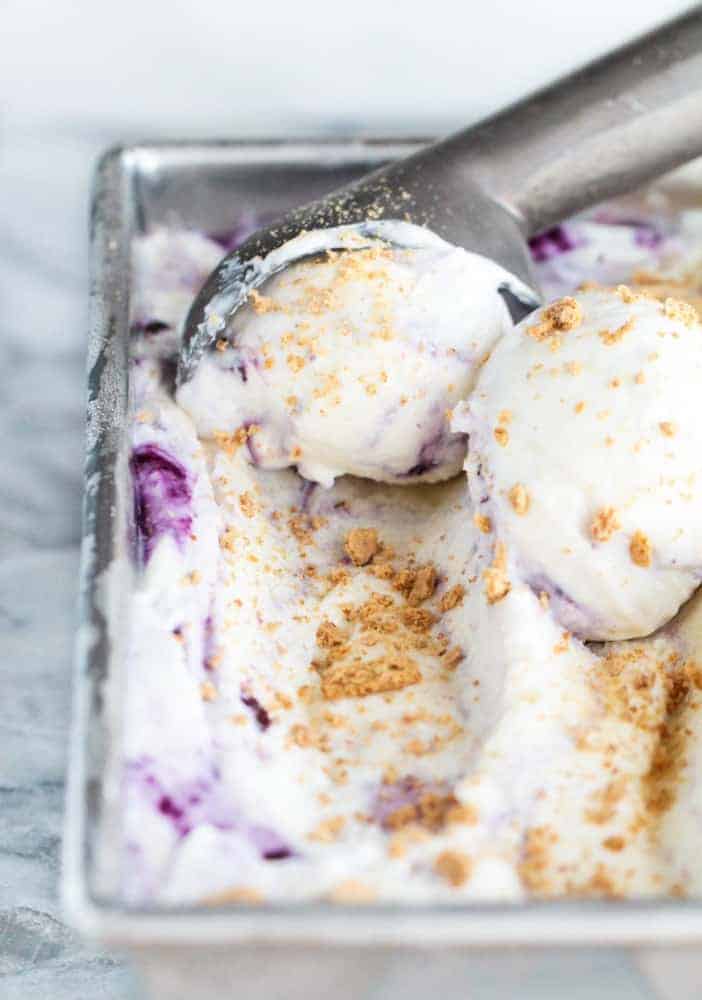 Jump to Recipe
…and on day 1,475 of the pandemic, I bring you this delicious No-Churn Blueberry Cheesecake Frozen Yogurt. Blueberries? Cheesecake? Froyo? Sign me up! It took me 4 tries and lots of taste testing to get this recipe where I wanted it. And the result is dreamy – plenty of that classic cheesecake flavor (uninterrupted by the usual tanginess of Greek yogurt) with a sweet blueberry swirl. Yum!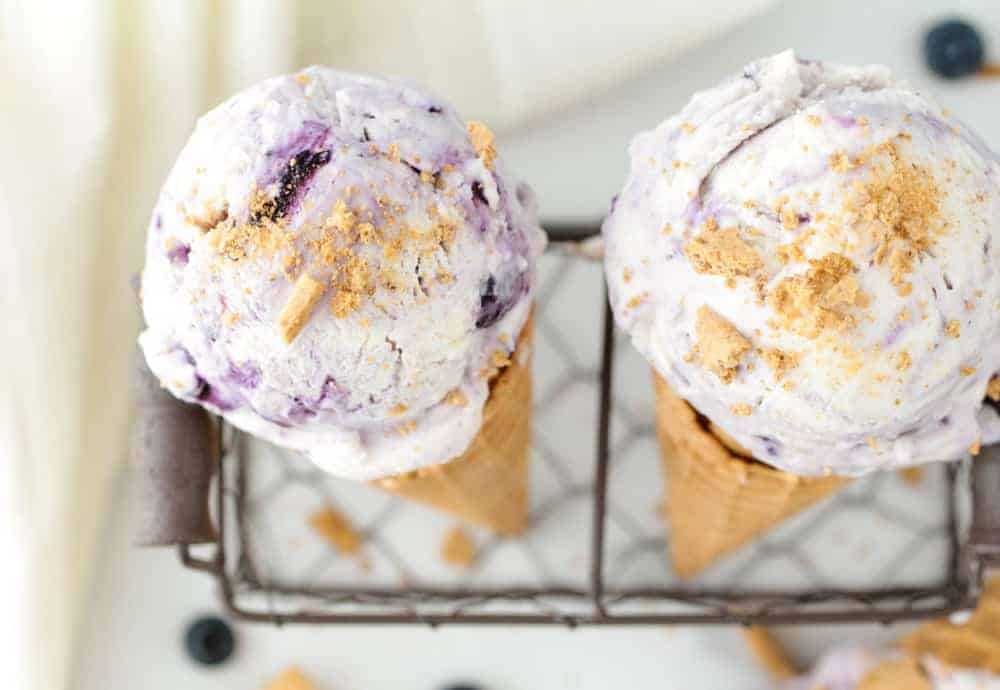 The challenge with no churn frozen desserts like ice cream or froyo is that they can get icy instead of creamy if you don't do it right. The 3 keys to keeping things creamy with this recipe: whole milk yogurt, add some vodka, and (if possible) don't let it freeze for longer than 6-8 hours before serving. Of course, you can always let it thaw on the counter for a while before serving, but my trial-and-error tells me that less freezing to start with is better.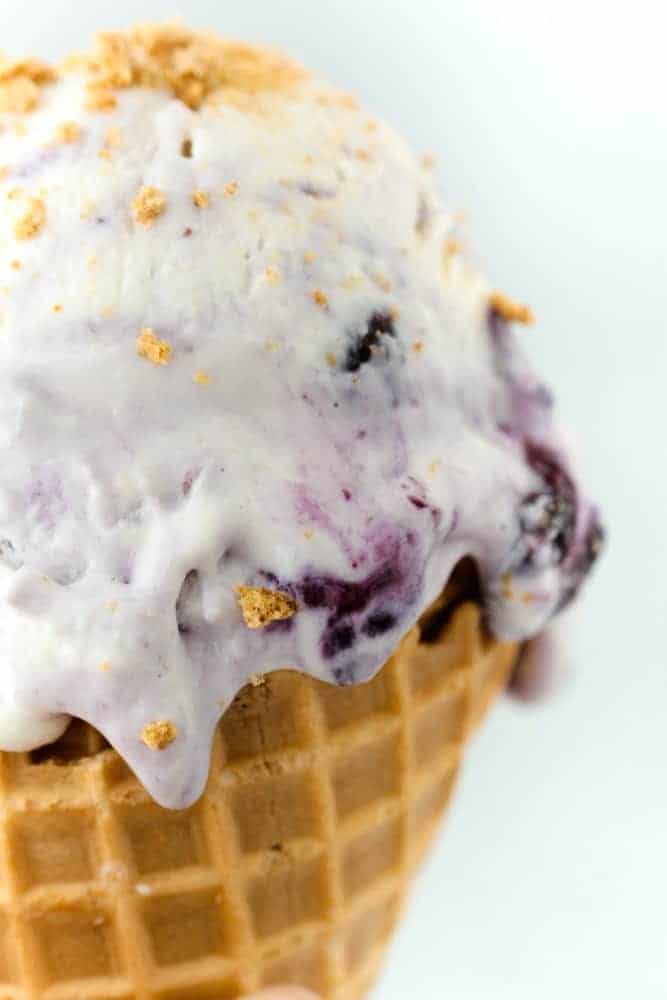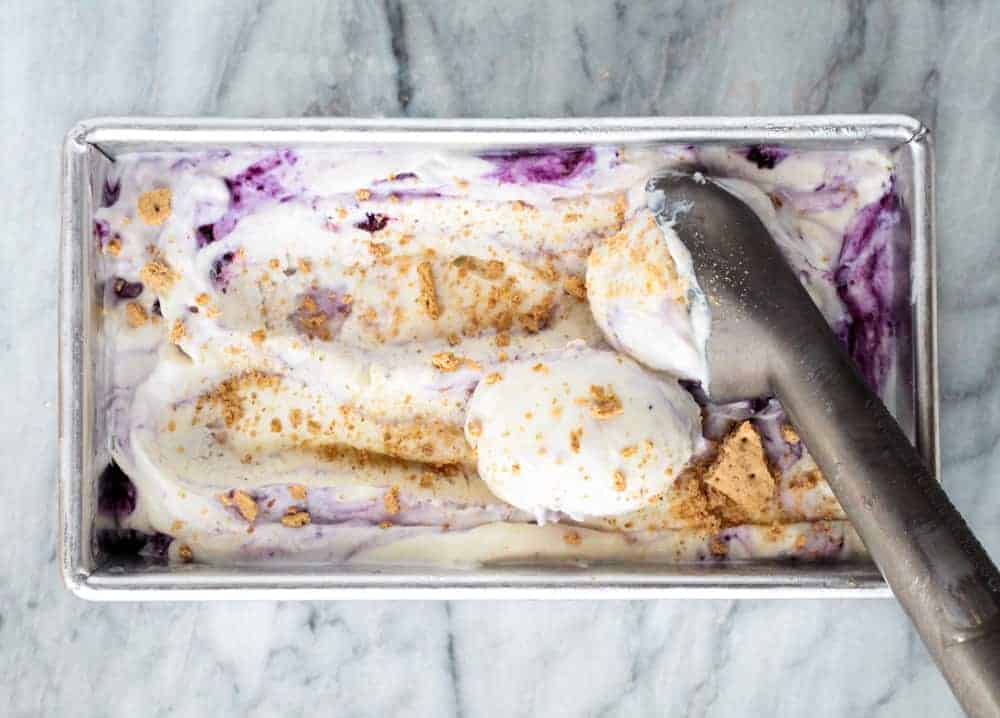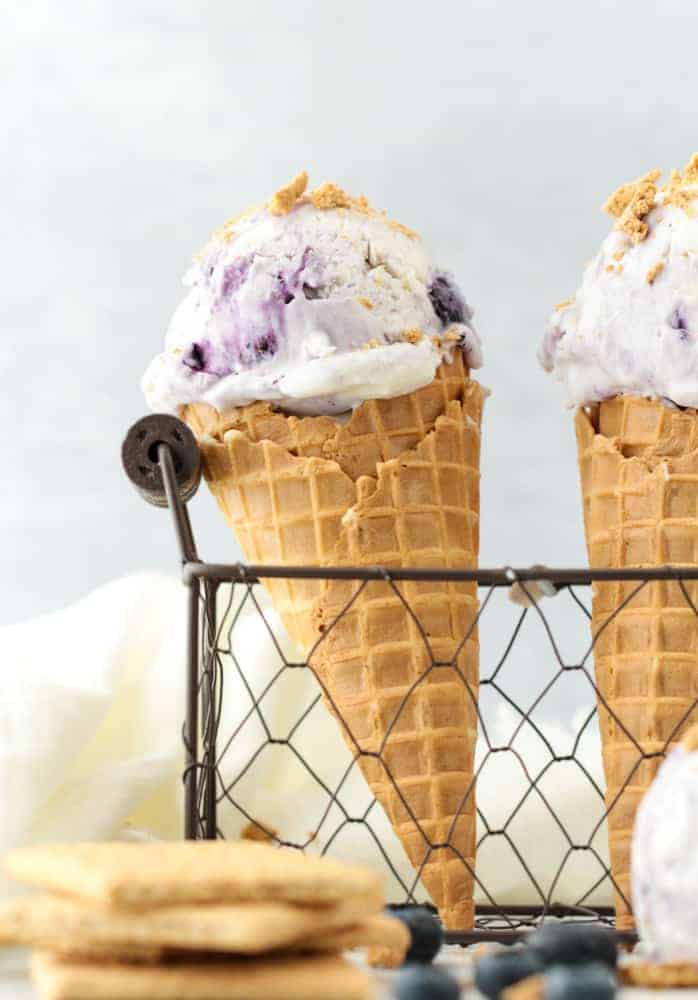 When you add in the blueberry swirl, you want to make sure not to overmix the yogurt or else you'll end up with an all purple yogurt instead of keeping those gorgeous swirls. This is all the further I went with my mixing: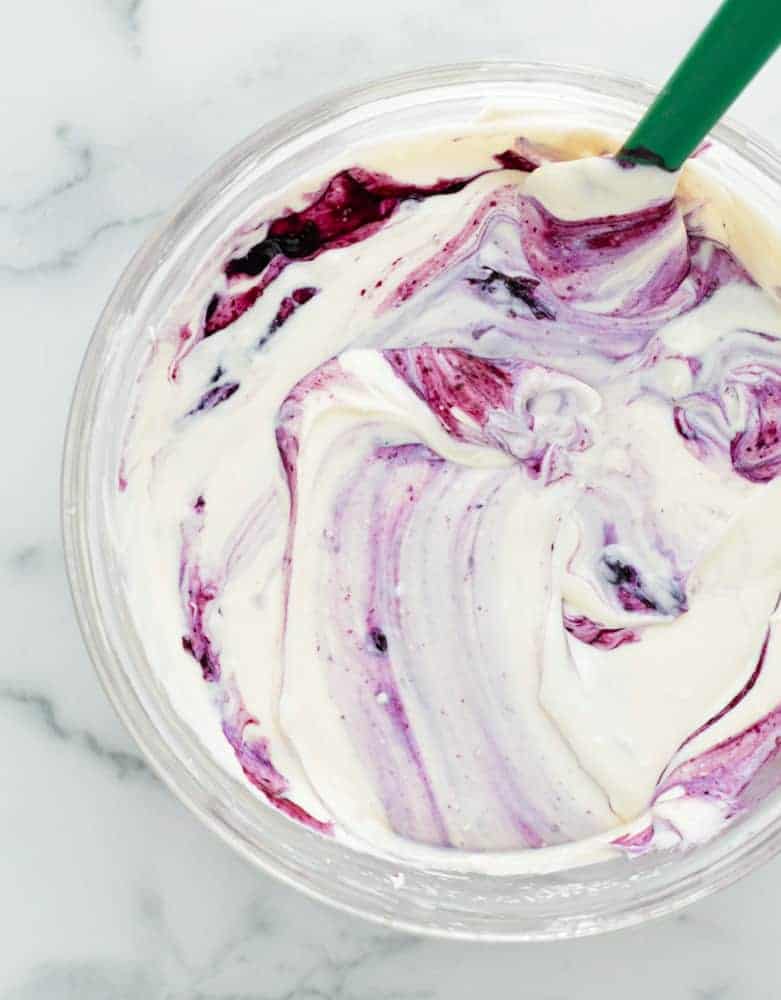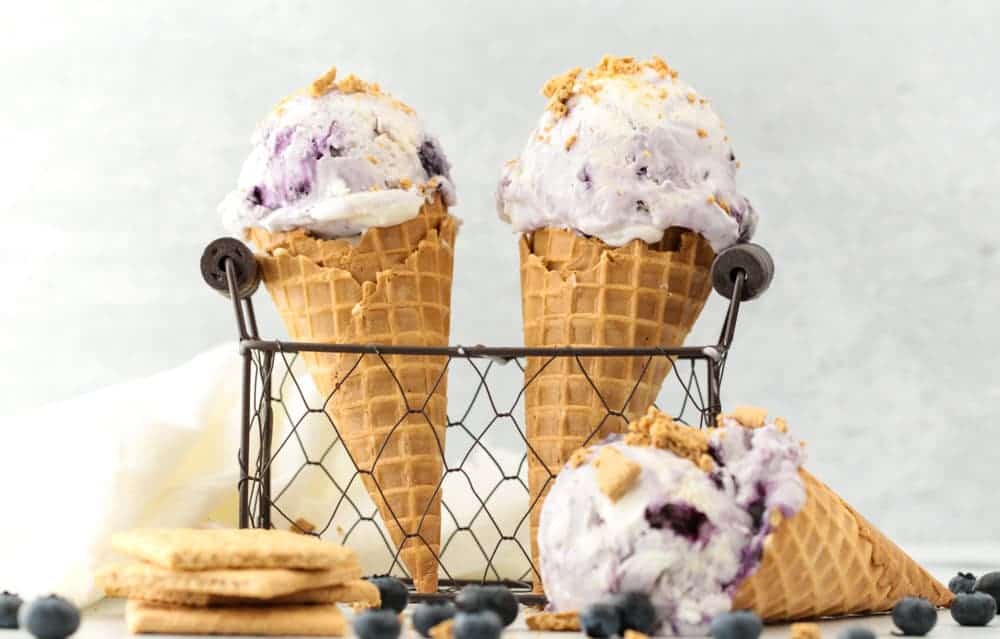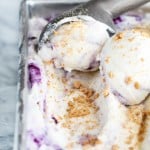 Blueberry Cheesecake Frozen Yogurt
Prep Time 20 minutes
Cook Time 10 minutes
Total Time 30 minutes
Servings 12 servings (~2/3 cup per serving)
Calories per serving 281 kcal
Ingredients
Cheesecake Frozen Yogurt
35.3 oz Fage Plain 5% Greek Yogurt
14 oz sweetened condensed milk
1 1/2 scoops Cellucor Vanilla Casein Protein Powder (50 grams)
1/2 cup Philadelphia Cream Cheese, softened to room temperature (4 oz)
1 tsp vanilla extract
Optional: 2 oz vodka (helps prevent freezing solid)
Blueberry Swirl
1 cup frozen or fresh blueberries (140 grams)
1 tbsp sugar
1/2 tsp cornstarch
2 tsp warm water
Instructions
Add blueberries and sugar to a small pan and bring to a boil over medium high heat. Whisk cornstarch into warm water until dissolved, then add to the pan with the blueberries. Mix well and lower heat to medium low and simmer blueberries until juices are released and most of the berries have burst (you can help them along by pressing them against the sides of the pan with the back of a spoon). Set aside to cool.

Add yogurt and casein protein powder to a large bowl and mix with an electric hand mixer (or stand mixer) until smooth. Add remaining cheesecake ingredients and mix until smooth.

Add blueberry mixture on top of the yogurt mixture and gently fold in with a spatula, being careful not to overmix so you retain the "swirled" look.

Pour the yogurt and blueberry mixture into a loaf pan or other freezer safe container. Cover and freeze for 6-8 hours. Remove from freezer at least 30 minutes before serving so the yogurt can soften enough to scoop. The longer you leave it out (anywhere up to about 90 minutes), the creamier it will get!
Nutrition Facts
Blueberry Cheesecake Frozen Yogurt
Amount Per Serving
Calories 281 Calories from Fat 99
% Daily Value*
Fat 11g17%
Cholesterol 42mg14%
Sodium 144mg6%
Potassium 184mg5%
Carbohydrates 30g10%
Sugar 29g32%
Protein 15g30%
* Percent Daily Values are based on a 2000 calorie diet.