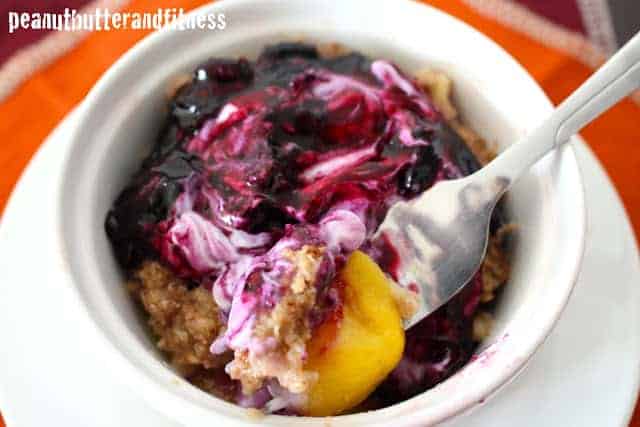 Millions of peaches…peaches for me…peaches, peaches, peaches.  I love peaches.  And blueberries.  And cobbler (not the shoe guys). You're welcome for getting that song stuck in your head, by the way.  
I scored some perfectly ripe peaches at the grocery store the other day and I got it in my head that I had to make some easy and healthy peach cobbler.  I love the combo of peach and blueberry in smoothies, so why not throw it together for a cobbler?  Perfect.  It's all ridiculously easy to make too.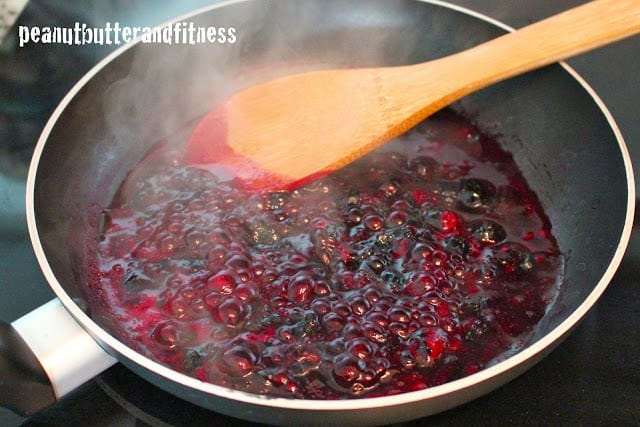 I made this "mug cake" in a ramekin to make it look prettier and easier to eat.  But by all means, if you want to use a mug and hop on the mug cake train, it'll work just fine.  The first time I made this I did it in the oven…but then I thought, hey, why not try to make it in the microwave?  Turns out I liked it in the microwave better.  The oven makes the crust super crispy, which is delicious, but it's a little tougher to cut and you kind of smush those juicy peaches underneath.  Plus it involves heating up the oven.  But anyways, this little concoction is healthy enough to eat for breakfast if you want 🙂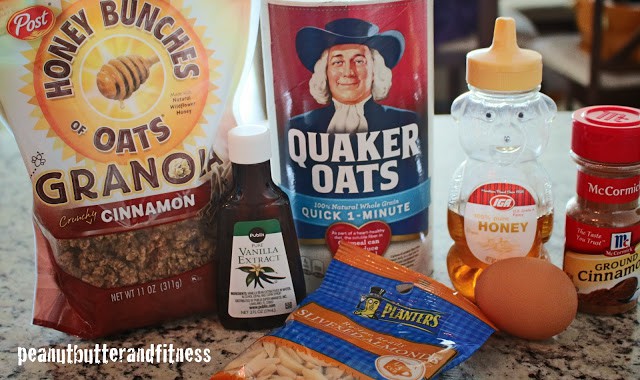 Microwave Skinny Peach Cobbler with Blueberry Sauce
1/2 cup quick oats, milled

1/4 cup granola of choice (or rolled oats if you want to go cleaner)

1 egg white

2 tablespoons unsweetened applesauce

1 tsp vanilla extract

1/2 tsp cinnamon

1 tbsp honey

2 tbsp slivered almonds (pecans or almonds would work too)

Pinch of salt

1 large fresh peach or about 1.5 cups frozen peaches

1/2 cup blueberries

2 tbsp water

2 packets splenda

Optional: Greek yogurt to melt on top
In a small bowl, mix together milled oats, granola, egg white, applesauce, vanilla extract, cinnamon, honey, slivered almonds and salt.




Peel and slice peach.  Spray ramekins with cooking spray and lay the peach slices in the ramekin.  Top with a little bit of honey and cinnamon if you'd like.




Microwave on high for about 2 and a half minutes (or bake at 350 degrees for 30 minutes).  If you're using a ramekin in the microwave, be sure to add a plate underneath, or you'll get peach juice everywhere.

In a small pan over medium-high heat, mix blueberries, water and Splenda.  Roughly mash the blueberries with a wooden spoon.  Bring the mixture to a boil for about 3 minutes or until thickened.

Top the peach cobbler with a spoonful of Greek yogurt and blueberry sauce.
Enjoy! Eat if for breakfast, lunch, dinner, dessert, whatever.  I ate it as a pre-workout snack and it was awesome.  I even have some leftover to do the same thing tomorrow…