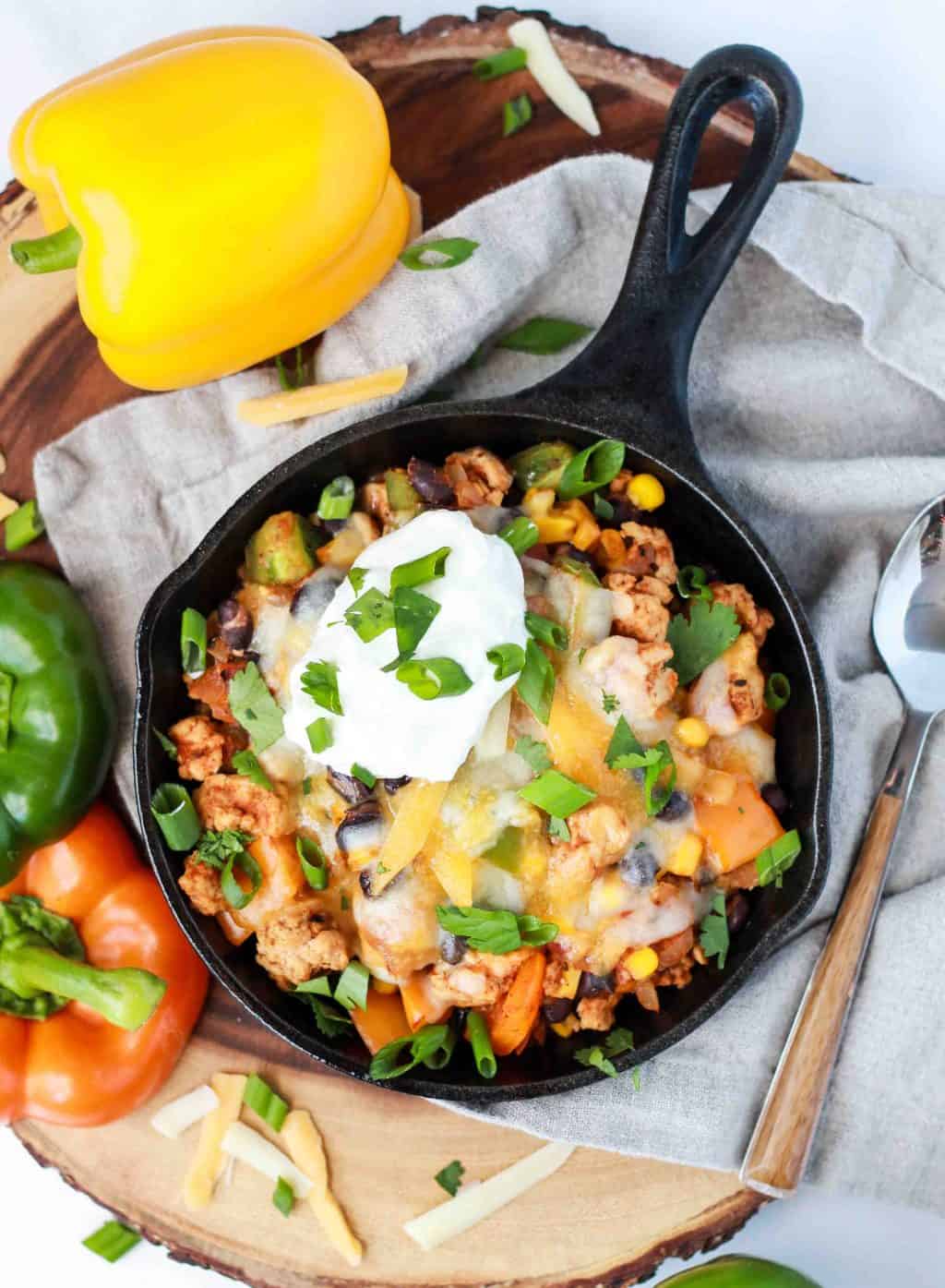 Jump to Recipe
I love stuffed peppers but don't always love the extra steps of pre-cooking and actually stuffing them (especially when I'm meal prepping and time is at a premium). So I decided to deconstruct them and throw it all in a bowl instead! I'm calling these Mexican Unstuffed Pepper Bowls. Original, I know.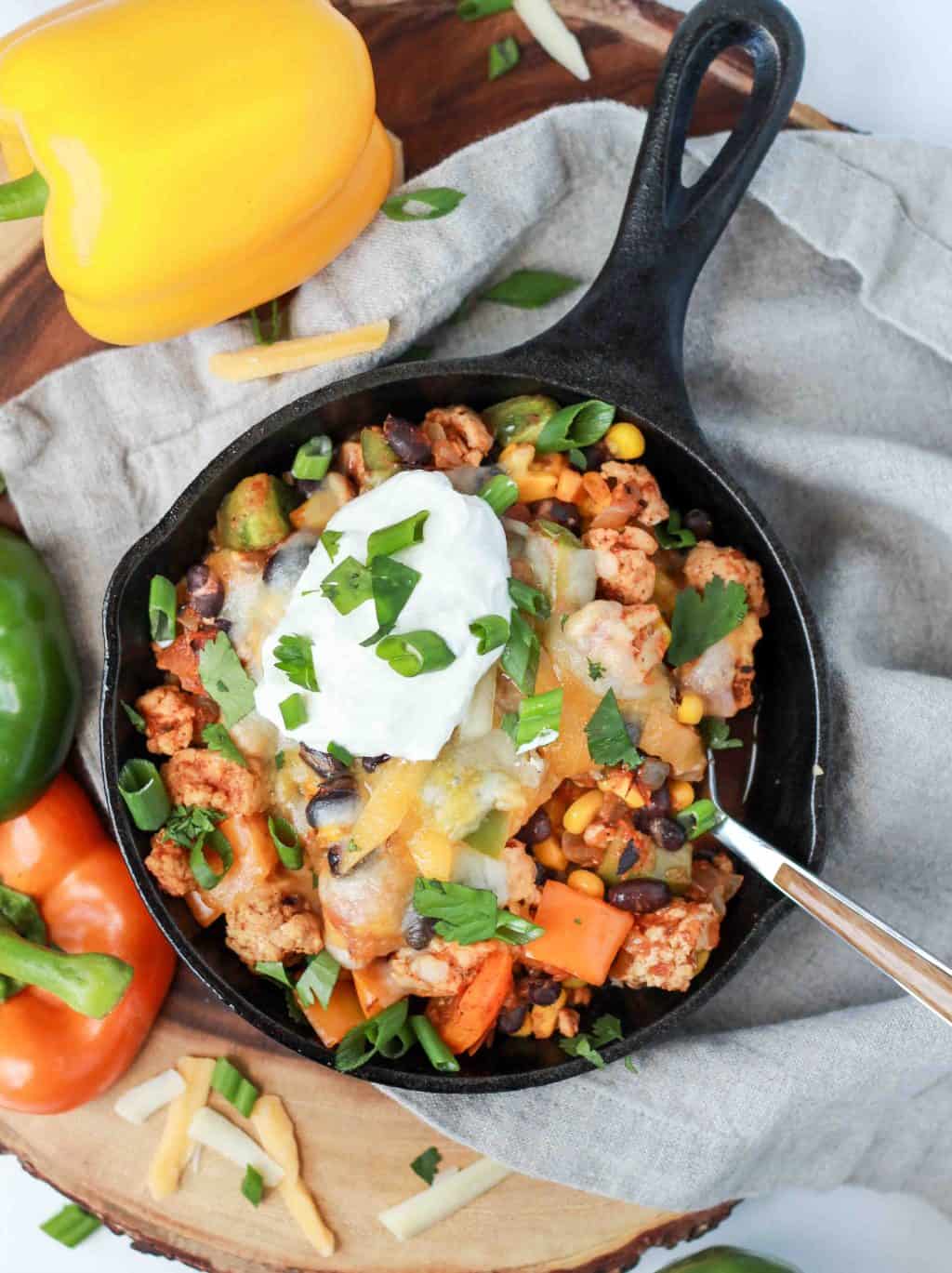 The flavors and textures here are reminiscent of chili considering all the ingredients at play – but I felt like this was lighter, brighter, and certainly less soupy. And definitely crave-worthy! This recipe started out as an experiment and I was honestly a little surprised with how much I loved it. That said, I don't recommend skipping the cheese on top because you really need that creamy element to bring it all together. I thought the Tillamook Mexican 4 Cheese blend was a perfect match here, but of course you could use a lower fat shredded cheese option to make it a little lighter.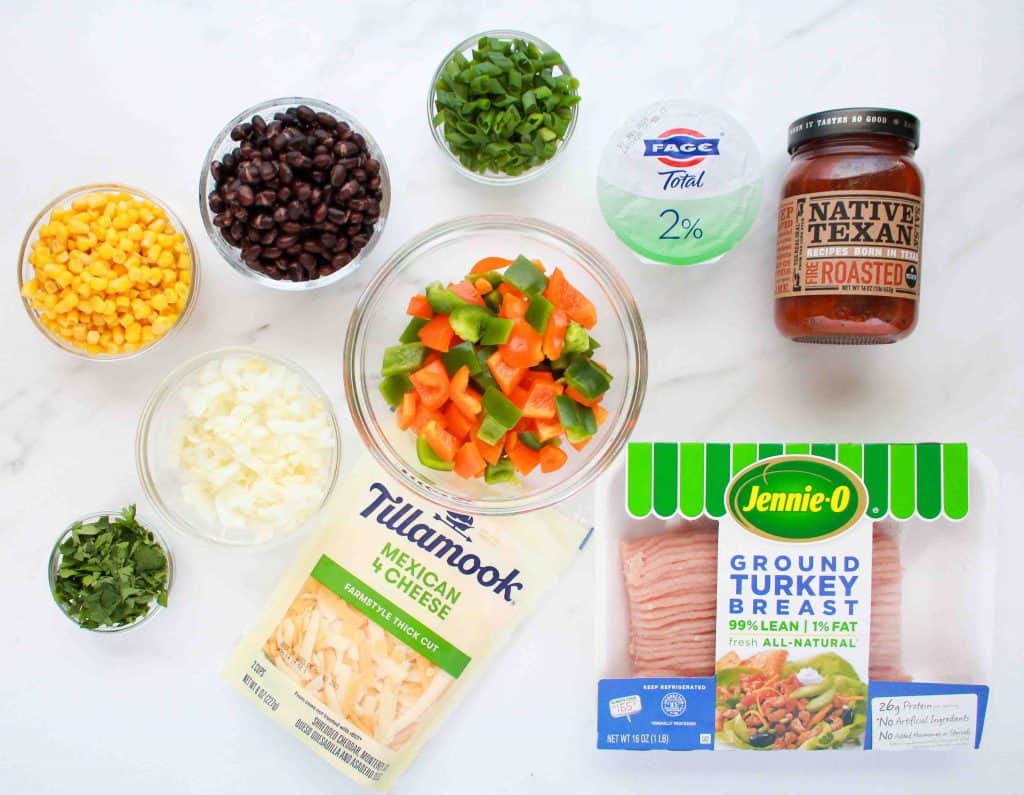 This is a perfectly meal prep-able dish too! I used the OXO Good Grips 2-cup containers you see below (Amazon Affiliate link). I love these containers because they seal so tightly – no leaks! – and they're oven safe up to 450°F so you can bake right in them.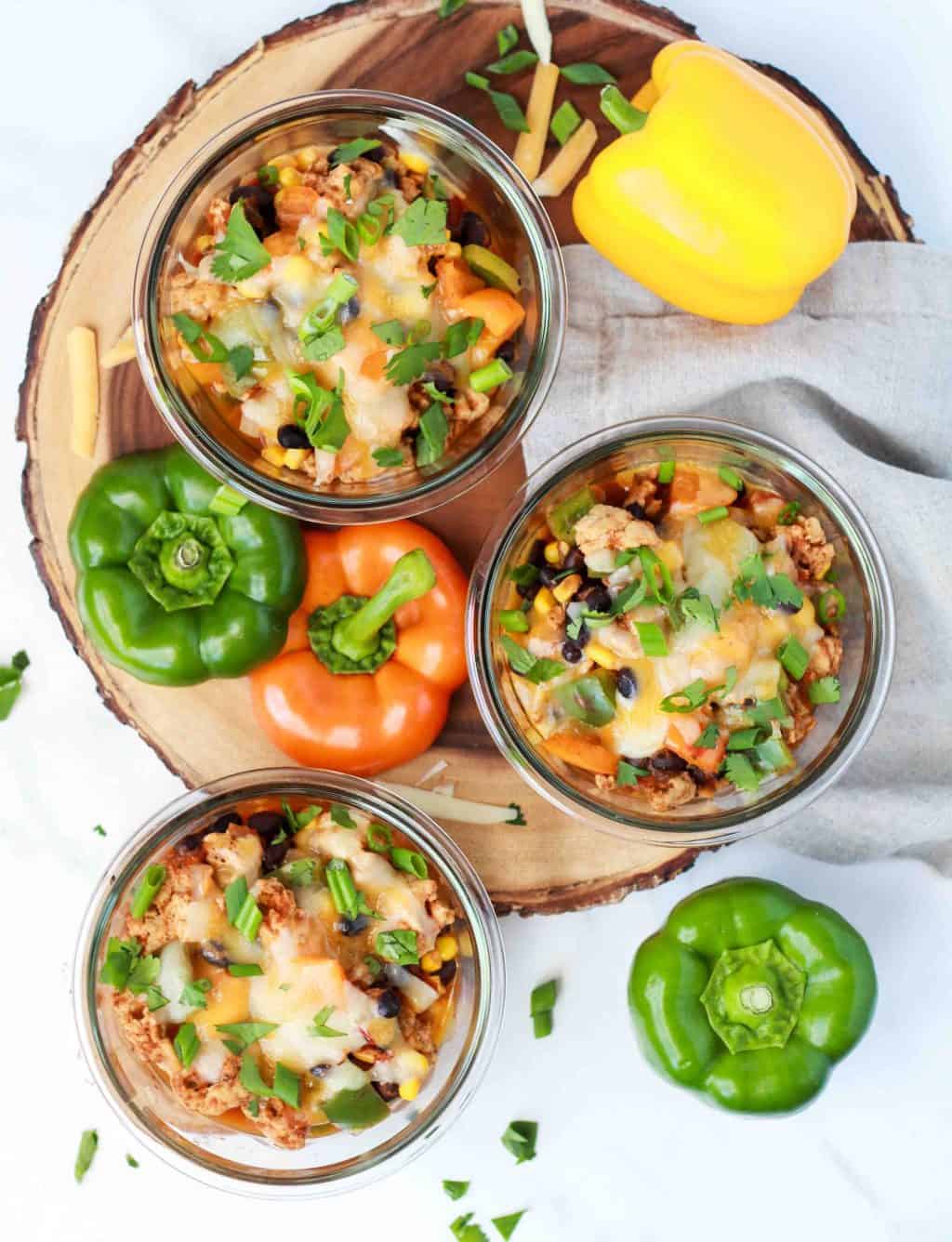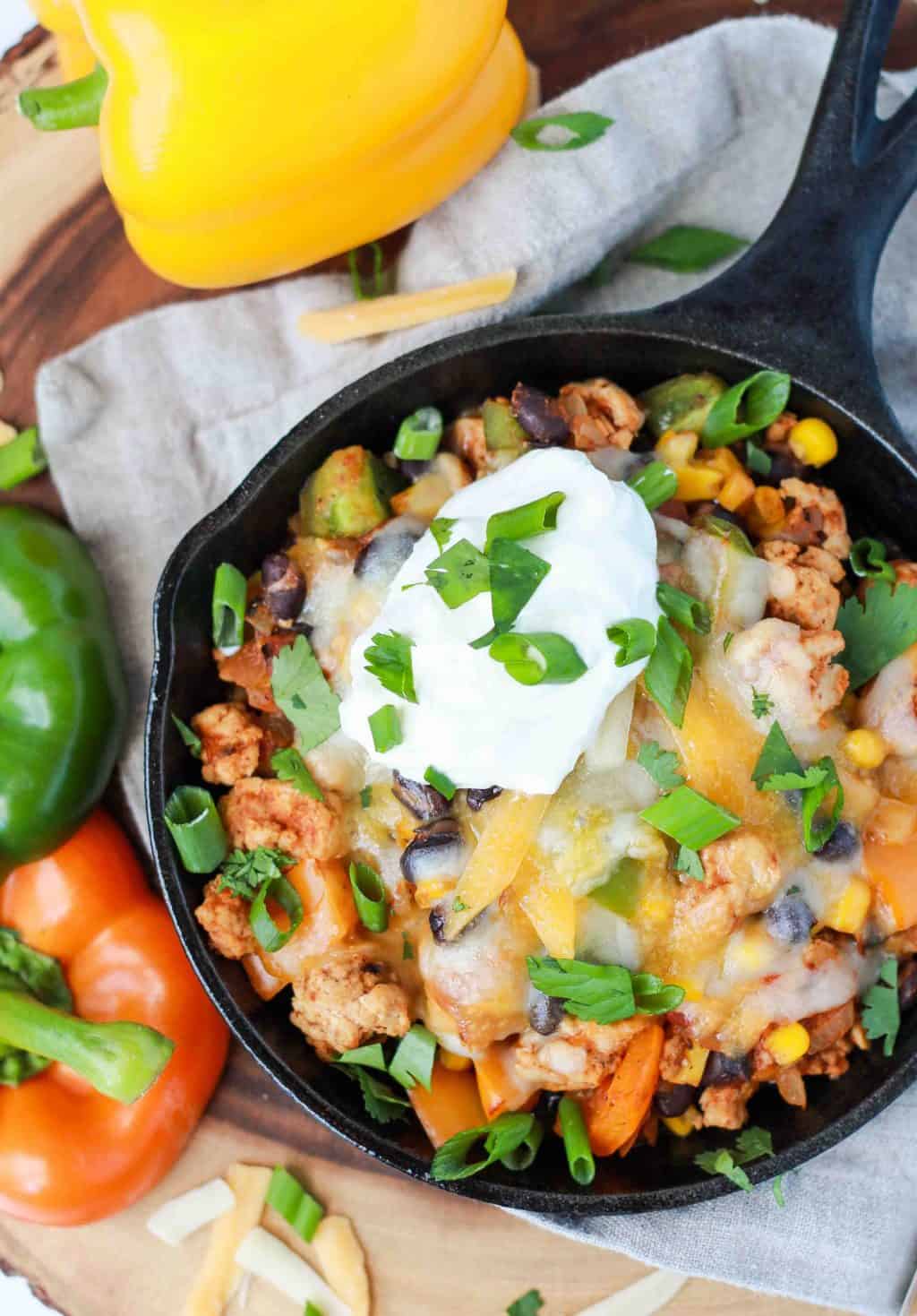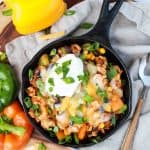 Mexican Unstuffed Pepper Bowls
Prep Time 25 minutes
Cook Time 15 minutes
Servings 4 servings
Calories per serving 384 kcal
Ingredients
1 lb extra lean ground turkey
2 medium bell peppers (any color), chopped (300 grams total)
1/2 medium sweet onion, diced (75 grams)
4 cloves garlic, minced (16 grams)
1 15.5 oz can low sodium black beans, rinsed and drained
1 cup corn (135 grams)
1 16 oz jar Native Texan Fire Roasted Salsa (use any brand you like, but this is the one used to create the nutrition info)
2 tsp olive oil (9 grams)
3/4 tsp chile powder
1/2 tsp cumin
1/2 tsp Oh My Spice! Spicy Fajita seasoning
Toppings
3/4 cup Tillamook Mexican 4 Cheese Blend (84 grams)
1/3 cup green onion, chopped (33 grams)
1/4 cup cilantro, chopped
Optional: sour cream or plain Greek yogurt
Instructions
*Note: If you're planning to serve this right from the skillet family style, be sure to use an oven safe skillet for optional cheese melting/browning at the end! Cast iron works really well here.

Heat a large skillet over medium-high (7 out of 10) heat. Add 1 tsp olive oil and swirl around the skillet. Once the oil is hot, add garlic and onion. Saute until fragrant (about 1-2 minutes), then add bell peppers and saute for 2-3 more minutes until slightly tender, but still crisp enough to hold their shape well. Remove pepper mixture onto a plate.

Add remaining 1 tsp of olive oil to the skillet. Once hot, add ground turkey and season with chile powder, cumin, and Oh My Spice! seasoning. Depending on how much sodium is in the salsa you'll be using, you may need to add salt here too. Break the ground turkey apart with a wooden spoon or spatula as it cooks.

While the turkey cooks, pre-heat oven to 450° (or broil).

When the turkey is mostly cooked through but still has some spots of pink, add salsa and stir to coat the turkey evenly. Return pepper mixture to the skillet, then add black beans and corn. Stir until well incorporated.

Optional: Once the turkey is cooked through, it's time to top with cheese and bake/broil to melt the cheese and get it golden. You could certainly do this in the microwave or stovetop, but I liked the golden edges I got in the oven. If using oven safe meal prep containers, divide the turkey mixture into 4 containers and top with cheese before placing in oven (double check the max temperature rating on your containers!). If you are serving family style, just add the cheese right on top of the turkey mixture in the skillet. Bake/broil for 4-6 minutes or until cheese is melted and you begin to see golden brown edges.

Top with any other desired toppings such as chives, cilantro, or sour cream/plain Greek yogurt before serving.
Recipe Notes
Click here or scan the barcode below to log this meal into My Fitness Pal.
Nutrition Facts
Mexican Unstuffed Pepper Bowls
Amount Per Serving
Calories 384 Calories from Fat 99
% Daily Value*
Fat 11g17%
Cholesterol 74mg25%
Sodium 801mg35%
Potassium 321mg9%
Carbohydrates 33g11%
Fiber 9g38%
Sugar 8g9%
Protein 40g80%
* Percent Daily Values are based on a 2000 calorie diet.