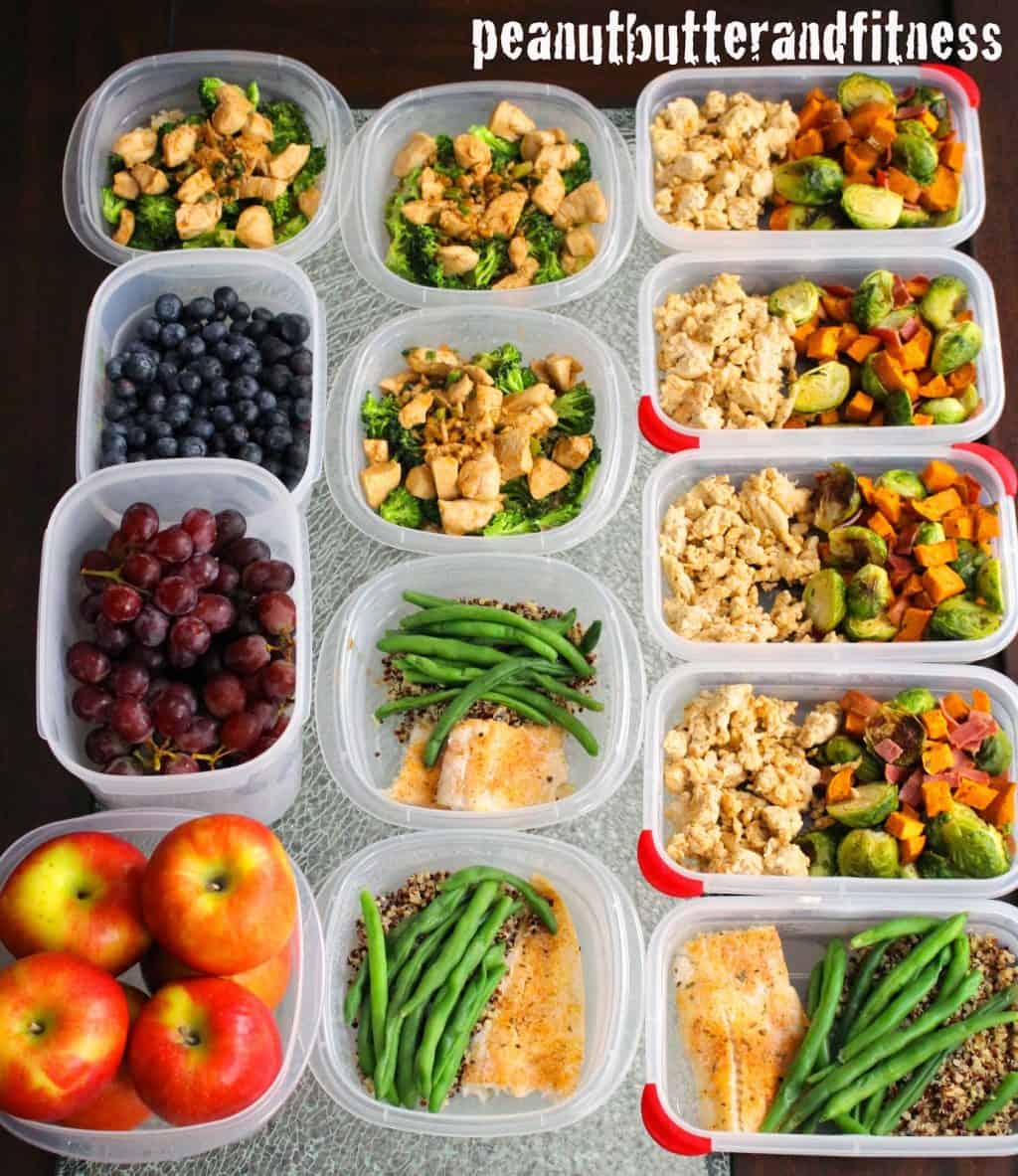 Happy Monday everyone! Here's a really easy meal prep for the week (technically I did this last week, but who cares)…I switched out chicken for shrimp in my Spicy Garlic Shrimp with Broccoli and Rice recipe.  I gotta say, the shrimp is way better in the recipe but chicken is still a good alternative if you want to save some moola.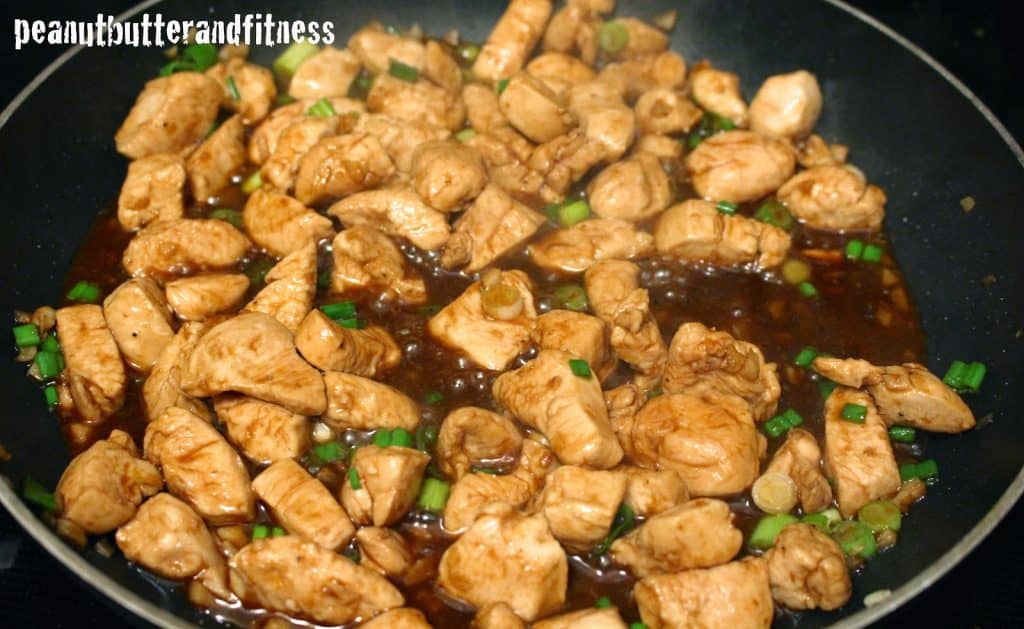 Spicy Garlic Chicken with Broccoli and Rice
Servings: 4 • Calories: 307 • Fat: 5 g • Protein: 31 g • Carbs: 35 g • Fiber: 3 g • Sugar: 7 g • Sodium: 381 mg • Cholesterol: 65 mg
1 lb raw chicken breast, cubed
4 cups broccoli
5/8 cup dry Della 4 Grain Rice Blend
3 cloves garlic, minced
1 tsp olive oil
1/4 cup chopped green onion
Sauce Ingredients:
3 Little Soya Low Sodium soy sauce units (about 3 tbsp)
2 tsp sesame oil
1 tbsp sriracha sauce
1 tbsp honey
1/4 tsp black pepper
Optional: 1/4 tsp red pepper flakes
Directions:
Cook rice according to package directions.  Set aside.
Add broccoli to a large, microwave safe bowl.  Top with seasoning and cover bowl with a damp paper towel.  Microwave for 3-4 minutes or until broccoli is tender.
In a small bowl, whisk together all sauce ingredients.  Set aside.
Heat olive oil over medium-high heat in a large skillet.  Add garlic and saute until fragrant.  Add chicken and cook until only some pink remains (about 5-7 minutes).
Add sauce and bring to a boil.  Continue boiling until liquid is reduced and chicken is cooked through.  Remove from heat and add green onions.
Serve shrimp over rice and broccoli.
Roasted Brussels Sprouts and Sweet Potatoes with Turkey Bacon
Servings: 4 • Calories: 184 • Fat: 8 g • Protein: 8 g • Carbs: 21 g • Fiber: 5 g • Sugar: 5 g • Sodium: 313 mg • Cholesterol: 23 mg
4 cups brussels sprouts, halved
2 small to medium sweet potatoes, cubed into <1/2″ cubes
6 slices turkey bacon, diced
1 1/2 tbsp olive oil
Directions: Pre-heat oven to 400 degrees. In a large bowl, mix bacon, brussels sprouts and sweet potatoes with olive oil and seasoning until evenly coated.  Bake at 400 degrees for 20-25 minutes or until brussels sprouts are tender and bacon is crispy.
Macros if served with 4 oz extra lean ground turkey:
Calories: 304 • Fat: 9 g • Protein: 36 g • Carbs: 21 g • Fiber: 5 g • Sugar: 5 g • Sodium: 313 mg • Cholesterol: 23 mg
My much too small workshop…I always make my sides before cooking the meat.  Except when there are competing demands for my little pot that I make rice and quinoa in.  This time the rice went first, so my fish ended up being done before the quinoa.
Baked Pollock with Quinoa and Green Beans
Servings: 4 • Calories: 209 • Fat: 2 g • Protein: 25 g • Carbs: 23 g • Fiber: 5 g • Sugar: 4 g • Sodium: 110 mg • Cholesterol: 80 mg
4 oz Alaska Pollock Fillet (Safeway)
3/4 cup quinoa
3 cups fresh green beans (steam in bag variety)
1/2 tsp sodium free chicken bullion
1 tsp Flavor God Garlic Lover's Seasoning, divided
Optional: Lemon slices
Directions: Prepare quinoa according to package directions, adding chicken bullion and 1/2 tsp Flavor God to boiling water while cooking.  Bake pollock according to package directions (Bake at 425 degrees for 13 minutes from frozen).  Steam green beans according to package directions.
I like to wash my fruit and veggies all at once before I start prepping. It's really just part of the prep, but it makes it easy during the week to just grab some fresh fruit and eat it with no hassle.  My blueberries and grapes are kept in
Tupperware FridgeSmart
containers to keep them fresh!
Containers that you see here: