Happy President's Day everyone! And happy meal prep Monday 🙂 Here's my meal prep from last week…it was really easy and also really delicious so I'm happy with it. I've been experimenting with brussels sprouts quite a bit lately. For someone who has always hated brussels sprouts, I feel like I've been doing good. Adding bacon to them may have something to do with the fact that I've been enjoying them. Maybe.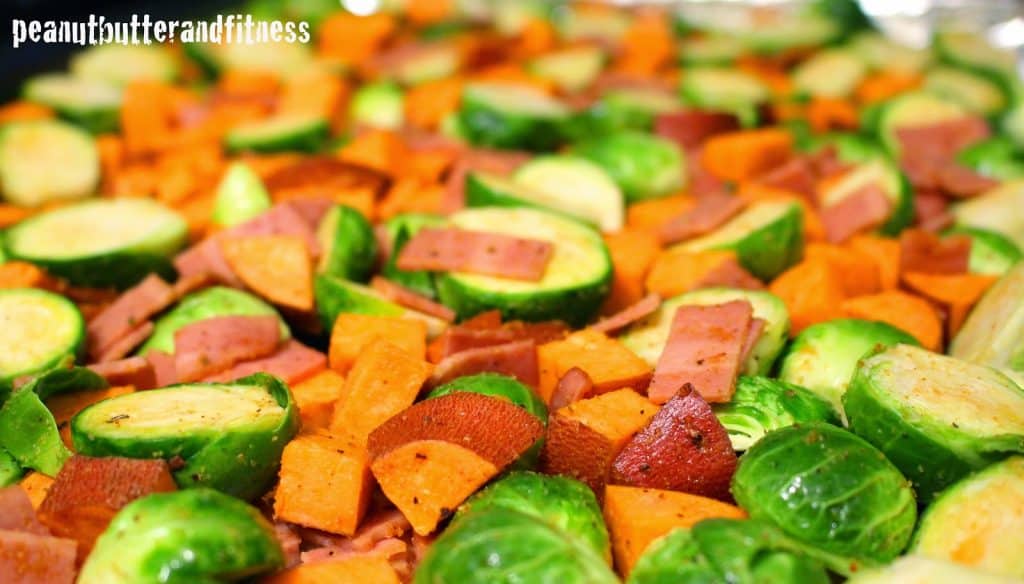 I may even have to dedicate a whole post to this side dish…I really am proud of this creation. Plus, I get to have my veggies and complex carbs aaaand some protein all baked on one tray. Add some aluminum foil and that means little to no cleanup after taking them out of the oven. My favorite kind of dish 🙂
Roasted Brussels Sprouts and Sweet Potatoes with Turkey Bacon
Servings: 4 • Calories: 184 • Fat: 8 g • Protein: 8 g • Carbs: 21 g • Fiber: 5 g • Sugar: 5 g • Sodium: 313 mg • Cholesterol: 23 mg
4 cups brussels sprouts, halved
2 small to medium sweet potatoes, cubed into <1/2″ cubes
6 slices turkey bacon, diced
1 1/2 tbsp olive oil
Directions: Pre-heat oven to 400 degrees. In a large bowl, mix bacon, brussels sprouts and sweet potatoes with olive oil and seasoning until evenly coated. Bake at 400 degrees for 20-25 minutes or until brussels sprouts are tender and bacon is crispy.
Macros if served with 4 oz chicken:
Calories: 304 • Fat: 10 g • Protein: 31 g • Carbs: 22 g • Fiber: 5 g • Sugar: 5 g • Sodium: 388 mg • Cholesterol: 88 mg
Southwest Turkey Lettuce Wraps
Servings: 4 • Calories: 212 • Fat: 5 g • Protein: 31 g • Carbs: 14 g • Fiber: 4 g • Sugar: 4 g • Sodium: 180 mg • Cholesterol: 55 mg
1 lb 99% extra lean ground turkey
1 medium head romaine lettuce
1/2 cup low sodium black beans, drained and rinsed
2 roma tomatoes, chopped
1/2 cup corn kernels
1/4 cup Fage 0% Plain Greek Yogurt
4 tsp Sriracha sauce
2 tsp olive oil
Directions: Heat olive oil in a large pan over medium-high heat. Add turkey and Flavor God seasoning. Continue cooking, breaking apart turkey until cooked through, about 6-7 minutes. Set aside. Separate lettuce leaves, then add turkey and other toppings and serve.
Spicy Mustard Salmon with Veggies and Rice
Servings: 4 • Calories: 334 • Fat: 6 g • Protein: 28 g • Carbs: 38 g • Fiber: 4 g • Sugar: 8 g • Sodium: 164 mg • Cholesterol: 53 mg
16 oz pink salmon filets, cut into 4 filets
1/4 cup spicy mustard
3/4 cup Della brown rice
4 cups Safeway Farms Broccoli Stir Fry vegetables
Directions: Pre-heat oven to 400 degrees. Bake salmon at 400 degrees for 12-14 minutes or until it flakes easily. Cook brown rice and steam veggies according to package directions.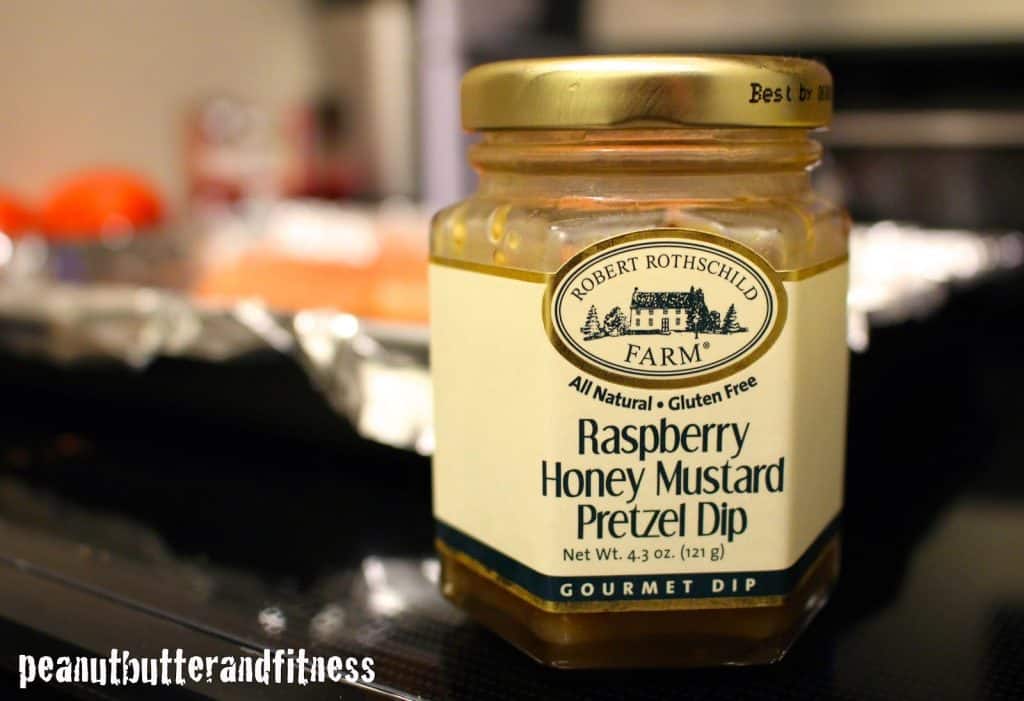 I had this raspberry honey mustard left over from a Christmas stocking stuffer and wanted to use it up on something other than pretzels. It has a nice spiciness to it but is balanced with the sweetness of honey and raspberry. I just kind of slathered it on top of the salmon. But I tried to keep it away from the edges a little bit so it wouldn't run off too much! Dijon mustard would work really well for this too. Something with a little kick, and maybe add a bit of honey or brown sugar in for that touch of sweetness.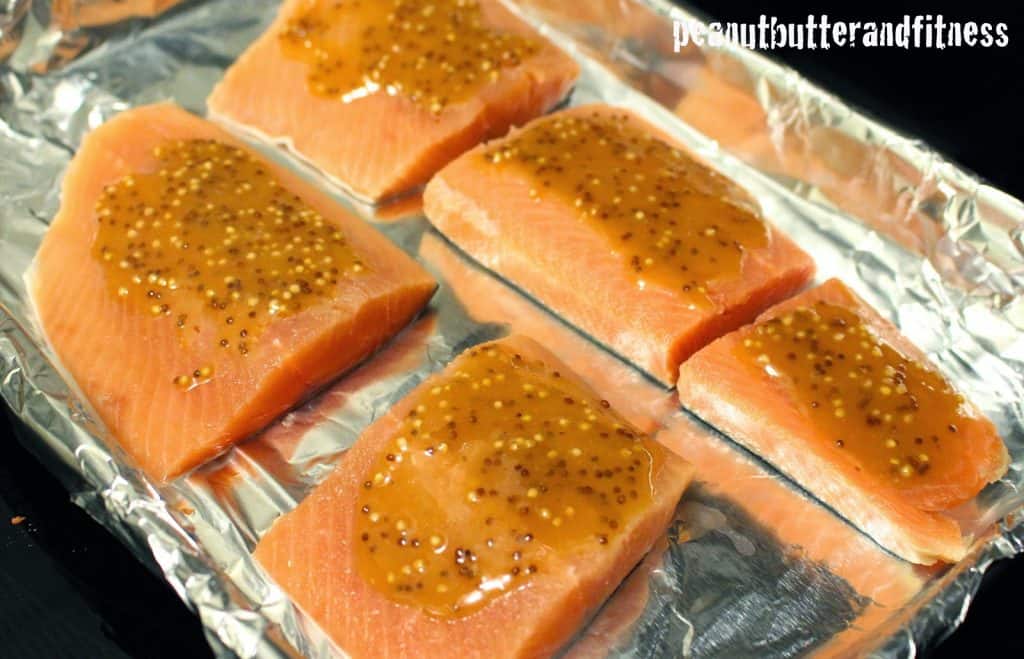 This was just regular pink salmon from the freezer section at Safeway. Most of the "fresh" fish at the seafood counter of big name grocery stores like Safeway is just fish that's been frozen and thawed. It's usually cheaper to just go to the freezer section in those stores. Plus, you (usually) get a bigger variety. Be sure to check out the nutrition when you're picking out your salmon from a freezer – some kinds (like sockeye) have a much higher fat content than others.
Containers that you see here: