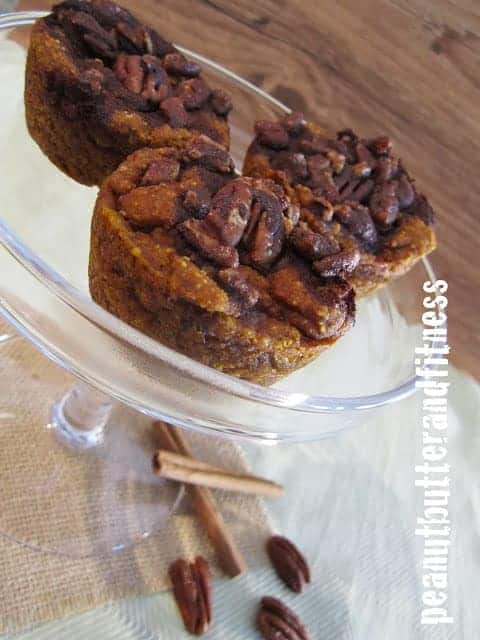 Time for fall! Unless you live in northern Latin America. Then it's just extended summer. Fine, I'll take the days at the beach/pool, but I really do miss the fall up north. There's not much better than fall colors, pumpkin flavored everything, apple cider, being able to wear jeans without sweating profusely. You know, all the good things in life.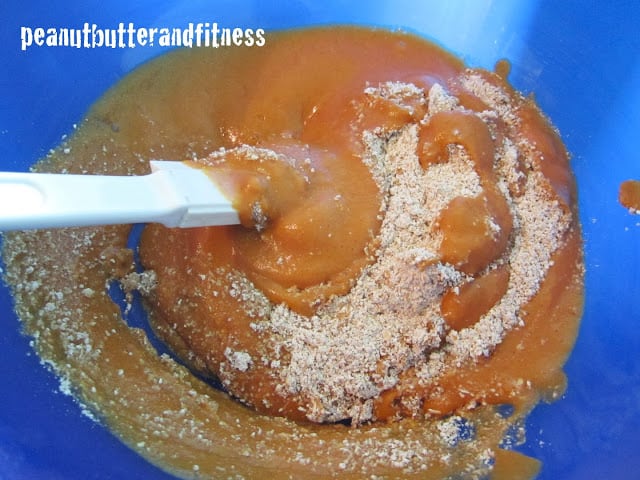 This recipe may have taken me more tries to get it right than I would like to admit, but hey, I never said I was a great baker. I really wanted to make a yummy fall muffin with no flour and it took me a little bit to get these to be moist but not gooey without the flour. I tried it with and without a maple/cinnamon/pecan topping, you can pull off either, but I like the looks (and taste) of the topping. And if you don't do the topping, I'd recommend some chocolate chips or raisins mixed in. Next time I think I'll add the raisins! And you don't have to grind up the quick oats, but I like the texture better that way.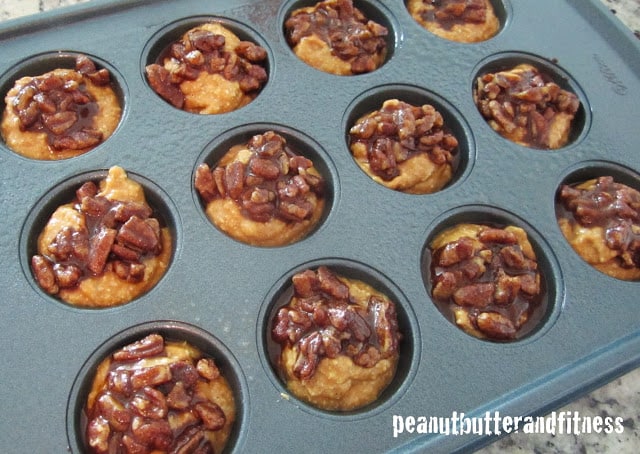 Maple Pumpkin Muffins
Makes 18-20 mini muffins
Gluten Free


Ingredients:
1 1/2 cups quick oats
1/8 cup ground flax seed
1 tsp baking soda
2 tsp pumpkin pie spice
1/4 tsp salt
1 cup pumpkin puree
1/4 cup pure maple syrup
4-5 dates
1 tsp vanilla extract
1/2 cup unsweetened vanilla almond milk
1 egg white, lightly beaten
Optional add-ins: 1/2 cup raisins or semi-sweet mini chocolate chips
Topping Ingredients (Optional)
1/2 cup chopped pecans
2 tbsp maple syrup
2 tsp cinnamon
Pre-heat oven to 350 degrees. Combine quick oats, flax seed, baking soda, pumpkin pie spice, and salt in a food processor or Nutribullet with milling blade until oats are ground into a powder. Add to a mixing bowl.
In a food processor or Nutribullet with extracting blade, puree the dates with pumpkin, maple syrup, vanilla extract and unsweetened vanilla almond milk until smooth. Mix with dry ingredients in bowl.
Mix in lightly beaten egg white and optional add-ins if you're using them.
Spray mini-muffin pans with non-stick cooking spray.
Add pumpkin oatmeal mixture, filling the muffin pans until almost completely full, leaving a small space for the maple pecan topping if you're going to use it.
For the topping: In a small bowl, combine chopped pecans, maple syrup and cinnamon. Top each muffin evenly with mixture.
Bake for 25 minutes at 350 degrees. Enjoy!
These muffins are loaded with fiber and some vitamin A from the pumpkin, so you don't have to feel bad about having them for breakfast! Or a morning snack. Or dessert…