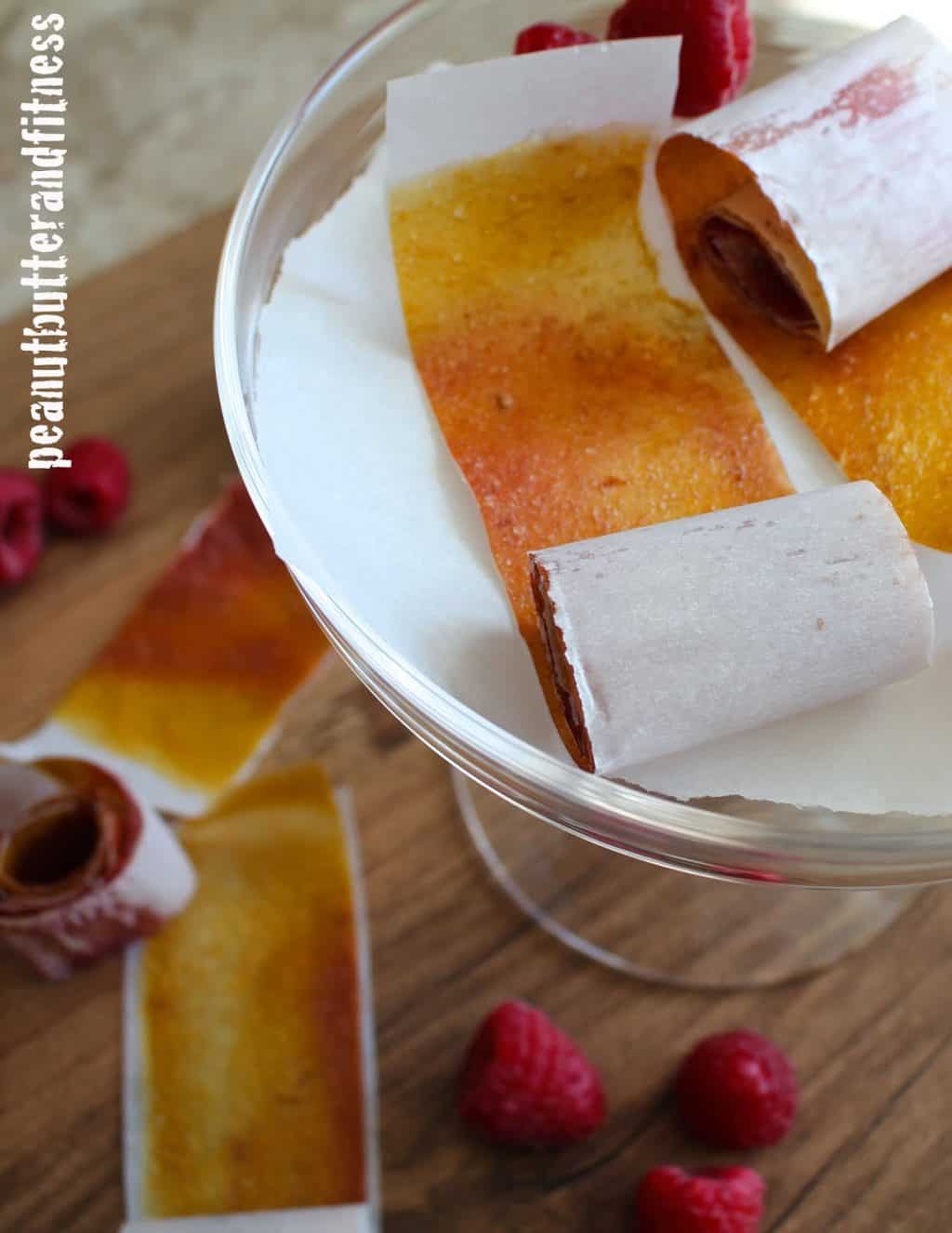 Here's a fun throw-back to elementary school! Except this one is made of nothing but fruit and a little bit of Truvia – no preservatives or artificial coloring. Only three ingredients, can't beat that!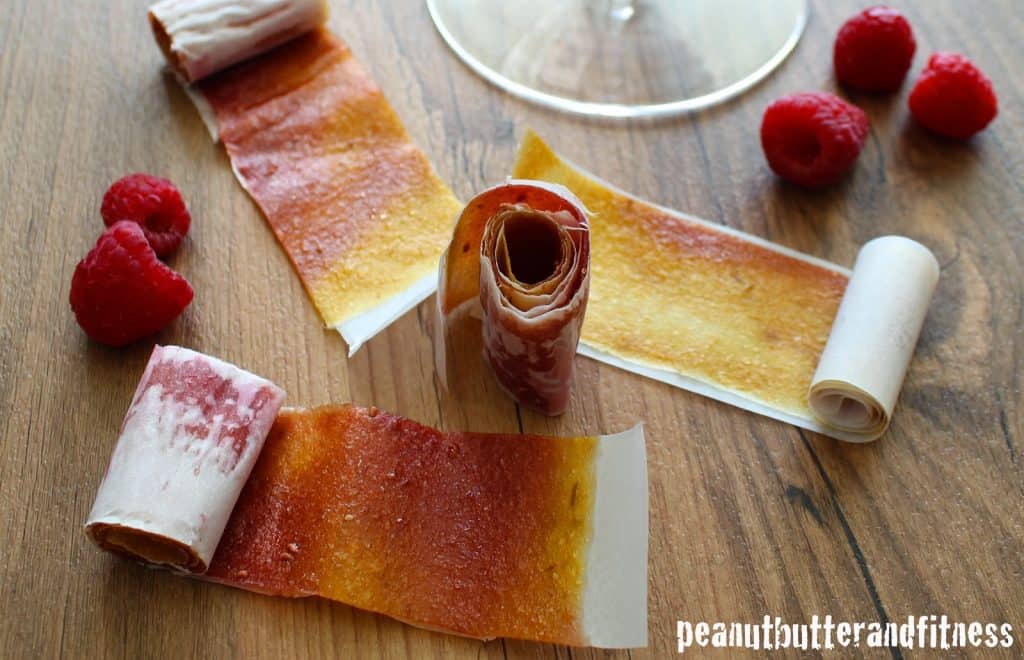 These little guys are sweet but tangy, a great snack to take to work or on the run.  Maybe I ate mine the same way I did in elementary school…Just chew along as you unwrap the roll-up 🙂
I used mango and raspberry this time, I think next time I'll try out strawberry. Just about any fruit will work though.  The hardest part about these ones was straining the seeds out of the raspberry puree.  It's definitely better than getting seeds stuck in your teeth though!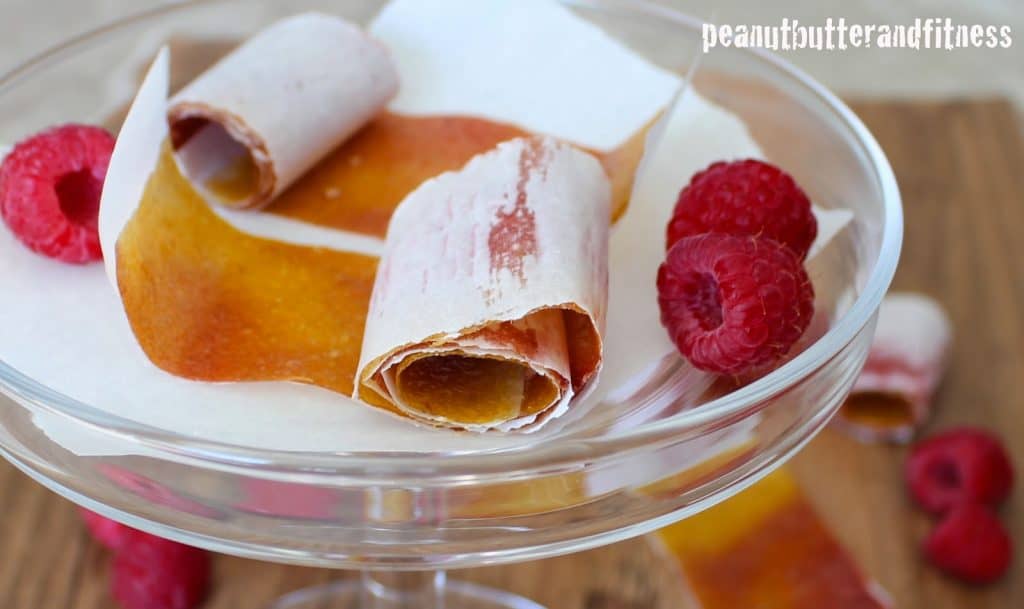 You could probably get fancier than I did with some sort of design when you add the raspberry puree on top of the mango.  I just kind of dumped it on and smoothed it out.  You may have to remove a little bit of the mango puree in order to smooth this out to an 1/8″ thick max, just do your best to make it even so you don't overcook the thinner parts.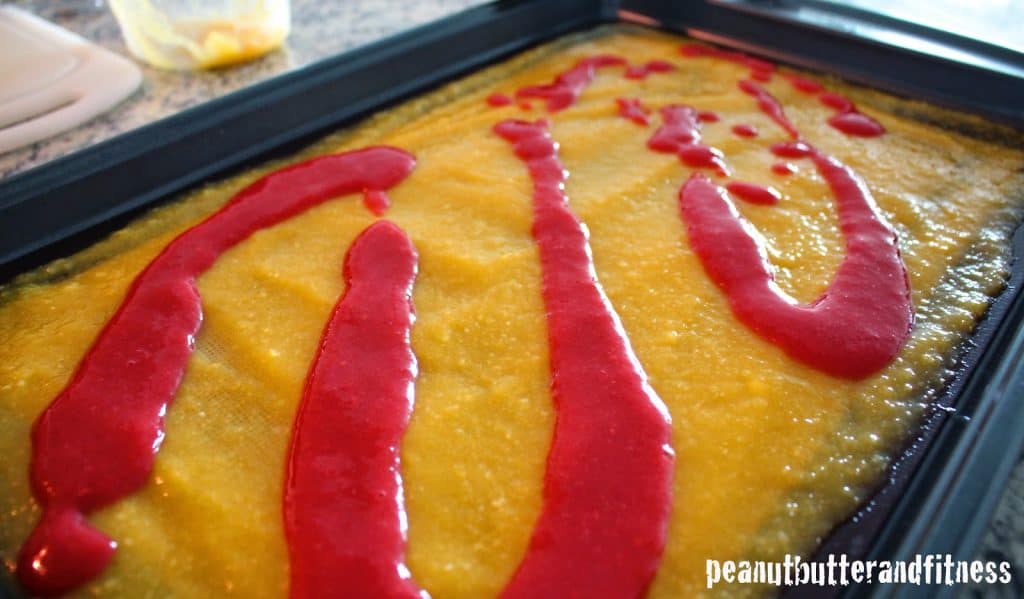 This is what it looked like after I spread it out…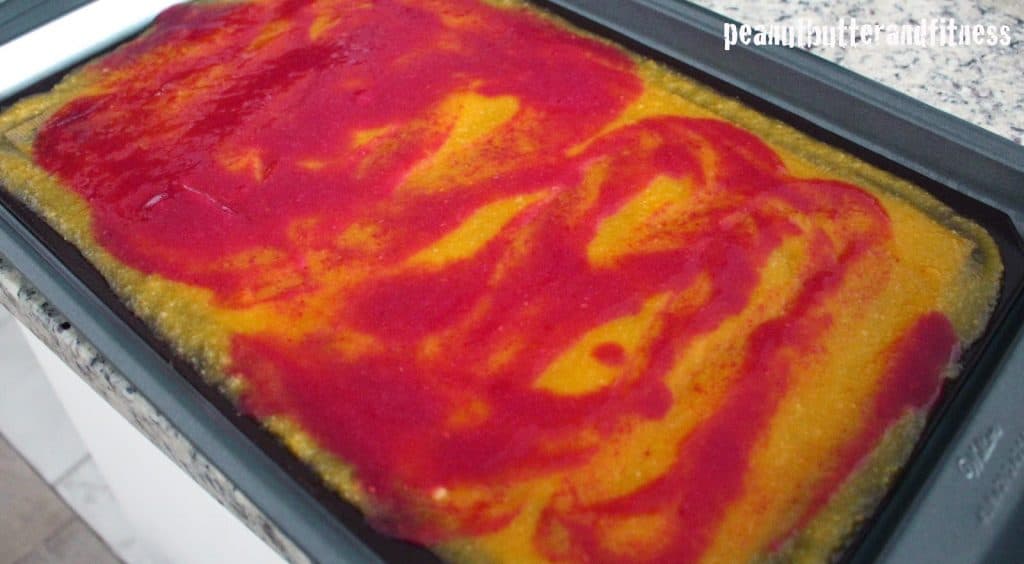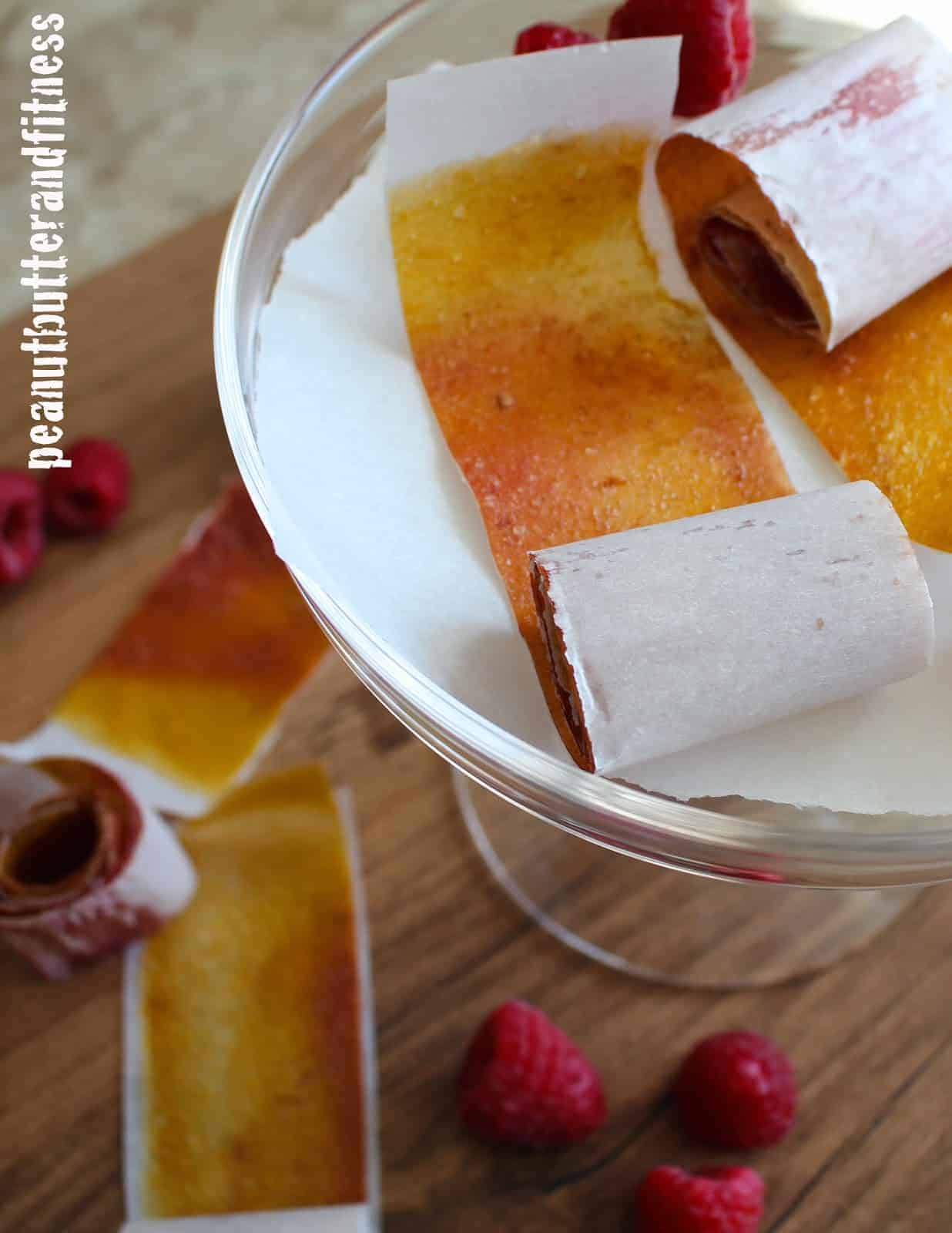 Mango Raspberry Fruit Roll-Ups
Ingredients
2

medium mangoes

,

peeled and cubed

1

cup

raspberries

4

packets

Truvia
Instructions
In a food processor, blend mango cubes until very smooth.  Place in a bowl, mix in 2 packets of Truvia and set aside.

Repeat with raspberries.  If desired, strain seeds from raspberries.  Mix in 2 packets of Truvia and set aside.

Line a large cookie sheet with silpat baking mat or wax paper.  Pour mango onto lined cookie sheet and spread evenly.  Add raspberry puree on top of mango puree and spread evenly, to about 1/8″ thick.

Bake on 170 degrees for 3-4 hours or until center is barely tacky.

Flip fruit leather onto parchment paper, roll up (hot dog style 🙂 and cut into 1.5″ rolls.  Store for up to a week in an airtight container.
Nutrition Information
Calories:
28
kcal
(1%)
,
Carbohydrates:
8
g
(3%)
,
Protein:
1
g
(2%)
,
Sodium:
1
mg
,
Fiber:
1
g
(4%)
,
Sugar:
6
g
(7%)
It looses a bit of color after baking.  Mine took the full four hours in the oven to be completely done, but it made my apartment smell great!
Just flip it right off the baking mat onto some wax paper, trim up the edges and roll it up.  When I cut it into individual rolls, I used some jello shot cups to keep them rolled up.  Super easy.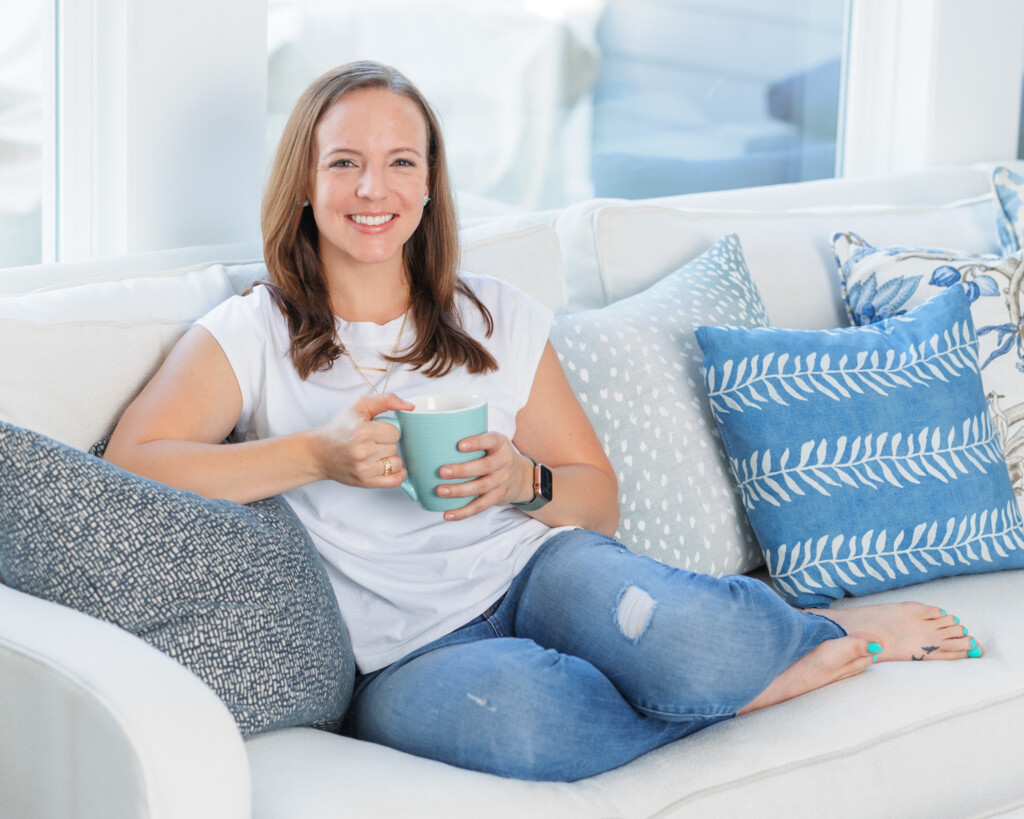 About Erin
Erin is the author behind Peanut Butter and Fitness. She started this website in 2013 as a way to keep track of her favorite healthier kitchen creations and meal preps. Today, she still loves playing with her food and camera while helping others strike a balance between indulgence and well-being.