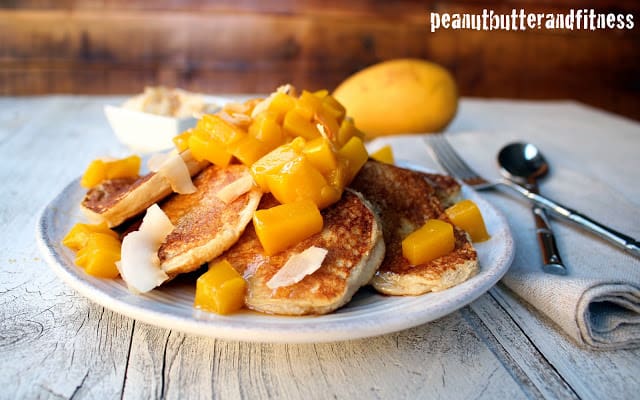 Happy Sunday peeps!  In my book, Sundays are for pancakes, heavy lifting and cooking.  But then also laundry and dreading going back to work on Monday :/  But for now…pancakes!  I've been wanting to perfect some paleo pancakes for quite some time now, but I have failed many times to date.  I can never get them to stick together quite like my usual oat flour based pancakes.  Alas though, I have done it.  Maybe with some help from
Julia Bauer's Paleo Cookbook
 and realizing they need to be miniature instead of giant in order to cook just right.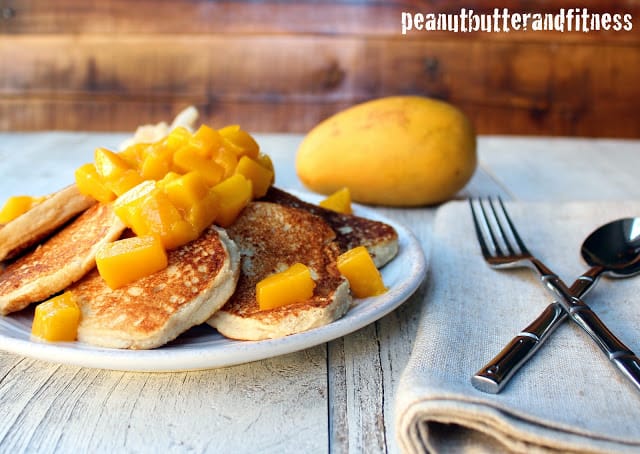 These pancakes feature coconut flour and tapioca flour, plus I added in a little bit of grass-fed whey protein to help out the macro balance.  When you cook them, they don't seem like normal pancakes, but I can assure you that they taste like the real thing and soak up maple syrup perfectly 🙂  In my book, that's the mark of a true pancake.  But like I said before, these are mini pancakes for good reason!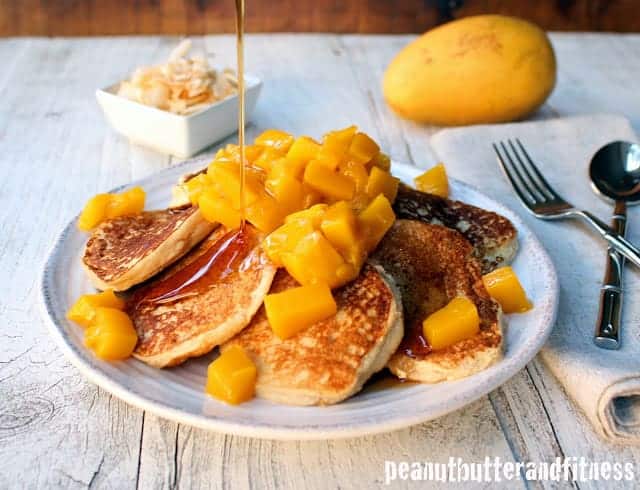 If you make these bad boys too big, you'll have a hell of a time trying to flip them without destroying them.  So just stick with the little guys, they're more fun to serve up anyway.  Now, as for the mango: I used a champagne mango for a couple reasons.  1) They were much closer to being ripe than the regular mangoes at the store; and 2) They are less fibrous and more sweet than regular mangoes.  Perfect for breakfast.  If you want to cut down on the sugar in this recipe, skip the maple syrup and puree your cooked mangoes to use as syrup instead.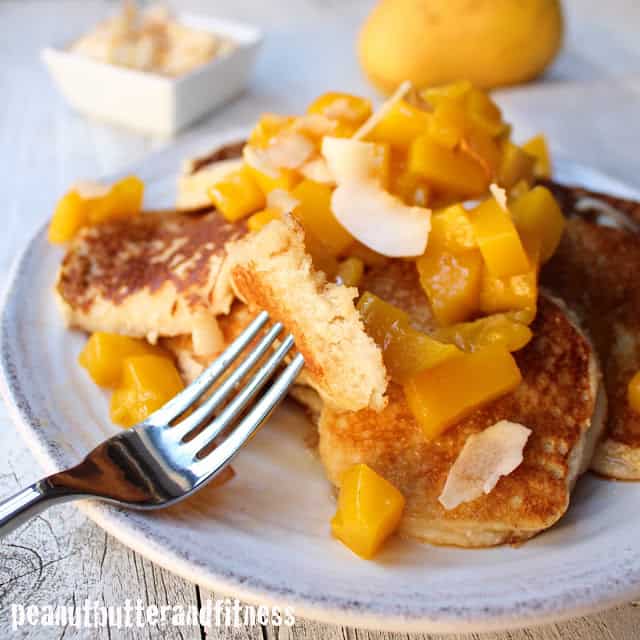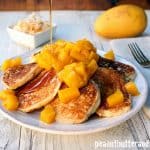 Mango Coconut Paleo Mini Pancakes
Prep Time 20 minutes
Cook Time 15 minutes
Total Time 35 minutes
Servings 2 servings (6 mini pancakes per serving)
Calories per serving 295 kcal
Ingredients
1/3 cup coconut flour
2 tbsp tapioca flour
2 tbsp Jay Robb Vanilla Whey Protein  (or grass-fed whey protein of choice)
1/4 tsp baking powder
1/4 tsp baking soda
1/8 tsp cinnamon
Pinch of sea salt
1 egg white
2 tbsp coconut milk
3/4 cup unsweetened vanilla almond milk
1/2 tbsp honey
1/2 tsp coconut extract
1 cup chopped champagne mango
2 tbsp pure maple syrup
Optional: toasted coconut for garnish
Instructions
Add mango and 2 tbsp water to a small pan and bring to a boil over medium-high heat.  Lower heat and simmer for 10 minutes or until mango is very tender.  Set aside.

Mix dry pancake ingredients, then mix in wet ingredients.

Heat a griddle or non-stick pan over medium-high heat and spray with coconut oil.  Add pancake batter by the spoonful and spread into approx. 2 inch round pancakes.

Once pancakes are bubbling on top and the bottom is cooked enough to hold together, about 2-3 minutes, flip the pancakes using a spatula. Allow pancakes to cook through, about 2-3 more minutes.

Plate pancakes and spoon mango on top, then top with maple syrup and toasted coconut.
Nutrition Facts
Mango Coconut Paleo Mini Pancakes
Amount Per Serving
Calories 295 Calories from Fat 54
% Daily Value*
Fat 6g9%
Sodium 339mg15%
Potassium 255mg7%
Carbohydrates 49g16%
Fiber 7g29%
Sugar 28g31%
Protein 11g22%
* Percent Daily Values are based on a 2000 calorie diet.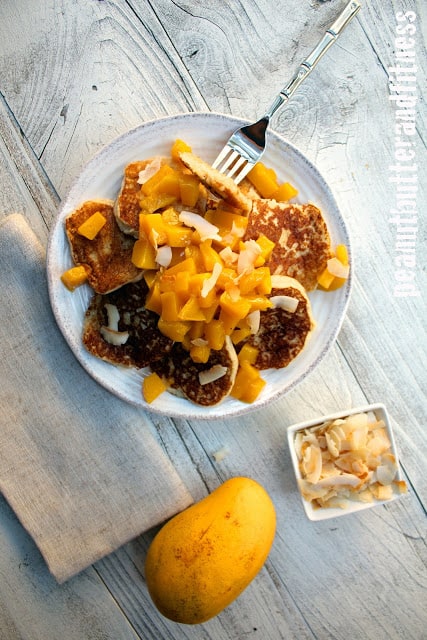 I used unsweetened coconut for toasting and garnishing, but you can use the sweetened kind too.  Just stick some on a baking sheet and bake at 400 degrees for 1-2 minutes being careful not to over-brown or burn the coconut (I had to throw out my first batch because it was quite toasty).  Enjoy!