Today's post is sponsored by Naked Nutrition.
This London Fog Collagen Latte is a perfect cozy drink for these chilly fall mornings, and bonus – they have an extra boost of protein thanks to Naked Nutrition's Collagen Peptides Protein Powder! I had never even heard of a London fog latte before I went to grad school, but one of my classmates got one of these bad boys from the café downstairs all the time. I'm always curious about a new coffee/tea drink, so I had to recreate it at home! Tea drinks are great when I don't really need any more caffeine for the day, but still want to enjoy a café style drink.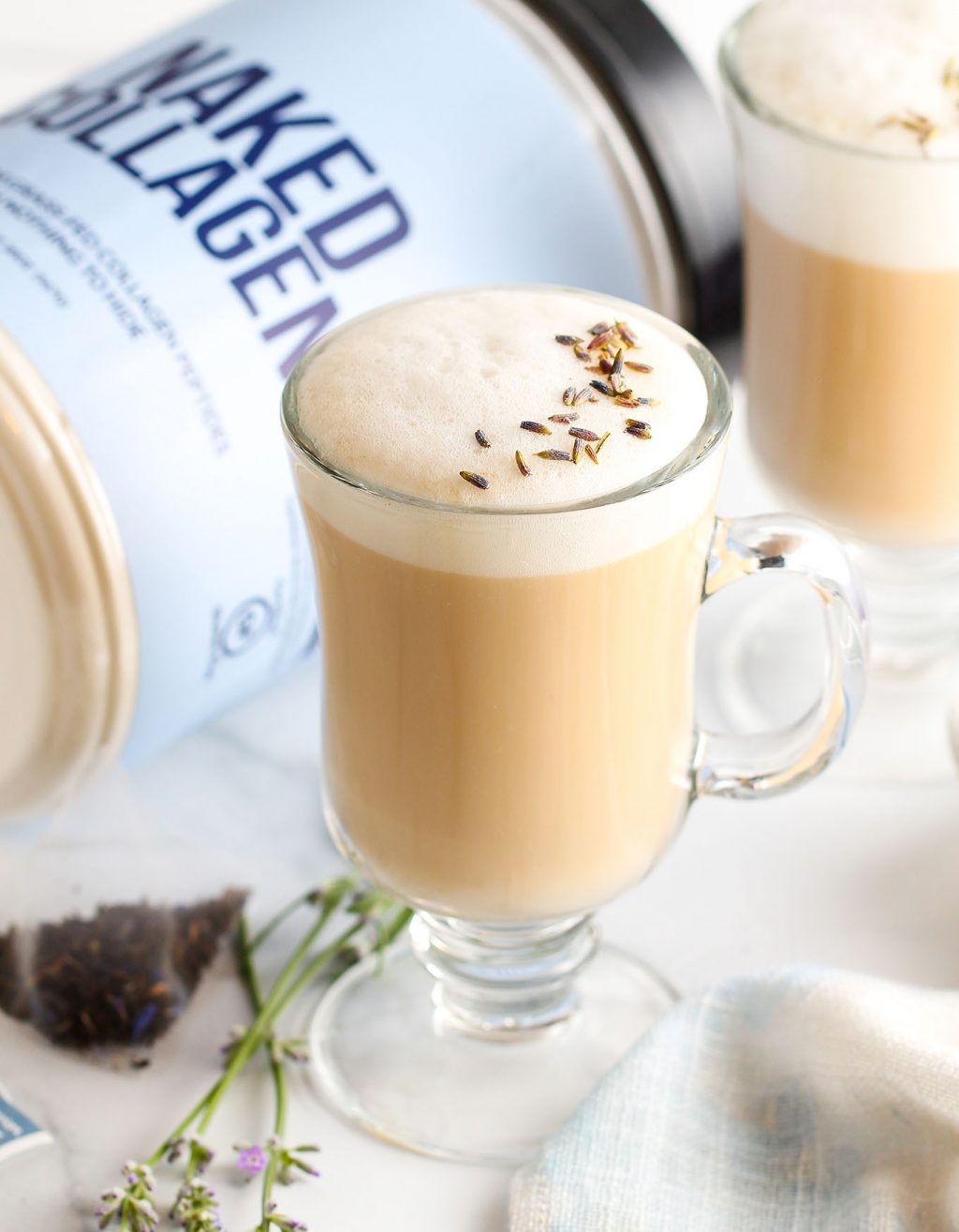 A classic London Fog (not actually invented in London, btw) is made with Earl Grey tea, steamed milk, and vanilla syrup. I chose to go with honey as my sweetener and oat milk instead of dairy. Plus of course collagen! And a little bit of lavender, because I really enjoy it as a boost to the Earl Grey flavors. That's totally optional if you aren't into lavender or you can't find it.
I was excited when Naked Nutrition reached out to me to try out one of their products. I've bought and enjoyed their grass-fed whey before, but now that I'm (mostly) dairy-free, I couldn't wait to give their Naked Collagen a try! As the name suggests, this is pure collagen, no fillers or sweeteners added, and it's sourced from pasture-raised cows.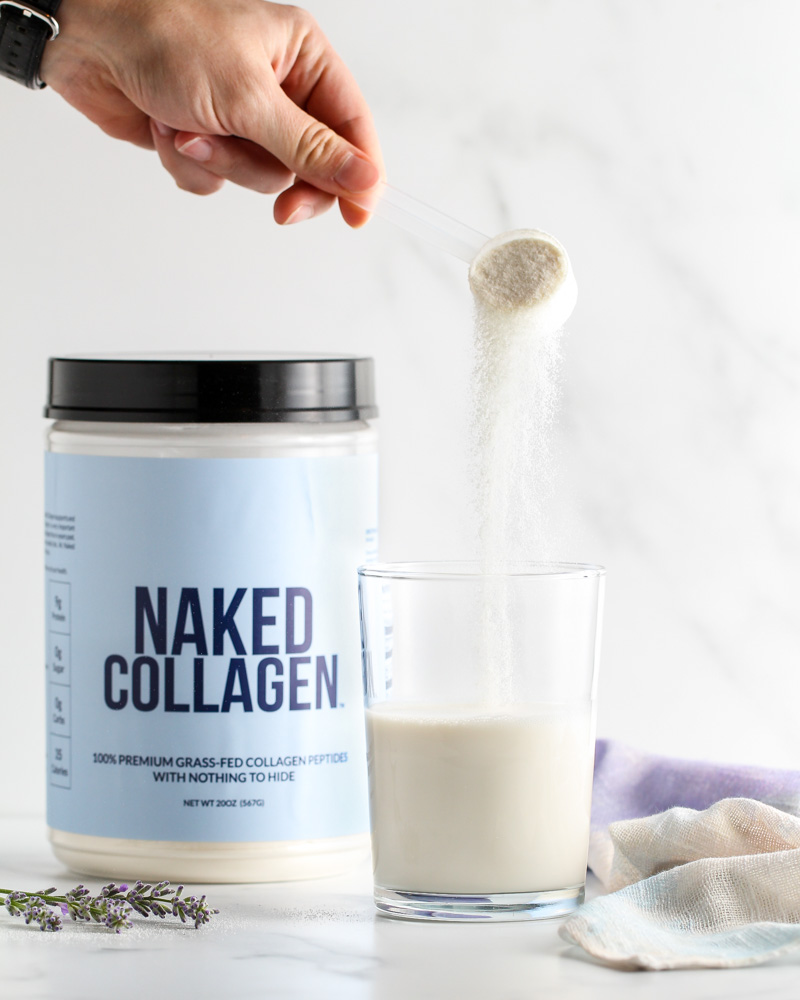 Why I Love Naked Collagen
If you've ever tried collagen supplements before, you probably know that some brands don't dissolve well into liquids and they leave you with a gritty texture. That's not the case here! I love love love how easily Naked Collagen dissolves into hot or cold liquid. And I'm not just saying that because they sponsored this post, I promise. I've tested it in both hot and cold lattes and in each case it dissolved with little effort.
Aside from the great texture, there's no weird taste here to interfere with whatever you're mixing it into. I put some into plain oat milk and really didn't notice a change in the flavor before vs after.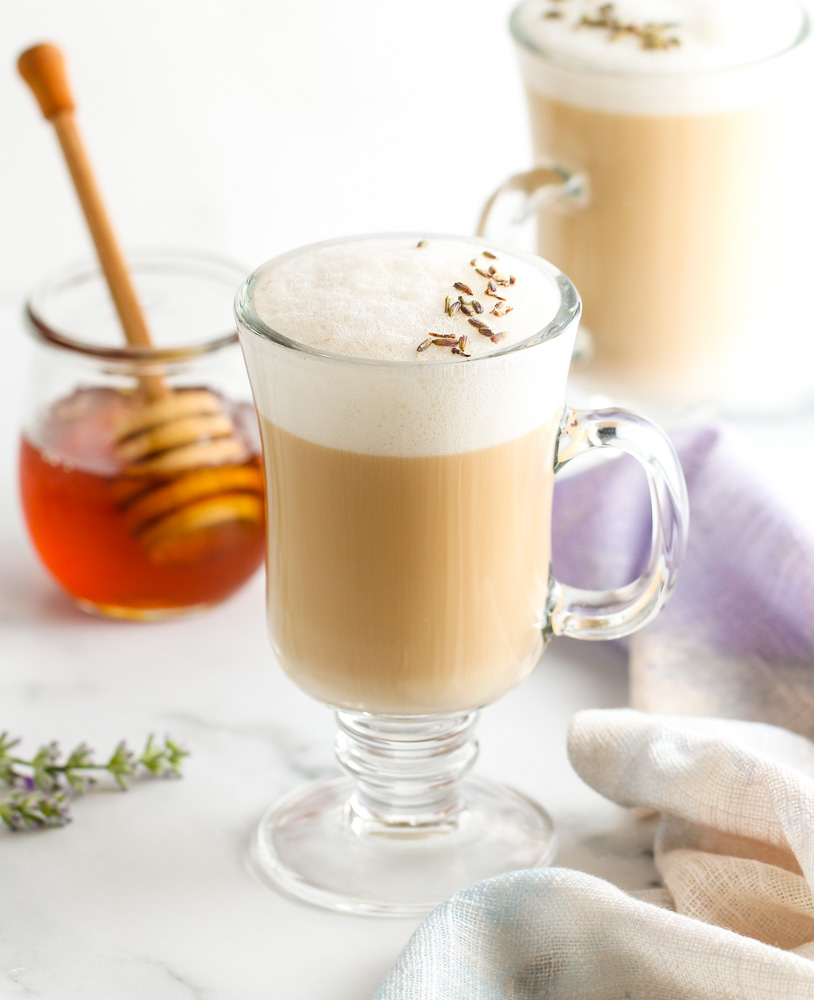 Why Use a Collagen Supplement?
I've found that there's a good bit of confusion in the fitness industry surrounding collagen. I'm certainly not an expert, but there are plenty of well-researched sites (like this and this) where you can read more on what collagen is and how it may benefit you. There's some evidence to suggest it can help with healthy skin and joints. My take? I like to use collagen as a healthy protein supplement to my diet. Although I don't rely on it as a major source of protein, it's easy to add a few extra grams here and there to drinks I already love! And bonus points if it helps my skin and knees 😉
Get the Goods
Here are some items I used to make this recipe a success! Note: these are Amazon Affiliate links.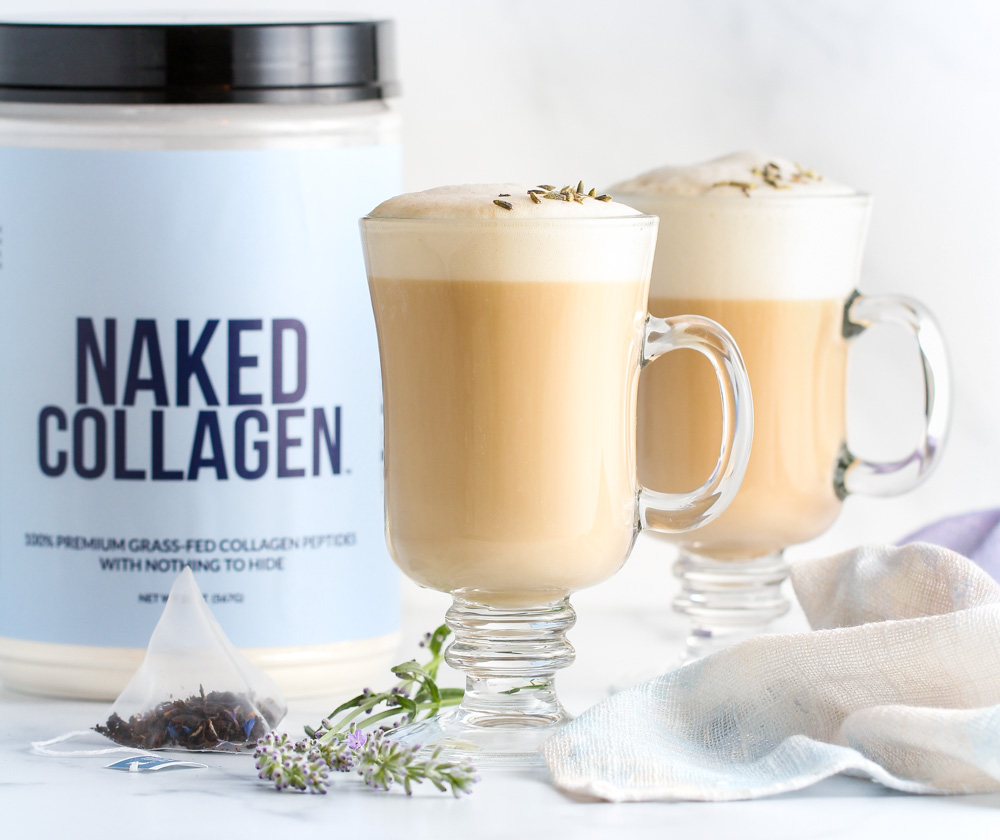 Recipe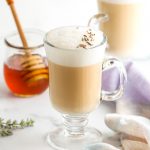 London Fog Collagen Latte
Prep Time 10 minutes
Total Time 10 minutes
Servings 2 servings
Calories per serving 115 kcal
Instructions
Heat water in tea kettle or microwave until it is on the verge of boiling (about 1 1/2 to 2 minutes in the microwave). Add tea bags and dried lavender. Steep for 4 minutes before straining out lavender leaves and tea bags. Pour brewed tea into 2 serving glasses. Set aside.

Heat oat milk and honey in a small pot over the stove or in a microwave safe dish until hot, but not boiling (about 1 to 1 1/2 minutes in the microwave). A 2 or 3 cup measuring cup works well for the next step!

Add Naked Collagen and vanilla extract to the hot milk. Using a milk frother or electric whisk, froth the mixture until well combined and a frothy head has formed on top of the milk.

Divide the frothed collagen milk between the two serving glasses. You can ensure an even division of froth by using a large spoon to hold back the froth as you pour the steamy milk into the tea, then use the spoon to dollop froth on top. Garnish with tea leaves or dried lavender before serving, if desired.
Recipe Notes
Click here or scan the barcode below to log this food in My Fitness Pal.
Nutrition Facts
London Fog Collagen Latte
Amount Per Serving
Calories 115 Calories from Fat 36
% Daily Value*
Fat 4g6%
Sodium 65mg3%
Potassium 181mg5%
Carbohydrates 11g4%
Fiber 1g4%
Sugar 9g10%
Protein 10g20%
* Percent Daily Values are based on a 2000 calorie diet.