Jump to Recipe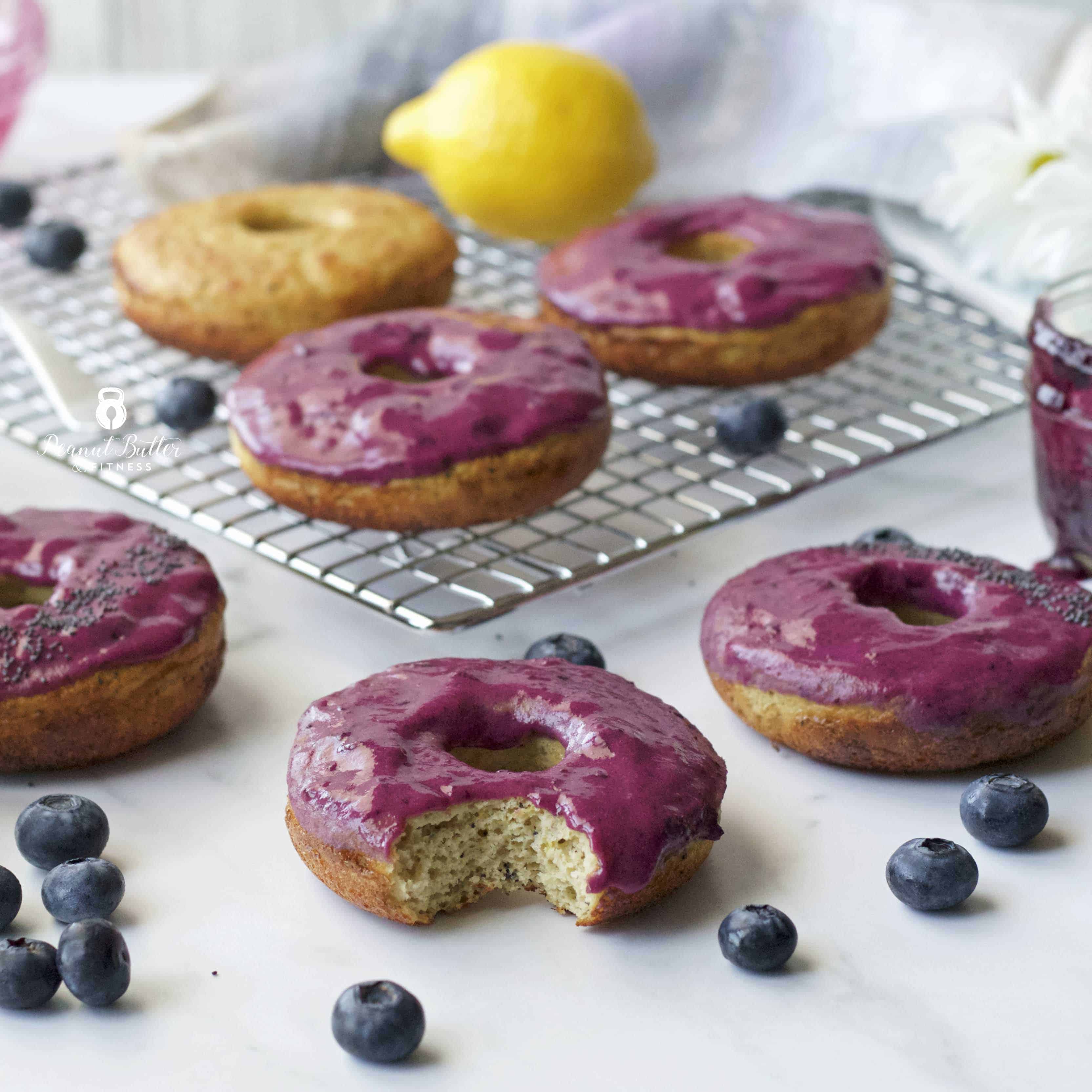 Happy National Donut Day!!! Yes it's a for real holiday…just swing by any number of places to score a free one today if you don't believe me.  Or you could totally make a macro friendly, delicious version of your own at home.  I'm talking about these fluffy, cakey Lemon Poppyseed Protein Donuts with Blueberry Glaze.  They're only 100 calories each (with glaze) and are actually really easy to whip up.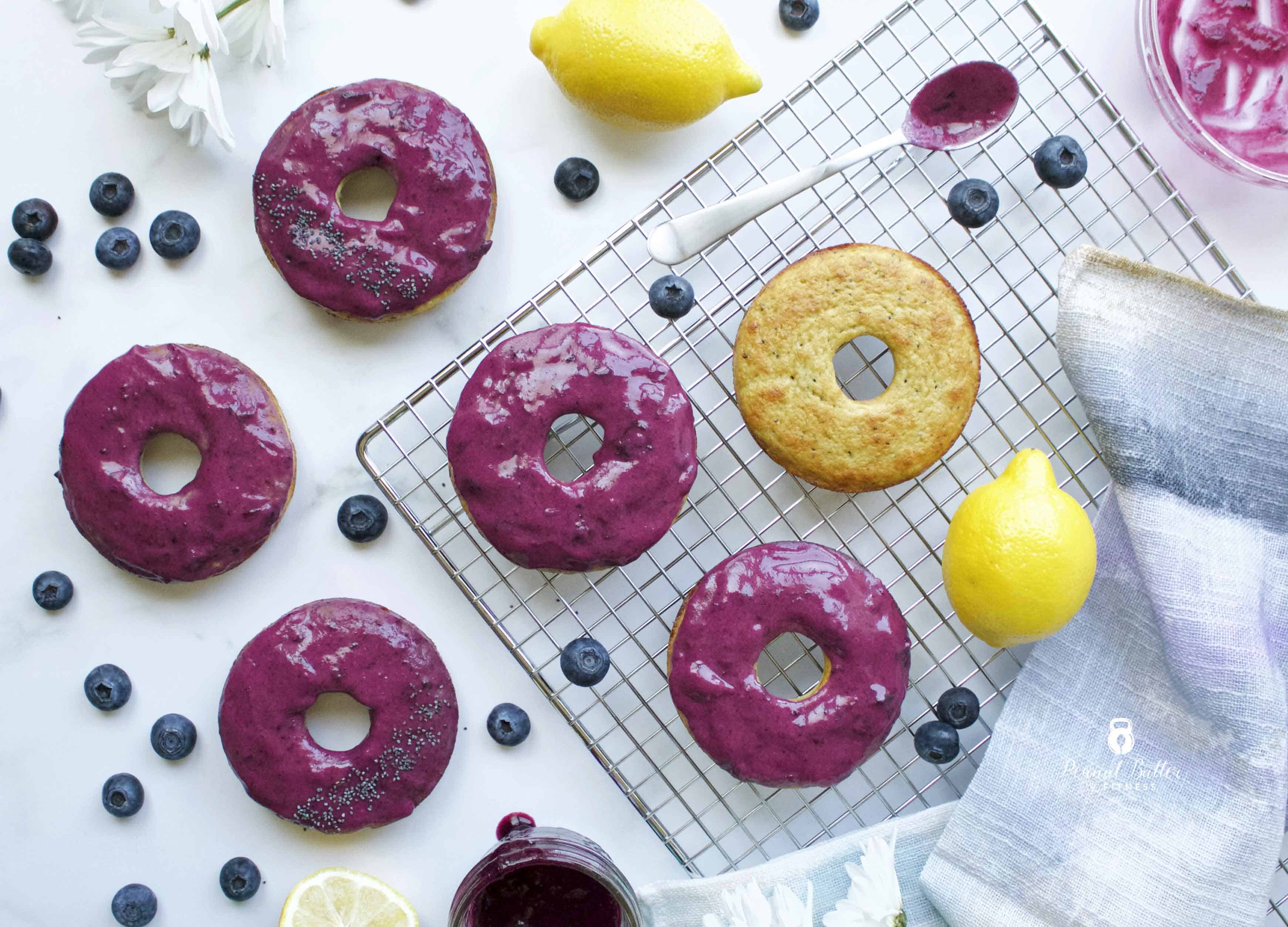 If you've been around PBF for a while, you know that I loooooove blueberries and celebrate the heck out of them every summer.  Well, get excited, because that time has arrived!  Blueberry and lemon are a classic combo, as are lemon and poppyseed.  And they all meld together for summery donut perfection in this recipe!
I sifted the dry ingredients and whisked the egg in this recipe to help achieve that light and airy texture in the donuts.  I highly recommend doing the same, but you obviously don't have to.  You'll likely just end up with a slightly denser donut.  These bake up in the oven thanks to the magic that is a donut pan.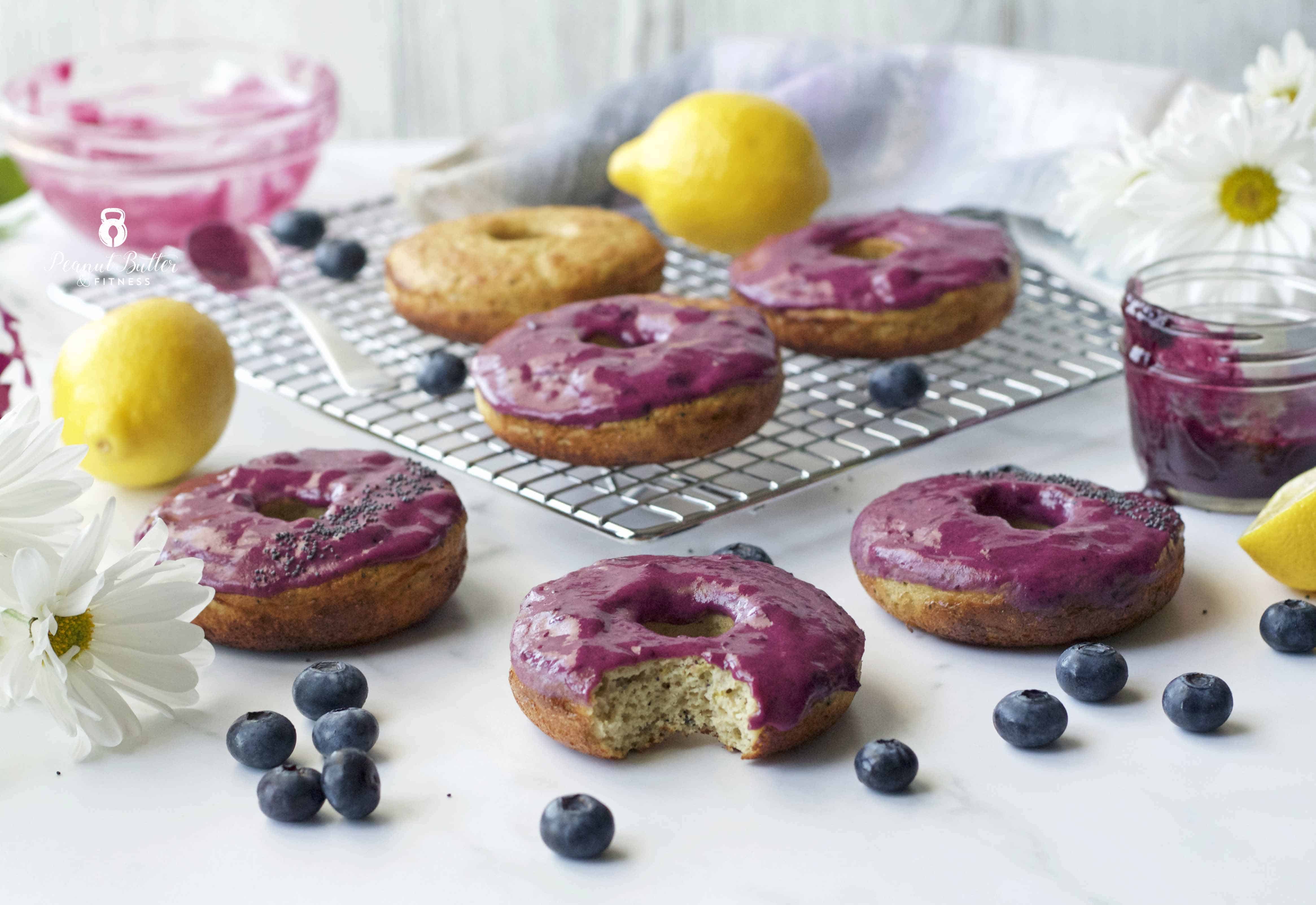 The blueberry glaze on these donuts is made with Swerve Confectioner's Sweetener, which is like a lower calorie version of powdered sugar.  You can of course use regular powdered sugar in the glaze, but it will change the macro content of the donuts.  I also didn't use a ton of the stuff, which means that the glaze never fully hardened…you'd have to at least double (maybe triple) the amount of powdered sugar in order to get that classic glaze effect.
I'd recommend eating these donuts within 2-3 days of making them.  Store them in the refrigerator loosely covered with plastic wrap.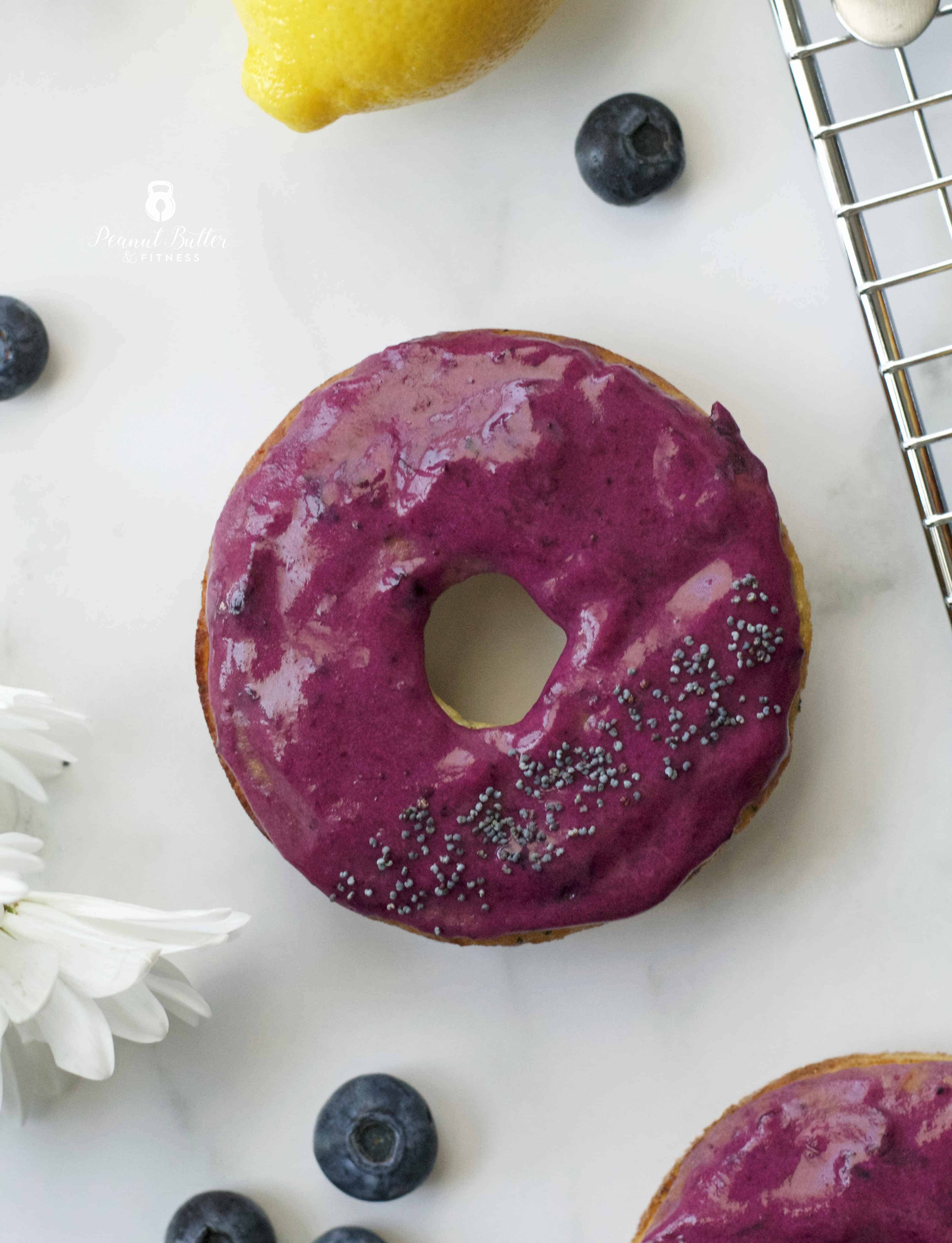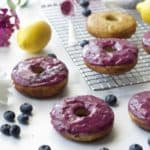 Lemon Poppyseed Protein Donuts with Blueberry Glaze
Prep Time 20 minutes
Cook Time 20 minutes
Total Time 40 minutes
Servings 6 donuts
Calories per serving 100 kcal
Instructions
Add blueberries and lemon juice to a small pan and bring to a boil over medium heat. Lower heat and continue to simmer for 10-15 minutes or until the blueberries have burst and the sauce thickens slightly.

Remove blueberries from heat and allow to cool slightly. Add to a food processor and blend until mostly smooth. Set aside.

Pre-heat oven to 350 degrees.

Sift dry donut ingredients into a bowl (except poppyseeds). Whisk an egg until frothy and add poppyseeds and remaining wet ingredients to the dry ingredients. Fold together just until combined.

For best results, spoon donut batter into a piping bag and pipe batter into donut pan.

Bake at 350 degrees for 15-18 minutes or until a toothpick inserted into the thickest part of the donut comes out clean.

Once donuts have cooled, whisk blueberry sauce with confectioner's sugar/powdered sugar. Dip donuts into glaze and allow to set up slightly before serving.
Recipe Notes
Due to the use of sugar alcohols (11 grams) in the Monkfruit sweetener and confectioner's sugar, the MFP barcode for this recipe only shows 7 grams of carbs per donut.  Read more about how sugar alcohols impact macro/calorie counts here.
Nutrition Facts
Lemon Poppyseed Protein Donuts with Blueberry Glaze
Amount Per Serving
Calories 100 Calories from Fat 45
% Daily Value*
Fat 5g8%
Cholesterol 40mg13%
Sodium 113mg5%
Potassium 35mg1%
Carbohydrates 18g6%
Fiber 2g8%
Sugar 3g3%
Protein 9g18%
* Percent Daily Values are based on a 2000 calorie diet.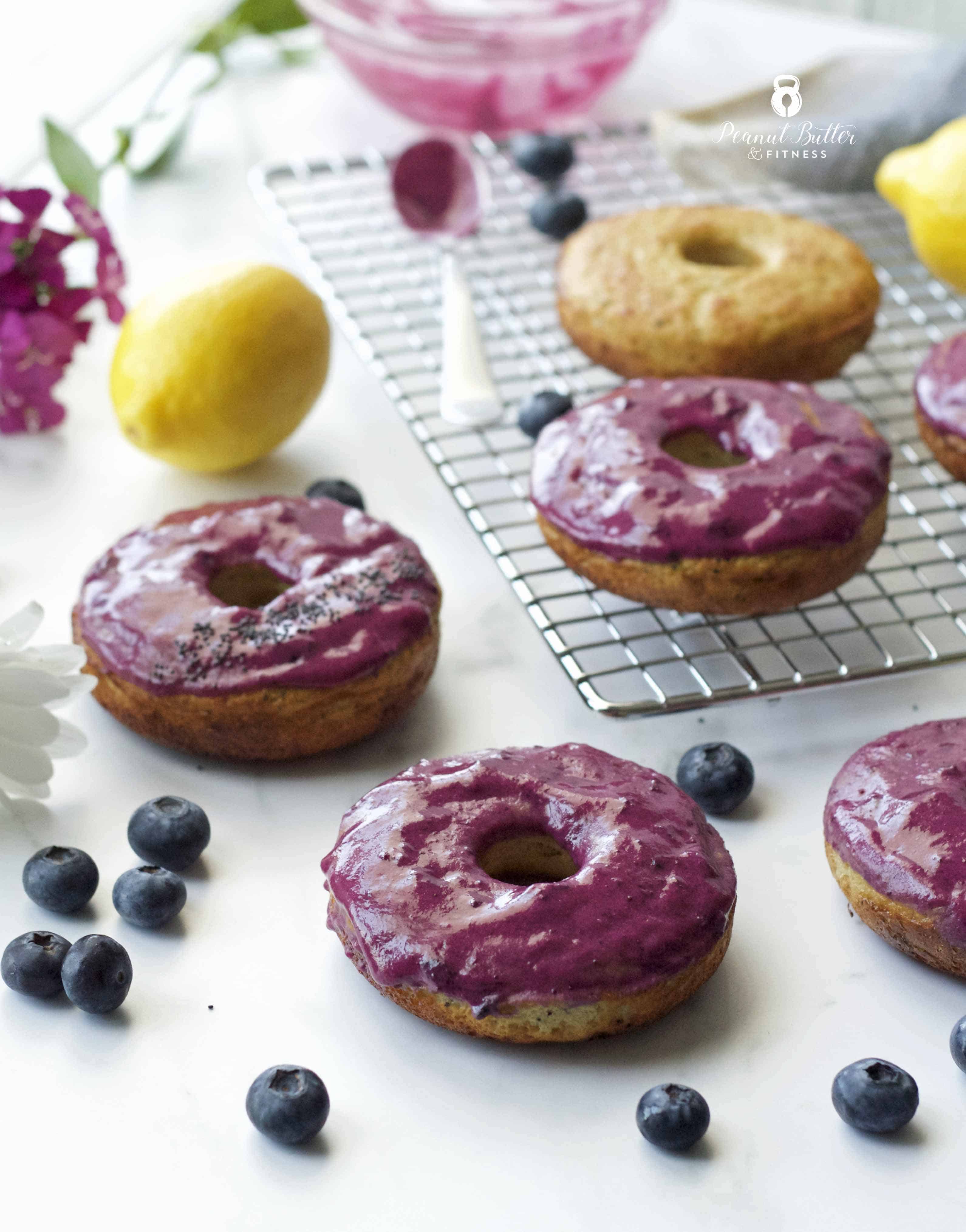 SaveSave
SaveSave
SaveSave
SaveSave