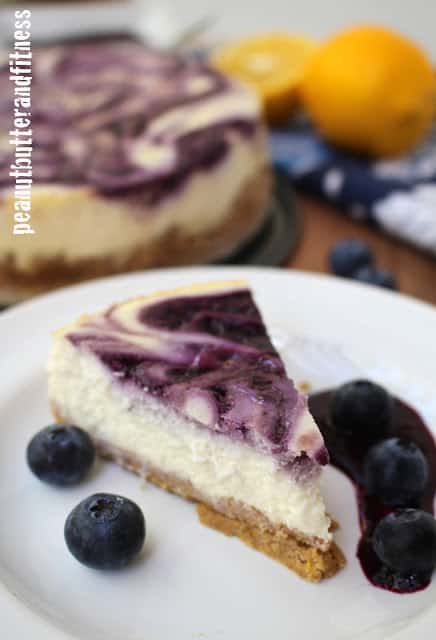 Two recipes in one week?!? I know, I know, hide your shock.  It's been a while since I've done that.  I made this one for a going away party I went to on Sunday (and yes, I took it with a slice missing!).  This is a great summery cheesecake – the delicate lemon flavor is refreshing and the cheesecake isn't too heavy or sweet (cough, Cheesecake Factory, cough).  And at just over 150 calories per slice, including 11 grams of protein, you don't have to feel guilty that you're going to ruin your summer body by eating it!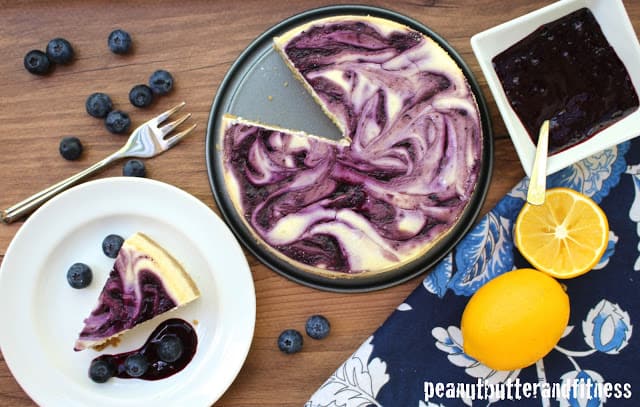 Okay, so I tried to experiment with a little video action here (hopefully it actually works!).  Instead of posting 7 progress pictures of me constructing this cheesecake, I got myself a Vine account and did a little slide show! I hope you like it, I'm pretty obsessed with it myself 🙂
The only lemon Greek yogurt that I could find in my grocery store the day I picked up the ingredients for this was Chobani.  It tastes great in this cheesecake, but I feel like it's not the best out there.  I tend to think Chobani is a little too bitter/tangy with most of their flavors so I prefer other brands…so if you see some other kind (preferably a lower sugar brand!) you should totally go for it.  Yoplait makes one of their Greek 100's in lemon – with 7 grams less sugar than Chobani – that probably tastes even better.  I'm kind of stubborn about going to more than one grocery store though, sooooo here we are, Chobani Greek yogurt and all 🙂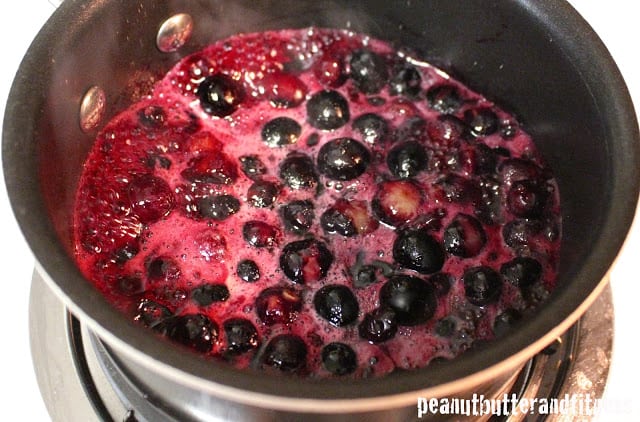 MMMMMMMM look at those blueberries.  Drool.  I love blueberries so much.  It may be because I have some really good memories of picking blueberries in my grandparents' blueberry patch and baking in the summer with my grandma, or it could just be that I really like the taste.  Either way, I love that you can boil them down and make your own amazing, fresh syrup!  This made about 1 cup of blueberry syrup (maybe a little more, I didn't measure) – so you'll have plenty left over to drizzle over top of it when you serve the cheesecake.  Not that it needs it, but who doesn't like extra blueberries?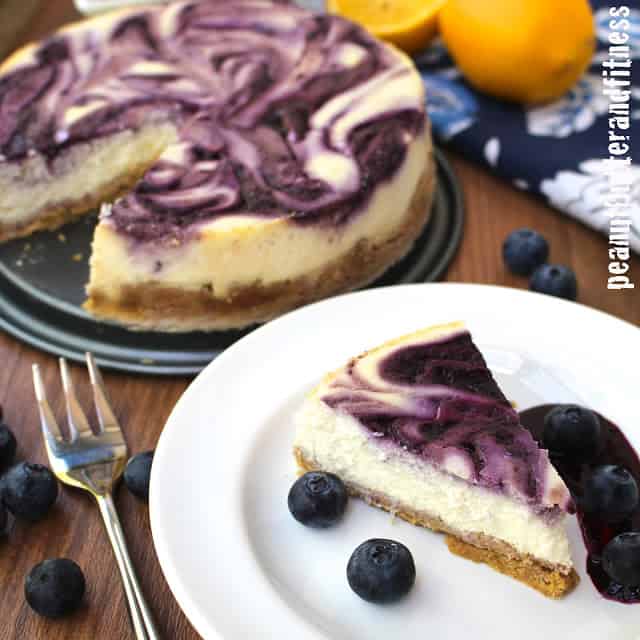 Don't forget when you're boiling the blueberries that once you take it off the heat it will thicken up some more! So don't make it too thick on the stovetop or else you'll end up with blueberry sludge instead of syrup.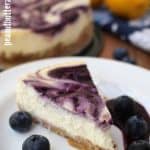 Lemon Blueberry Swirl Cheesecake
Prep Time 30 minutes
Cook Time 45 minutes
Total Time 1 hour 15 minutes
Servings 8 slices (1 slice per serving)
Calories per serving 161 kcal
Ingredients
Crust Ingredients:
7 tbsp pecans
1/2 cup coconut flour
1 tsp coconut oil
1/2 tsp McCormick Vanilla Butter and Nut Flavoring (can sub with vanilla extract)
1 packet Truvia
1/4 tsp cinnamon
Blueberry Swirl Ingredients:
1 cup blueberries
2 tbsp honey
1 tbsp lemon juice
Instructions
Pre-heat oven to 325 degrees.

In a food processor or NutriBullet, process crust ingredients until pecans are ground smooth.

Spray a 7 inch springform pan with non-stick cooking spray, then coat with thin layer of coconut flour.  Press crust into bottom of pan.  Bake crust for 8-10 minutes and allow to cool.  (Wrap the springform pan in foil or set it inside a slow cooker liner if you're worried about water intrusion while it's in the water bath).

In a food processor or nutribullet, blend cheesecake ingredients until smooth.  Tap container to remove any air bubbles, then pour on top of crust.  Set aside.

Bring blueberry swirl ingredients to a boil over medium-high heat, then lower to medium heat and continue to boil for 12-15 minutes or until liquid thickens to a syrupy consistency.  Allow to cool and pulse in a food processor until smooth.  Spoon over cheesecake and swirl with a knife until marbled.

Place springform pan into larger pan and add water to larger pan until it reaches close to the top of the cheesecake.

Bake at 325 degrees for 45-50 minutes until center of cheesecake is just set, but still jiggles slightly.  Refrigerate uncovered overnight before slicing and serving.
Nutrition Facts
Lemon Blueberry Swirl Cheesecake
Amount Per Serving
Calories 161 Calories from Fat 54
% Daily Value*
Fat 6g9%
Cholesterol 9mg3%
Sodium 102mg4%
Carbohydrates 16g5%
Fiber 4g17%
Sugar 10g11%
Protein 11g22%
* Percent Daily Values are based on a 2000 calorie diet.