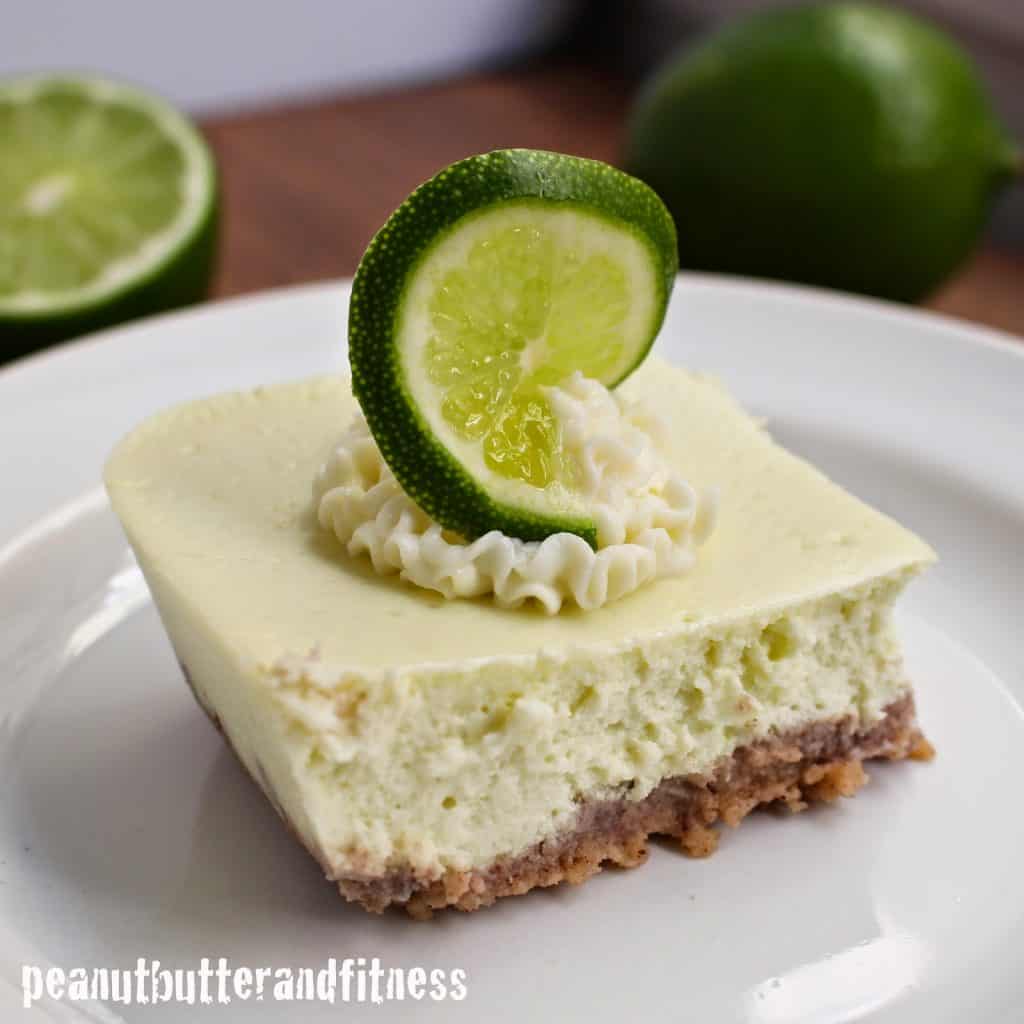 So yesterday I woke up and discovered via Instagram that it was Pi Day…March 14th.  This is not the kind of thing I remember on my own, but once reminded, of course I had to make some pie.  Now the thing about this pie that I made is that you just can't rush perfection 😉 You have to be patient with it, and in this case – let it set up overnight so it makes the most deliciously airy, creamy key-lime pie that you would never imagine is totally healthy.  Seriously, think about these macros: 76 calories made up of 7 grams of protein, 3 grams of fat and 5 grams of carbs.  Magical…


I've had this key lime pie idea floating around in my head for quite a while now.  I just kept seeing these Greek yogurts at the store in key lime flavor.  I couldn't decide which brand to get at the store, so of course I had to bring both home to try.  The verdict? Dannon. Hands down.  The flavor is just so much better – Chobani is much more bitter and it has some weird chunks of lime or something in it.  Not terrible if you're just eating the yogurt by itself, but not what I was looking for in this recipe.
Key lime makes me reminisce of that time that I lived in Key West and could have all the best key lime pie anytime I wanted.  But of course, I like to think that I live a little bit healthier now than I did back then…so aside from skipping out on the 190 Octanes at Fat Tuesday, I also make my key lime pie healthy 🙂  And this crust is completely healthy! Just some pecans, coconut flour, almond milk, vanilla and cinnamon.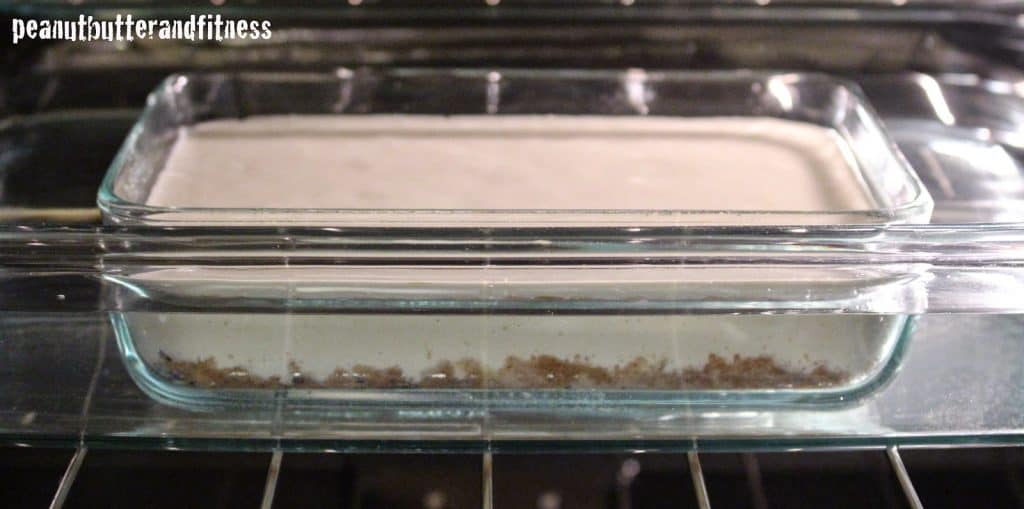 Here's the secret to keep the top from cracking…water bath!  The explanation of how to do it is in the recipe.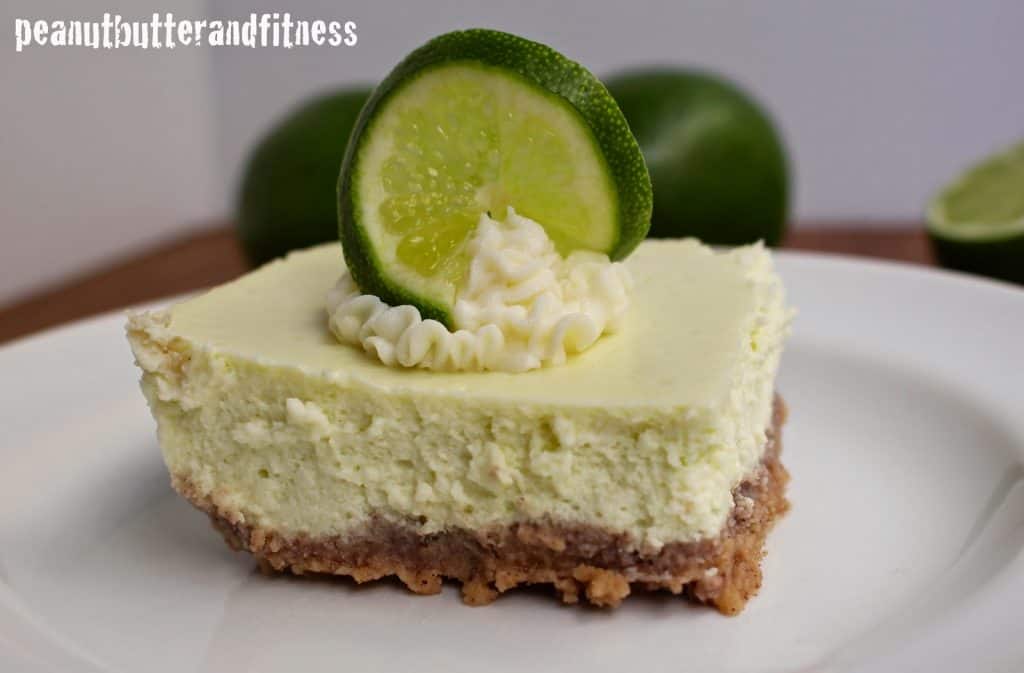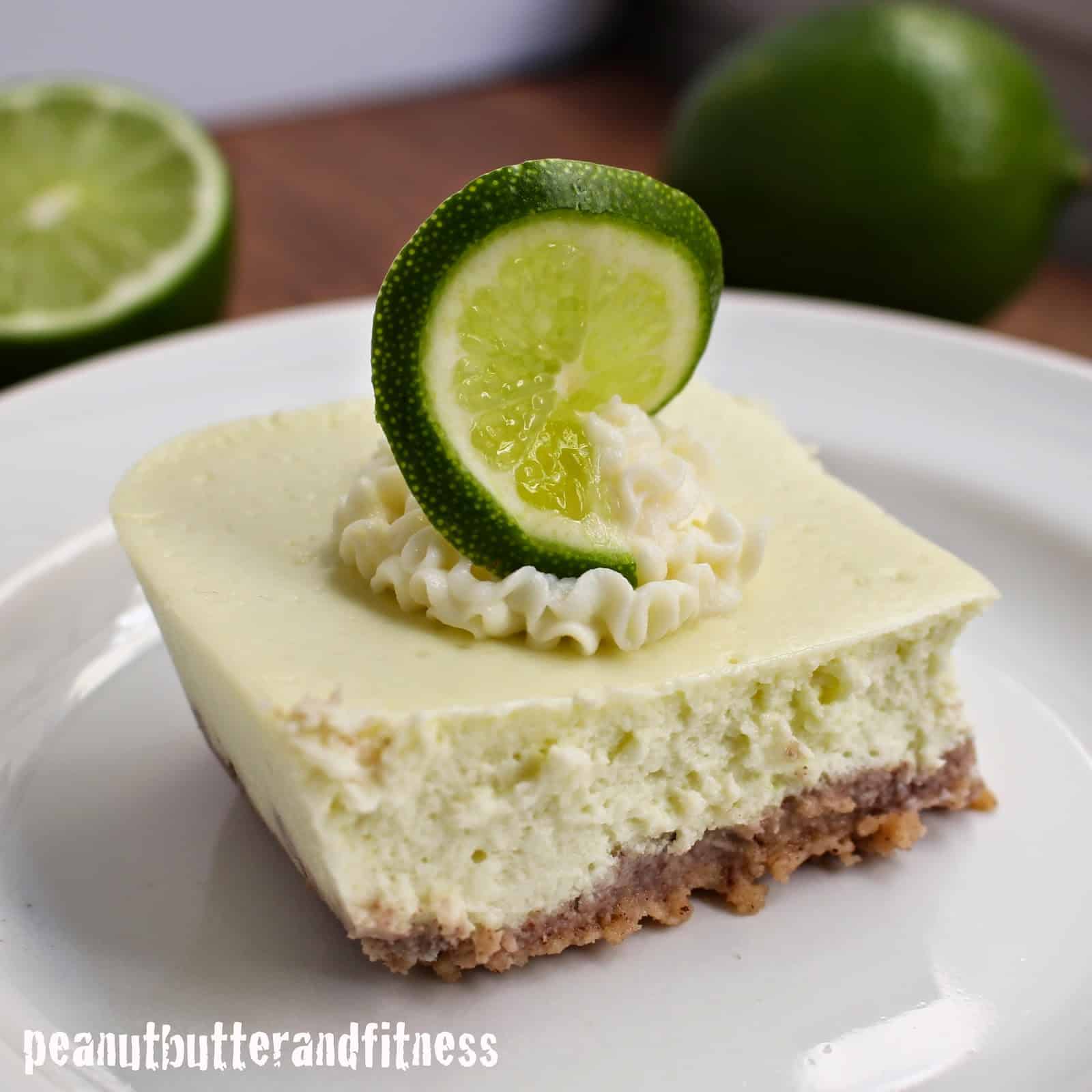 Key Lime Protein Cheesecake Bars
Ingredients
1/3

cup

fat free cottage cheese

2/3

cup

Dannon Light and Fit Key Lime Greek Yogurt

,

(5.3 oz container)

1 1/2

egg whites

,

(approx. 1/4 cup)

3

tbsp

lime juice

2

packets

Truvia

1

tsp

arrowroot flour
Crust Ingredients:
1/4

cup

pecan halves

3

tbsp

coconut flour

1

tbsp

unsweetened vanilla almond milk

1/2

tsp

vanilla extract

Pinch of cinnamon
Instructions
In a food processor or Nutribullet, process pecan halves with coconut flour and cinnamon until no chunks remain.  Mix in almond milk and vanilla extract.

Spray a small glass baking dish with non-stick cooking spray.  Press crust evenly into base of dish.

Pre-heat oven to 325 degrees.

In a food processor or nutribullet, combine cottage cheese, lime juice and Truvia until smooth.  Add remaining pie ingredients and pulse until smooth.  Remove food processor container from mixer base and tap the base of the container to remove air bubbles.

Pour pie mix over crust and gently tap the base of the dish against a towel-covered counter to remove any remaining air bubbles (pop any that come to the surface with a toothpick).

Place dish into larger baking dish and fill dish with water until almost even with the top of the cheesecake filling.  Bake at 325 degrees for 28-30 minutes or until center of cheesecake is firm and no longer jiggles like Jello.

Allow cheesecake to cool in the water bath until water is room temperature, then remove from water bath and refrigerate, uncovered overnight before serving.
Nutrition Information
Calories:
76
kcal
(4%)
,
Carbohydrates:
5
g
(2%)
,
Protein:
7
g
(14%)
,
Fat:
3
g
(5%)
,
Cholesterol:
6
mg
(2%)
,
Sodium:
67
mg
(3%)
,
Fiber:
1
g
(4%)
,
Sugar:
2
g
(2%)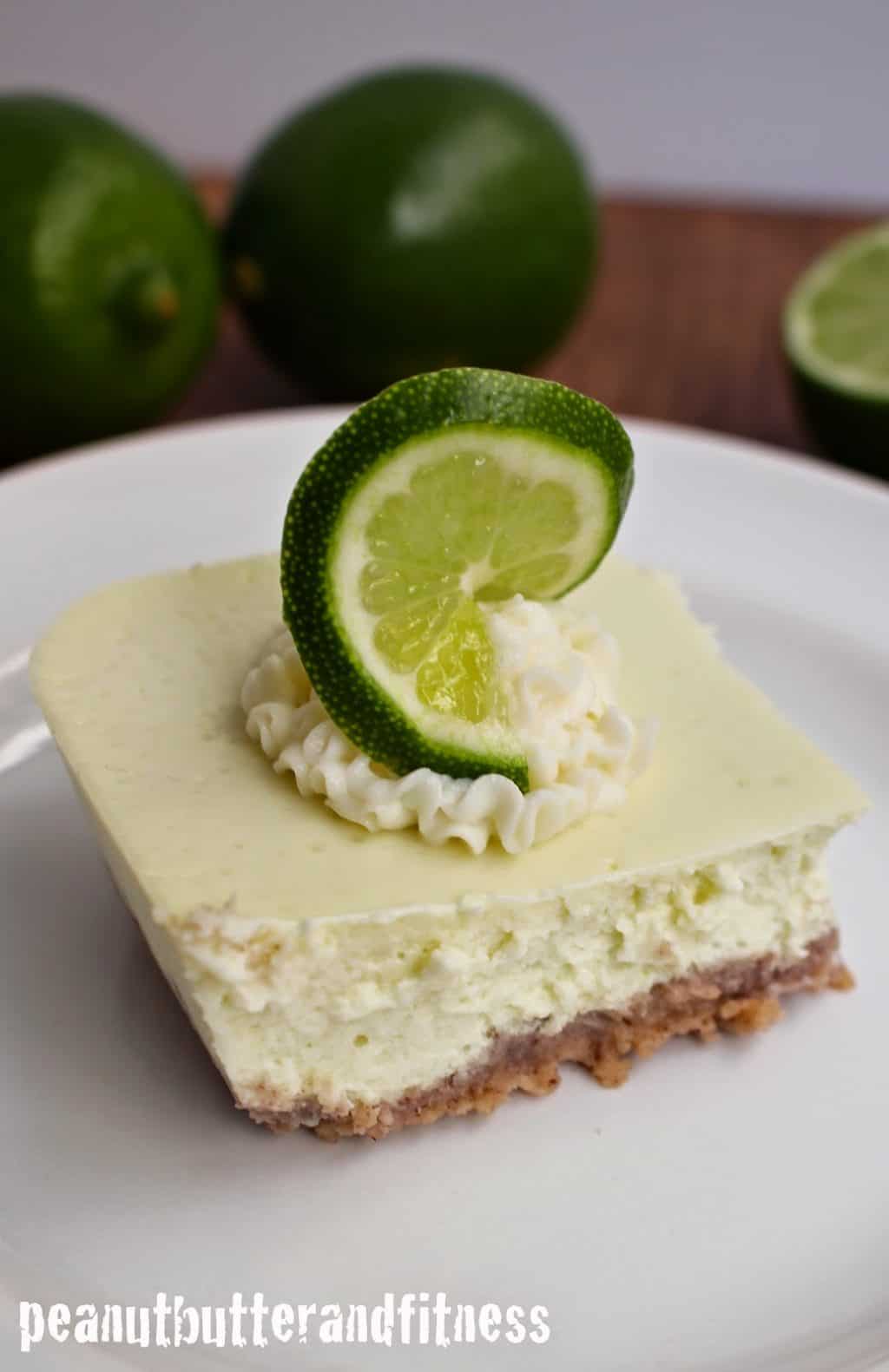 I made my pie in a 7×5 inch Pyrex dish, but if you have a small round pie pan (or bundt cake type thing) that will work too.  Actually a round dish would probably be better.  Because – just fair warning here – I had a hell of a time trying to scoop these slices out! It's probably best if I just eat the whole thing right out of the dish 🙂 Don't think I won't.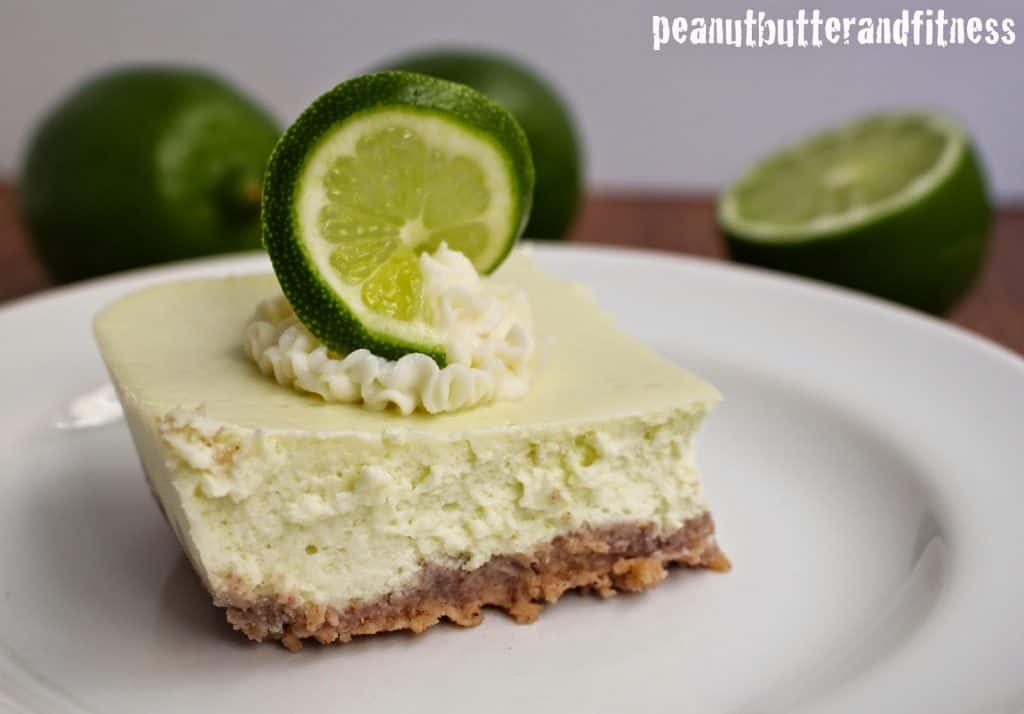 I topped my pie off with a bit of protein whip – just mix together 2 parts Greek yogurt to 1 part
MuscleTech Platinum 100% Casein
in the Vanilla Ice Cream flavor.  I used about 1/4 cup Greek yogurt with 2 tbsp of casein.  So delicious! Nice and smooth without being too dense.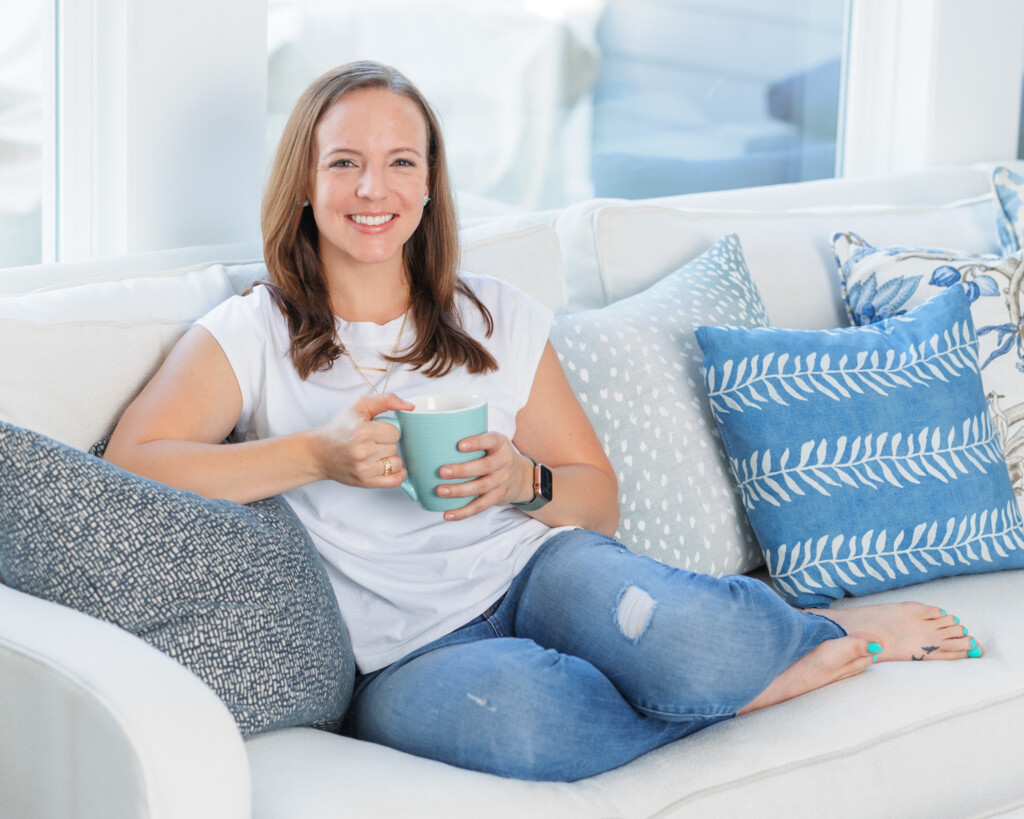 About Erin
Erin is the author behind Peanut Butter and Fitness. She started this website in 2013 as a way to keep track of her favorite healthier kitchen creations and meal preps. Today, she still loves playing with her food and camera while helping others strike a balance between indulgence and well-being.