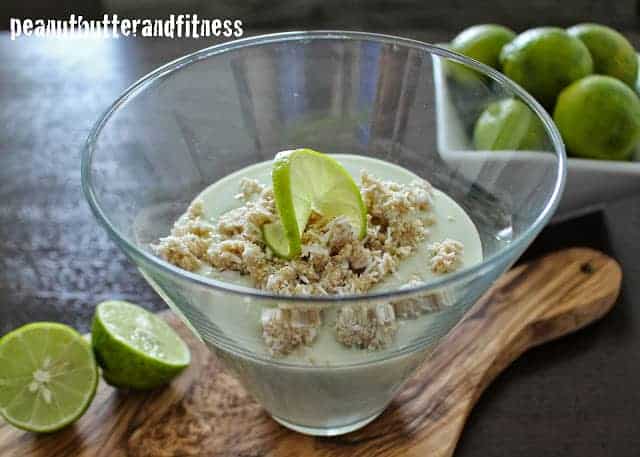 As homage to my 2 year residence in Key West, I had to show a little love for all that is key lime pie.  The refreshing tanginess (is that how you spell it?). The sweetness of the crust.  Maybe massive amounts of meringue on top.  Or some like it chocolate covered.  Or in wine or martinis – Monday martinis at Virgilio's anyone?  The key lime pie martini is my fave.
So maybe not the healthiest choice, but I assure you I will be eating key lime pie just about every time I go back to visit.  It's just one of those things you have to do, right?  But until my next visit, here's a skinnier version that's quick and easy if you're feeling nostalgic or just wanting a light and refreshing treat.  And yes, I know it's the wrong season for key lime for most of you 🙂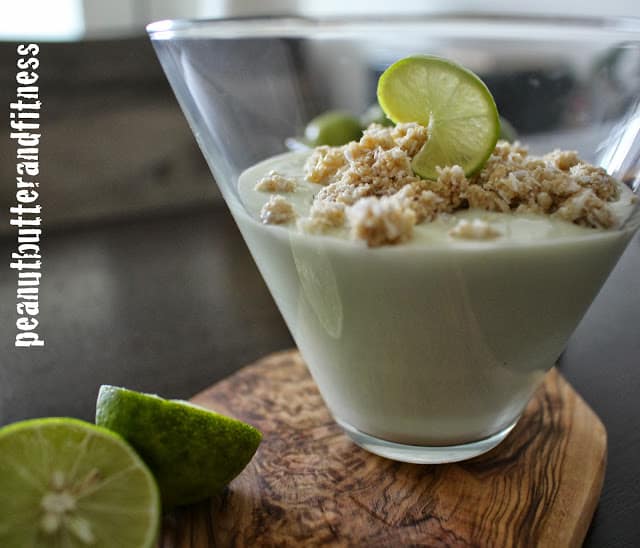 Key Lime Pie Parfait
Makes 2 servings
Ingredients:
1 cup plain non-fat Greek yogurt
2 tbsp agave nectar (or honey)
2 tsp vanilla
Juice of 2 regular limes or 5 key limes (about 2 tbsp)
Zest of 1/2 a regular lime or 1 key lime
1 packet Splenda 
Optional: 1/2 a banana, mashed or 1/4 cup unsweetened applesauce
Topping Ingredients:
1/4 cup quick oats, milled
1/4 cup coconut flakes (mine were frozen so I milled them up with the oats a bit)
1 tbsp honey (or agave nectar)
Pinch of salt
Directions:
In a bowl, mix the filling ingredients until smooth.  For best results, allow it to set up overnight in the refrigerator (otherwise it will be kind of runny).
Mix the topping ingredients until crumbly and top the key lime mixture.
If you're into bananas, it would probably be awesome to add in half a banana to the key lime mixture for texture and sweetness.  I can't eat bananas or else I would have done it, I'd recommend leaving out the packet of Splenda and 1 tbsp of agave nectar if you opt for the banana.  You could do the same with unsweetened applesauce.  Add a drop of green food coloring or blend in a few spinach leaves for the green color.
In case you haven't noticed, I use plain Greek yogurt in a lot of my recipes.  That's because first of all, it's loaded with protein but without a bunch of sugar and other crap.  It's also incredibly versatile…it's got a tangy essence but it takes on the flavor of whatever you add to it (kind of like tofu) and it's thick and creamy without all the fat of stuff like cream cheese, mayo, sour cream, etc.  Here's a link to check out about some more in depth nutrition details.