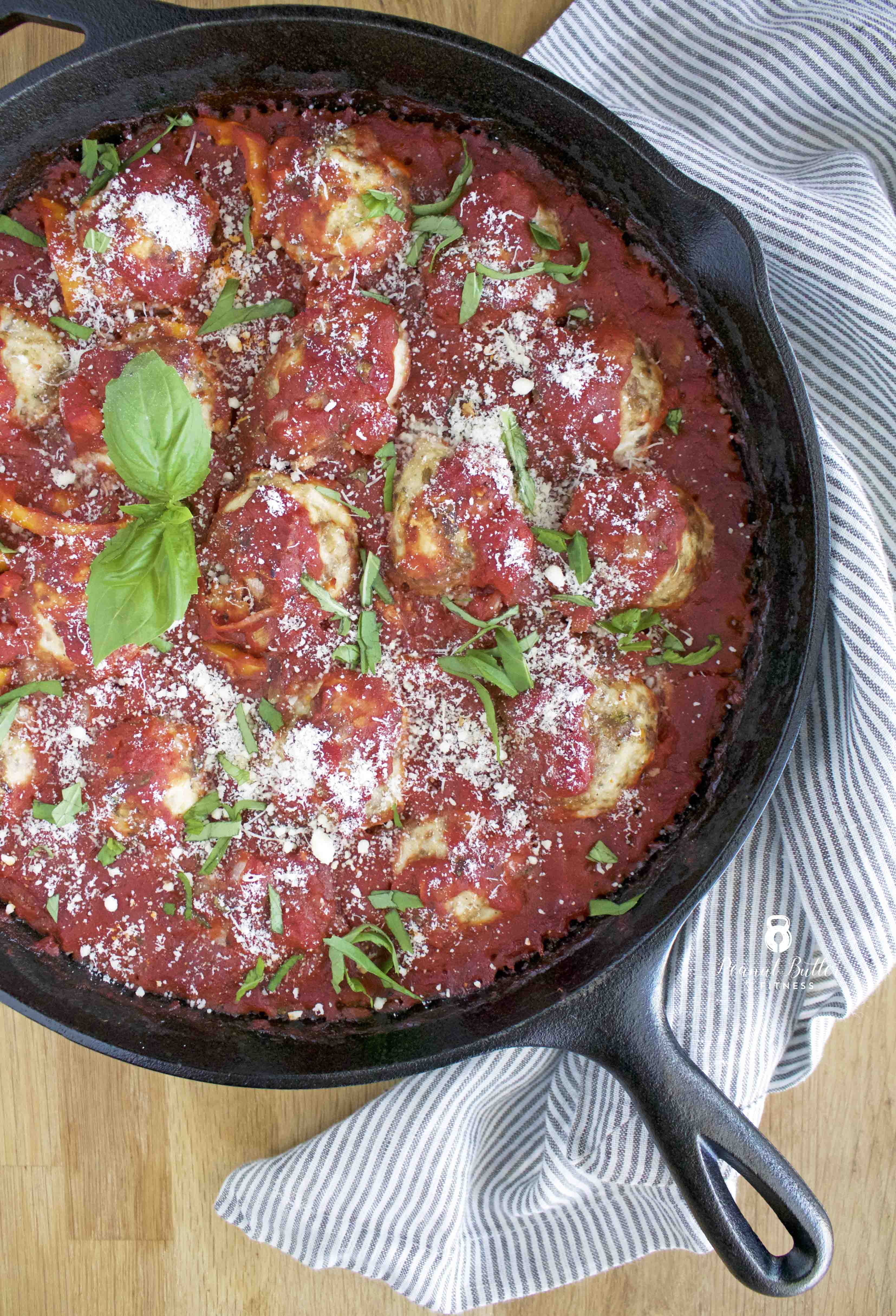 Hooray for the weekend! In lieu of a product review this week, I'm bringing you some bomb turkey and sausage meatballs!  These are super simple and I served them over some spaghetti squash to make it a meal.  I didn't want to add a bunch of cheese and other stuff in these since the sausage already has so much flavor.
They're cooked right in the sauce along with some cute little pepper rings (you can see them if you look closely).  I really like using my cast iron skillet for stuff like this (though any oven-safe skillet will work fine).  I'm pretty proud that my cast iron is starting to really get seasoned!  It comes pre-seasoned of course, but that pre-seasoning is kinda weak-sauce in my opinion.  Proper care is the key to getting it right…I never let it soak in water for more than 30 minutes and then it gets washed, dried, and stuck back on the stove to warm up and evaporate any remaining water before rubbing it down with oil.
Anywho…add these ingredients to your grocery list this weekend because you'll want to try these out 🙂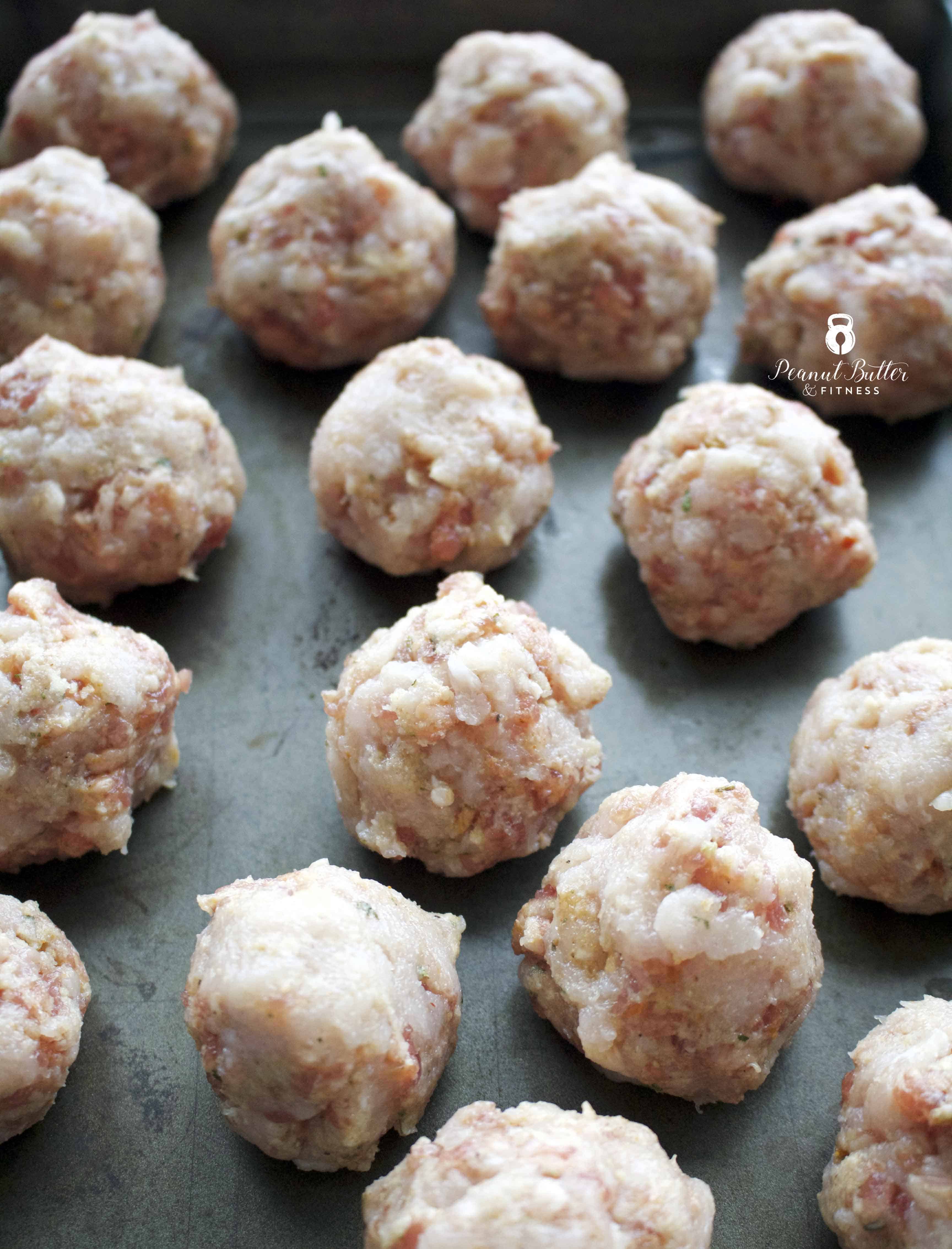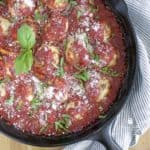 Italian Turkey and Sausage Meatballs
Prep Time 15 minutes
Cook Time 20 minutes
Total Time 35 minutes
Servings 5 servings
Calories per serving 353 kcal
Ingredients
1 lb extra lean ground turkey (99%)
1/2 lb Johnsonville mild Italian ground sausage
1 medium to large spaghetti squash
28 oz crushed tomatoes with basil
10 oz tomato paste no salt added
1 cup sweet pepper rings
1/2 cup mirepoix (onion, carrot, celery) chopped
1/3 cup Italian breadcrumbs
1/4 cup basil chopped
3 egg whites
3 cloves garlic minced
2 tsp olive oil
1 1/2 tsp Flavor God Garlic Lover's Seasoning
Instructions
Pre-heat oven to 375 degrees. Cut spaghetti squash in half length-wise and scoop out seeds. Rub cut sides of spaghetti squash with olive oil and season with 1/2 tsp Flavor God seasoning.

Place spaghetti squash on a lined baking sheet with cut side up. Bake for 40-45 minutes or until the flesh of the squash flakes easily with a fork. Set aside to cool.

Add ground turkey, sausage, breadcrumbs, and egg whites to a bowl. Mix with your hands until just combined, then roll into 1 to 1 1/2 inch meatballs. Set aside.

Heat a cast iron skillet (or other oven safe skillet) over medium-high heat and add olive oil. Add minced garlic, mirepoix, and pepper rings and sauté until fragrant. Add crushed tomatoes and tomato paste and stir, then add basil and stir again.

Remove skillet from heat and drop meatballs into sauce. Cover meatballs with sauce and bake for 20-25 minutes or until meatballs are cooked through.

Serve meatballs and sauce on top of spaghetti squash.
Nutrition Facts
Italian Turkey and Sausage Meatballs
Amount Per Serving
Calories 353 Calories from Fat 99
% Daily Value*
Fat 11g17%
Cholesterol 68mg23%
Sodium 782mg34%
Potassium 277mg8%
Carbohydrates 29g10%
Fiber 5g21%
Sugar 13g14%
Protein 34g68%
* Percent Daily Values are based on a 2000 calorie diet.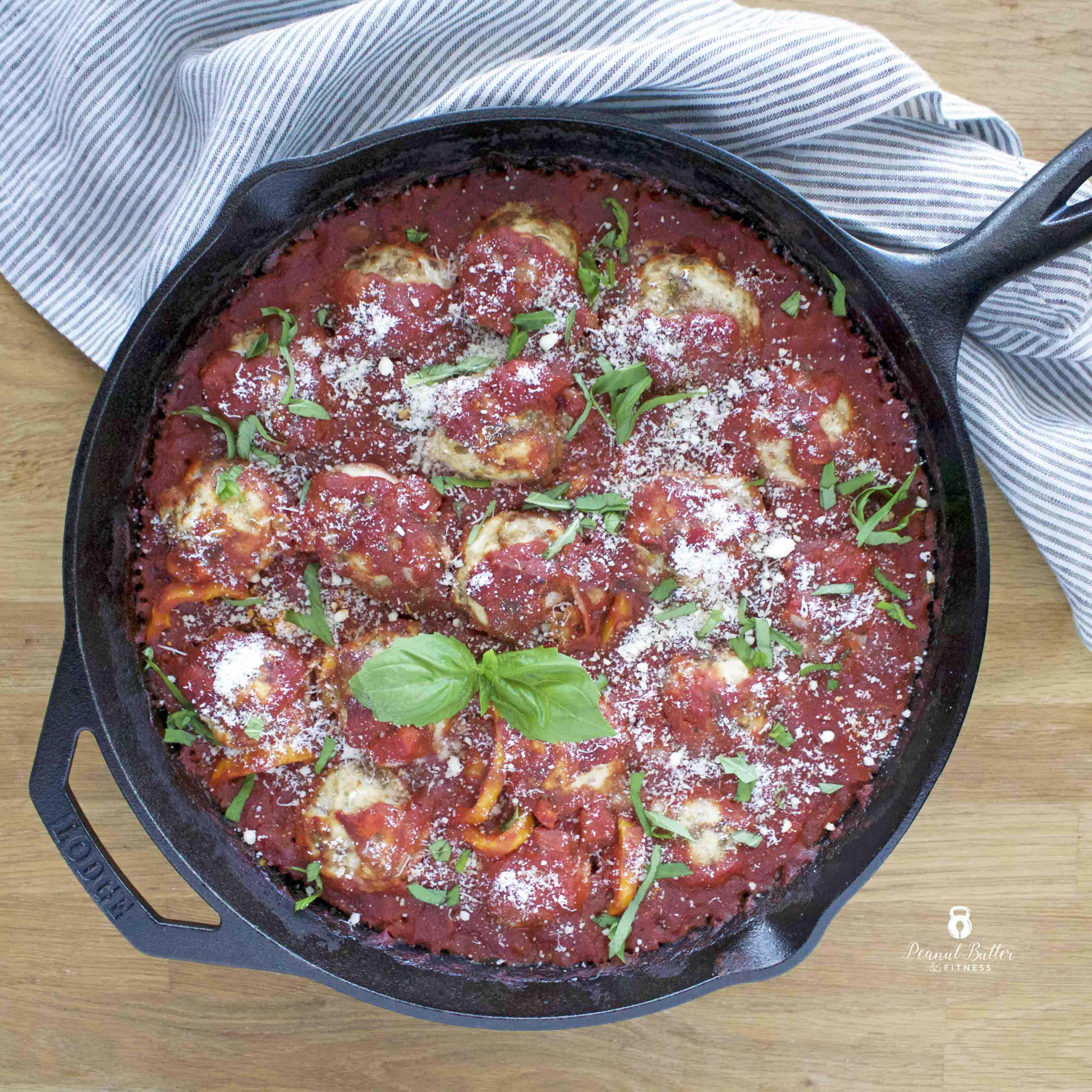 SaveSave
SaveSave
SaveSave
SaveSave