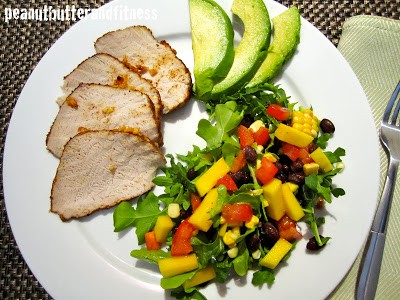 The recipe for this pork tenderloin is taken from the P90X recipe book.  At one point I was really into P90X, did the whole diet and everything.  The problem was that I just couldn't stick to the whole workout/diet for an entire 90 days…and really, who wants to eat the same thing over and over and do the same workouts over and over? I know I don't.  I got really bored with it, plus buying all the ingredients was expensive and took A LOT of time to prepare.  I still like to do some of the workouts, especially if I'm not feeling like going to the gym or going outside to run.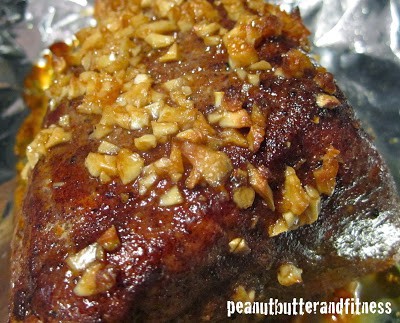 There are a few recipes I still make from the book and this used to be one of my favorites.  To be honest, I think I either overcooked it this time around or got a not-so-great tenderloin.  Normally it's super juicy and it doesn't even make it to a plate before I start scarfing it down with my bare hands.  Will I still make this again? Yeah, probably.  But before I do, I'll cross my fingers and do a little good luck dance.
Here's the recipe from the P90X recipe book:
Island Pork Tenderloin
16oz lean pork tenderloin
1/2 tsp salt
1/4 tsp pepper
1/2 tsp chili powder
1/2 tsp ground cumin
1/2 tsp cinnamon
2 tsp olive oil
1/4 cup brown sugar, firmly packed (I use the Splenda brown sugar blend)
1/2 tbsp finely chopped fresh garlic
1/2 tbsp Tabasco sauce
Directions:
1. Preheat oven to 350 degrees.
2. Stir together salt, pepper, chili powder, cumin and cinnamon, then coat pork with spice rub.
3. Heat oil in a 12-inch nonstick skillet over moderately high heat and brown pork, turning to brown all sides, about 4 minutes.
4. Stir together brown sugar, garlic, and Tabasco and pat onto top of tenderloin.  Place pork in a roasting pan and cook in the oven for 45 minutes, or until a meat thermometer inserted into the center registers 160 to 165 degrees.
5. Slice thinly.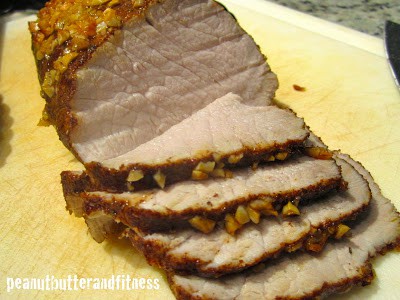 I served it with an arugula salad with black beans, corn, mango, tomato, avocado and P90X cumin vinaigrette.  Here's the recipe for that:


Ingredients:


2 tbsp fresh lime juice
1/2 tbsp orange juice
1/2 tbsp Dijon mustard
1/2 tsp cumin powder
1/4 tsp salt
1/8 tsp black pepper
1 tbsp olive oil


Whisk together until well mixed.