Raise your hand if you got an Instant Pot for Christmas! I did, although it was a couple years ago 😉 I still love using it, especially when I'm in a pinch to get some really tender meat in a hurry.  It's great for cooking sweet potatoes or squash quickly too!  I decided to give it a try with some Korean beef and let me tell you, it came out of there fall-apart-tender.  Even if you're not a fan of Korean food (or not sure if you are), this is a gentle push into that flavor arena.  I mean, it's in the form of a "burrito bowl" after all, so you gotta try it.
What makes it a burrito bowl you might ask?  Well, I threw some shredded lettuce in there to bump up the volume without adding a bunch more rice (or kimchi). Kimchi definitely has a unique and funky flavor to it, but it complements this dish so well – I don't recommend skipping it!  You can adjust the amount of kimchi to your tastes, just don't be afraid to try it, especially in the presence of these other delicious ingredients.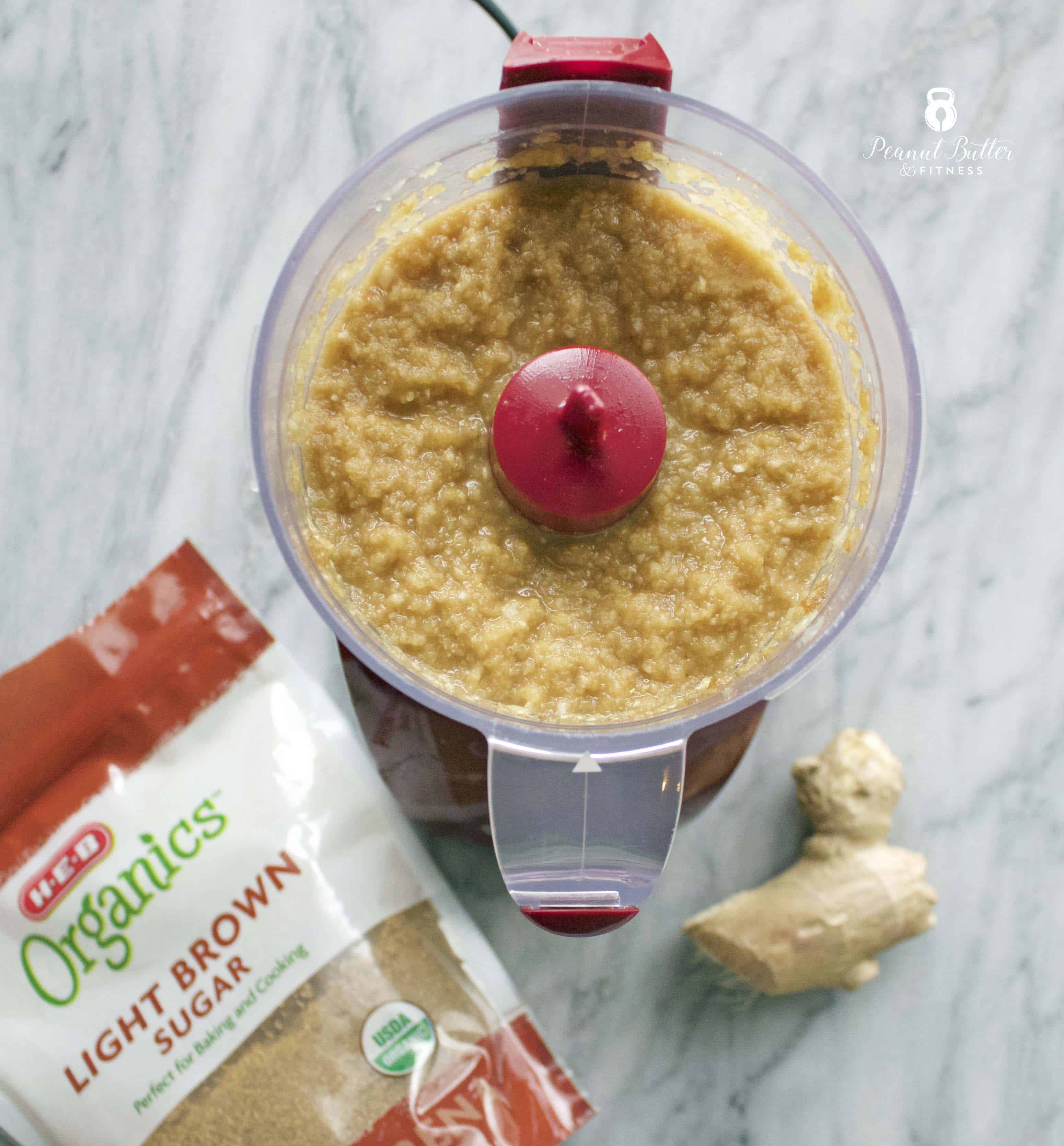 The marinade for the beef includes an Asian pear, which is traditionally used to both tenderize and sweeten the meat.  You don't need it as a tenderizer so much when you're cooking the meat in an Instant Pot, but if you want to marinate and grill or pan sear the steak, then don't skip it! I liked the light sweetness it brought to the meat, plus it did the job of keeping it moist while cooking.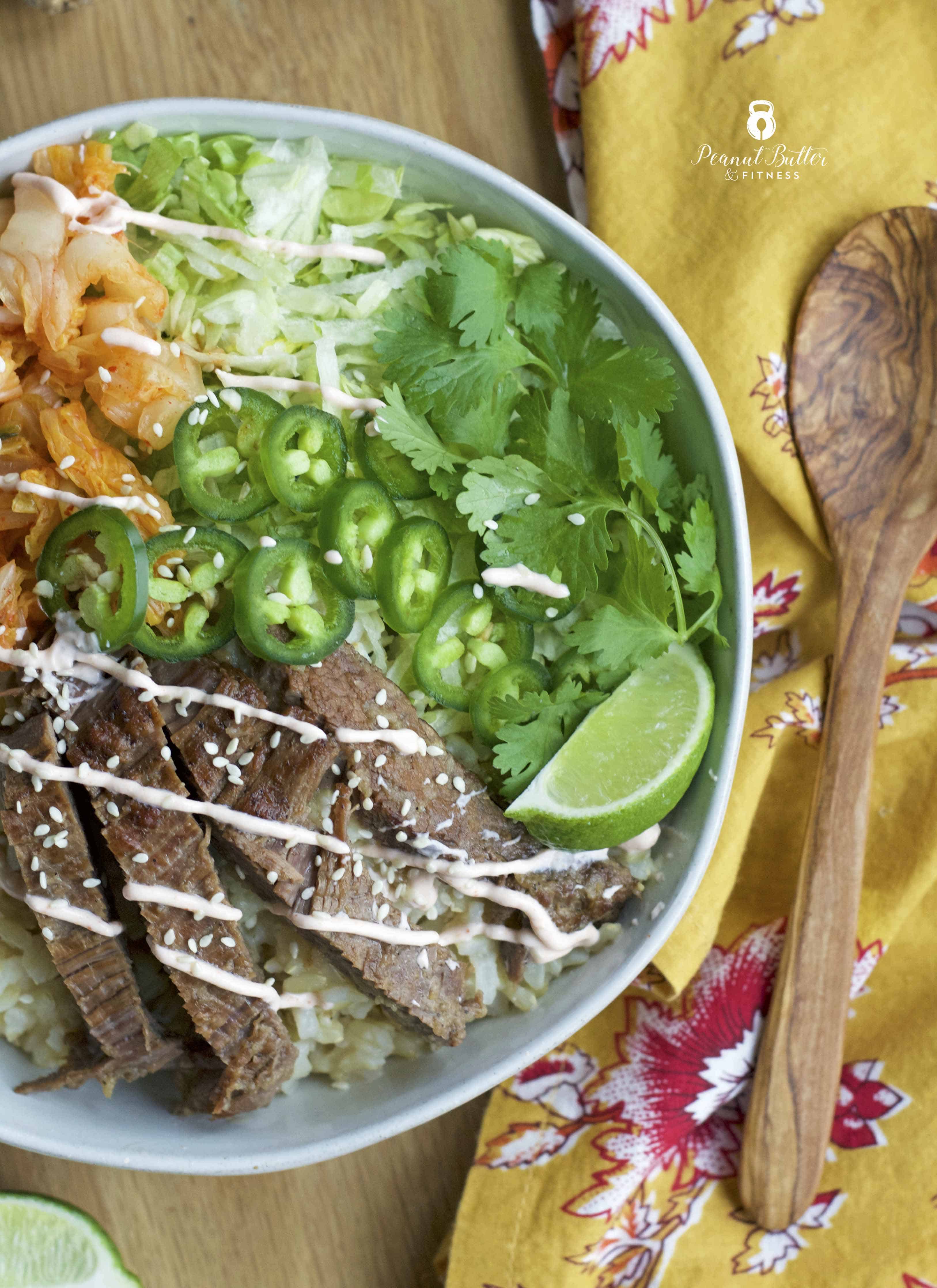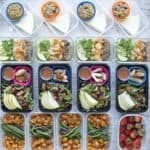 Instant Pot Korean Burrito Bowls
Prep Time 25 minutes
Cook Time 20 minutes
Total Time 45 minutes
Servings 4 servings
Calories per serving 400 kcal
Ingredients
Beef Ingredients
1 lb flank steak
1 Asian pear peeled and roughly chopped
2 cloves garlic
2 tbsp fresh ginger (about 1" square knob)
2 tbsp low sodium soy sauce
2 tbsp light brown sugar
1 tbsp gochujang (or sriracha sauce)
1 tbsp sesame oil
Bowl Ingredients
2/3 cup brown Jasmine rice cooked according to package directions
4 cups shredded lettuce
1 cup kimchi
1/2 cup plain, non-fat Greek yogurt
1/2 tbsp gochujang (or sriracha sauce)
Cilantro, jalapeños, and sesame seeds for garnish
Instructions
Add all beef ingredients except flank steak to a food processor and blend until smooth. Set aside.

Set Instant Pot to saute/hot. Once hot, add some sesame oil and sear flank steak on all sides. Remove from heat, then add pear mixture to Instant pot. Layer seared flank steak on top of pear mixture and spoon pear mixture over top.

Set Instant Pot to high/manual for 20 minutes followed by natural release. You can also use a slow cooker on low for 6-8 hours.

Once cooked, remove flank steak and allow to rest on cutting board for 5 minutes. Slice against the grain.

Meanwhile, whisk together Greek yogurt and gochujang. Set aside.

Arrange bowls with rice, lettuce, and kimchi. Add sliced flank steak, gochujang "mayo," cilantro, jalapeños, and sesame seeds before serving.
Nutrition Facts
Instant Pot Korean Burrito Bowls
Amount Per Serving
Calories 400 Calories from Fat 108
% Daily Value*
Fat 12g18%
Cholesterol 1mg0%
Sodium 419mg18%
Potassium 455mg13%
Carbohydrates 35g12%
Fiber 5g21%
Sugar 8g9%
Protein 40g80%
* Percent Daily Values are based on a 2000 calorie diet.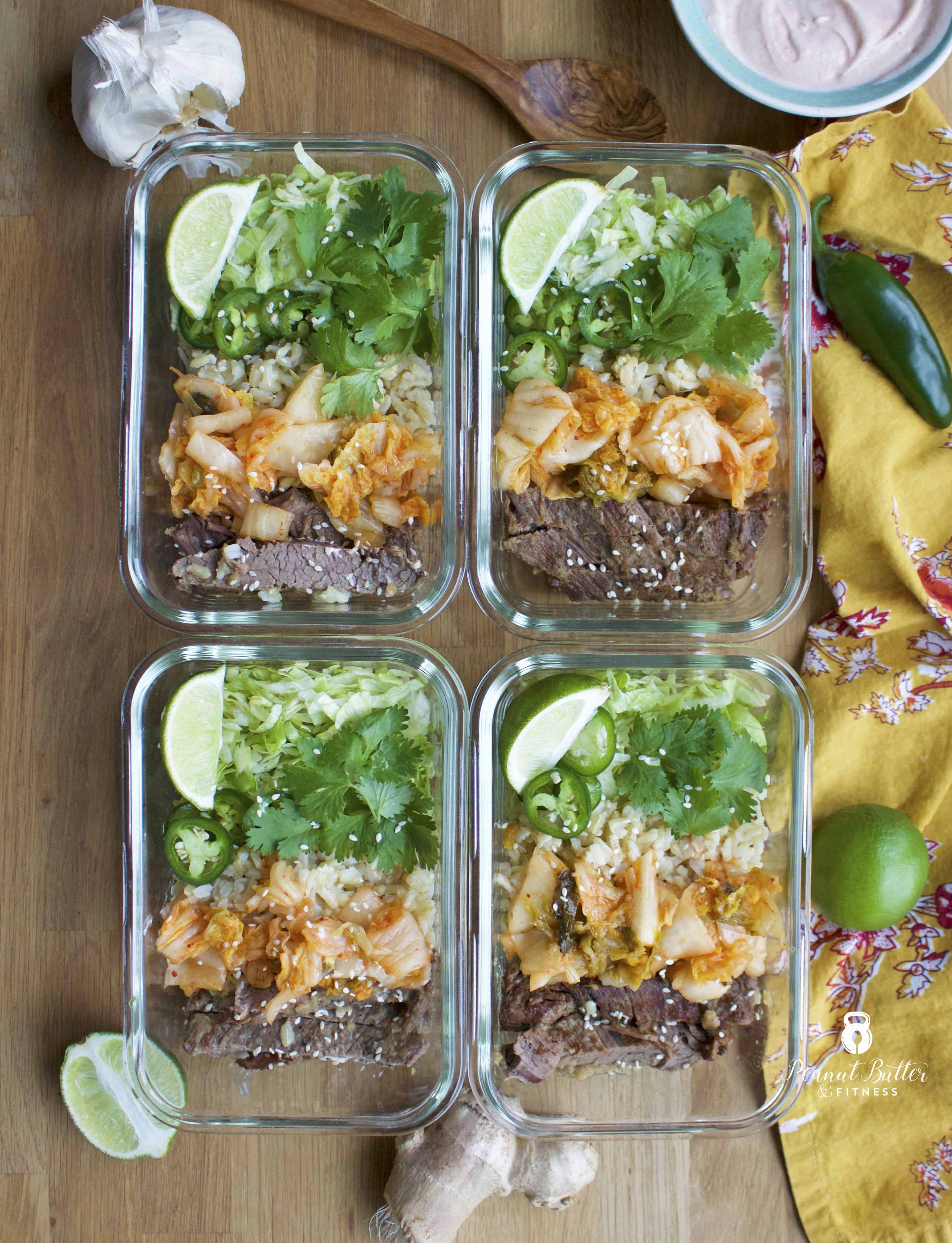 Here's how I arranged this dish for meal prep.  It worked out really well! Stick the lettuce on one end next to the rice, then the meat and kimchi go in the opposite side.  Top it off with some cilantro, lime, and jalapeño.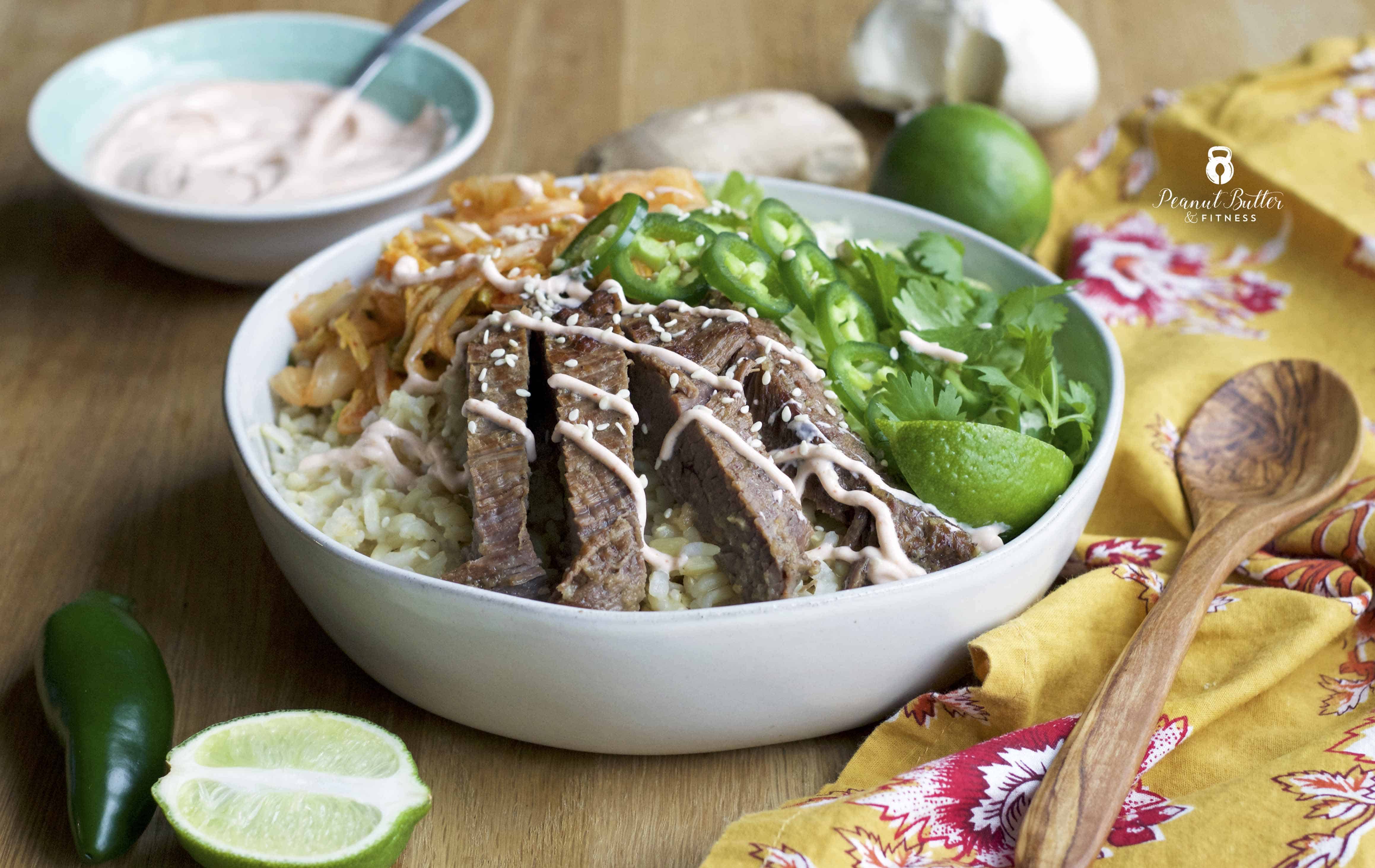 SaveSave
SaveSave