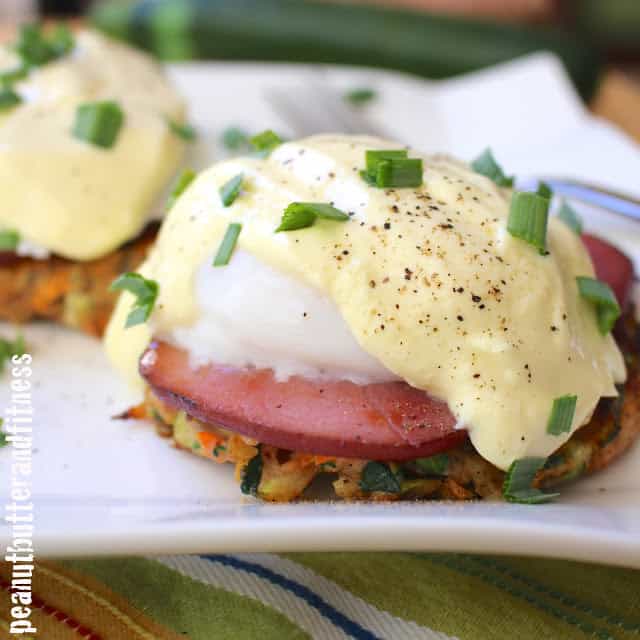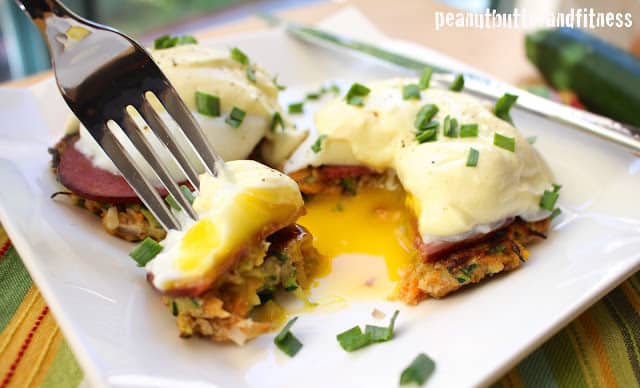 I'm wondering how to type out the sound of my mind blowing.  I thought about "pew pew" but that's not it…and I've tried several other options that didn't make any sense so we'll go with "boom." ANYWAYS.  This is a must try…I have fallen in love with it.  I swapped out the English muffin for some zucchini and sweet potato fritters that have a little kick to them thanks to some chili powder.  Layer on top of that some Canadian bacon, a poached egg (my first!) and some amazing healthified hollandaise sauce.  My mouth is watering.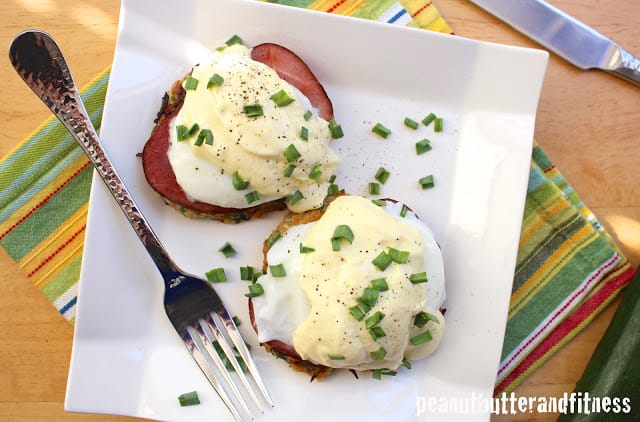 So here's the strategy for making these things in the morning without pulling your hair out…for one, you can make the hollandaise ahead of time and refrigerate it overnight.  That makes things go a lot faster in the morning.  But if you don't do that, do this:
Get your fritter mix ready to go, but don't make them just yet…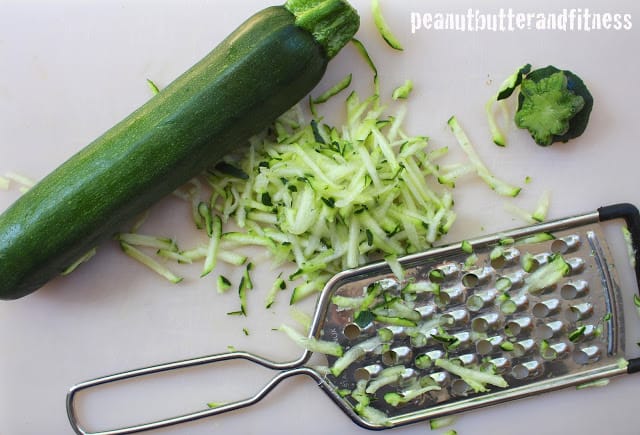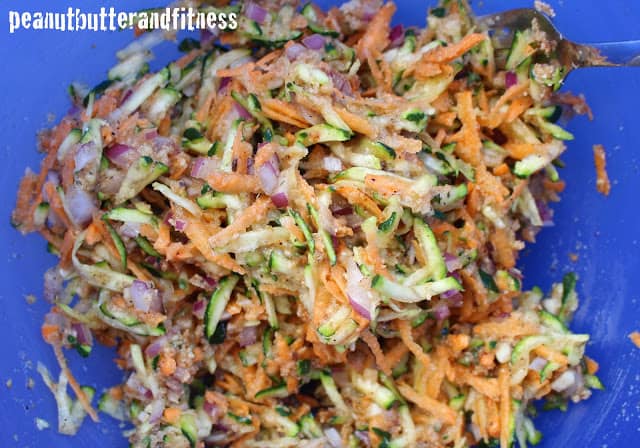 2.  Make your hollandaise sauce.  Be patient with it!  It will start out thick thanks to the Greek yogurt, but it will get runny after a few minutes of heating and whisking.  Keep going.  Mine took about 13 minutes to thicken up.  You'll know it's ready when it sticks to the whisk and you can see the whisk marks persisting in the sauce.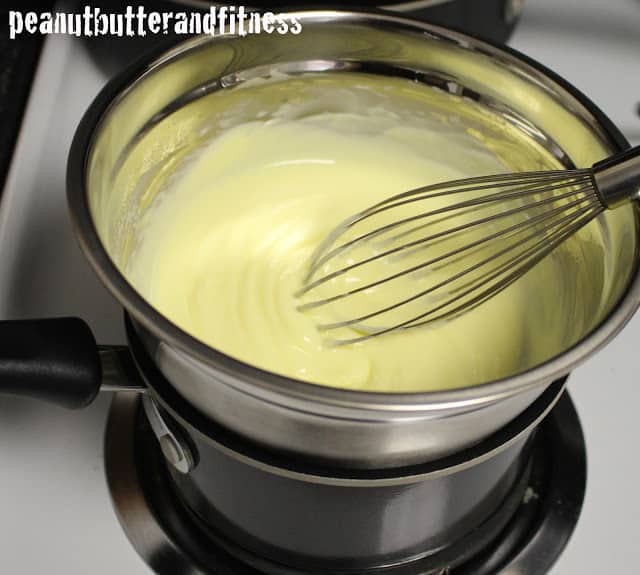 3.   Cook your fritters and then finish up with heating up the Canadian bacon and poaching eggs!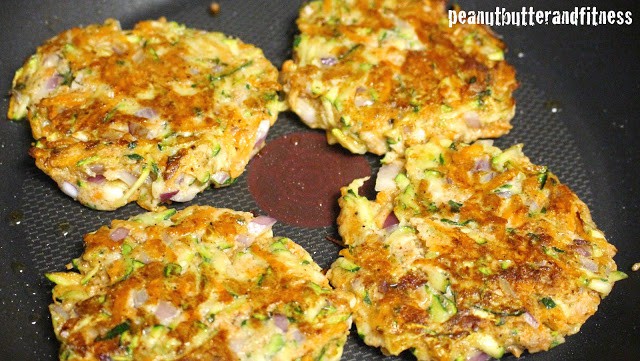 Real talk for a second here…if you are watching your cholesterol, I highly recommend switching from poached eggs on top of the fritters to cooked egg whites (this also cuts out about 9 grams of fat per serving!).  There's a lot of cholesterol and fat in any eggs Benedict because of the egg yolks, so do what's right for your body.  I don't eat egg yolks often, so I went ahead and splurged here 🙂  You can also cut the sodium by over half by using low sodium turkey bacon instead of uncured Canadian Bacon.  Or you could just pan fry some lunch meat ham.  It's all about the options people!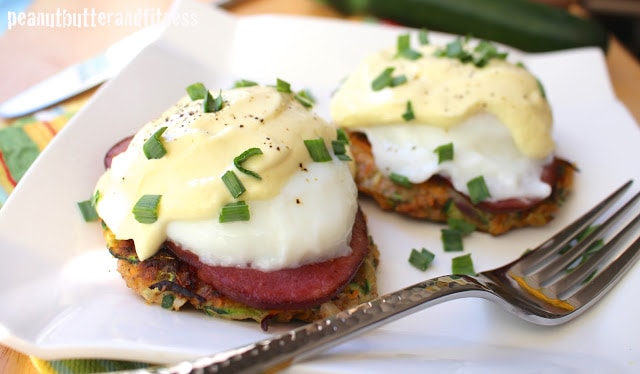 And just so you see the difference, here's what the nutrition info looks like for the egg whites and turkey bacon option (I'm currently eating leftovers and went with this option since it's faster anyways 🙂
Yield: 2 servings • Serving size: 2 fritters + 2 eggs • Calories per serving: 296 • Fat: 9 g • Protein: 27 g • Carbs: 25 g • Fiber: 3 g • Sugar: 8 g • Sodium: 677 mg • Cholesterol: 189 mg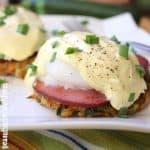 Healthier Eggs Benedict with Zucchini Sweet Potato Fritters
Prep Time 25 minutes
Cook Time 20 minutes
Total Time 45 minutes
Servings 2 servings (2 fritters & 2 eggs per serving)
Calories per serving 396 kcal
Ingredients
Fritter Ingredients:
1 cup grated zucchini about 1 small zucchini
1/2 cup grated peeled sweet potato
1/4 cup finely chopped onion
2 cloves garlic minced
2 egg whites save the yolks for the hollandaise sauce
1/4 cup whole wheat Italian bread crumbs
1/4 tsp each of black pepper and chili powder
2 tbsp olive oil
Hollandaise Sauce Ingredients (adapted from Neil's Healthy Meals):
1/2 cup fat free plain Greek yogurt
1/2 tbsp white wine vinegar
2 egg yolks leftover from the fritters
1/2 tsp Dijon mustard
Other Ingredients:
4 poached eggs
4 slices Jones All Natural Uncured Canadian Bacon
Optional: chopped chives for garnish
Instructions
Get the Fritters Ready
Place grated zucchini and sweet potato in a strainer and compress with a paper towel to squeeze out liquid. Remove from strainer and wrap in double layer of paper towels. Set aside to continue drawing out liquid.

Toss together chopped onion, minced garlic, bread crumbs, black pepper and chili powder in a medium bowl.  Set aside.
Make the Hollandaise
Fill a small saucepan with about 1" of water and heat until just simmering, when small bubbles begin to form around the pan. Lower heat to continue simmering.

In a heat-safe bowl that fits over the small saucepan without touching the water, whisk together Greek yogurt, 2 egg yolks and vinegar.  Place bowl over simmering water and continuously whisk for 12-15 minutes, or until hollandaise begins to thicken (be patient, it will thicken).

Remove bowl from heat and whisk in Dijon mustard.  Set aside.
Cook the Fritters
Mix grated zucchini and sweet potato into bread crumb mixture, then mix in egg whites until well combined.

Heat large shallow pan over medium high heat.  Add olive oil and continue to heat until oil is hot.  Form 4 patties out of zucchini mixture, then add to pan and flatten with a spatula.  Cook for 2-3 minutes per side until browned.  Plate 2 fritters per plate and set aside.

Heat Canadian Bacon over medium high heat until lightly browned and place one slice on top of each fritter.
Assemble
Poach eggs and add on top of Canadian Bacon, then gently spoon hollandaise sauce on top of eggs. Sprinkle with black pepper and chives.
Nutrition Facts
Healthier Eggs Benedict with Zucchini Sweet Potato Fritters
Amount Per Serving
Calories 396 Calories from Fat 144
% Daily Value*
Fat 16g25%
Cholesterol 581mg194%
Sodium 856mg37%
Carbohydrates 26g9%
Fiber 3g13%
Sugar 8g9%
Protein 36g72%
* Percent Daily Values are based on a 2000 calorie diet.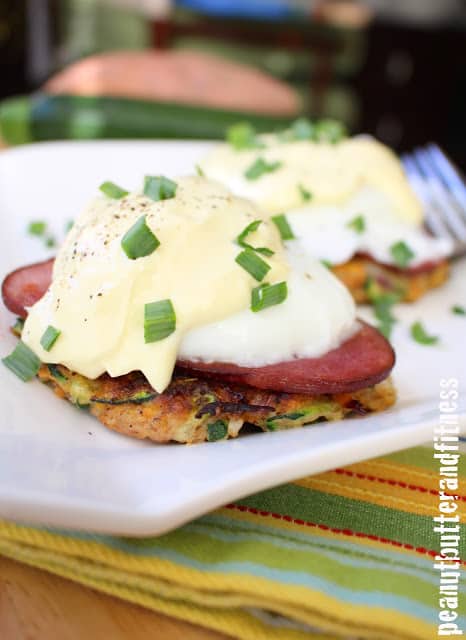 Now, about the poached egg.  Yes, this is the first time I've ever made them!  And yes, they are oh-so-awesome, but they do require a bit of finesse if you want to do it the classic way.  Here's how I made mine: fill a sauté pan with at least an inch of water (go for an inch and a half just in case) and bring it to barely a simmer.  There should be small bubbles forming along the bottom of the pan, but not coming to the surface and breaking.  Crack your eggs into individual bowls, then gently pour them into a fine mesh strainer over a plate.  This takes away the runny parts of the egg white that will make your poached egg look ugly.  Gently pour the egg from the strainer into the hot water (I did two at a time).  Set your timer for 5 minutes, turn the heat off and put a lid on the sauté pan.  When the time is up, gently scoop out the poached eggs with a slotted spoon.