I'm wondering how to type out the sound of my mind blowing.  I thought about "pew pew" but that's not it…and I've tried several other options that didn't make any sense so we'll go with "boom." ANYWAYS.  This is a must try…I have fallen in love with it.  I swapped out the English muffin for some zucchini and sweet potato fritters that have a little kick to them thanks to some chili powder.  Layer on top of that some Canadian bacon, a poached egg (my first!) and some amazing healthified hollandaise sauce.  My mouth is watering.
So here's the strategy for making these things in the morning without pulling your hair out…for one, you can make the hollandaise ahead of time and refrigerate it overnight.  That makes things go a lot faster in the morning.  But if you don't do that, do this:
Get your fritter mix ready to go, but don't make them just yet…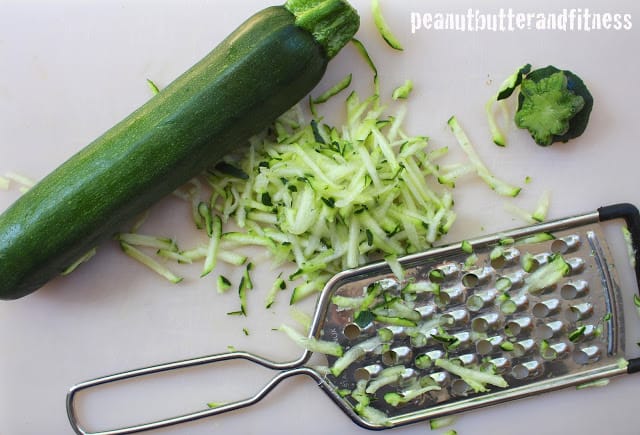 2.  Make your hollandaise sauce.  Be patient with it!  It will start out thick thanks to the Greek yogurt, but it will get runny after a few minutes of heating and whisking.  Keep going.  Mine took about 13 minutes to thicken up.  You'll know it's ready when it sticks to the whisk and you can see the whisk marks persisting in the sauce.
      3.   Cook your fritters and then finish up with heating up the Canadian bacon and poaching eggs!
Real talk for a second here…if you are watching your cholesterol, I highly recommend switching from poached eggs on top of the fritters to cooked egg whites (this also cuts out about 9 grams of fat per serving!).  There's a lot of cholesterol and fat in any eggs Benedict because of the egg yolks, so do what's right for your body.  I don't eat egg yolks often, so I went ahead and splurged here 🙂  You can also cut the sodium by over half by using low sodium turkey bacon instead of uncured Canadian Bacon.  Or you could just pan fry some lunch meat ham.  It's all about the options people!
And just so you see the difference, here's what the nutrition info looks like for the egg whites and turkey bacon option (I'm currently eating leftovers and went with this option since it's faster anyways 🙂
Yield: 2 servings • Serving size: 2 fritters + 2 eggs • Calories per serving: 296 • Fat: 9 g • Protein: 27 g • Carbs: 25 g • Fiber: 3 g • Sugar: 8 g • Sodium: 677 mg • Cholesterol: 189 mg