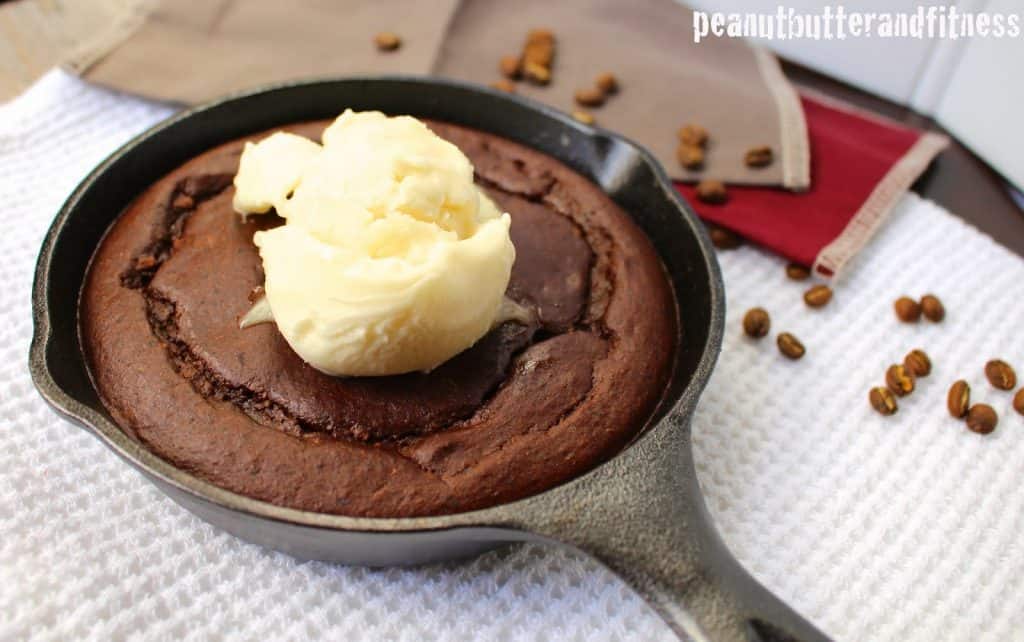 I won't lie.  This is another Nutella inspired recipe, minus the actual Nutella, plus coffee.  Oh, and a secret ingredient that gives this skillet cake a major boost in the "good for you" category.  And no, I'm not talking about protein powder 🙂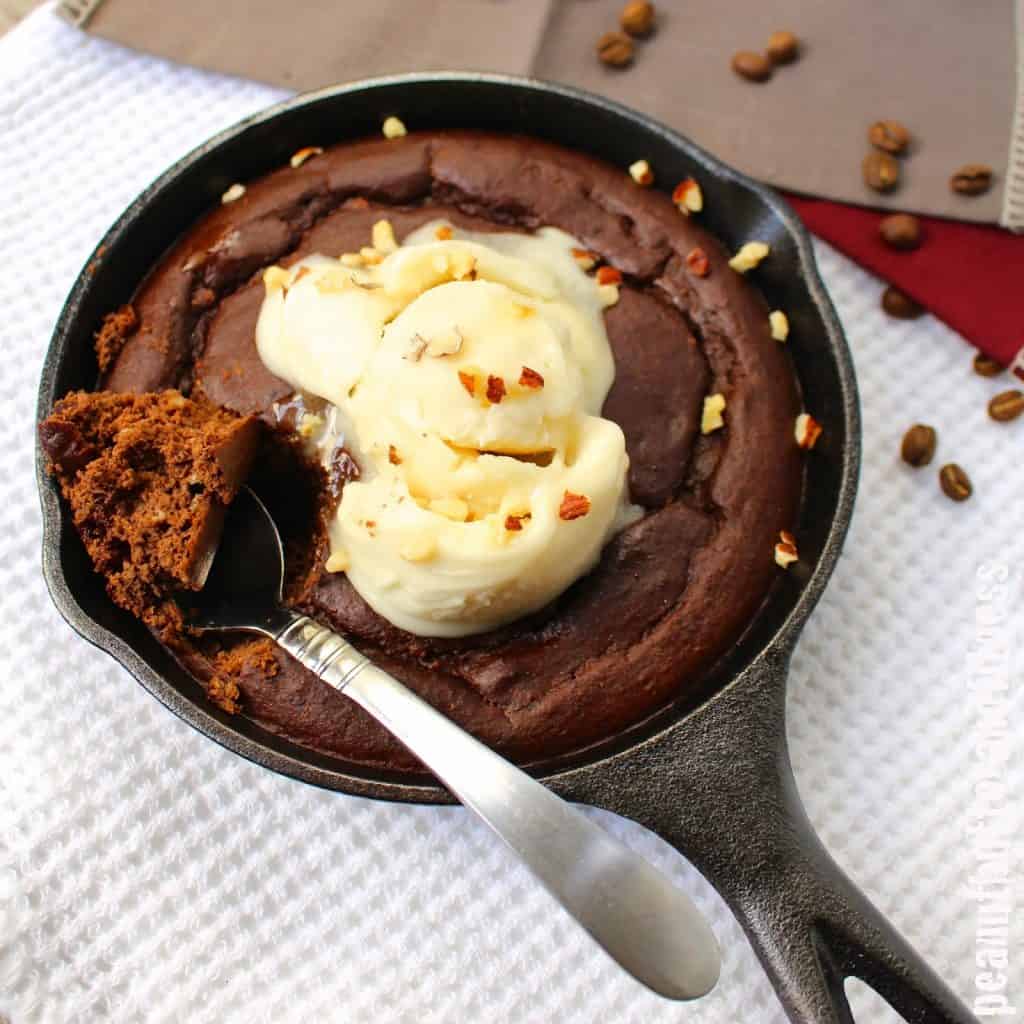 It's black beans! Are you surprised? NO?  Well you must have read some of my previous black bean dessert recipes like
this cake
,
these truffles
or
this cookie pie
.  I won't hold it against you. But seriously…they add lots of fiber and keep the skillet cake moist here.  Now this particular cake is still a bit dense and gooey on the inside, but not quite to the level of being called a cookie.  Really it's like a cross between a cake and a cookie.  And you would never know there are black beans in it!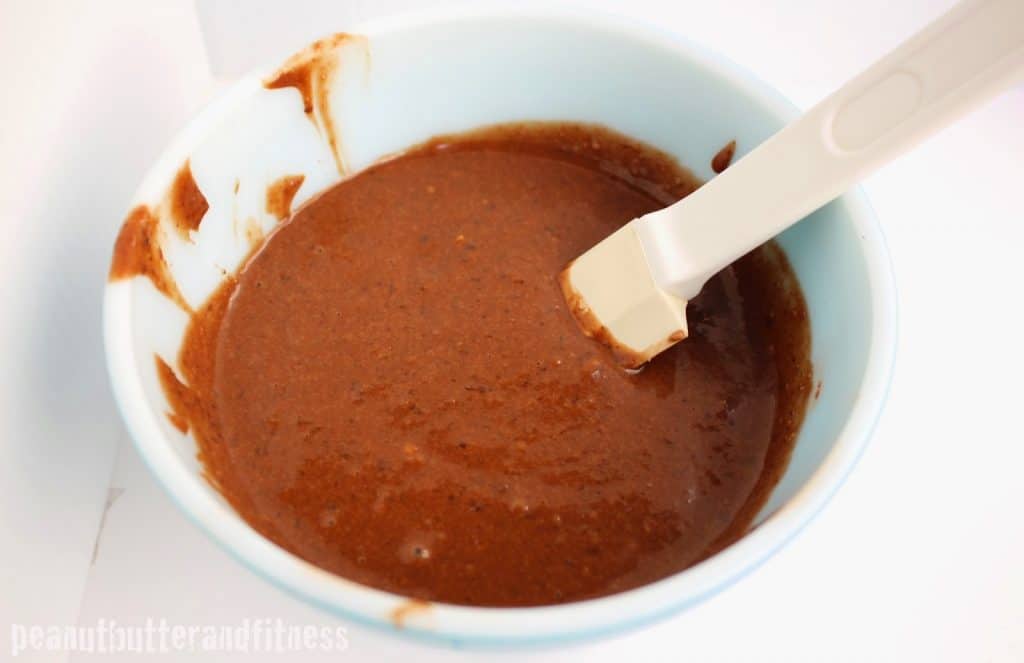 This skillet is my first ever…I'm pretty excited about it.  I'm told that they only get better with age and once they're "seasoned" they're even better than the non-stick technology that's falling off the shelves at Bed, Bath and Beyond.  Even though this one is supposed to be pre-seasoned, it's not quite to the level of non-stickiness that I'm aiming for.  But I do love how heavy and sturdy it feels…anddddd it's made in the USA! I bought mine on
Amazon
.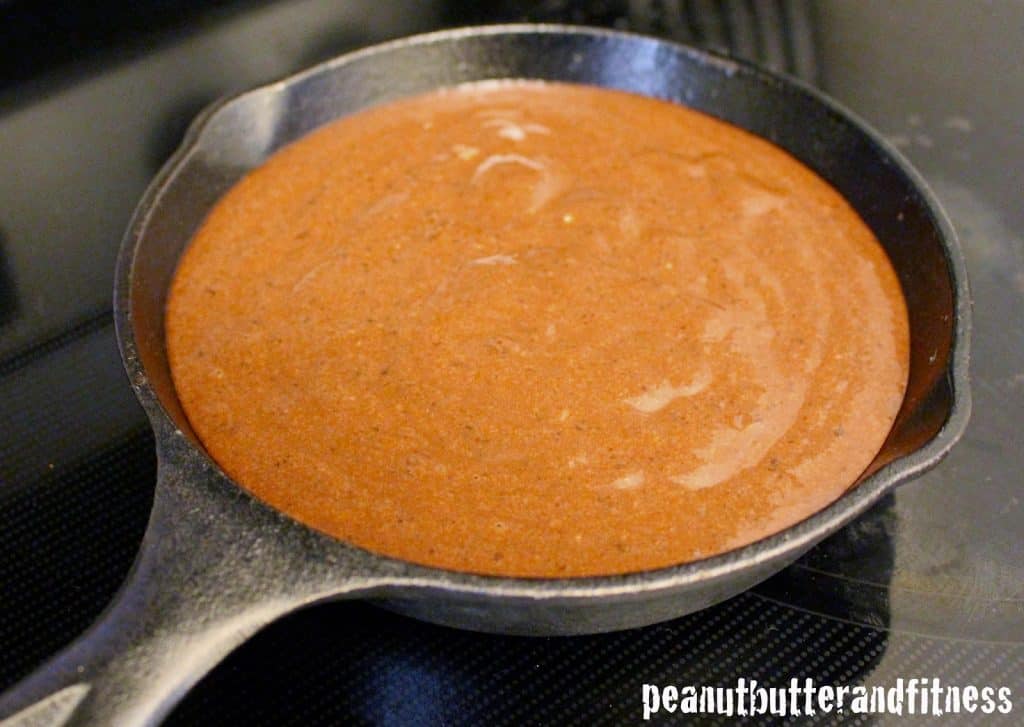 When I went to the grocery store the other day, I ventured into the freezer section to peruse the selection of non-ice cream frozen treats.  And I found this stuff! I was originally looking for coconut milk ice cream but then I saw "protein & fiber" on the label of this pint of Arctic Zero.  I'd never heard of it before but figured I had to try it.  Right? Only 35 calories per serving, 150 calories per pint, no fat, and a simple ingredient list.  The only vanilla-ish flavor they had left was vanilla maple.  I'm not complaining.  It's delish.  Don't be fooled though – if you're used to eating full fat, regular ice cream, this is not going to taste exactly like it.  But if you're looking for a healthy alternative with the same texture, a lot of the flavor, and all of the frozen goodness then go for it!  I'll be trying the other flavors soon…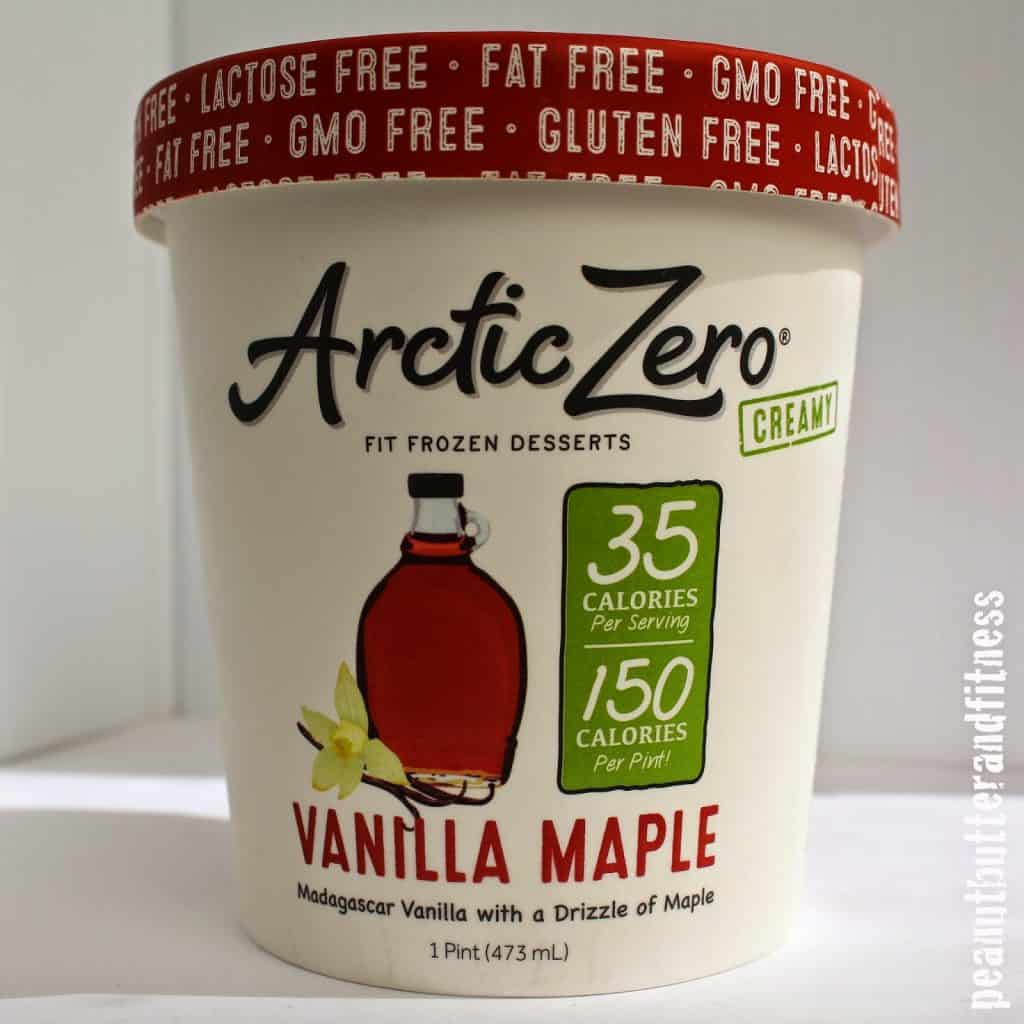 If you're one of those people who don't like nuts in their cookies, just omit the chopped hazelnuts and maybe just use them as a topping instead.  Kind of like how I forgot to add them on top of this until the Arctic Zero was melting everywhere…you win some, you lose some.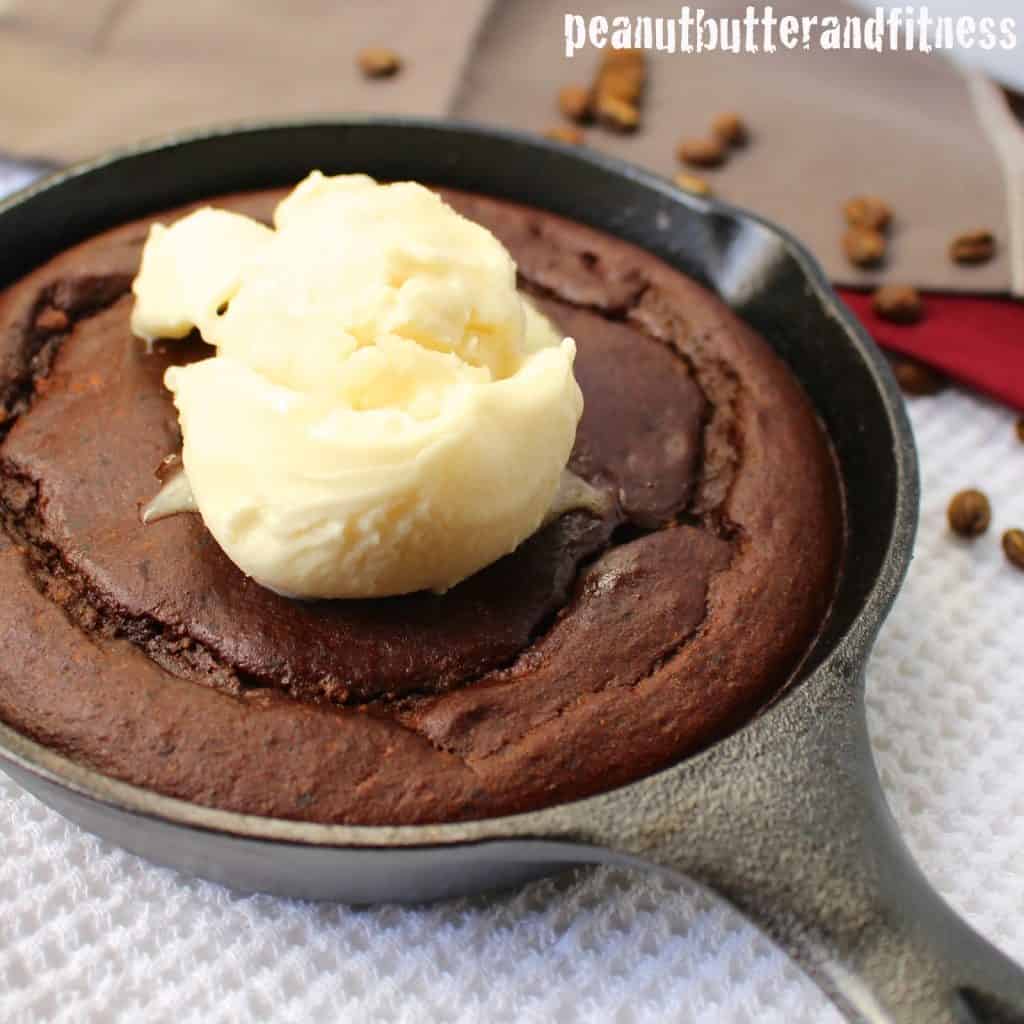 Hazelnut Mocha Protein Skillet Cake
Servings: 3 • Calories: 192 • Fat: 7 g • Protein: 14 g • Carbs: 19 g • Fiber: 5 g • Sugar: 7 g • Sodium: 206 mg • Cholesterol: 6 mg
Ingredients:
1/2 cup low sodium black beans, drained and rinsed
1 egg white
2 tbsp unsweetened applesauce
1 tsp honey
1/2 tsp hazelnut extract
2 tbsp unsweetened vanilla almond milk
3 tbsp almond flour
1 tbsp unsweetened cocoa powder
1 1/2 tsp instant coffee
1 scoop Lean Body for Her Chocolate whey protein
24 Ghirardelli 60% dark chocolate chips
1 tbsp chopped hazelnuts
1/4 tsp baking powder
2 packets Truvia
Pre-heat oven to 350 degrees.
In a food processor, mix black beans, applesauce, honey, hazelnut extract, Truvia and almond milk until smooth.  Add almond flour, cocoa powder, protein powder, instant espresso and baking powder and blend until smooth.  Pulse in egg white, then mix in chocolate chips by hand.
Wipe a 6.5″ cast iron skillet with coconut oil, then pour cake mixture into skillet.
Bake at 350 degrees for 26-28 minutes or until a toothpick inserted in the center comes out mostly clean.  Allow to cool for several minutes, top with Arctic Zero if desired and serve.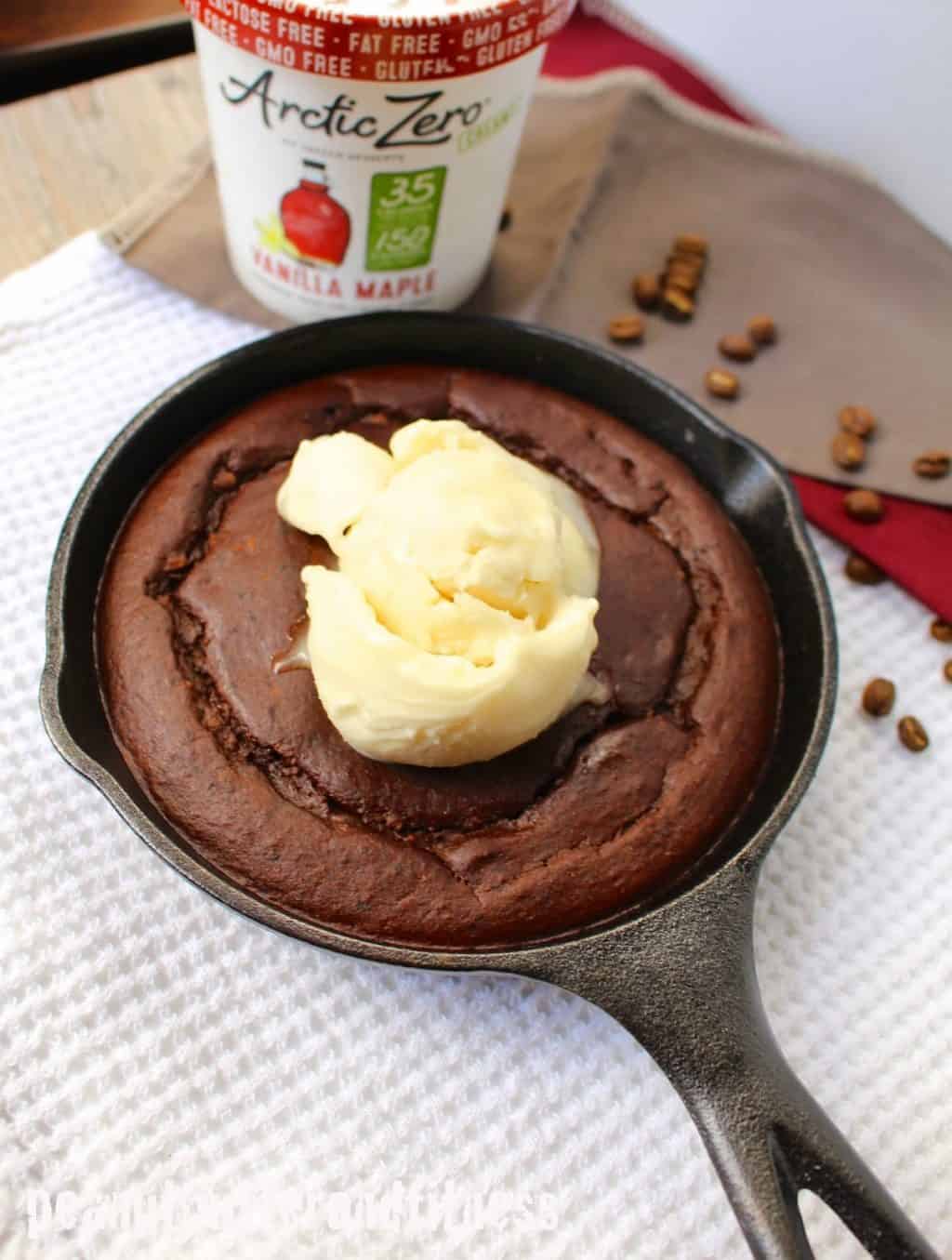 P.S. I'm aware that 3 servings is kind of a weird thing for a skillet cake that's usually meant to be a romantic dessert for two at a restaurant…but I tried to eat half of this thing at once and I struggled.  And ultimately failed.  As delicious as it is, it's just too filling to eat half of it at once.  At least it was for me.  Better luck to you!