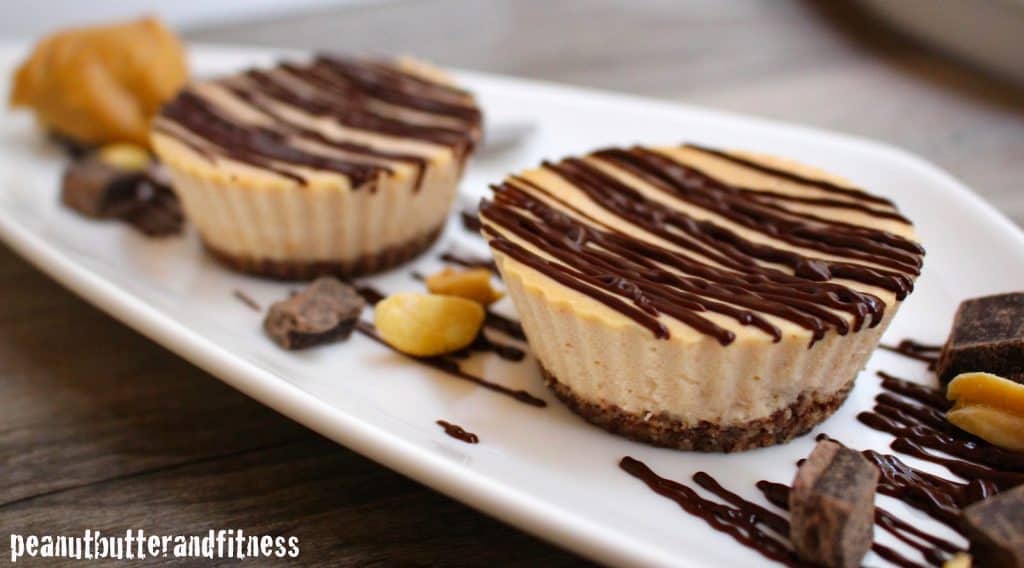 For anyone who has read my blog before, you probably know about my affinity for chocolate and peanut butter together.  It's just so simple and classic and delicious.  They were meant for one another.  The only problem is that it's usually not very good for you…lots of fat and all the calories that go with it.  But not today…today we eat delicious, creamy cheesecake with my favorite flavors.  For only 80 calories per cheesecake!  Oh, and did I mention that those 80 calories include 8 grams of protein?  No big deal or anything (kind of a big deal 🙂
I found these dark chocolate baking chunks at Whole Foods and I fell in love with them…partly because I can't just shove a handful in my mouth (like regular chocolate chips) and have them immediately get all melty and delicious and partly (this is related to the first part) because I can just take a few, eat them really slowly and still satisfy my sweet tooth.  But that's only if I don't have delicious mini-cheesecakes sitting around.  Anyways…these things are 70% cacao content so I don't even feel bad if I eat more than a few.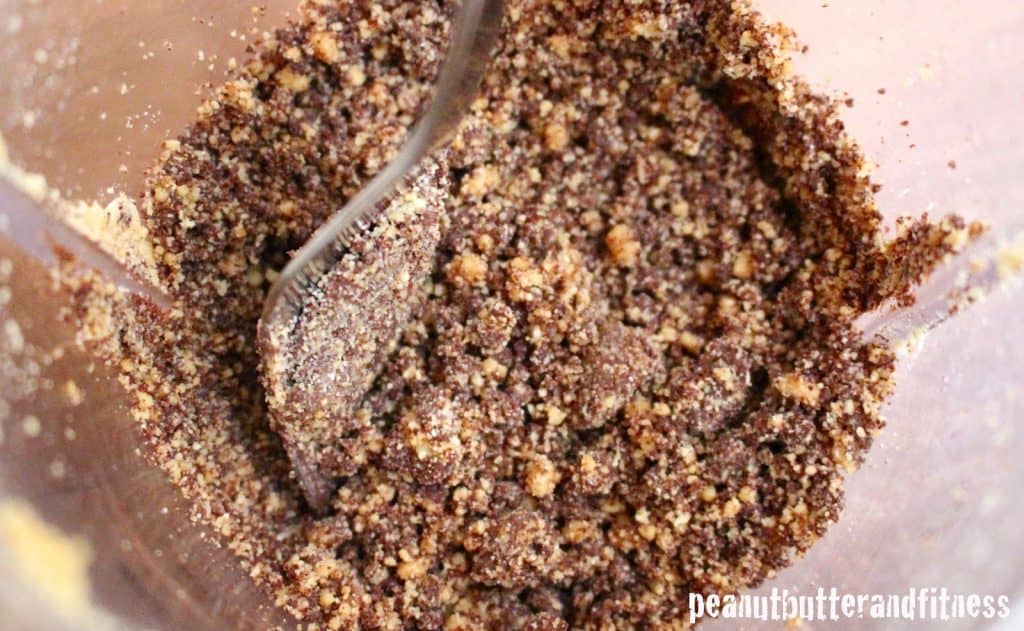 The crust for these mini-cheesecakes is really simple and totally clean…just some ground up peanuts, coconut flour, unsweetened cocoa powder, almond milk and vanilla extract.  Easy peasy.  Just press them into your little silicone baking cups (I got mine at
Crate and Barrel
, but Amazon has
great choices
with free Prime shipping) and you're ready to make some cheesecake filling.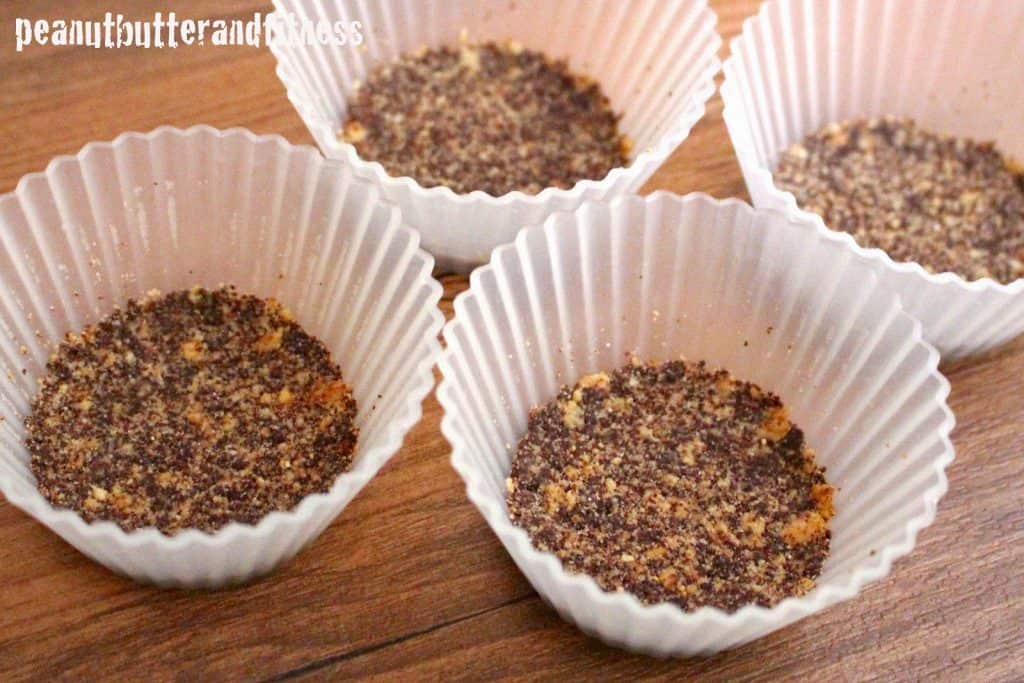 I changed up my cheesecake recipe a little bit this time from my previous cheesecake adventures (
Cherry
,
S'mores
and
Pumpkin
) to see if I could get them to firm up a little bit faster so you don't have to wait as long to enjoy them.  I'd say it was a success – they were  ready to take out of the baking cups within a couple of hours.  Even though you need to refrigerate them, I think the peanut butter flavor tastes best if you let them come a bit closer to room temperature before serving.  That only takes 5-10 minutes for these little minis.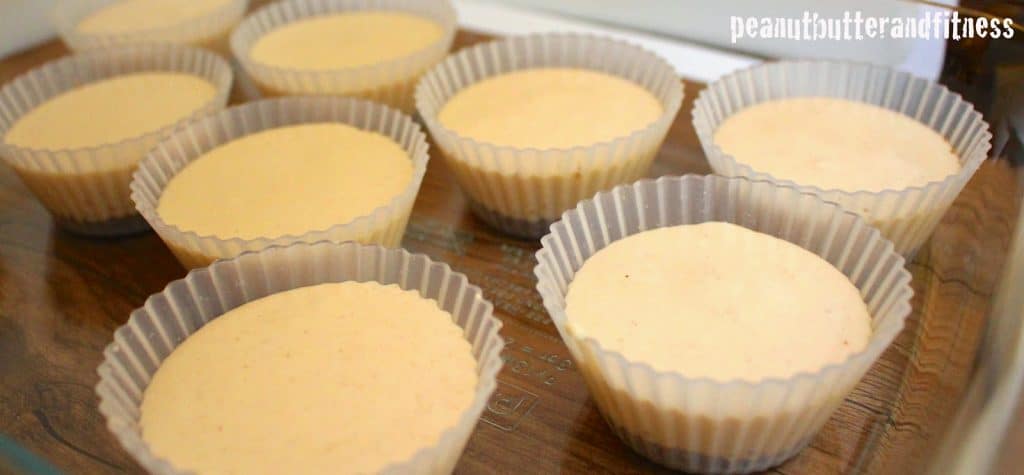 And now for the secret to keeping them from cracking – two words: water. bath.  Stick your baking cups into a water bath almost up to the top of the cheesecake filling.  (Just be careful not to let the water lap over top of the baking cups and into your cheesecake.)  This keeps your oven moist and helps your cheesecakes bake evenly.  The outside doesn't bake faster than the inside, meaning the center won't sink and crack the top.  I let my cheesecakes cool in the water bath too…same idea as when they're baking – it cools down slowly and evenly.  I didn't stick them in the refrigerator until after the water was room temperature.  The once jiggly middles will firm up nicely in the refrigerator.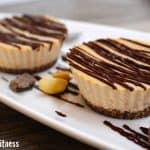 Guiltless Peanut Butter and Chocolate Cheesecake
Prep Time 1 hour 20 minutes
Cook Time 23 minutes
Total Time 1 hour 43 minutes
Servings 9
Calories per serving 80 kcal
Ingredients
1/3 cup fat free cottage cheese
2/3 cup Dannon Light and Fit vanilla non-fat Greek yogurt
1 1/2 egg whites
2 tbsp PB2 powdered peanut butter
1 tbsp Simply Jif peanut butter
2 packets Truvia
3 tbsp dry roasted unsalted peanuts
2 tsp coconut flour
1 tbsp unsweetened cocoa powder
1/2 tbsp unsweetened vanilla almond milk
1/4 tsp vanilla extract
2 tbsp 365 Organic Mini Dark Chocolate Chunks
Instructions
In a food processor or NutriBullet, process peanuts until ground into a fine powder. Mix in coconut flour, cocoa powder, almond milk and vanilla extract. Divide evenly among 9 silicone baking cups and press into cups to form crust.

Pre-heat oven to 325 degrees.

In a food processor or NutriBullet, combine cottage cheese, Greek yogurt, peanut butter, egg whites, Truvia and PB2 until smooth. Add in protein powder and continue to combine until smooth.

Add cheesecake mixture on top of crusts, leaving about 1/4" from the top of the cheesecake to the top of the baking cup.

Place cheesecake cups into larger baking dish and fill dish with water until almost even with the top of the cheesecake filling. Bake at 325 degrees for 20-23 minutes or until centers of cheesecake are still a little jiggly (like Jello).

Allow cheesecakes to cool in the water bath until water is room temperature, then remove cheesecakes from water bath and refrigerate, uncovered for at least an hour before serving (best if refrigerated overnight before serving).

Before serving, top cheesecakes with melted dark chocolate.
Nutrition Facts
Guiltless Peanut Butter and Chocolate Cheesecake
Amount Per Serving
Calories 80 Calories from Fat 36
% Daily Value*
Fat 4g6%
Cholesterol 5mg2%
Sodium 66mg3%
Carbohydrates 6g2%
Fiber 1g4%
Sugar 3g3%
Protein 8g16%
* Percent Daily Values are based on a 2000 calorie diet.