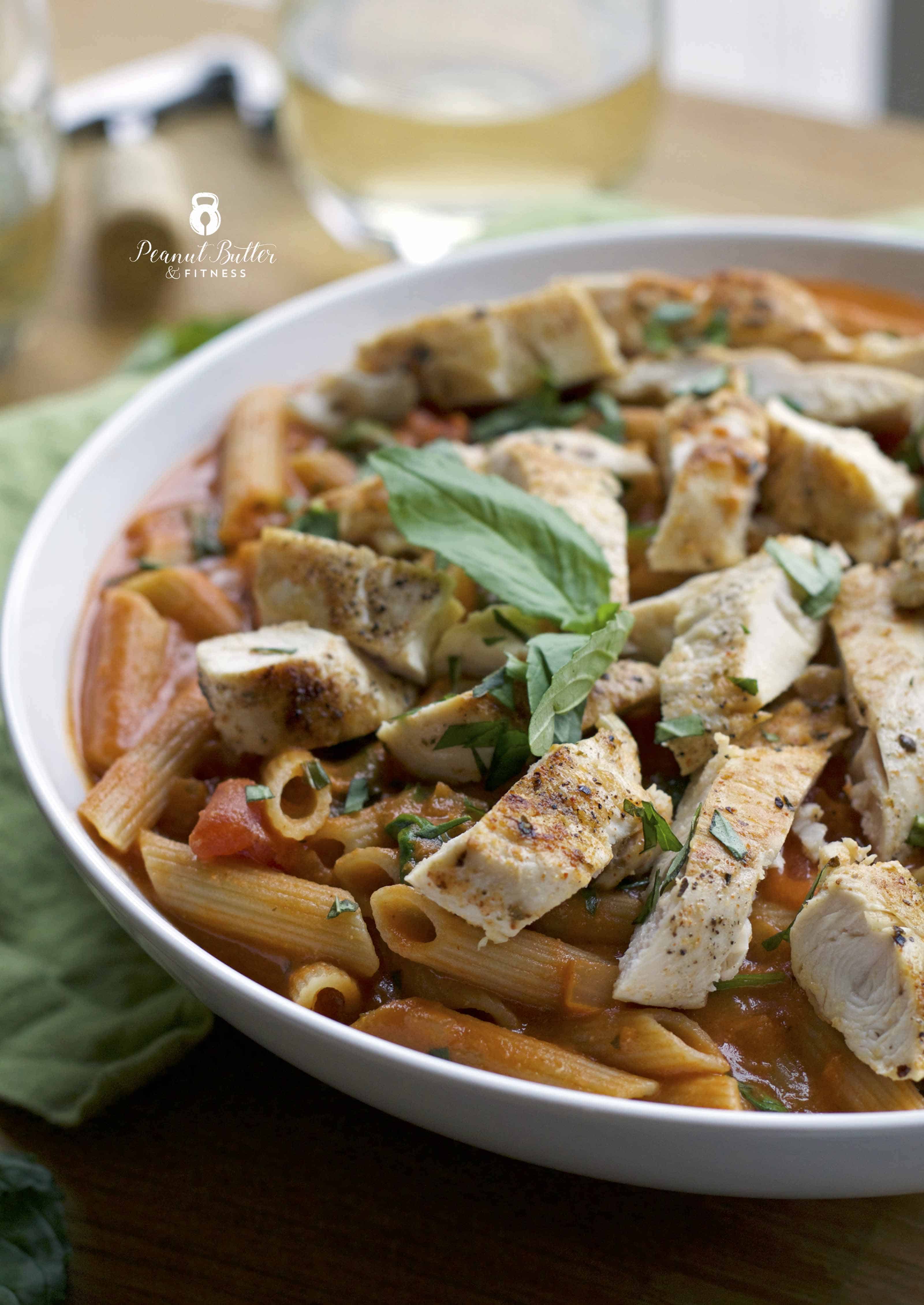 Gluten-free and dairy-free penne a la vodka? Believe it, ya'll. I'm finding myself having to get creative with recipes to keep up with this dairy-free thing I'm doing now. Unfortunately, it seems like I'm going to have to keep up with it for the long run 🙁 I'll share more about my experiences at some point. Luckily, dairy free options like coconut milk are easy to find and work really well in place of the real thing!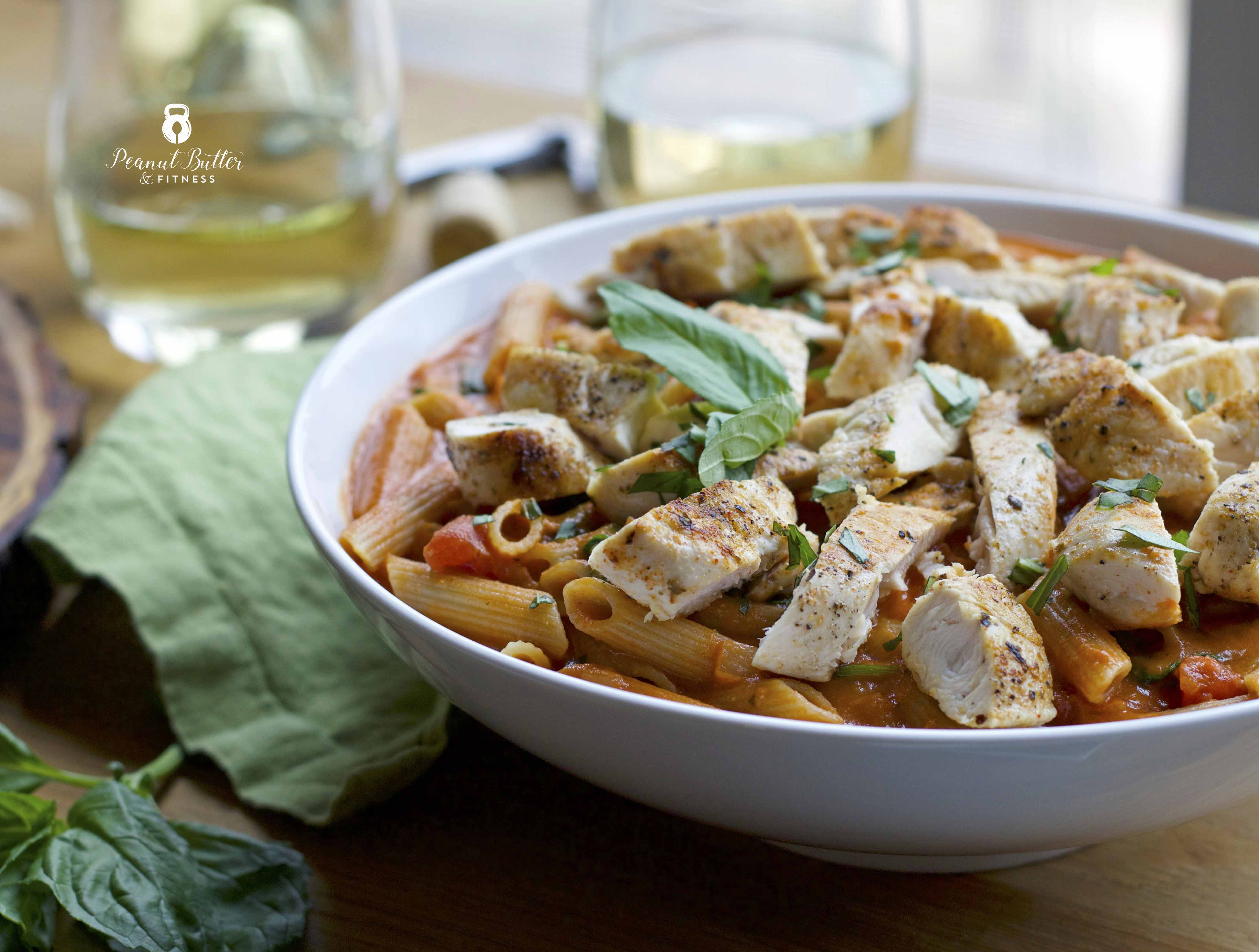 Since there's no cheese in this dish either, I added a bit of nutritional yeast – it lends a cheese-like flavor to help get this dish even closer to perfection.
You guys know that I, of course, used this dish as part of my meal prep. I'll give you the disclaimer that this is one of those meals that tastes best if you eat it the same day it's made…gluten-free pasta doesn't hold up to the sauce quite as well as regular pasta, and it starts to mess with the flavor of the sauce after a couple days. That certainly won't keep me from making this as part of my meal prep in the future, but I just thought it would be worth a heads up!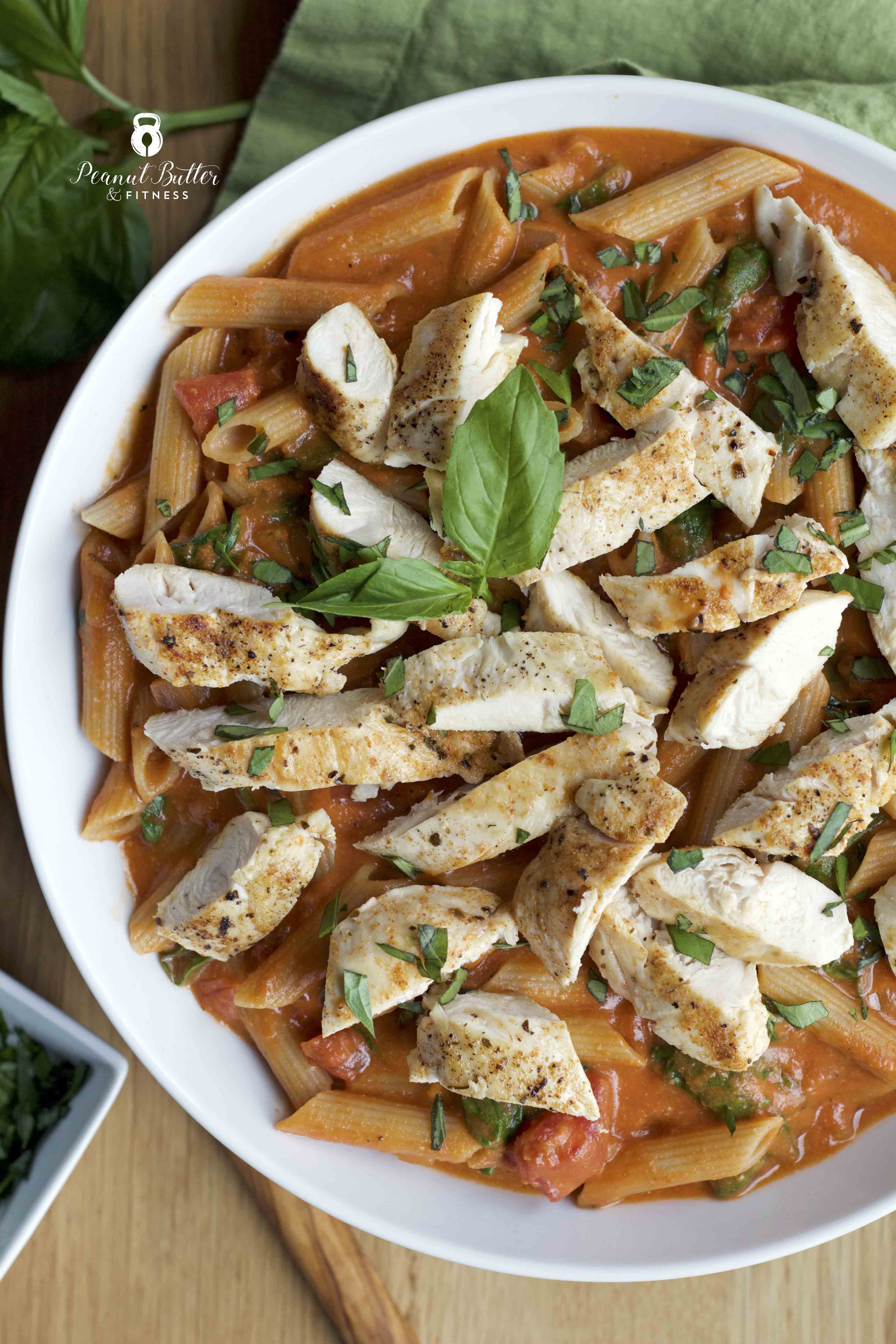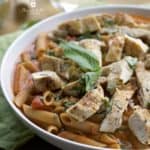 Gluten Free and Dairy Free Penne a la Vodka
Prep Time 15 minutes
Cook Time 30 minutes
Total Time 45 minutes
Servings 4 servings
Calories per serving 373 kcal
Ingredients
1 lb raw chicken breast thinly sliced
2 cups baby spinach
15 oz can no salt added diced tomatoes
1 cup coconut milk
8 oz can no salt added tomato sauce
1/4 cup vodka
1/2 cup onion chopped
2 cloves garlic minced
3 tbsp basil chopped
2 tbsp no salt added tomato paste
1 tbsp nutritional yeast
1 tsp olive oil
1/4 tsp red pepper flakes
Instructions
Season chicken breast with salt and pepper. Heat a cast-iron skillet over medium-high heat. Add oil and once hot, add chicken breast. Cook 3-5 minutes per side (depending on thickness) or until cooked through. Set aside.

Add onion and garlic to skillet and sauté until fragrant. Add diced tomatoes, tomato sauce, coconut milk, vodka, tomato paste, Italian seasoning, and red pepper flakes. Lower heat and simmer uncovered for 20 minutes.

Remove sauce from heat and add nutritional yeast, spinach, and about two thirds of the chopped basil to the sauce. Stir until spinach is softened into the sauce. Set aside.

Cook gluten-free pasta until al dente if serving immediately or very al dente if using in meal prep (I removed mine from boiling water at just under 5 minutes). Run under cold water to stop cooking, then toss with pasta sauce and divide evenly into 4 servings. Top with sliced chicken.
Nutrition Facts
Gluten Free and Dairy Free Penne a la Vodka
Amount Per Serving
Calories 373 Calories from Fat 81
% Daily Value*
Fat 9g14%
Cholesterol 53mg18%
Sodium 91mg4%
Potassium 487mg14%
Carbohydrates 43g14%
Fiber 4g17%
Sugar 6g7%
Protein 26g52%
* Percent Daily Values are based on a 2000 calorie diet.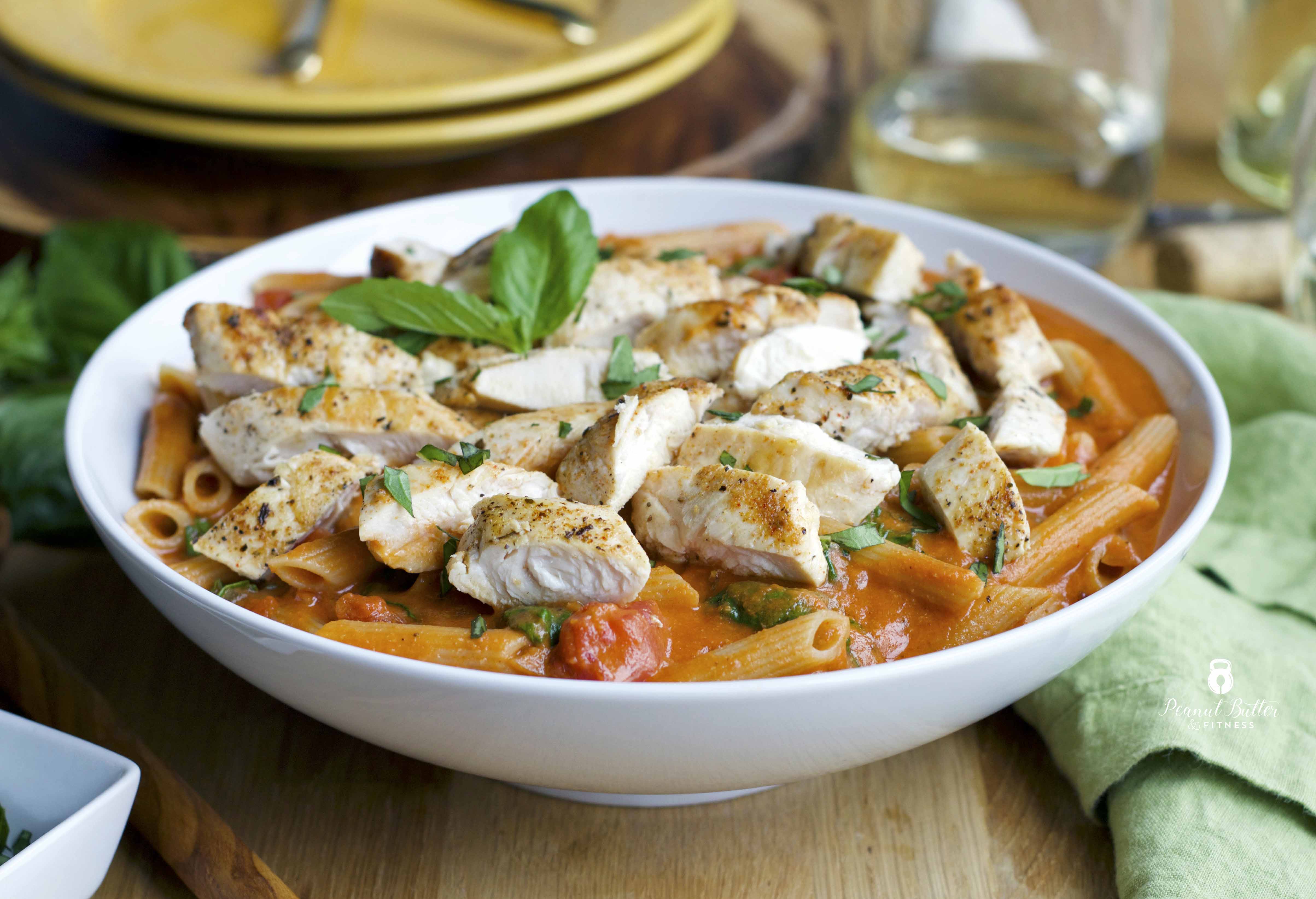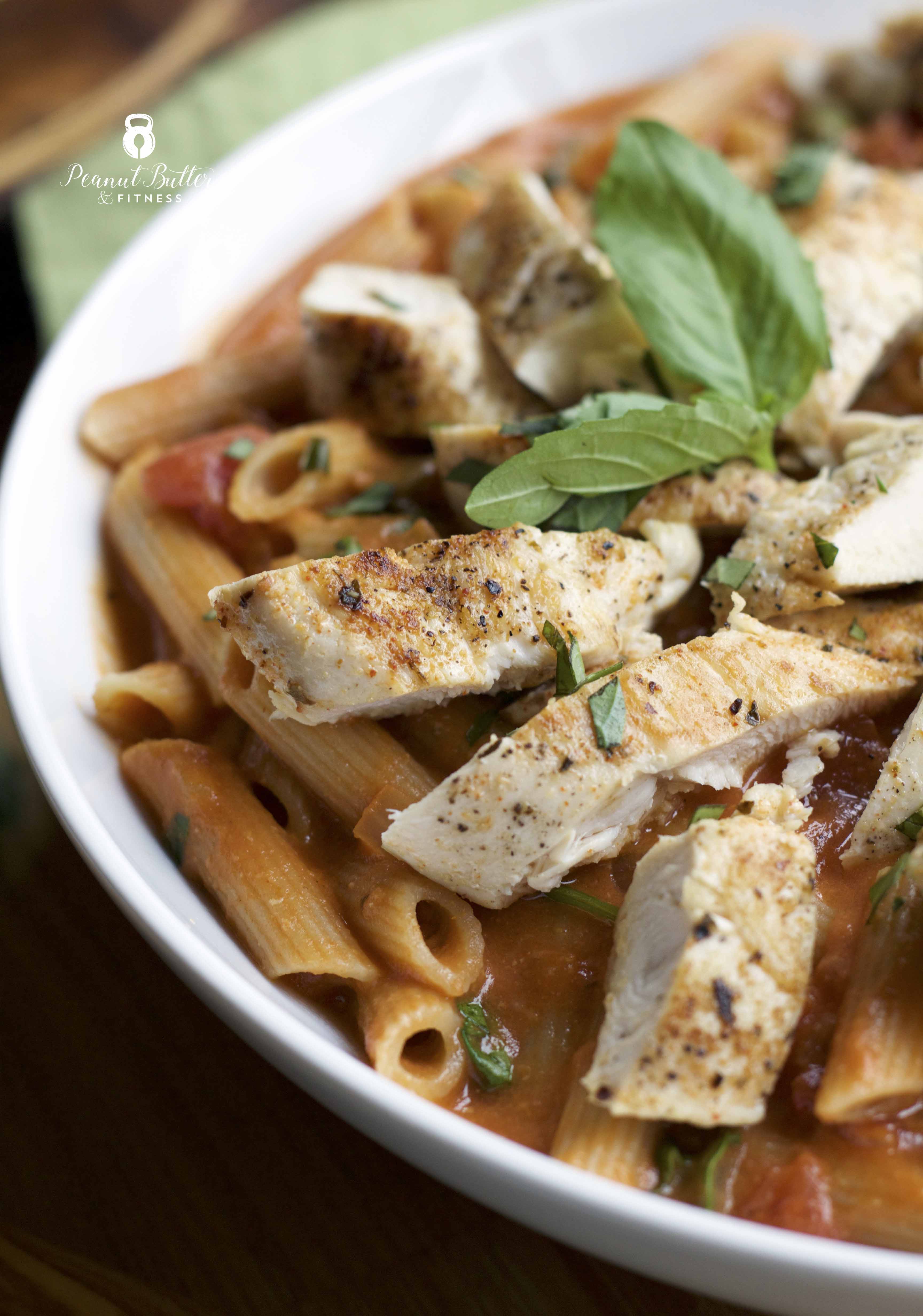 SaveSave
SaveSave
SaveSave
SaveSave
SaveSave
SaveSave