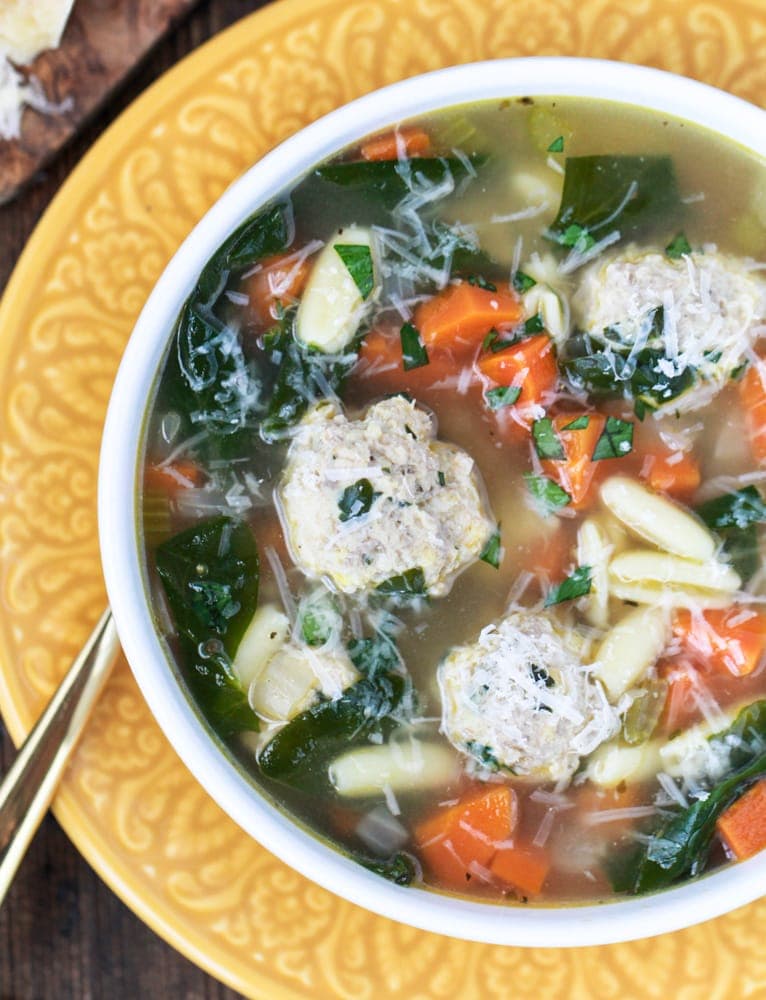 Jump to Recipe
Texas is still in a deep freeze with freezing rain/snow still falling, so it seems like the perfect time to share the recipe for this Freezer-Friendly Italian Wedding Soup! I've tested this recipe a few times now, so I was lucky to have plenty stashed in my freezer when this crazy cold weather hit.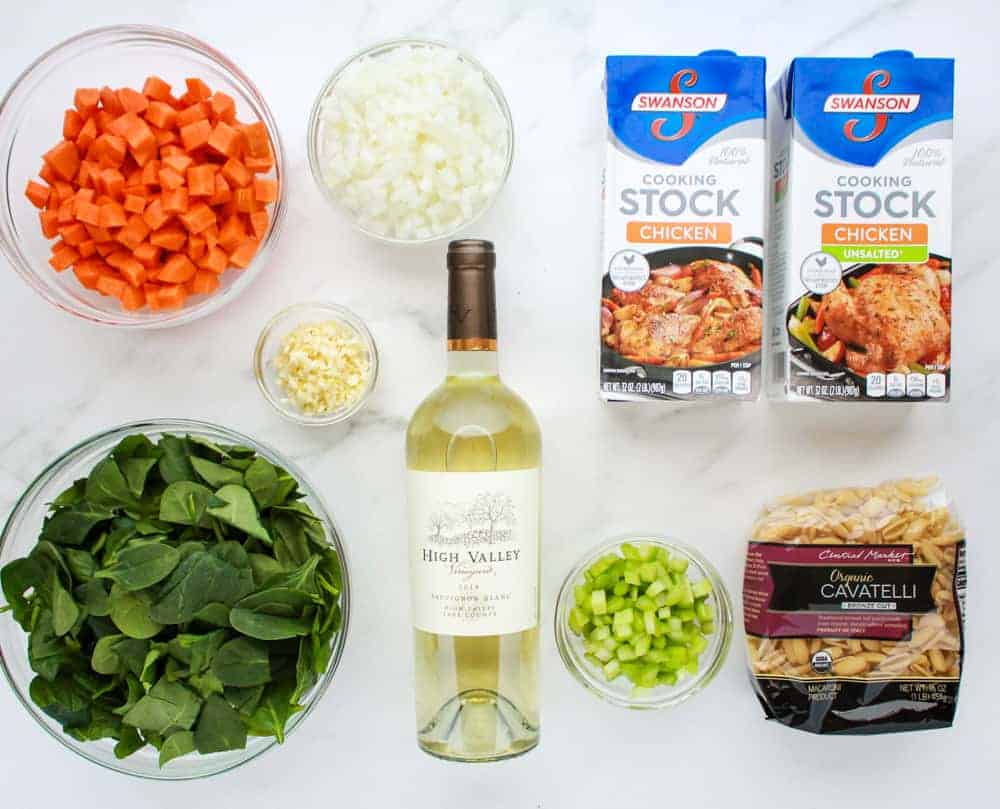 Normally Italian Wedding Soup is made with acine de pepe pasta, but for the life of me, I could NOT find those tiny little noodle balls! I could have used orzo instead, but I felt like this cavatelli was a fun substitute and small enough to get some on my spoon with every bite. Use whatever small pasta you like! One note on the broth/stock – I specifically chose this Swanson Chicken Cooking Stock because it was picked by America's Test Kitchen as their winner in the chicken broth category. I used 2 of the regular cartons, plus one unsalted to help keep the sodium in check.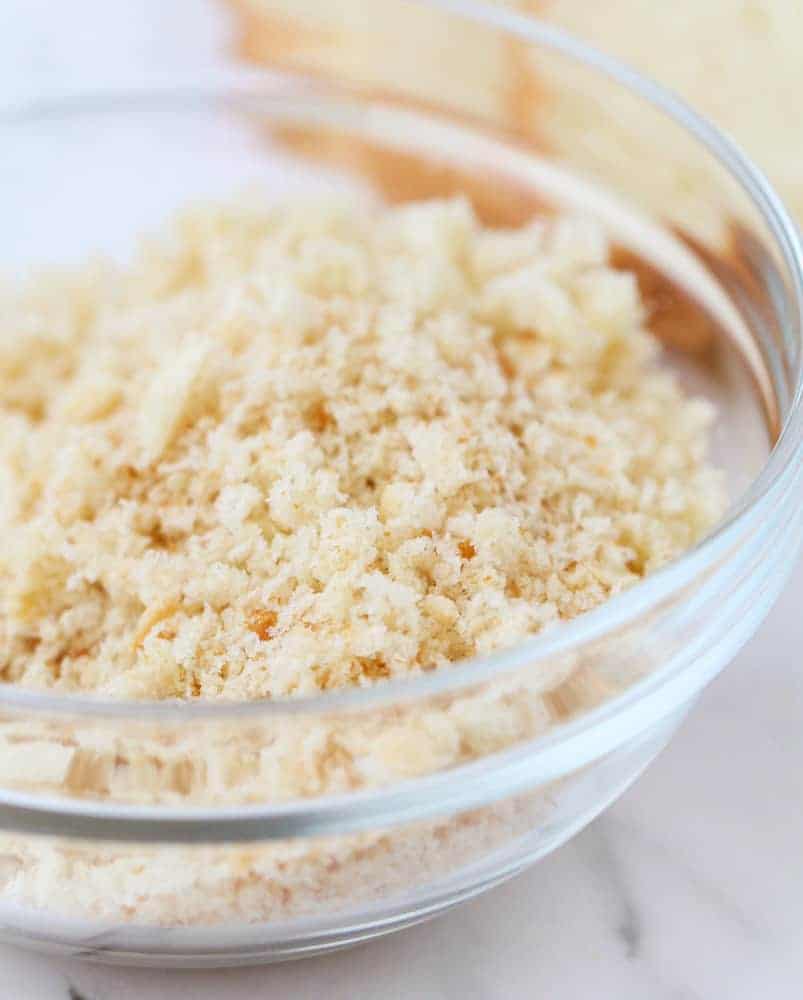 I know when I say to add breadcrumbs to the meatballs, most of you are gonna be reaching for the canister of pre-made breadcrumbs at the grocery store. But fresh breadcrumbs are so easy and totally worth it – they make the meatballs much more tender and less dense than the store bought canisters. I used white bread, but whole wheat would work just as well.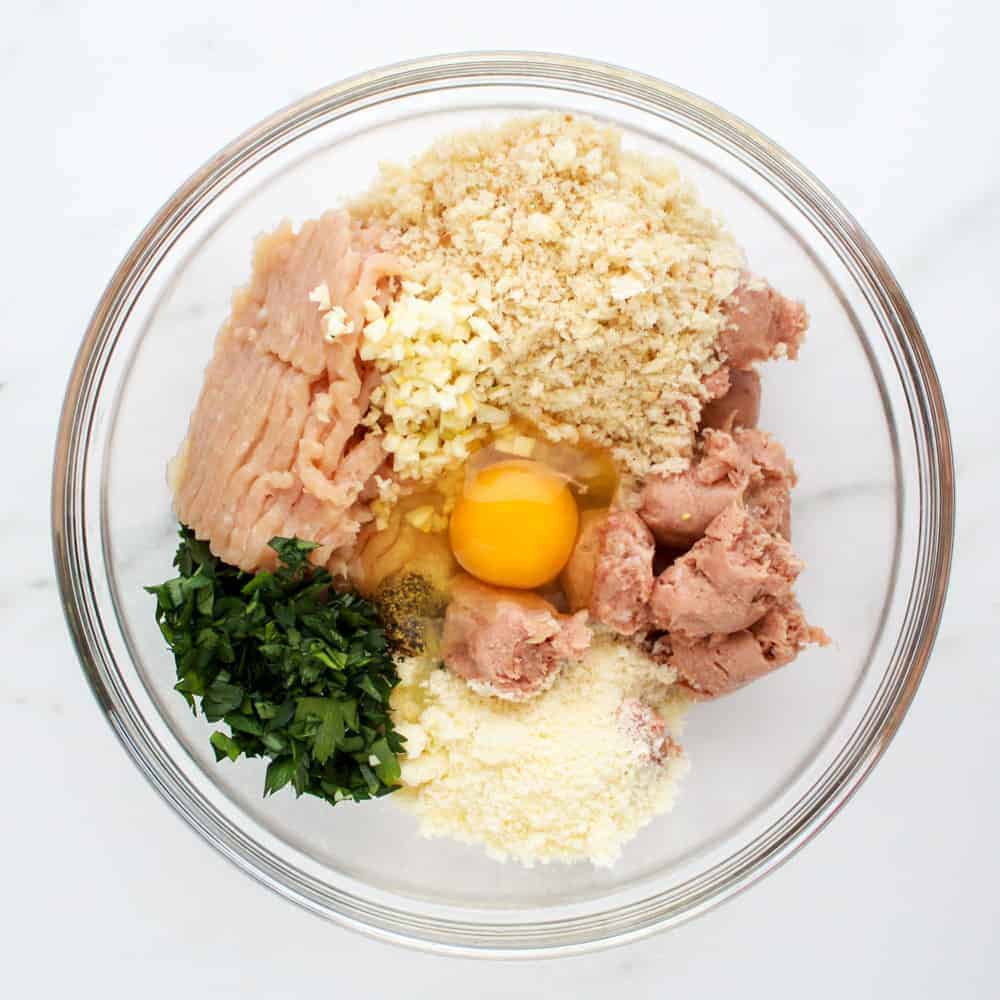 Once you mix up the meat and goodies, you'll form it into little baby meatballs. I found that my favorite ones in this soup were just under one inch in diameter. If you know how to make them even smaller without them drying out, be my guest! The smaller the better in my mind – that way it's easy to get a meatball with every bite. I also liked the flavors that I got from the meatballs when they were baked in the oven versus boiled in the broth. Either one is yummy, but I prefer them to be baked and added to the hot soup like you see below.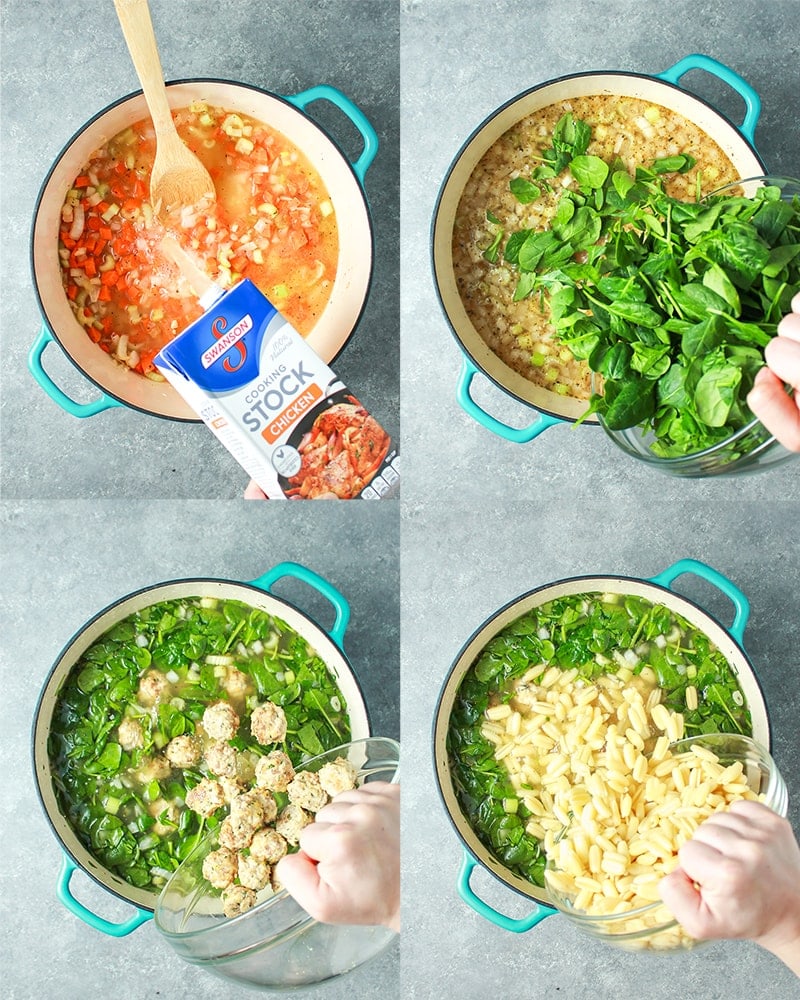 Just a note on adding the pasta – if you plan to freeze the soup, leave the pasta out! I tried a couple different methods and did not find a way to freeze the soup with the pasta in it and avoid mushy pasta during reheating. I recommend partially cooking the pasta and freezing it separately. Keep scrolling for details on how to do that!
If you plan to freeze some or all of this soup, there are a few great ways to do it. I personally like to freeze it into individual serving sizes using Souper Cubes, which is how I got these perfect little blocks of frozen soup. If you'll be defrosting to feed a family or don't have Souper Cubes yet, freezing flat in reusable bags like these will be your best bet.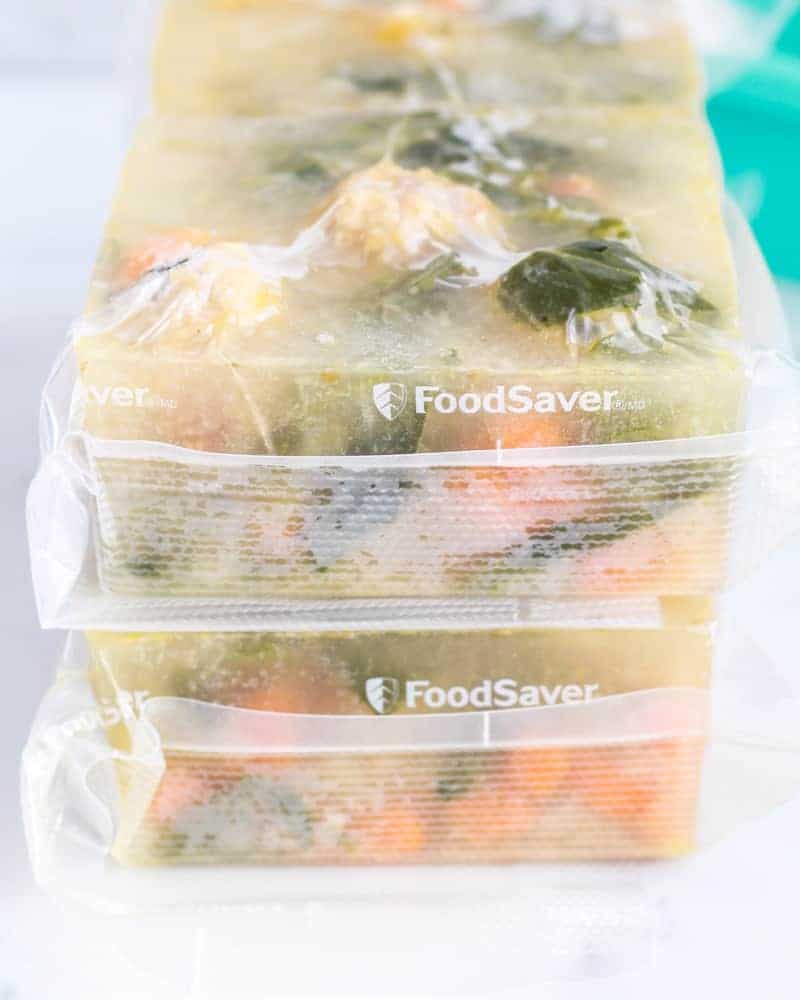 I don't recommend freezing the soup with the pasta in it. I tried it a couple different ways and ended up with mushy pasta. Instead, you can actually freeze the partially cooked pasta separately (seriously!) or just make it fresh when you're ready to eat. Here's how: first, you boil the pasta for no more than 4 minutes. Then you drain it and rinse it in cold water to stop the cooking. And here comes the culinary sin that is normally unforgivable in the pasta realm…you toss the pasta with a little bit of olive oil. Of course this helps keep the pasta from sticking to itself, but normally this method is a culinary sin because it keeps the sauce from sticking to the pasta too! That's really not a concern here with soup, so just go for it. Next, you'll stick the pasta on a sheet pan in a single layer to cool completely before freezing it. I like to store the frozen pasta in individual serving sizes using Stasher Bags.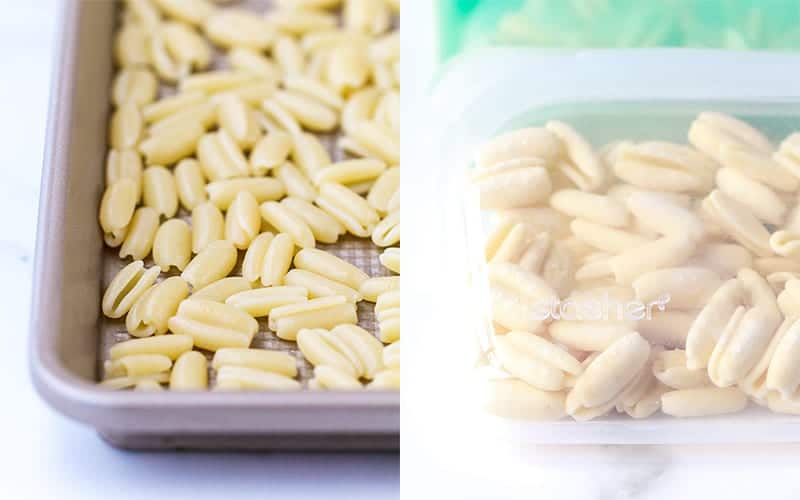 Here are some of the products I used to make this recipe a success. Note: these are Amazon Affiliate links.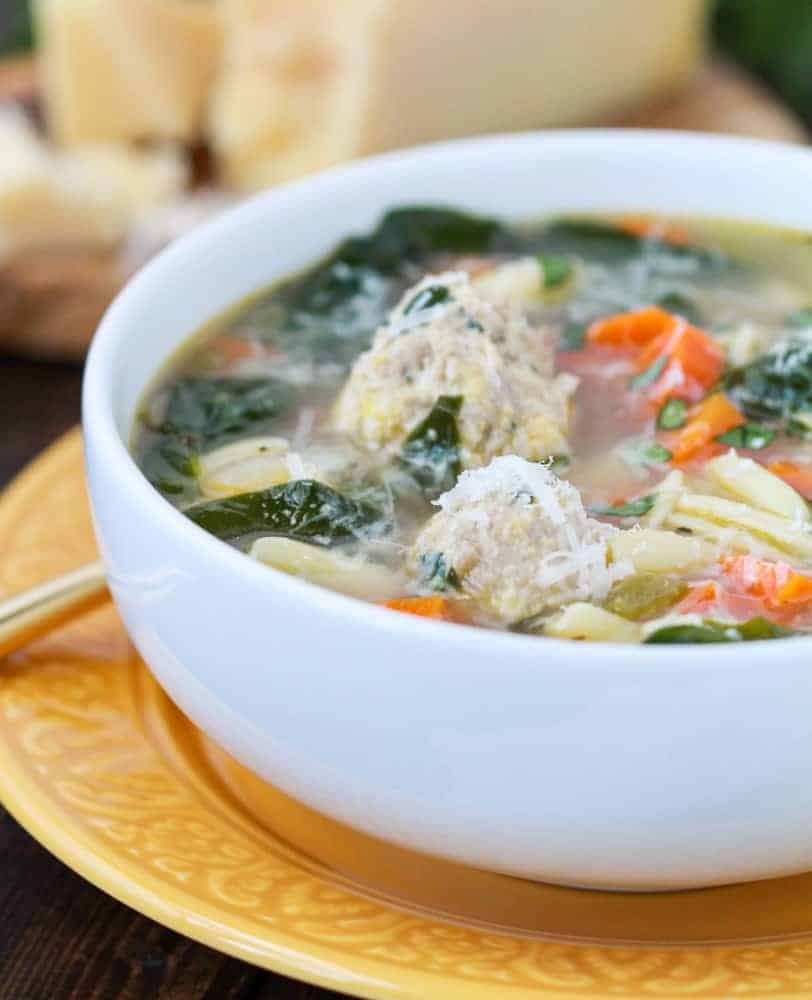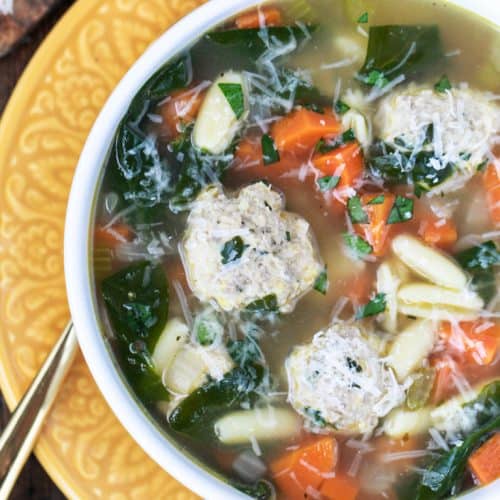 Freezer-Friendly Italian Wedding Soup
Ingredients
Meatballs
1

lb

lean ground chicken

3/4

lb

Jennie-O Sweet Italian Turkey Sausage, casings removed

1 1/2

slices

slightly stale white bread, processed into crumbs

,

(42 grams)

1/3

cup

finely grated parmesan cheese

,

(27 grams)

1

egg

,

(50 grams)

2

cloves

garlic, minced

,

(8 grams)

3

tbsp

fresh parsley, chopped

1/4

tsp

each: salt and pepper
Soup
16

oz

dry cavatelli pasta or other small pasta

,

(454 grams)

32

oz

Unsalted Swanson Chicken Cooking Stock

1/2

cup

dry white wine

,

(4 fl oz)

4

cups

baby spinach, roughly chopped

,

(5 oz)

4

carrots, diced

,

(320 grams)

3

stalks

celery, diced

,

(118 grams)

1

small onion, chopped

,

(70 grams)

3

cloves

garlic, minced

,

(12 grams)

2

tsp

olive oil

1

tsp

oregano

salt and pepper to taste
Instructions
Make the Meatballs
Add all meatball ingredients to a bowl and use your hands to mix and combine all ingredients. Ensure the meats are well incorporated, but be careful not to overwork it. Roll into 1 inch meatballs.

If you want to bake rather than boil the meatballs (I prefer to bake them since I find it more flavorful), pre-heat oven to 350° and line a large baking sheet with SILPAT or foil. Arrange meatballs in a single layer, spray with olive oil or cooking spray, and bake for 25-30 minutes or until just cooked through.
Build the Broth
In a large pot or Dutch oven (I used this 7-qt one), heat olive oil over medium-high heat until shimmery. Add garlic, onion, celery, and carrots. Season with salt and sauté for 3-4 minutes until onions are tender.

Add white wine to the pot to deglaze, scraping up any browned bits off the bottom of the pot. Add chicken stock, Flavor God seasoning, and oregano, then cover the pot and bring to a boil.

If you'll be cooking the meatballs in the broth, drop them in the boiling broth now, cover, and cook for 8-10 minutes. If you're baking the meatballs, leave them out for now.
Cook the Pasta
If you're planning to freeze some or all of the soup, cook the pasta separately. Bring salted water to boil and add the pasta for 4 minutes, then drain and rinse in cold water. Toss lightly with olive oil.

If you won't be freezing the soup, add the dry, uncooked pasta to the broth when there are 4 minutes of cook time left for the meatballs. Stir to ensure the pasta is submerged and cover the pot.
Finishing Touches
Add the spinach with about 1 minute of cook time remaining. If you baked the meatballs, add them now too. Remember that even once you remove the soup from the heat, the carryover heat will continue to cook the soup components.

Remove from heat. If you'll be freezing some of the soup, divide it into freezer safe containers like Souper Cubes or Stasher Bags and allow to cool completely before freezing. For any servings that will be eaten now, add pasta to the hot soup and allow to rest for a few minutes to finish cooking the noodles. Serve with fresh parsley and fresh grated parmesan cheese on top, if desired.
Reheating from Frozen
For best results, remove the frozen soup from the freezer the night before you plan to serve it and place into a microwave safe container. When ready to eat, use the defrost setting on your microwave for about 5-6 minutes. Break apart any remaining frozen chunks and continue heating on high for 2 minutes. Add frozen pasta to the soup and continue heating on high for 1-2 minutes.
Tips & Tricks
The total recipe yield is about 5 1/2 quarts or 5215 grams.
Click here or scan the barcode below to log this food in My Fitness Pal.
Nutrition Information
Serving:
2.25
cups
,
Calories:
351
kcal
(18%)
,
Carbohydrates:
41
g
(14%)
,
Protein:
28
g
(56%)
,
Fat:
7
g
(11%)
,
Cholesterol:
71
mg
(24%)
,
Sodium:
728
mg
(32%)
,
Potassium:
417
mg
(12%)
,
Fiber:
4
g
(17%)
,
Sugar:
5
g
(6%)