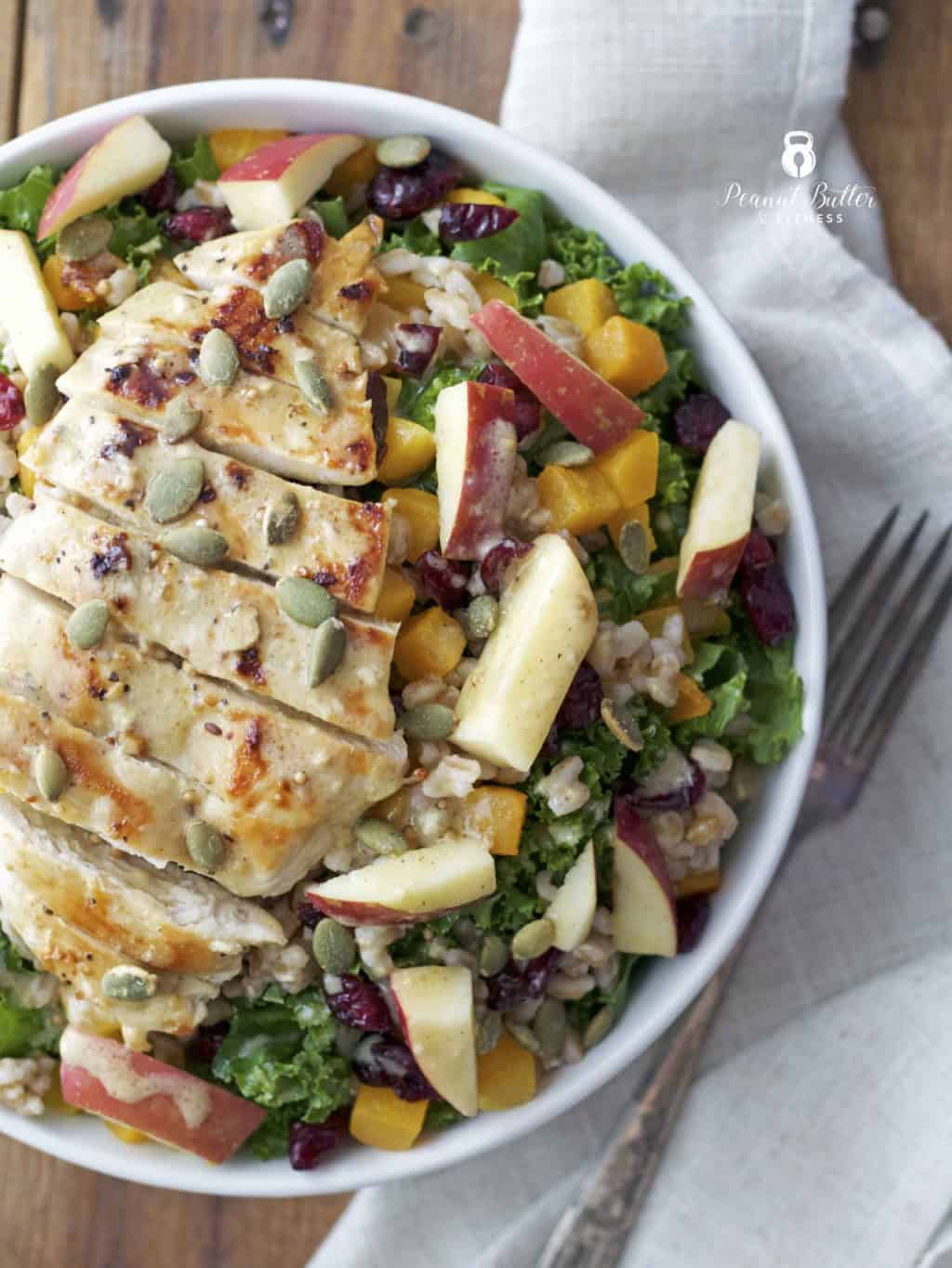 It may be Monday, but at least it's the first Monday of FALL!  Which means that it's now perfectly acceptable to 1) decorate for Halloween, 2) carve pumpkins, 3) burn pumpkin/cinnamon/apple candles all day everyday, 4) wear sweaters and boots, 5) eat/drink all the pumpkin.  You guys know that I love a salad as part of my weekly meal prep, so this one is fitting for this occasion – it's a Fall Harvest Farro Salad 🙂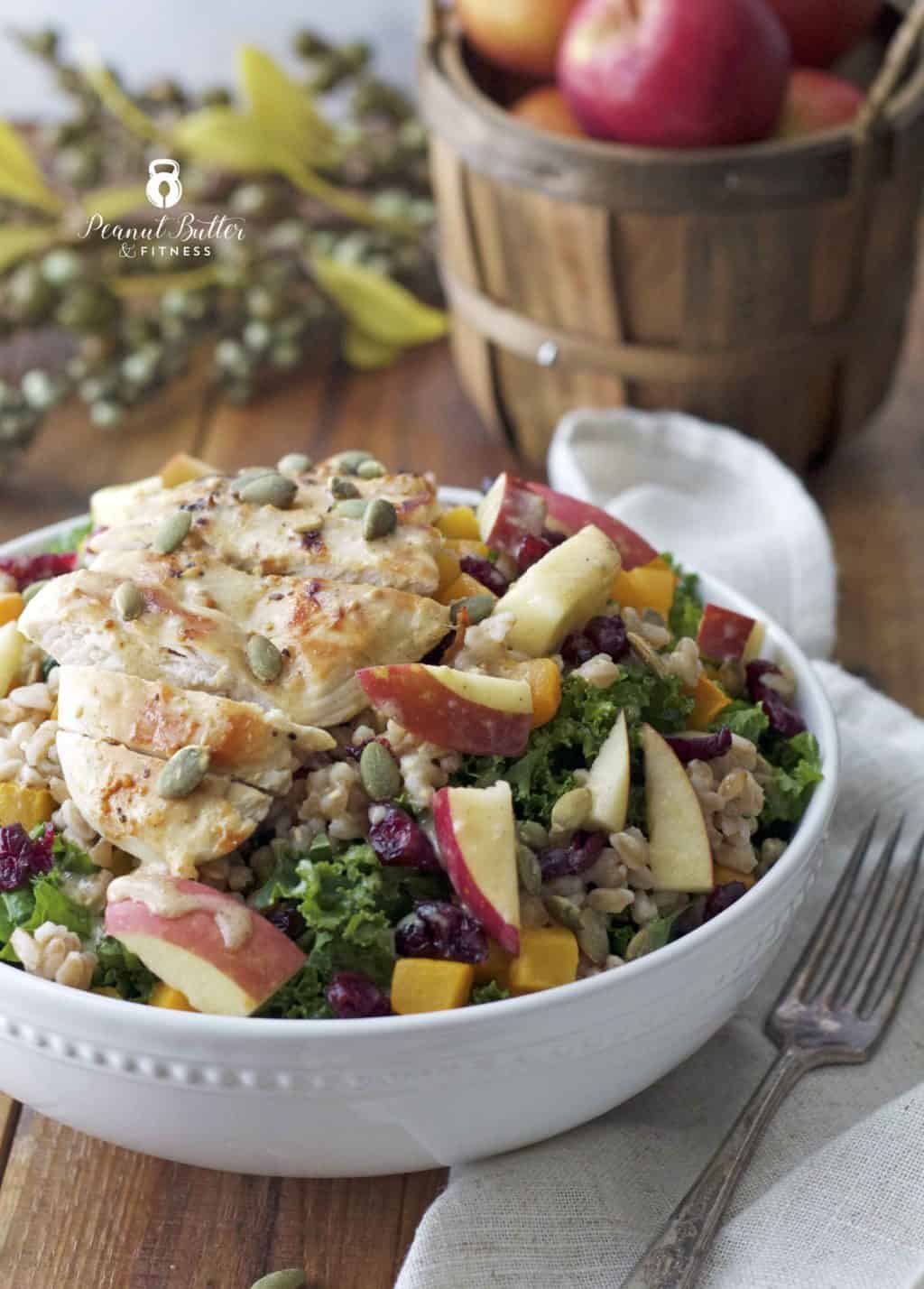 To earn that name, this salad had to include a bunch of token fall ingredients (which just happen to work together in perfect harmony for a delicious salad) – we've got apples, butternut squash, dried cranberries, toasted pumpkin seeds, and apple cider in the dressing!  I decided to play with farro here too because it adds a warm nuttiness to the salad while making it even more satisfying to get you through the day.  If you haven't worked with farro before, I highly recommend giving it a try with this salad!  It's a fun and yummy grain.
Side note, isn't this just the cutest little "bushel" basket of apples you've seen?! I found it at Michaels Craft Store and I'm a little obsessed with it.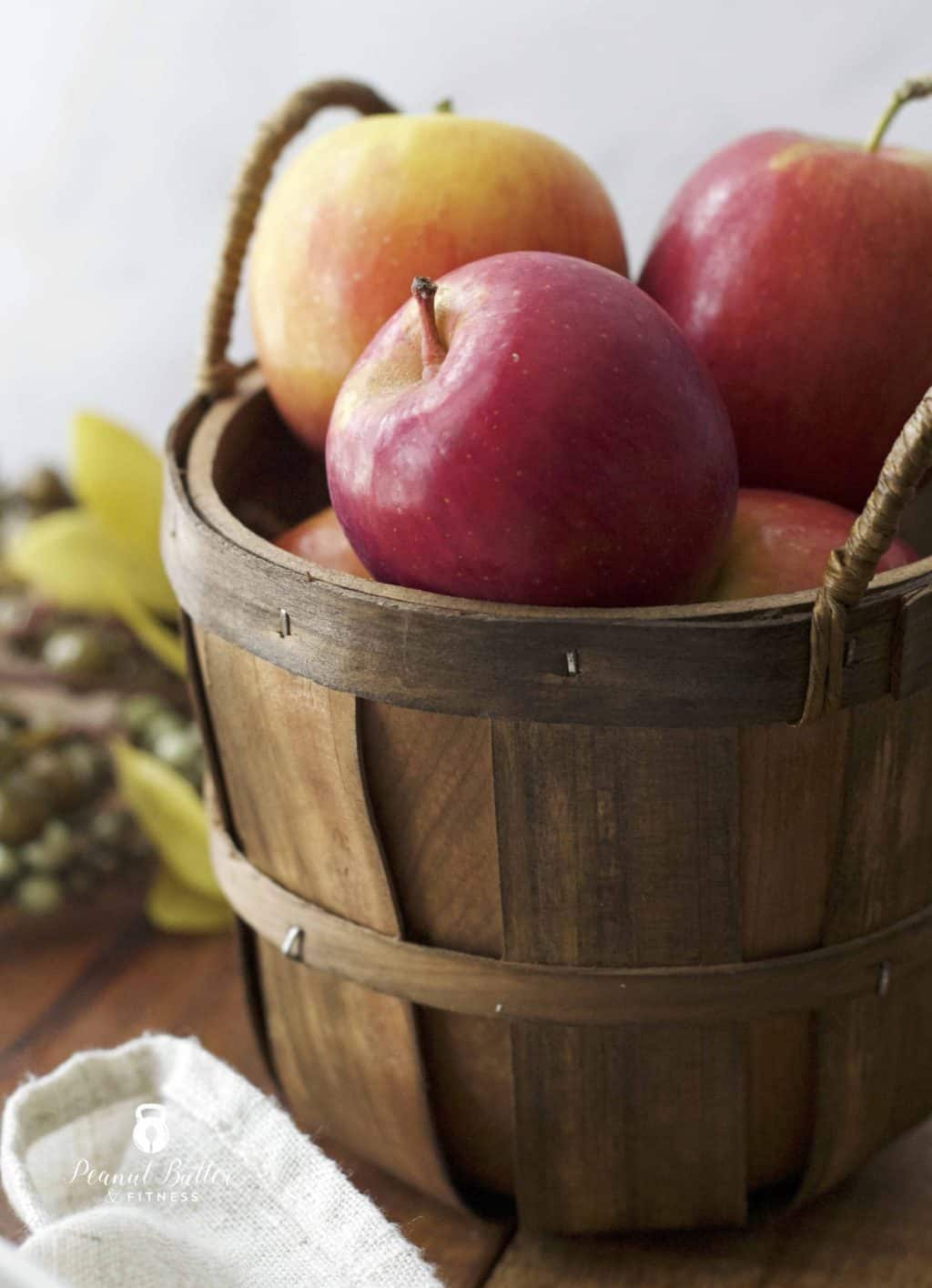 Here's how I prepared this salad as part of my meal prep!  Toss the chopped apple in lemon juice before sticking it in the container to help prevent browning.  Yes, if you leave the salad in your refrigerator all week, they will get a bit of brown around the edges, but they stay crunchy and delicious!  Give it a try.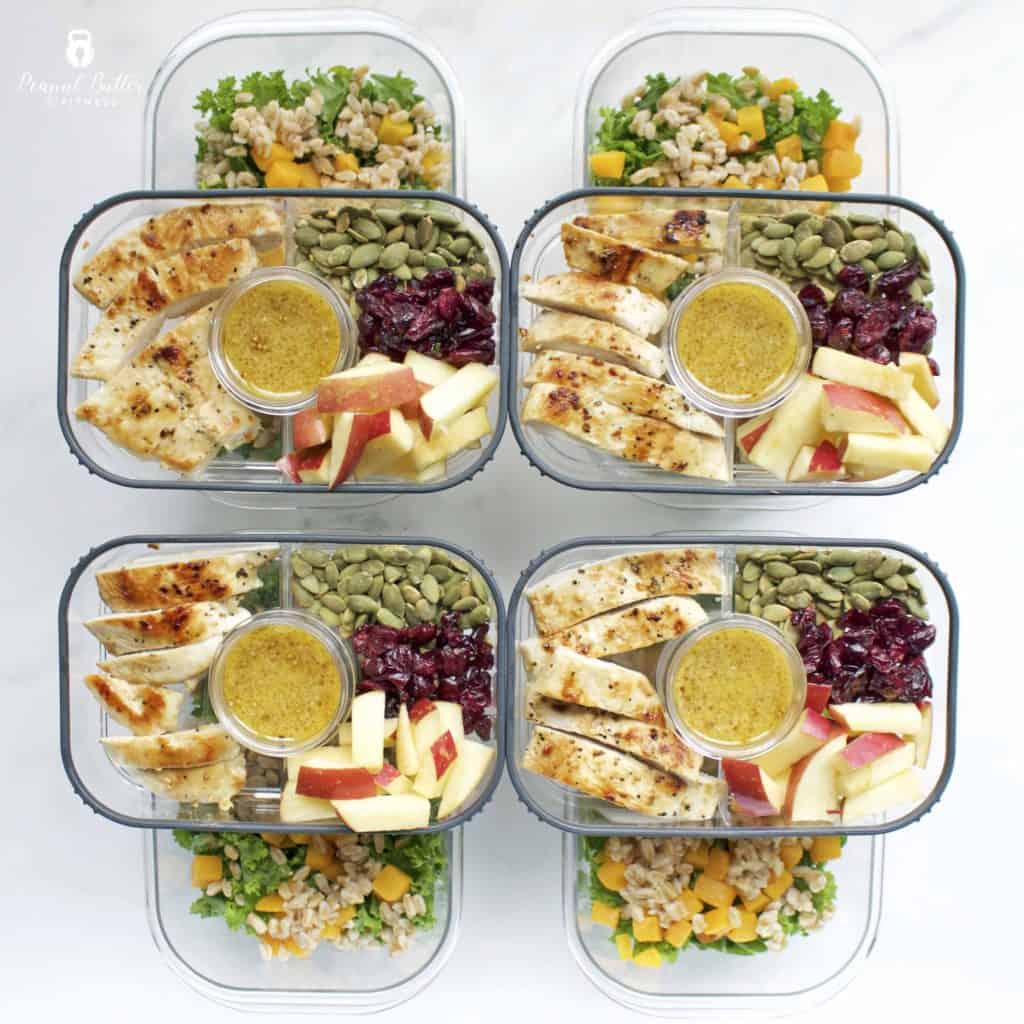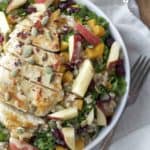 Fall Harvest Farro Salad
Prep Time 20 minutes
Cook Time 20 minutes
Total Time 40 minutes
Servings 4 servings
Calories per serving 417 kcal
Ingredients
1 lb raw chicken breast thin sliced
10 cups kale, chopped & stems removed (160 grams)
2 cups butternut squash, cubed (300 grams)
1 medium red apple, chopped (200 grams)
1/3 cup pearled farro, cooked according to package directions (67 grams)
1/3 cup 50% less sugar Craisin dried cranberries (53 grams)
1/4 cup roasted pumpkin seeds (17 grams)
1/2 tbsp olive oil divided
Apple Cider Dressing
2 tbsp apple cider (1 oz)
2 tbsp apple cider vinegar (1 oz)
2 tbsp olive oil (1 oz)
2 tbsp dijon mustard (1 oz)
1/2 tbsp honey (0.25 oz)
1/2 tsp mustard seeds
1/8 tsp cinnamon
Salt and pepper to taste
Instructions
Pre-heat oven to 400 degrees. Line a baking sheet with aluminum foil.

Arrange butternut squash cubes in a single layer on baking sheet. Drizzle with 1/2 tsp olive oil and toss. Season with 1/2 tsp Oh My Spice! seasoning. Bake for 20 minutes. Set aside to cool.

Whisk all dressing ingredients until well combined. Set aside.

Once farro is cooked according to package directions, toss with a splash of the dressing (~1 tbsp).

Massage kale gently with a splash of olive oil, if desired. Divide evenly among 4 serving dishes. Top with butternut squash, farro, chopped apple, and dried cranberries. Set aside.

Heat remaining olive oil over medium-high heat in a large pan. Season chicken on both sides with remaining Oh My Spice! seasoning, then add to hot pan. Cover with a lid and cook for about 4-5 minutes on one side before flipping and cover again. After 3-4 minutes, remove cover and continue cooking uncovered until cooked through, flipping as needed to evenly brown both sides. Time will vary depending on thickness of chicken.

Allow chicken to rest for 5 minutes before slicing and adding on top of salad. Top with dressing and roasted pumpkin seeds before serving.
Nutrition Facts
Fall Harvest Farro Salad
Amount Per Serving
Calories 417 Calories from Fat 108
% Daily Value*
Fat 12g18%
Cholesterol 66mg22%
Sodium 310mg13%
Potassium 797mg23%
Carbohydrates 46g15%
Fiber 9g38%
Sugar 15g17%
Protein 31g62%
* Percent Daily Values are based on a 2000 calorie diet.