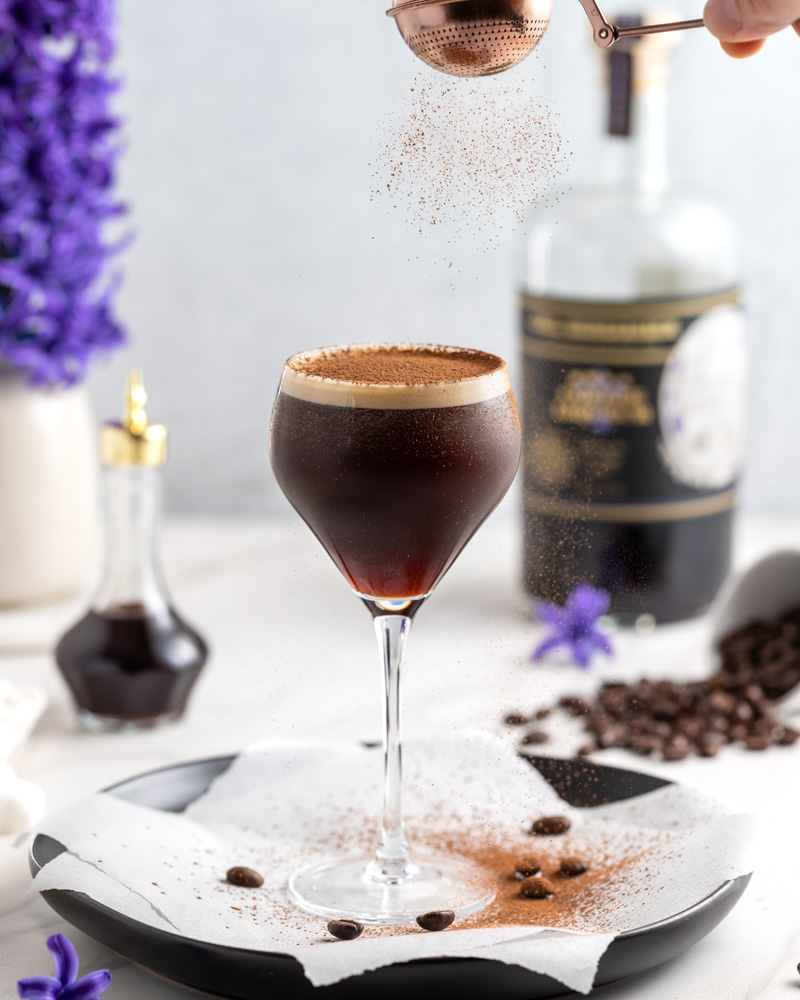 Espresso Martinis have been having a moment for at least a year now…maybe even two or three years? I'm not really sure, and it doesn't really matter, because they deserve every bit of spotlight they've been enjoying. If you've never had one before, they're a luxurious combo of booze and caffeine made primarily with vodka, espresso, and coffee liqueur – perfect for happy hour or brunch!
Everything gets shaken up with ice and the resulting cocktail has an incredible creamy top thanks to the espresso. What would normally be the crema atop your freshly brewed espresso is now much sexier and has turned into a more stable foam thanks to all the shaking.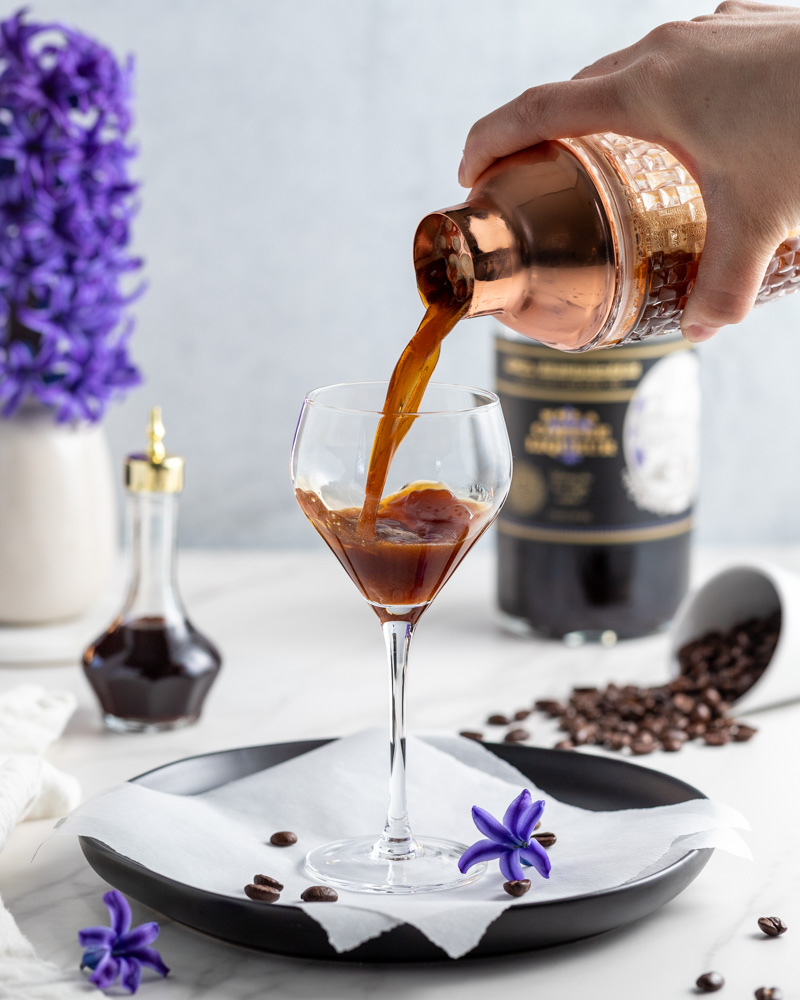 Ingredients and Substitutions
Espresso – I finally broke down and bought an espresso machine about a year ago and it's honestly awesome. I don't use mine every day like some people I know, but I do love to make a yummy espresso drink on weekends OR an amazing espresso martini 😉 If you can't your hands on get fresh brewed espresso, instant espresso or cold brew are your next best bets.
Coffee or Espresso Liqueur – I think people are most familiar with Kahlua, but my personal favorite is Caffe del Fuego, with St. George NOLA Coffee Liqueur coming in close second. Unfortunately Caffe del Fuego is someone of a local booze in Texas and being able to pick up a bottle whenever I wanted is one of the many things I miss about living in San Antonio. Others like Mr. Black or Espresso Shot Grind Rum Liqueur will work well too. In my opinion Kahlua tastes a bit artificially sweet, so I usually opt for the less well known brands that focus more on the quality and coffee flavor – with those ones, you'll probably want to add a bit of simple syrup to the shaker like I did. If you go with Kahlua or another really sweet coffee liqueur, you can skip the simple syrup.
Vodka – I prefer Tito's vodka, but really any unflavored vodka will do! If you want to lean in on some extra sweetness and flavor in your espresso martini, a vanilla, whipped cream, or chocolate flavored vodka could be really tasty.
Simple syrup – You can definitely skip this or cut the amount in half if using a sweeter coffee liqueur like Kahlua.
Chocolate bitters – This is a totally optional add on that adds some extra flavor complexity to the espresso martini. I've tried them both with and without chocolate bitters in a side by side taste test and while both are super tasty, I personally preferred the one with chocolate bitters. I don't recommend using any other kind of bitters though!
Parmesan Espresso Martinis – The Latest Trend
Or should I say this is a trend within a trend?! You may have seen this one making the rounds on social media: Parmesan Espresso Martinis! Yep, for real. I was introduced to them by Jordan Hughes aka High Proof Preacher, and it seems like they've taken off worldwide at this point! You basically just make a regular espresso martini and then top it off with freshly grated parmesan. It kind of gives you that sweet and salty flavor combo that I love so much.
My verdict on this trend: it's tasty and fun but not life changing like I was hoping for. But definitely worth giving it a try if you're feeling adventurous!!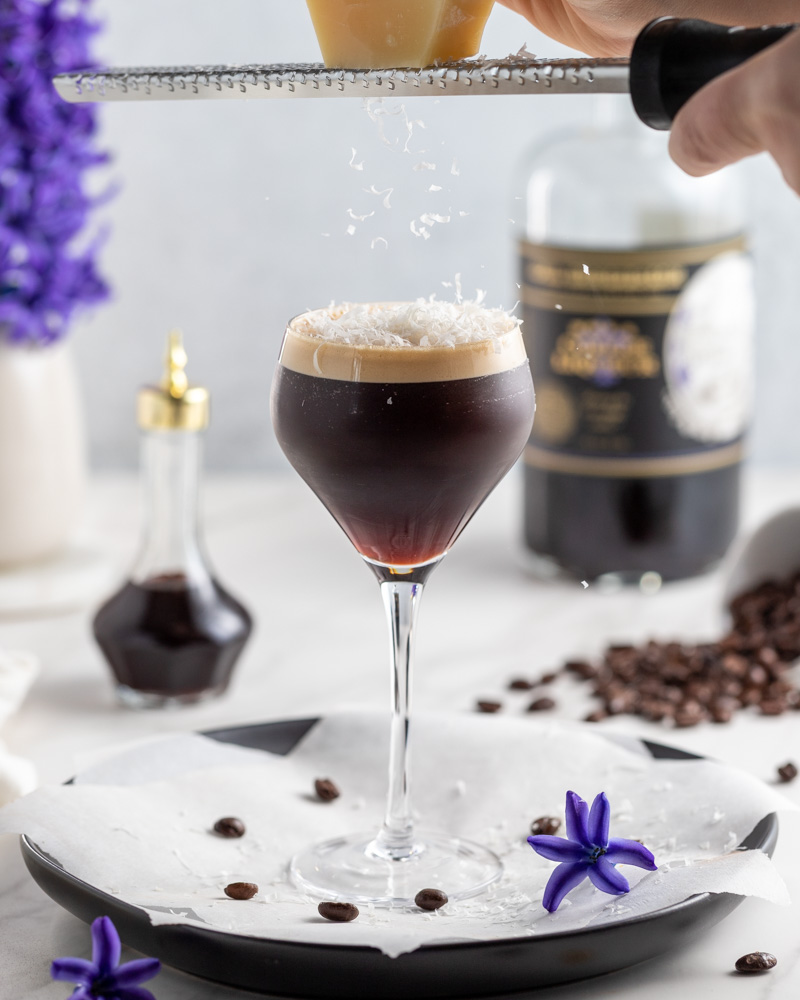 Shop for this Recipe
Here are some items I used to make this recipe a success. Note: these are Amazon Affiliate links.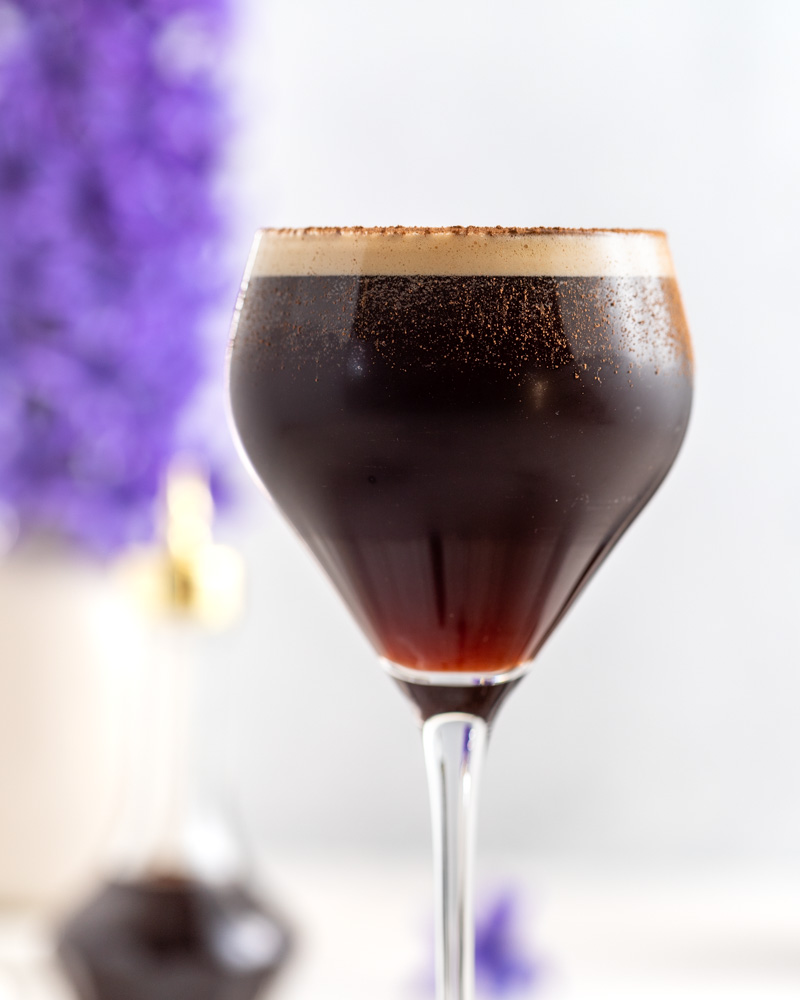 Recipe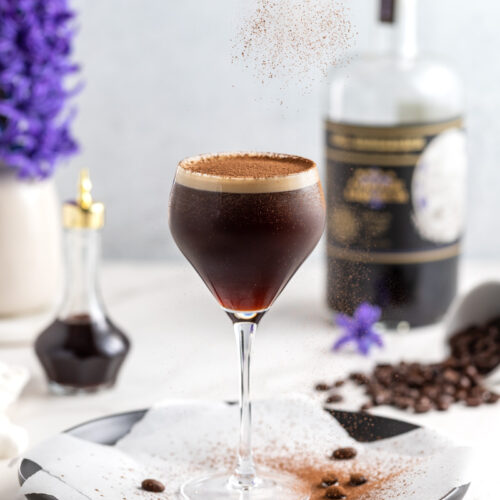 Espresso Martini
Ingredients
2

fl oz

vodka

1

fl oz

fresh brewed espresso

1

fl oz

coffee liqueur

1/2

fl oz

simple syrup

2-3

dashes

chocolate bitters
Instructions
Combine all ingredients over ice in a shaker. Seal the shaker top and shake vigorously for 5-10 seconds or until the shaker has iced over on the surface. Strain into a coupe or martini glass.
Tips & Tricks
Note: the nutrition info was calculated using Kahlua and NO simple syrup since I wasn't unable to track down the nutrition info for the less sweet coffee liqueurs like St. George's NOLA Coffee Liqueur (pictured here).
Nutrition Information
Calories:
209
kcal
(10%)
,
Carbohydrates:
12
g
(4%)
,
Sugar:
12
g
(13%)
For my macro trackers out there, I wasn't able to create a My Fitness Pal barcode for this recipe since I would have had to decide for you whether to put the alcohol calories in as carbs or fats – that's up to you! The 12 grams of carbs listed here are just for the sugar in the coffee liqueur. For my non-macro trackers, here's more info on what I'm talking about.