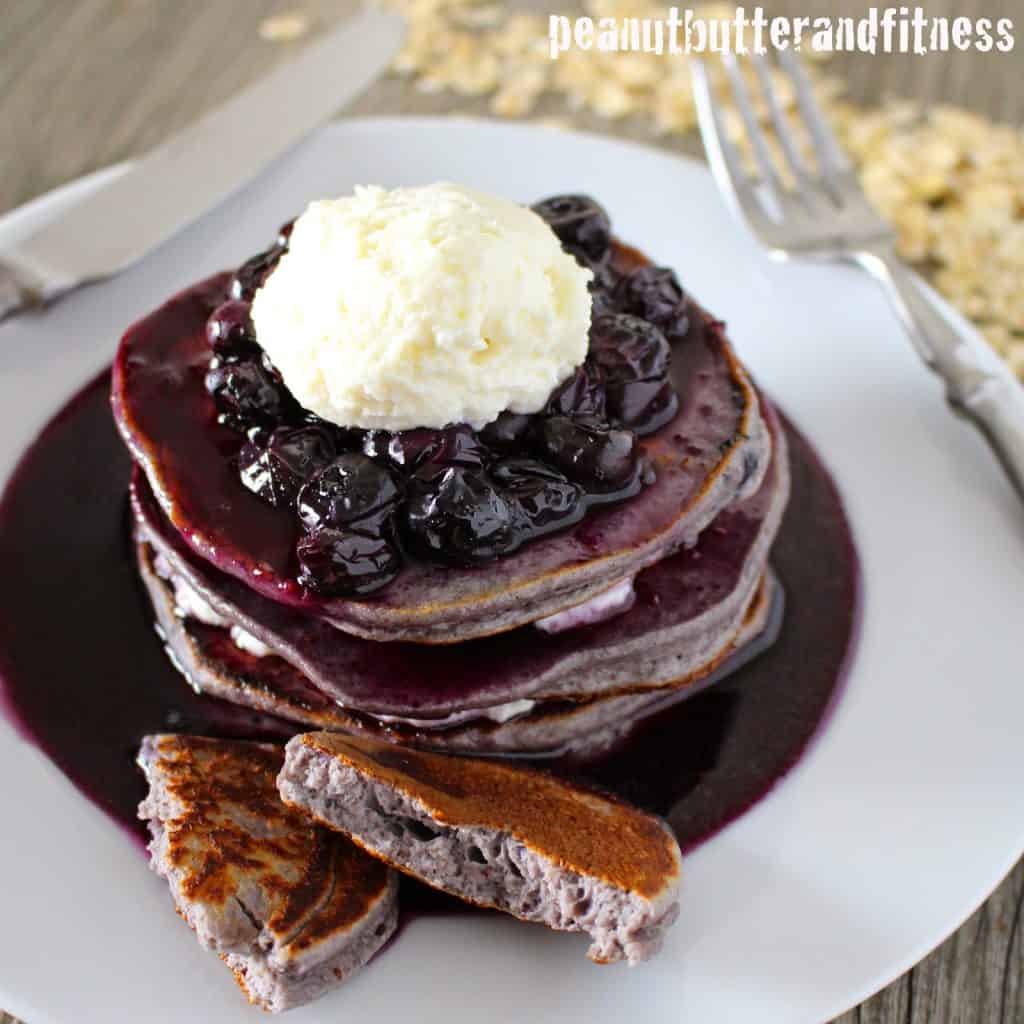 If you love blueberries like I do, you need to try these pancakes!  I've never mashed up blueberries for inside the pancake batter before, but it was freakin' awesome 🙂 Besides, who doesn't want to eat blue/purple pancakes?  They're just so much fun!  The cinnamon flavor in these is just right to complement the sweetness of the berries.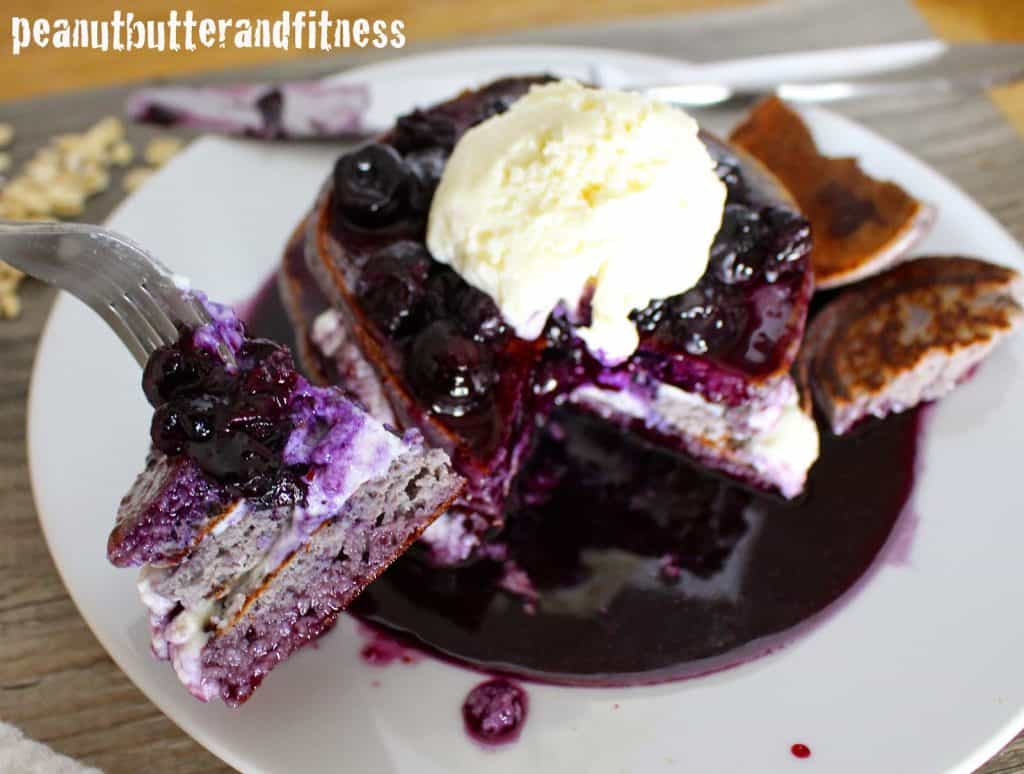 Today is a gloomy, rainy day in San Francisco.  Like, really rainy.  Which makes me want to sit and relax in front of my TV and work on my blog and not do anything.  I already got groceries after dropping someone off at the airport this morning, so I've already accomplished the two most important tasks of the day – getting groceries and eating breakfast!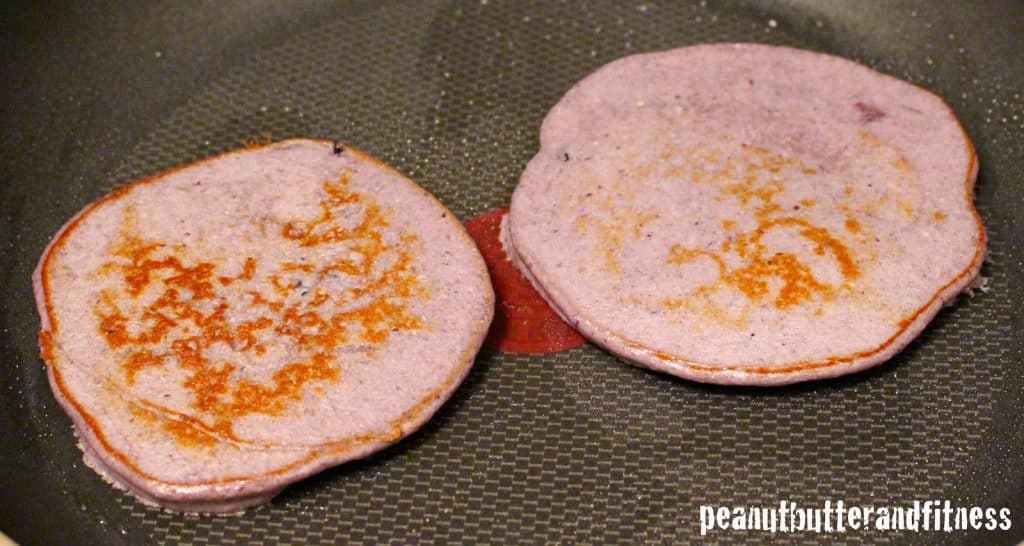 Aren't they pretty?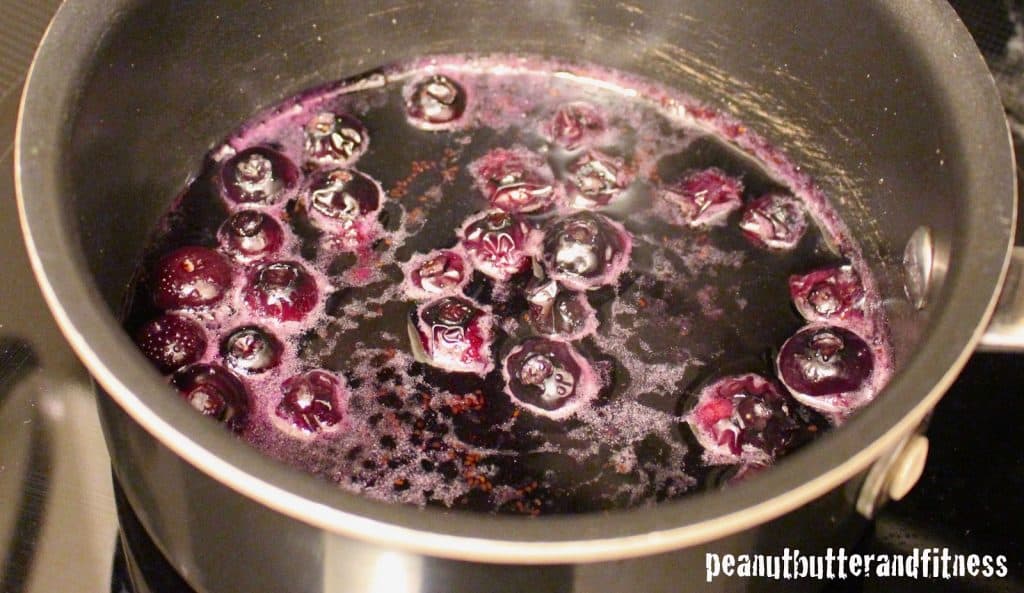 Do you ever wonder what they do to make blueberry syrup at places like IHOP?  I've given it some thought before, but instead of just Googling it, I just decided to make my own blueberry syrup like this!  And it's awesome.  Just sayin'…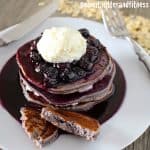 Double Blueberry Cinnamon Protein Pancakes
Prep Time 10 minutes
Cook Time 15 minutes
Total Time 25 minutes
Servings 1 serving
Calories per serving 424 kcal
Ingredients
1/3 cup rolled oats
1/4 tsp cinnamon
1/8 tsp baking powder
1/2 cup blueberries divided
1 egg white
1/4 tsp vanilla extract
2 tbsp unsweetened vanilla almond milk
2 tbsp pure maple syrup
Optional: 1/4 cup Dannon Light and Fit Non-fat Vanilla Greek Yogurt mixed with 2 tbsp MuscleTech Platinum Vanilla Ice Cream 100% Casein
Instructions
In a food processor or Nutribullet, grind the oats into a fine powder.  Mix in whey protein, cinnamon and baking powder.  Set aside.

Add 1/4 cup blueberries and maple syrup to a small pan and bring to a boil over medium-high heat.  Lower heat and simmer until blueberries have popped and syrup has thickened slightly, about 5-7 minutes.

Add remaining blueberries to a microwave safe dish and microwave for 30 seconds or until blueberries have burst.  Remove from microwave and mash blueberries.  Add oat mixture and almond milk, mix well.  Add egg white and mix until smooth.

Heat a griddle or large non-stick pan over medium-low heat.  Drop pancake batter onto griddle and cook until the top starts to bubble, then flip and cook the other side.

Plate pancakes and top with blueberry syrup mixture.
Nutrition Facts
Double Blueberry Cinnamon Protein Pancakes
Amount Per Serving
Calories 424 Calories from Fat 36
% Daily Value*
Fat 4g6%
Cholesterol 35mg12%
Sodium 261mg11%
Carbohydrates 62g21%
Fiber 5g21%
Sugar 36g40%
Protein 34g68%
* Percent Daily Values are based on a 2000 calorie diet.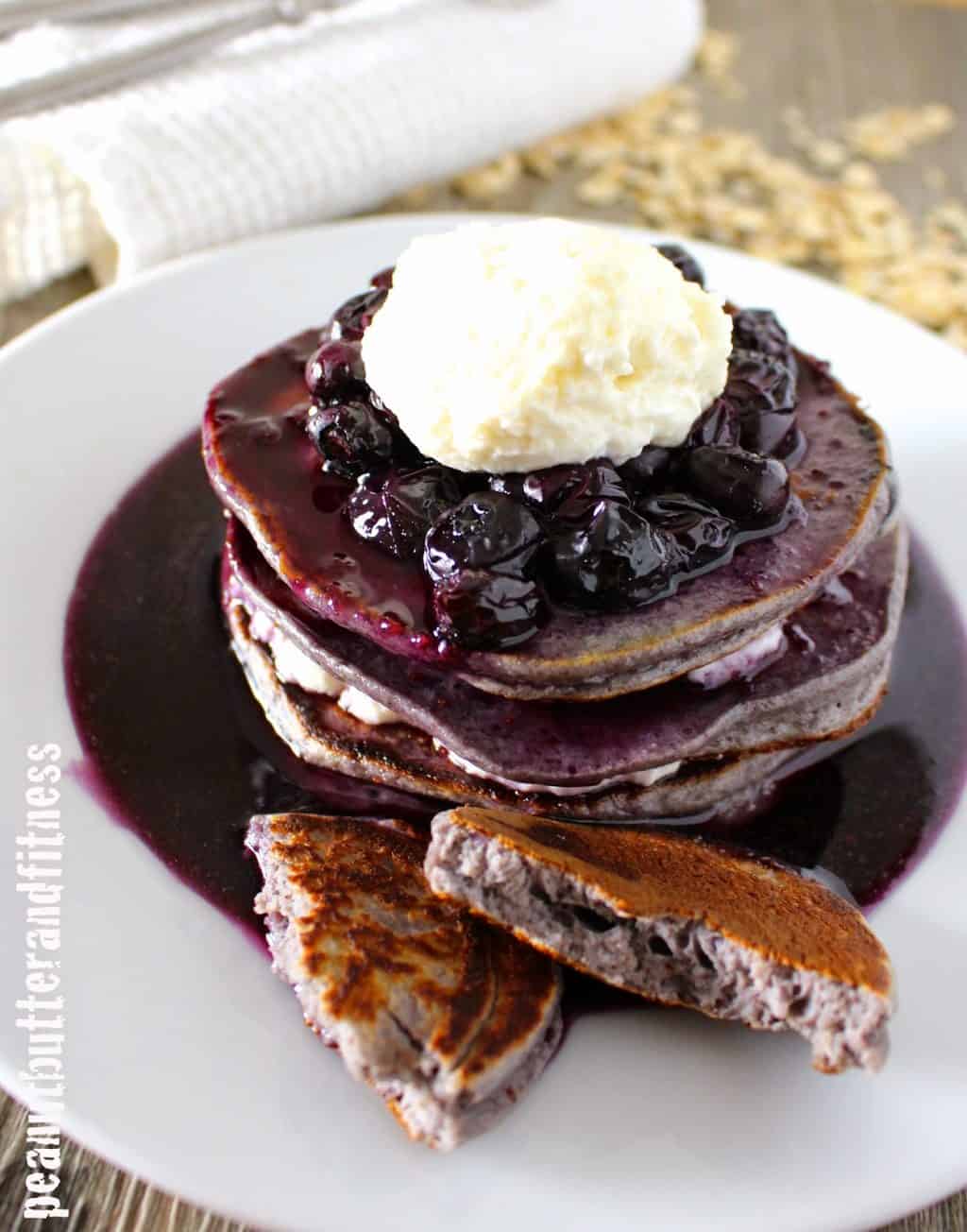 You might be asking yourself "what is that stuff on top that looks like ice cream??"  Well, I had some Greek yogurt mixed with casein protein set aside in my refrigerator from a recipe that I made yesterday, so I added some of that on top and in between my pancakes for fun.  You can too! Just mix together the Greek yogurt and casein until smooth – it will look really clumpy at first, just keep going 🙂 See?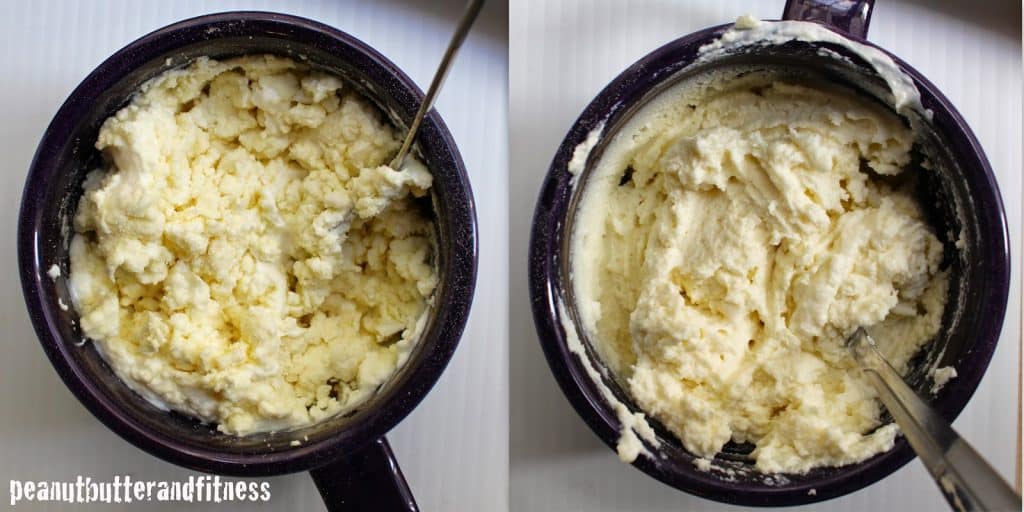 I actually had this in the freezer for a while yesterday to make it feel more like ice cream too!  Here's the nutrition info if you decide to add some of this deliciousness:
Servings: 1 • Calories: 511 • Fat: 4.4 g • Protein: 50 g • Carbs: 66 g • Fiber: 5 g • Sugar: 39 g • Sodium: 363 mg • Cholesterol: 60 mg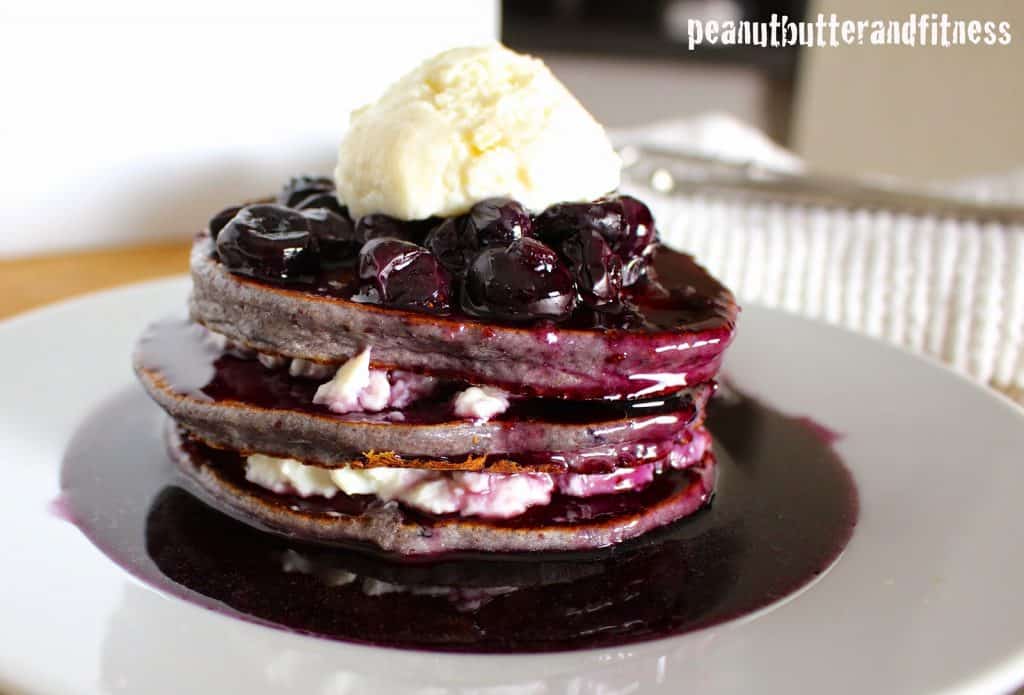 Happy Sunday!