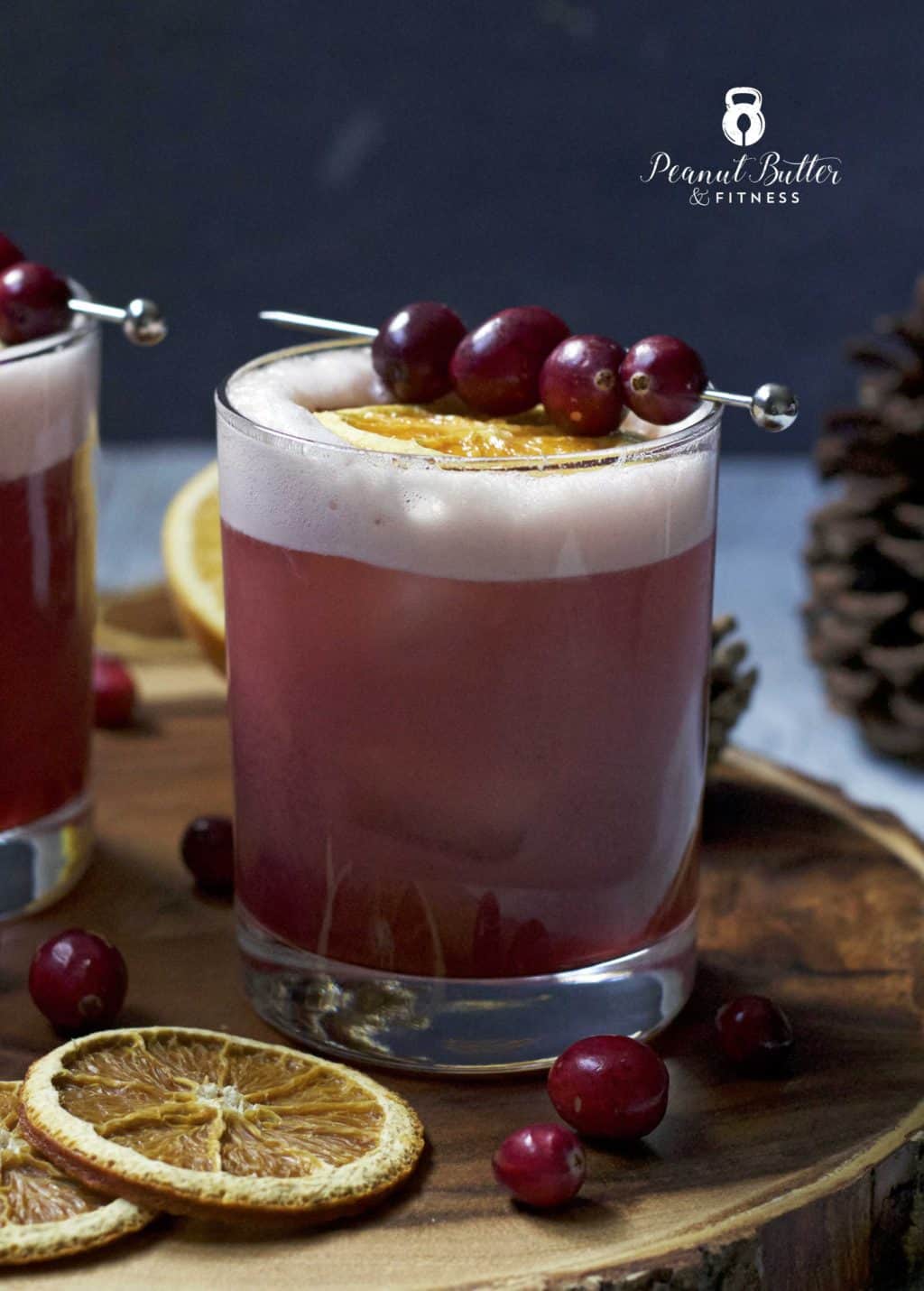 Who's pumped that it's finally Cocktail Friday again?!  I most definitely am.  This week I'm celebrating with a holiday twist on another classic recipe…a Cranberry Sour!  I really enjoy a good sour with a luxurious egg white froth on top to temper the tanginess of the drink.  No matter what kind of sour I'm drinking, I'm always reminded of my trip to Peru when I drank so many Pisco Sours that I think my stomach acid was replaced with lime juice.  With the cranberry and orange juices in this bourbon sour, you get a nice hint of sweetness in contrast to the sourness of the lemon juice.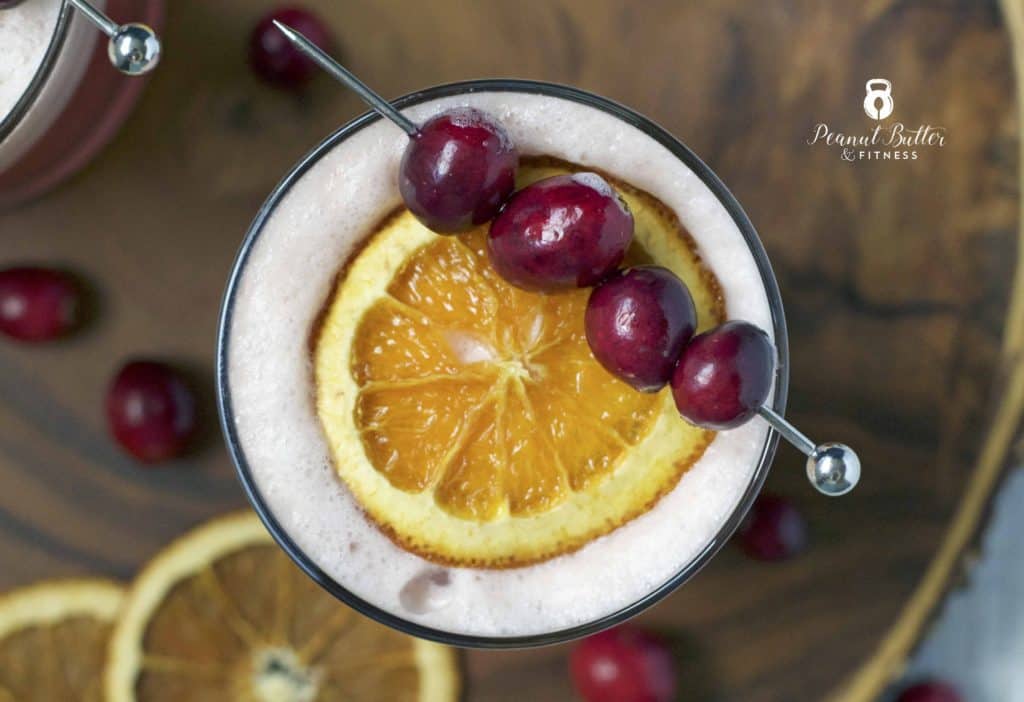 I had some dried orange slices laying around that I made myself in the oven…they made a great garnish for this drink!  Here's how I made them:
Pre-heat oven to 200 degrees.
Line a baking sheet with SILPAT.
Slice oranges thinly and arrange in single layer on SILPAT lined baking sheet.
Bake for 2 1/2 to 4 hours, flipping once, until the oranges are dried out to desired texture – they will take longer in the oven for a more brittle texture and less time for a pliable orange slice.
Don't forget to line up some fresh cranberries on a cocktail pick either, it really makes you feel the holiday cheer.  Here are the cocktail picks I used for this drink.
Cheers!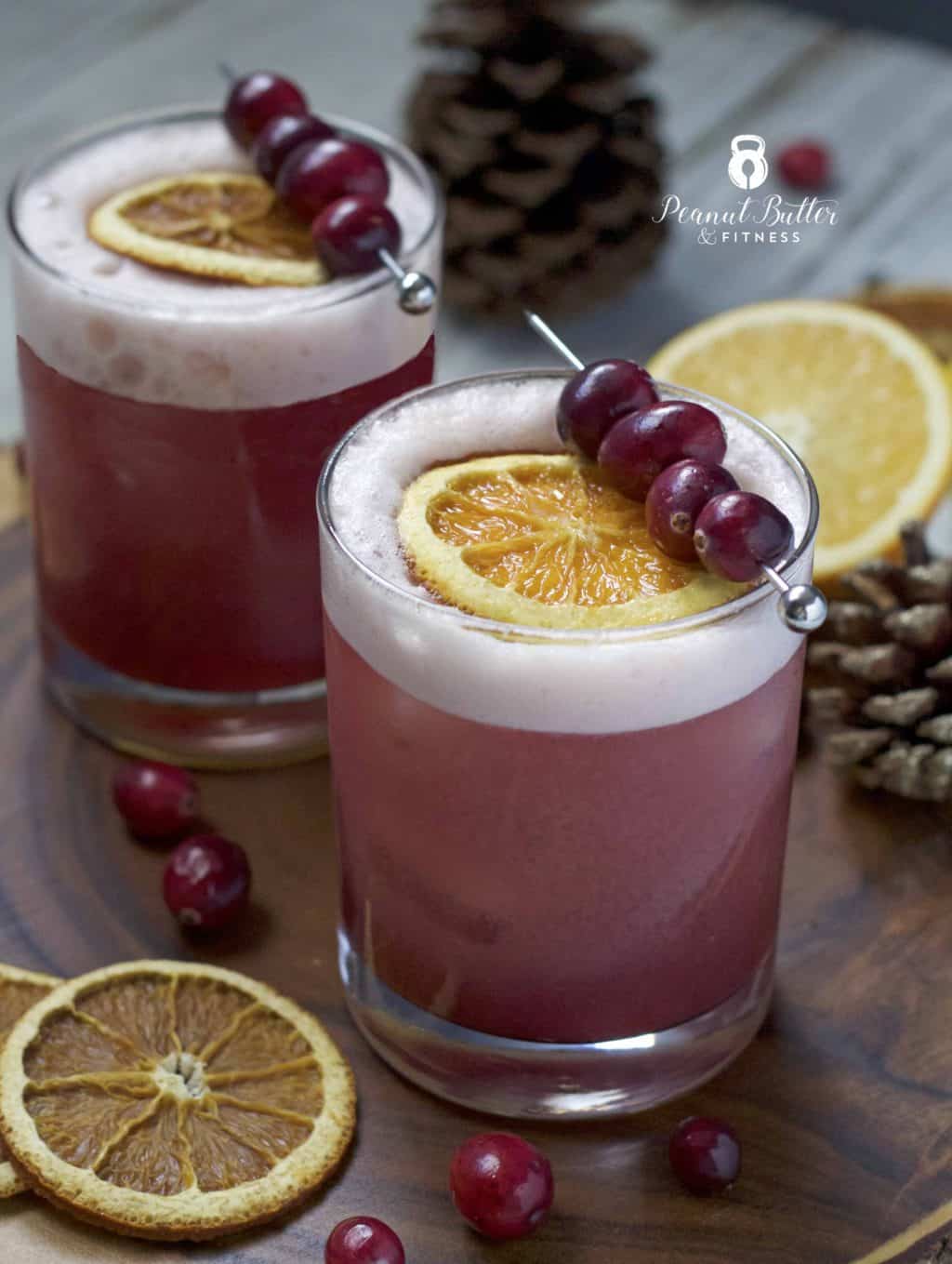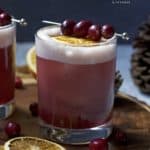 Cranberry Sour
Prep Time 5 minutes
Cook Time 10 minutes
Total Time 15 minutes
Servings 2 servings
Calories per serving 190 kcal
Ingredients
8 oz Ocean Spray 100% Juice Cranberry Juice
3 oz bourbon
2 oz Trop 50 Orange Juice
2 oz lemon juice
2 oz pasteurized egg whites
Instructions
Bring cranberry juice to a boil over medium heat. Continue to boil over medium-low heat for about 10 minutes or until liquid is reduced to 2-3 oz. Set aside to cool.

Add several large ice cubes to 2 lowball glasses (you could use a sour/Delmonico glass or a 5 oz coupe glass instead, but skip the ice in the glass for these and put it in your shaker instead).

Add reduced cranberry juice, bourbon, orange juice, lemon juice, and egg whites to a large shaker. Shake vigorously for no more than 10 seconds, being careful to hold the cap on the shaker - as the egg whites develop into a froth, they'll create pressure against the cap that could cause it to pop off as you shake.

Pour evenly over ice into lowball glasses. Garnish with an orange slice or peel and fresh cranberries before serving.

Nutrition Facts
Cranberry Sour
Amount Per Serving
Calories 190
% Daily Value*
Cholesterol 56mg19%
Sodium 183mg8%
Carbohydrates 18g6%
Sugar 16g18%
Protein 1g2%
* Percent Daily Values are based on a 2000 calorie diet.
For my macro trackers out there, I wasn't able to create a My Fitness Pal barcode for this recipe since I would have had to decide for you whether to put the alcohol calories in as carbs or fats – that's up to you!  The 18 carbs listed here are just for the sugar in the juices.  For my non-macro trackers, here's more info on what I'm talking about.