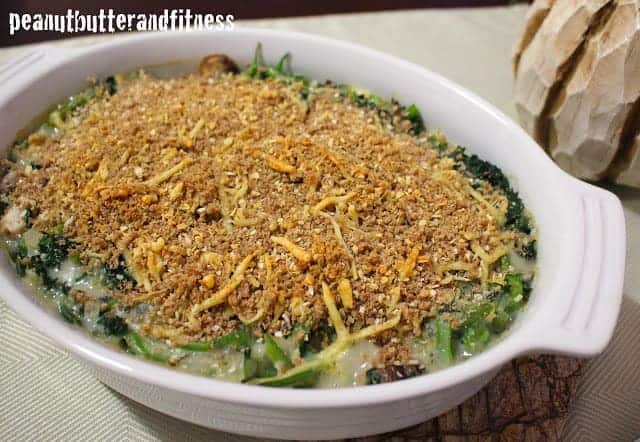 Thanksgiving is almost upon us! Yay! Turkey day is my favorite holiday, but sadly I'll be working that night.  Will it stop me from feasting? Not at all.  Actually I'll probably be participating in 2 feasts, one with friends before work and then one at work while I root for the Steelers.  Hopefully work cooperates with that plan.
Now, it may seem like I've been slacking on my blog lately.  Honestly, I have been a little bit, but mostly I've just been too embarrassed by my kitchen failures lately to put them up on here.  I attempted a slow cooker Turkey Day Soup…it might have been really good if I hadn't ruined it by overloading it with fresh cranberries instead of cutting back and using dried/sweetened ones.  I should have known the fresh ones would make it bitter after my attempt at making healthy cranberry sauce last year.  If I can make it better next time around, it may make an appearance on here.


Now for my Thanksgiving food plan – Since I'm going to be gorging on food for Thanksgiving, my plan is to take a couple lightened up dishes to each place.  And for this one, I snuck in some kale 🙂 For one I tested here, I loaded up 4 cups of kale into it instead of 2, but since not everyone loves sneaking extra veggies into their green bean casserole, I cut it back for this recipe.  And you won't find any condensed mushroom soup from a can here, just fresh and real ingredients.  You can even sub the bleached flour for whole wheat or a gluten free option if you're on a GF diet, I didn't have any around though.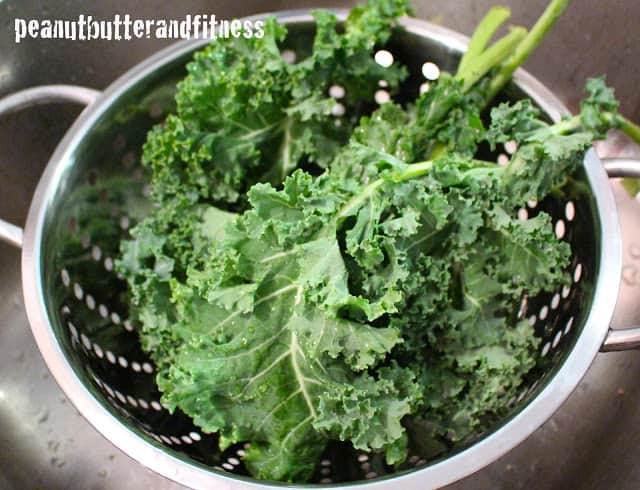 Fingers are crossed that I get my healthy pumpkin cheesecake bars right so I can put them up here next! Otherwise I'll just be bringing plain old pumpkin pie to Thanksgiving.  Ain't nothin' wrong with that.

Clean Green Bean and Kale Casserole
Makes 6-8 servings
Ingredients:
1lb frozen French cut green beans, thawed
2 cups chopped kale
8 oz baby Portobello mushrooms, sliced
2 garlic cloves, minced
1/2 cup onion, diced
1/4 cup flour
2 tbsp olive oil, divided
1/4 tsp salt
1/4 tsp freshly ground black pepper
1 tsp parsley
1/2 tsp thyme
1/4 tsp oregano
1 cup chicken broth
1 cup milk (I used fat free)
1/2 cup Gouda cheese, shredded
1/2 cup whole wheat Panko bread crumbs
1 tbsp dried minced onions
Preheat oven to 350 degrees. 
Heat 1 tbsp olive oil over medium heat in a large pot.  Add kale, coating evenly with olive oil and sauté until slightly tender, about 3 minutes.  Remove kale and set aside.
Heat remaining 1 tbsp olive oil, then add mushrooms, onion and garlic and sauté until tender.  Add parsley, thyme, oregano, salt and pepper and mix.
Remove from heat.  Stir in flour until the vegetables are evenly coated.
Stir in chicken broth and milk and simmer for 5-7 minutes on low until thickened.
Add green beans and kale to the mushroom soup mixture.  Pour into a large casserole dish.
In a separate dish, mix shredded Gouda cheese, Panko bread crumbs and dried minced onion.  Sprinkle over top of the green bean mixture.
Bake uncovered for 25 minutes or until the topping is golden brown.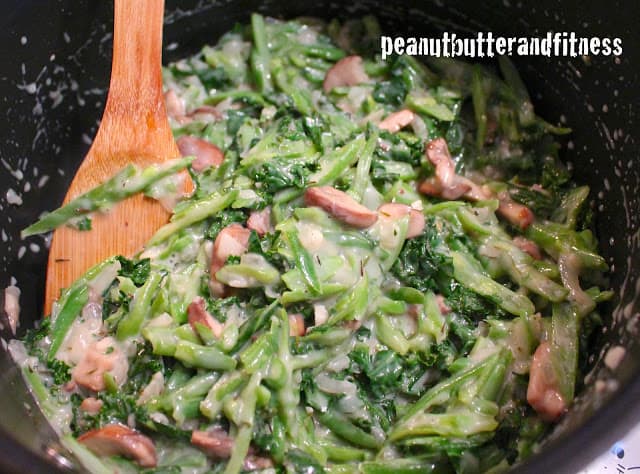 I'm not sure why, but the baked Gouda cheese on top of this casserole gives it an awesome flavor.  It just works with the cream of mushroom soup I guess.  You could use smoked Gouda for a more intense flavor, but I really liked the way the regular tasted.  Enjoy!