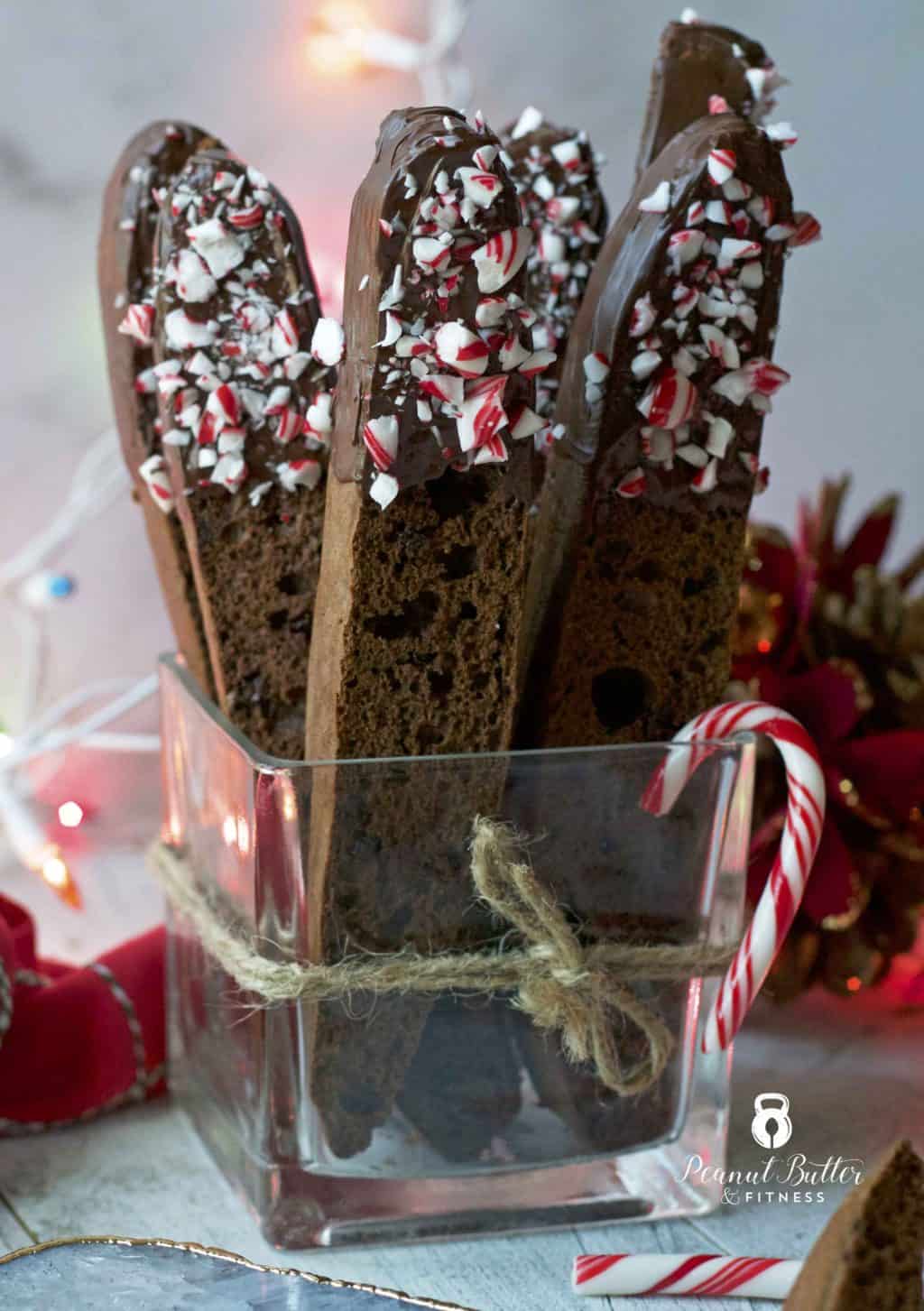 The countdown is on…only 10 days until Christmas!  Do you have your shopping done?  I do not, so I'll take this time to remind myself (and you) to get it done ASAP.  Now, if you're the type who likes to give homemade treats to your friends, family, and coworkers, you've come to the right place.  All you need is a batch of this Chocolate Peppermint Dipped Protein Biscotti and some cute jars, festive ribbon or twine, and burlap or decorative fabric! Since you want to keep the air flow going around the chocolate and peppermint candies on this biscotti (the candies will melt into the chocolate otherwise), cover the jar with the burlap or fabric instead of a lid.  It might look something like this, but you'll probably need a bigger jar 😉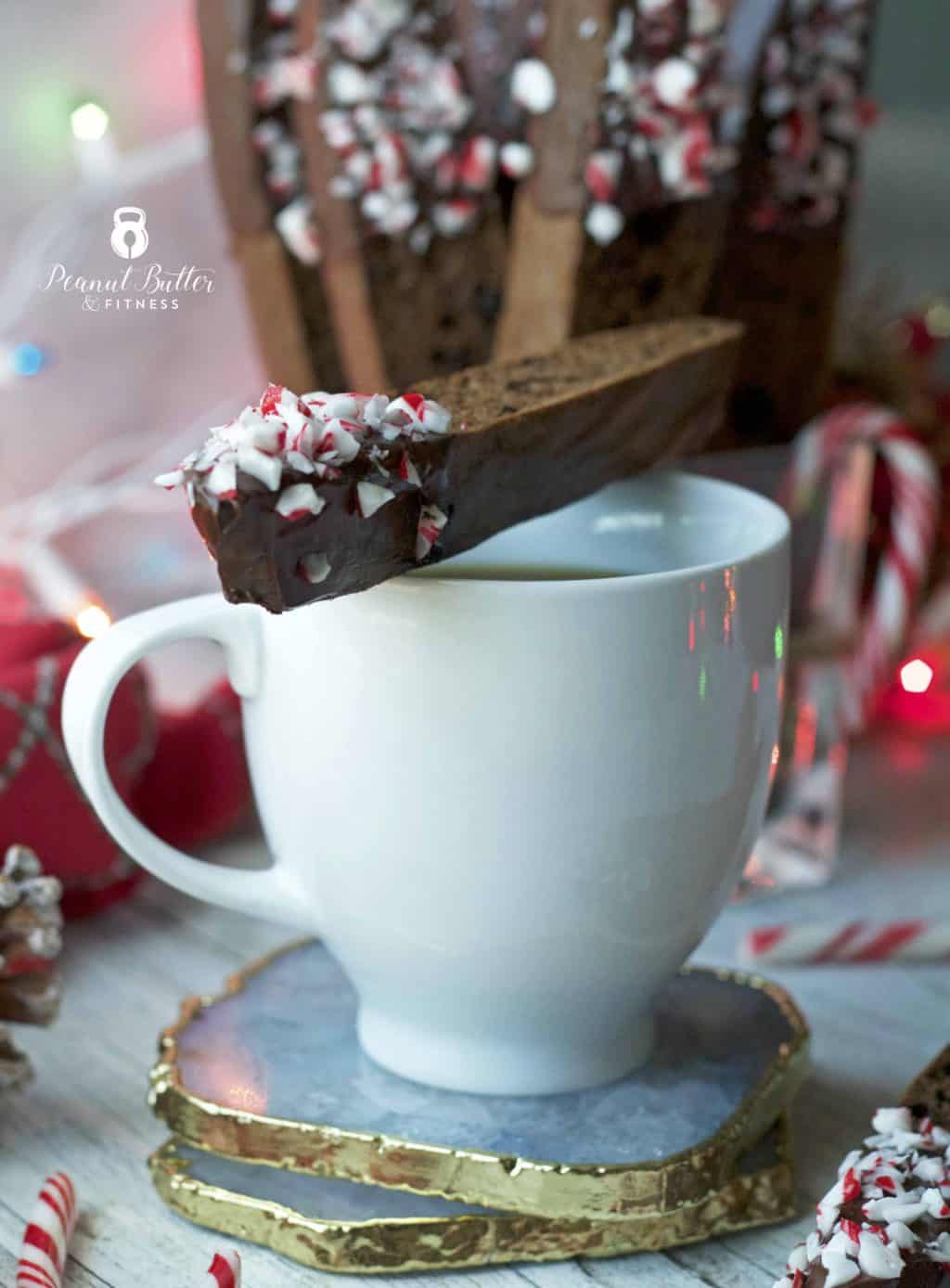 I was inspired to try my hand at making biscotti after I watched an episode of Brunch at Bobby's.  I never knew biscotti was so easy to make!  And by making it at home, you get to control just how crispy and crunchy it is by adjusting the baking time once you've sliced it into logs.  I personally liked baking them until they had just the tiniest bit of give when you press on them firmly.  Even though biscotti is meant to be dipped in and enjoyed with coffee, a slightly less dry version of it is great on it's own.  The baking times below will get you to the texture that I enjoy in biscotti, but you can certainly bake it for longer to get that classic crunchiness.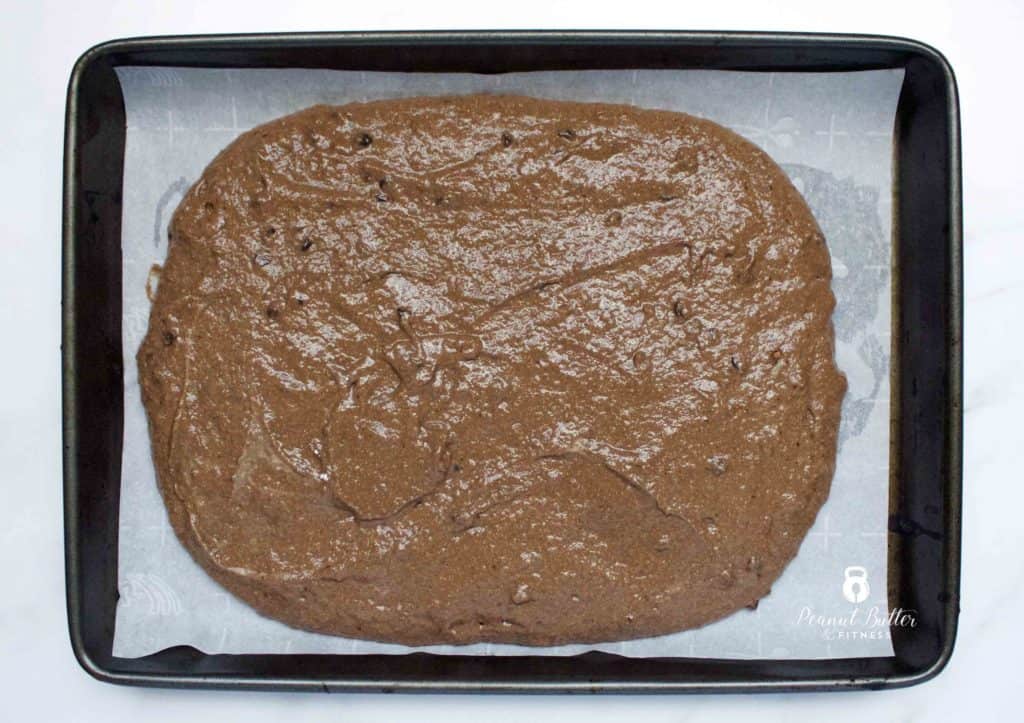 This is the raw batter before getting baked for the first time.  If I were to do it over again, I'd spread it out a little more length-wise (hot dog style), and less width-wise.  If you use an 18×26″ baking sheet instead of a 9×13″, you'll have even more flexibility with exactly how you can shape your blob.
I like using the mini candy canes instead of the normal size ones for this because you end up with more of the red coloring in the broken pieces.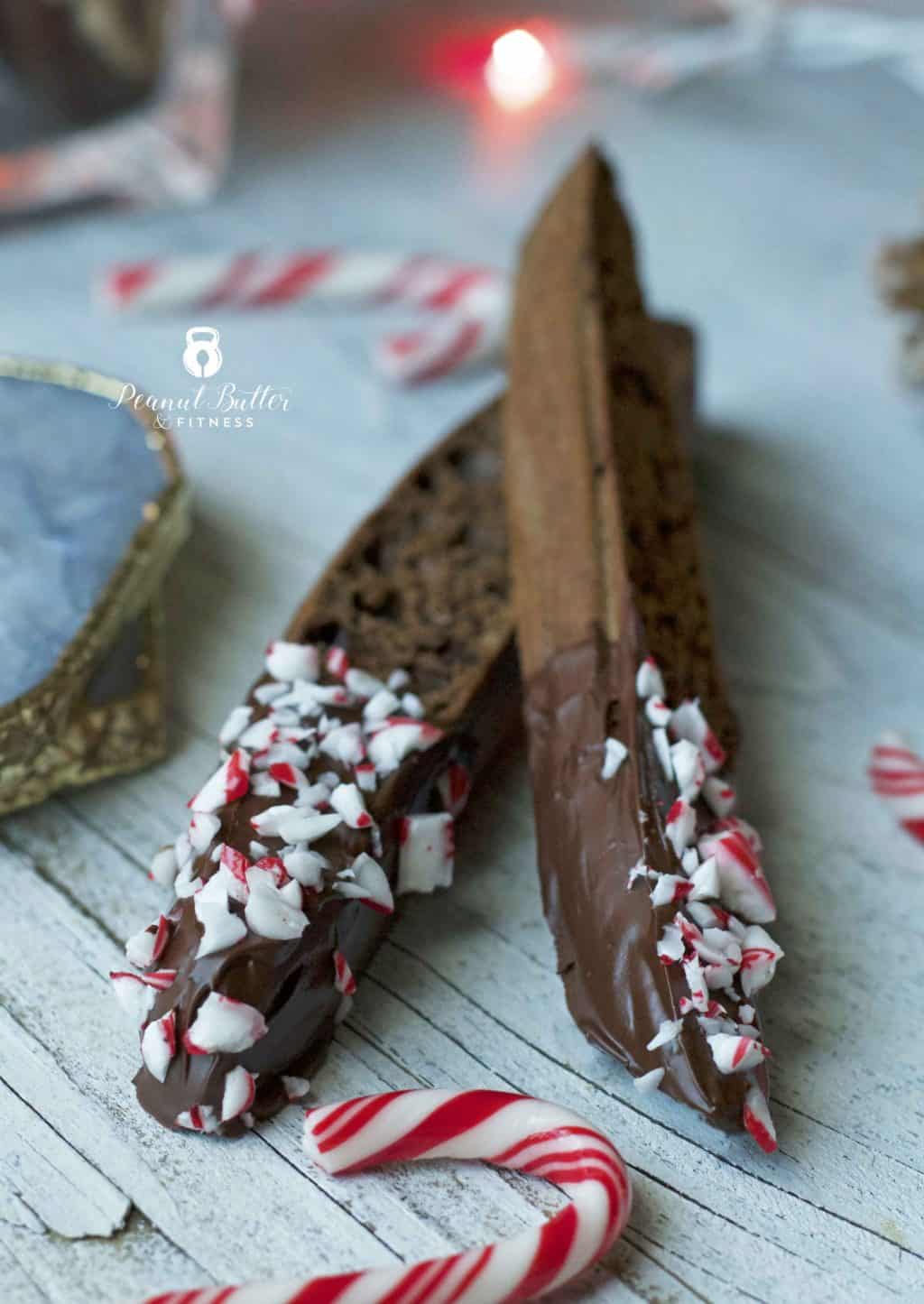 Happy holidays!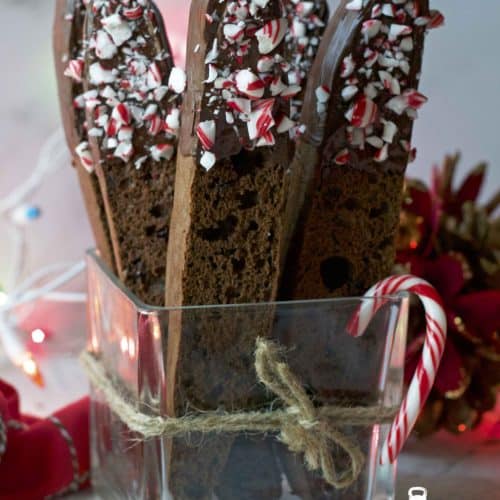 Chocolate Peppermint Dipped Protein Biscotti
Ingredients
Toppings
1/2

cup

Ghirardelli Dark Chocolate Chips

,

(90 grams)

4

mini candy canes

,

(24 grams)
Instructions
Pre-heat oven to 325 degrees. Line a 9×13″ rimmed baking sheet with parchment paper.

Mix dry ingredients, then add wet ingredients and mix until just combined.

Pour batter onto parchment paper lined baking sheet. Spread the mixture slightly so that it is about 1″ thick, but it shouldn't touch the edges of the pan (see picture). It's better for the batter to be spread longer in the baking sheet (hot dog direction) rather than wider.

Bake for 25 minutes, then remove from oven and place entire baking sheet on a cooling rack. Turn oven down to 300 degrees and allow biscotti to cool for 15-20 minutes, then slice into about 3/4″ wide logs.

Place the logs, one cut side down, on a SILPAT or parchment paper lined baking sheet. Bake for 20 minutes, then flip onto the other side and bake for another 20 minutes. The biscotti should feel crisp and firm to the touch, but still have a very slight give if pressed firmly – you may need to bake them on their sides for a little longer depending on the humidity in your kitchen/oven.


Allow biscotti to cool completely. Meanwhile, melt chocolate chips over medium-low heat in a small pan. Dip biscotti into the chocolate or spread the chocolate over the top of the biscotti, then sprinkle with crushed candy canes.

The biscotti can be stored at room temperature in a dry area, uncovered, for 4-6 days. Do not place them in an airtight container or the candy canes will melt into the chocolate.
Nutrition Information
Calories:
129
kcal
(6%)
,
Carbohydrates:
17
g
(6%)
,
Protein:
8
g
(16%)
,
Fat:
4
g
(6%)
,
Cholesterol:
15
mg
(5%)
,
Sodium:
79
mg
(3%)
,
Potassium:
81
mg
(2%)
,
Fiber:
2
g
(8%)
,
Sugar:
8
g
(9%)