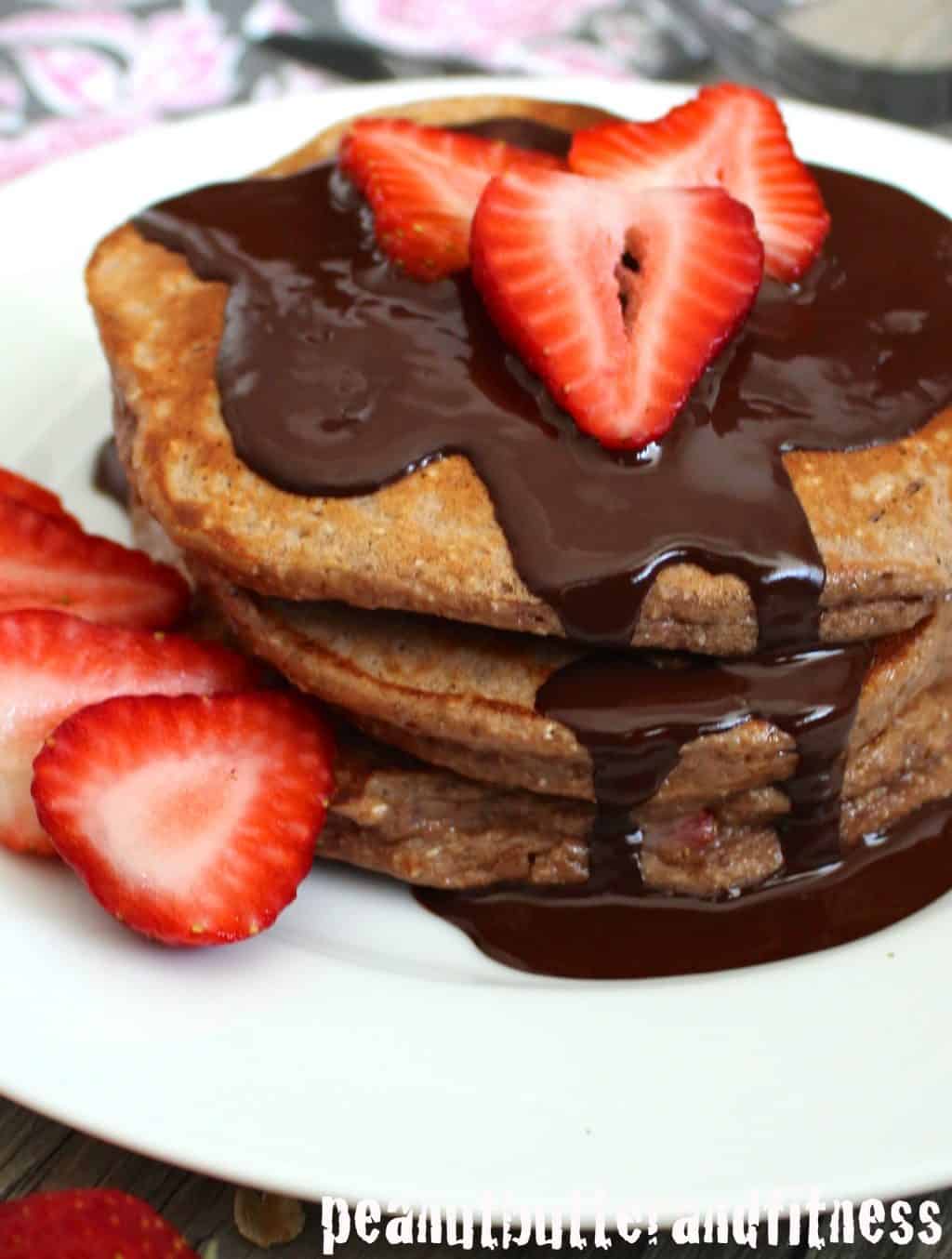 More breakfast food! I realize that I've been posting a ton of breakfast recipes lately, but now that I'm on the big-kid-breakfast-band-wagon I can't help myself.  I just keep thinking of things that would be delicious in the morning…and this is what happens.  Chocolate + strawberries = awesomeness.  Not quite as good as chocolate + peanut butter though (obvi).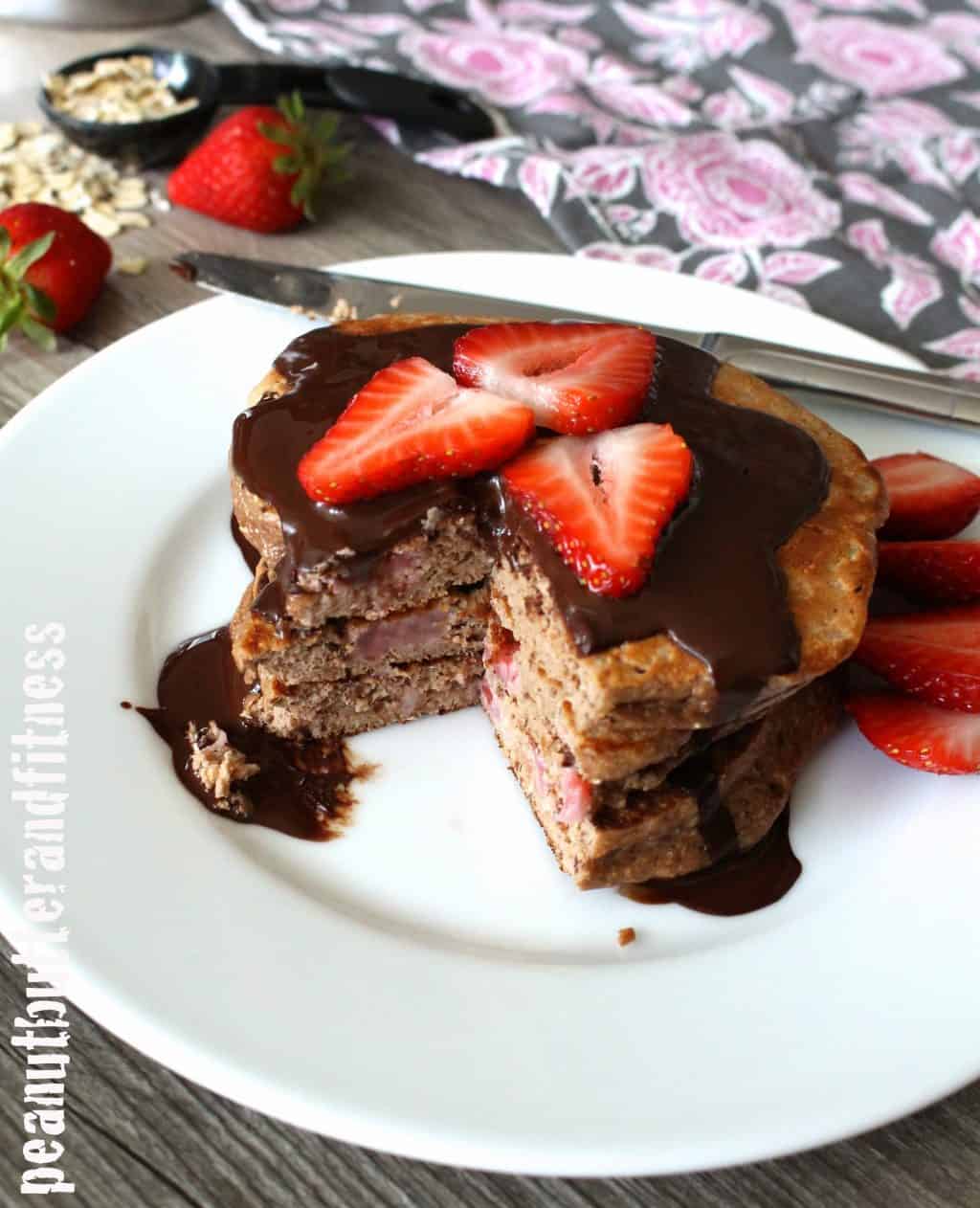 Look at that chocolatey goodness! And you can have it all…guilt free.  Lots of protein and fiber, low fiber and sugar.  The diced strawberries inside the pancakes were awesome, they added just the right touch of sweetness and juiciness to the pancakes.  They might be even better mashed, so give that a shot if you're into it.  If you're not too concerned about adding a few more calories, throw some mini-chocolate chips in the batter too!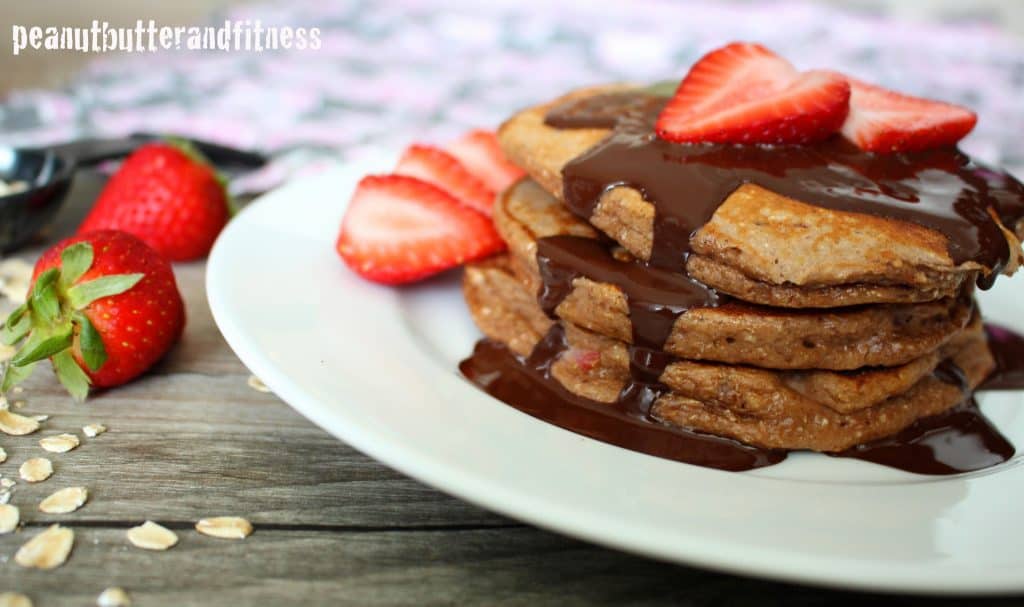 I actually dipped my pancake bites into a little bit of maple syrup, since I needed to clean the measuring cup that I made the chocolate sauce in and all.  It was delightful 🙂 I gotta fuel up so I can go work the soreness out of my hamstrings after yesterdays workout.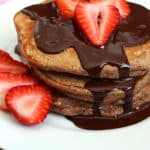 Chocolate Covered Strawberry Protein Pancakes
Prep Time 10 minutes
Cook Time 10 minutes
Total Time 20 minutes
Servings 1 serving
Calories per serving 348 kcal
Ingredients
1 scoop Jay Robb's Chocolate Whey Protein Powder
5 tbsp rolled oats
1 tbsp ground flax seed
2 tbsp + 1 tsp unsweetened cocoa powder divided
1/4 tsp baking powder
3 tbsp unsweetened applesauce
2 tbsp plain non-fat Greek yogurt
1/4 cup diced strawberries
1 egg white
1 tsp unsweetened vanilla almond milk
1/2 tsp vanilla extract
1 packet Truvia
2 tbsp water
Instructions
In a food processor or Nutribullet, mill the oats until they form a fine powder.

In a medium bowl, combine oats, protein powder, flax seed, 1 tsp cocoa powder, and baking powder.  Mix in applesauce, yogurt, egg white, almond milk and vanilla extract.  Fold in diced strawberries.

In a small bowl, heat water for 30 seconds in microwave.  Whisk in 2 tbsp cocoa powder and Truvia until smooth.  Set aside.

Heat a skillet or griddle over medium low heat.  Spoon pancake mixture onto griddle, forming 3 pancakes.  Cook until top starts to bubble, then flip and cook through.

Plate pancakes and top with chocolate sauce and sliced strawberries.
Nutrition Facts
Chocolate Covered Strawberry Protein Pancakes
Amount Per Serving
Calories 348 Calories from Fat 54
% Daily Value*
Fat 6g9%
Sodium 346mg15%
Carbohydrates 40g13%
Fiber 10g42%
Sugar 8g9%
Protein 38g76%
* Percent Daily Values are based on a 2000 calorie diet.