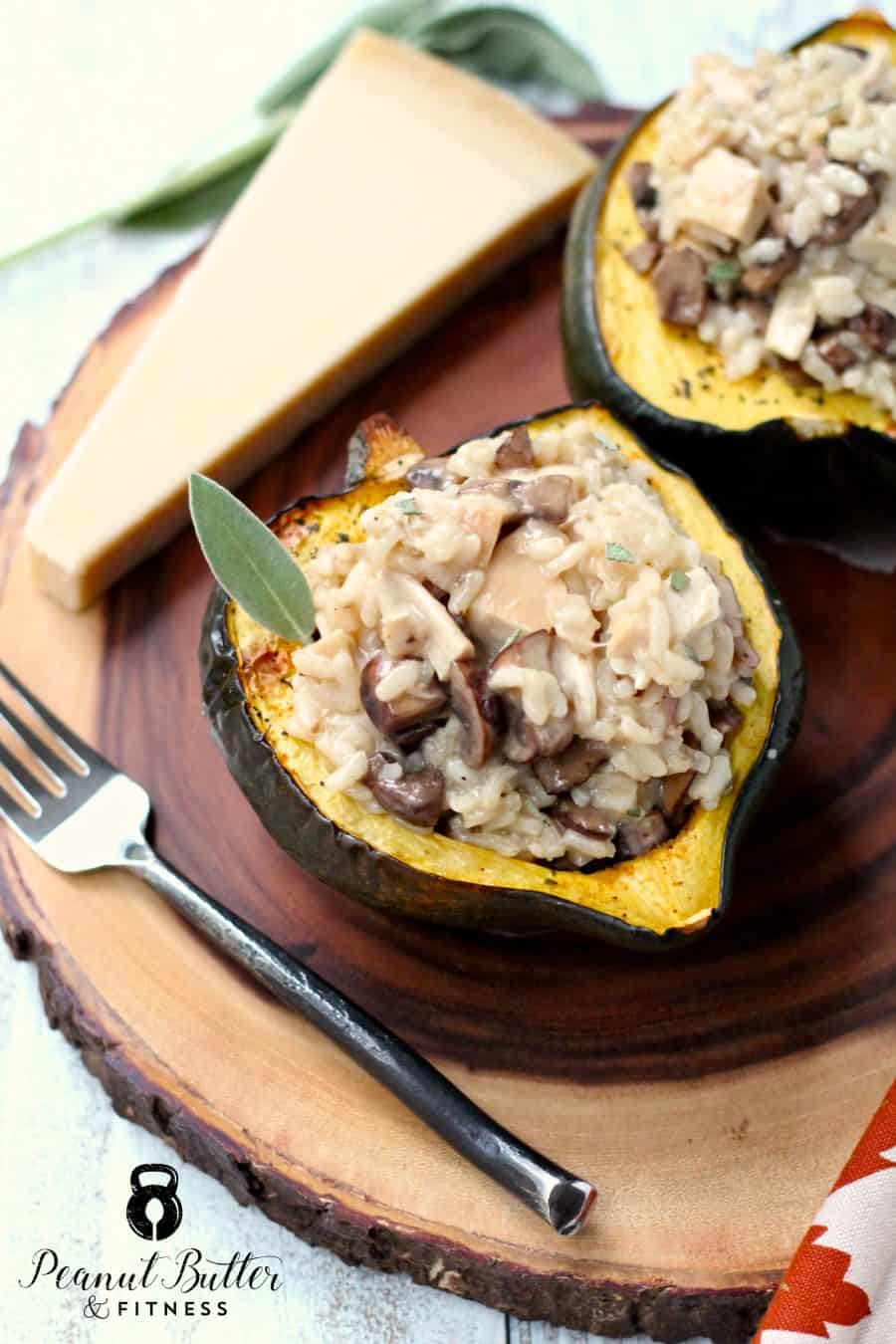 Hey everybody, I'm backkkkkkkk from Peru!  (I stuck a couple pictures down at the bottom of the post 🙂  And it's November…which means that it's not just fall anymore, it's late fall.  And you know what that means?  It's definitely the season for comfort food.  So in honor of comfort food season, I finally tried my hand at making risotto which wound up being a greaaaaaat success!  Yum.  I love getting risotto at restaurants but I've always been a little scared to try making it at home.  But guess what?  There's nothing to be afraid of because it's actually not hard at all to make.  You just have to be patient for a grand total of about 30 minutes.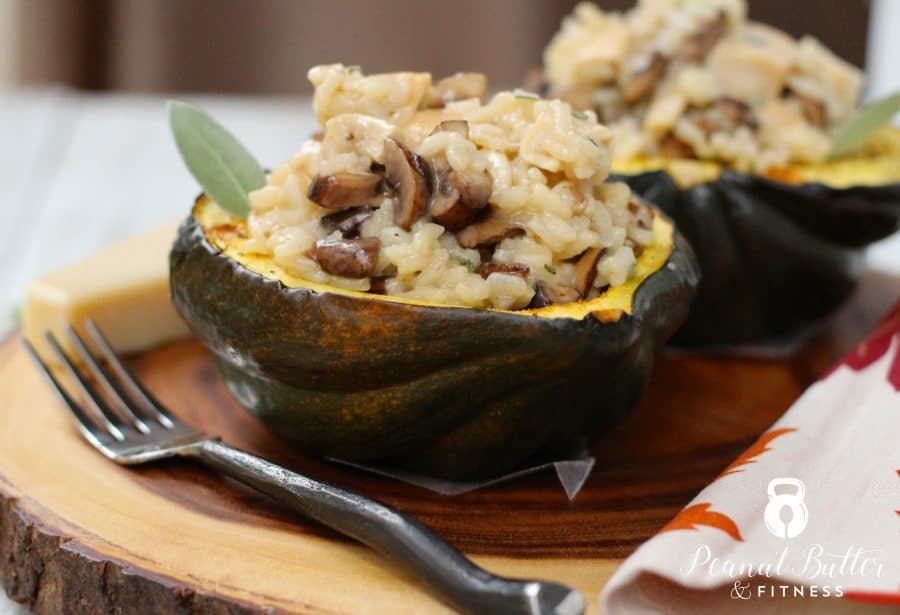 I stuffed my risotto into some acorn squash because duh, it's late fall.  And they're shaped like acorns which is just really cute and fun.  If you want to save some time though, just skip the acorn squash and throw in a side of vegetables like asparagus or broccolini.  Or butternut squash, which I think might be my favorite squash (zucchini and spaghetti squash are close runners up).  Also, if you're the kind of eater that needs some spice in your dish, swap the chicken out for some spicy chicken or turkey sausage.  I used rotisserie chicken because it's so juicy and flavorful but now I want to try this with chicken sausage too!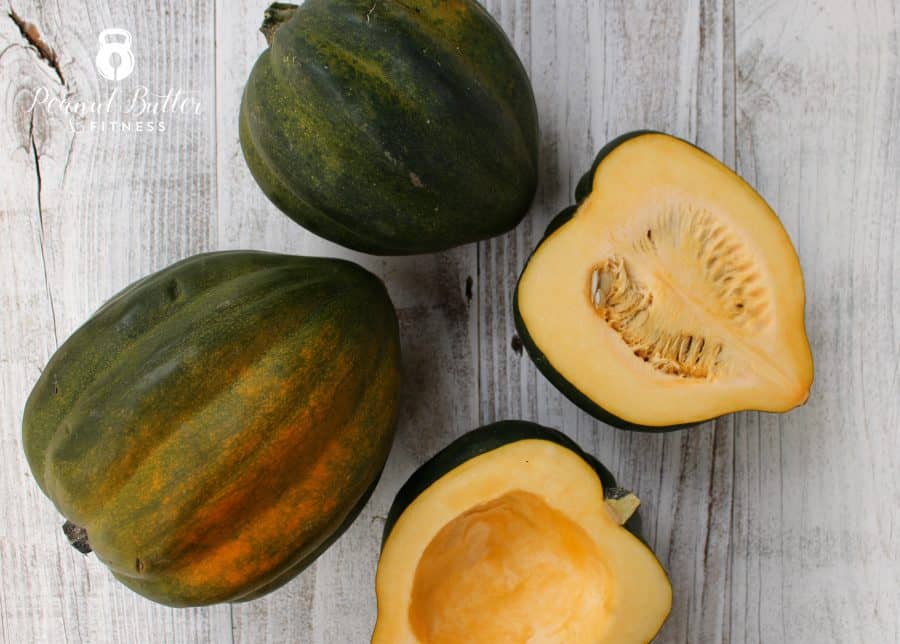 Oh, and BTW, if you skip the squash and the chicken this could totally be a side dish to impress your guests with at Thanksgiving!  I'm actually seriously considering adding it to my menu now that I think about it…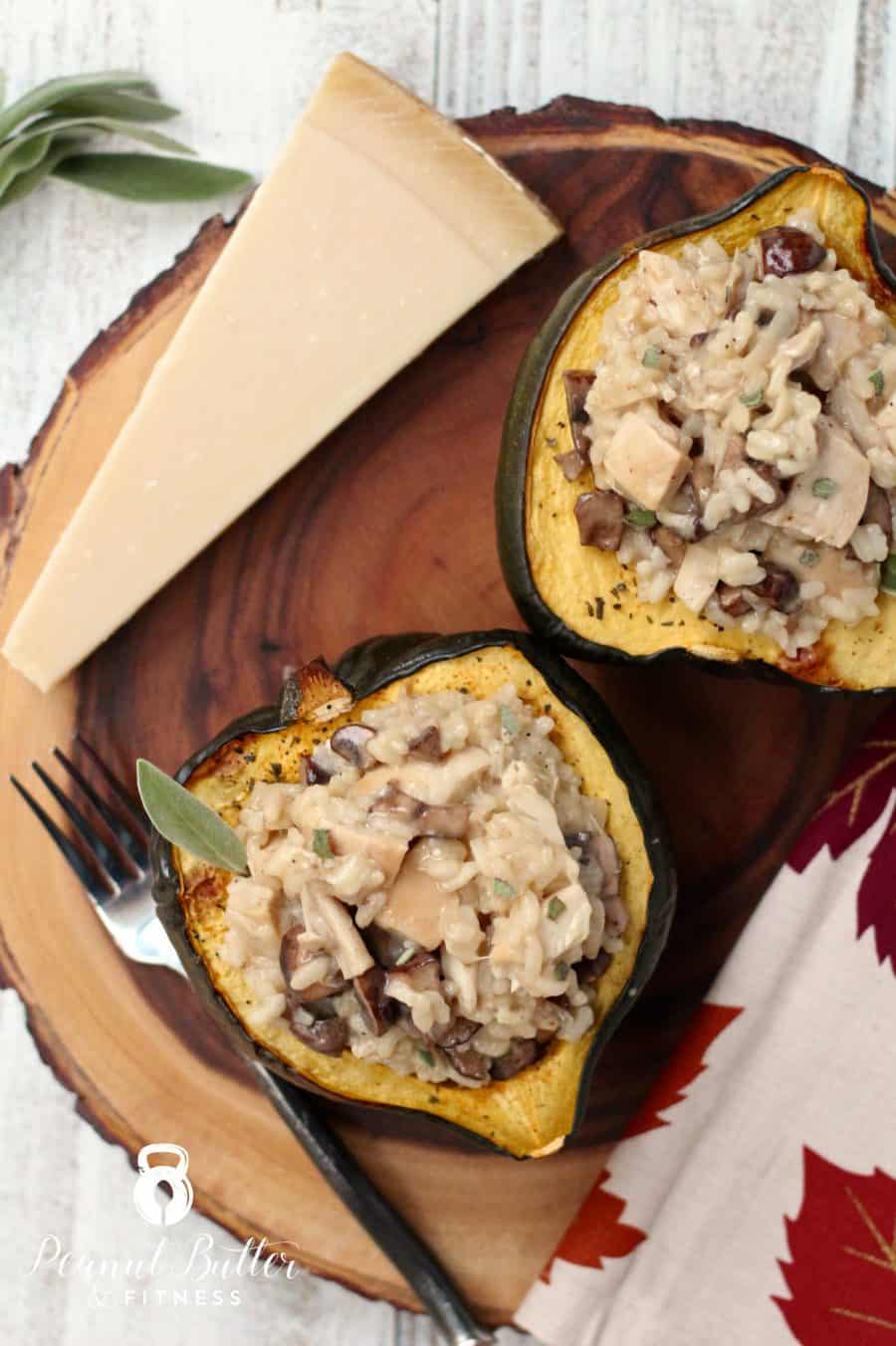 Anywho, there are some really good tips floating around the internet that you can follow to make sure your risotto is a success (especially if you've never made it before).  I like the ones over at BonAppetit.com – be sure to check them out if you're a newb like me, but I did my best to spell it all out in the recipe instructions.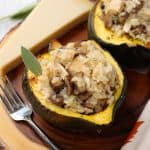 Chicken and Mushroom Risotto Stuffed Acorn Squash
Prep Time 1 hour
Cook Time 50 minutes
Total Time 1 hour 50 minutes
Servings 6 servings (1/2 acorn squash filled with 1 cup risotto per serving)
Calories per serving 502 kcal
Ingredients
1 medium rotisserie chicken skin and bones removed
3 medium acorn squash halved lengthwise and seeds removed
1 1/2 cups arborio rice
16 oz baby bella mushrooms sliced
5 cups chicken stock (I used 4 cups unsalted chicken stock and 1 cup chicken bone broth)
1/2 cup water
1/2 cup dry white wine
1/2 cup grated parmesan cheese
1 shallot diced
1 tbsp ghee
1/2 tbsp olive oil
2 leaves fresh sage diced
Salt and pepper to taste
Instructions
Pre-heat oven to 375 degrees.  Spray cut side of acorn squash with olive oil and sprinkle with Flavor God seasoning.  Arrange squash halves on a baking sheet, cut side up, and bake for 45-50 minutes or until squash flesh is fork tender.

Bring chicken stock and water to a simmer over medium heat in a pot.  Lower heat and keep at a simmer during cooking process.

Melt 1/2 tbsp ghee over medium high heat in a quality sauté pan that fits well over your oven burner.  Add mushrooms and sauté until lightly browned, then sprinkle with some salt and sauté for another minute.  Set mushrooms aside in a bowl and cover with foil.

In the same sauté pan, melt remaining ghee and olive oil over medium high heat.  Add shallot and sauté until tender. Add rice, stirring for 2-3 minutes until rice begins to turn golden.

Add white wine, bring to a boil and then lower heat to a simmer.  Stir rice frequently until rice has absorbed the liquid.  Ladle approx. 1 cup of warm chicken stock into rice, stirring frequently until almost all of the liquid has been absorbed.  Continue process with remaining chicken stock (the process should take about 25 minutes).

When about half of the final ladle of stock remains, remove from heat.  Stir in cheese, mushrooms, sage and chopped chicken, adding salt and pepper to taste.

Cover the risotto and allow it to rest about 5 minutes, then spoon into roasted acorn squash before serving.  Garnish with fresh sage or parsley.
Nutrition Facts
Chicken and Mushroom Risotto Stuffed Acorn Squash
Amount Per Serving
Calories 502 Calories from Fat 99
% Daily Value*
Fat 11g17%
Cholesterol 67mg22%
Sodium 345mg15%
Carbohydrates 64g21%
Fiber 4g17%
Sugar 1g1%
Protein 33g66%
* Percent Daily Values are based on a 2000 calorie diet.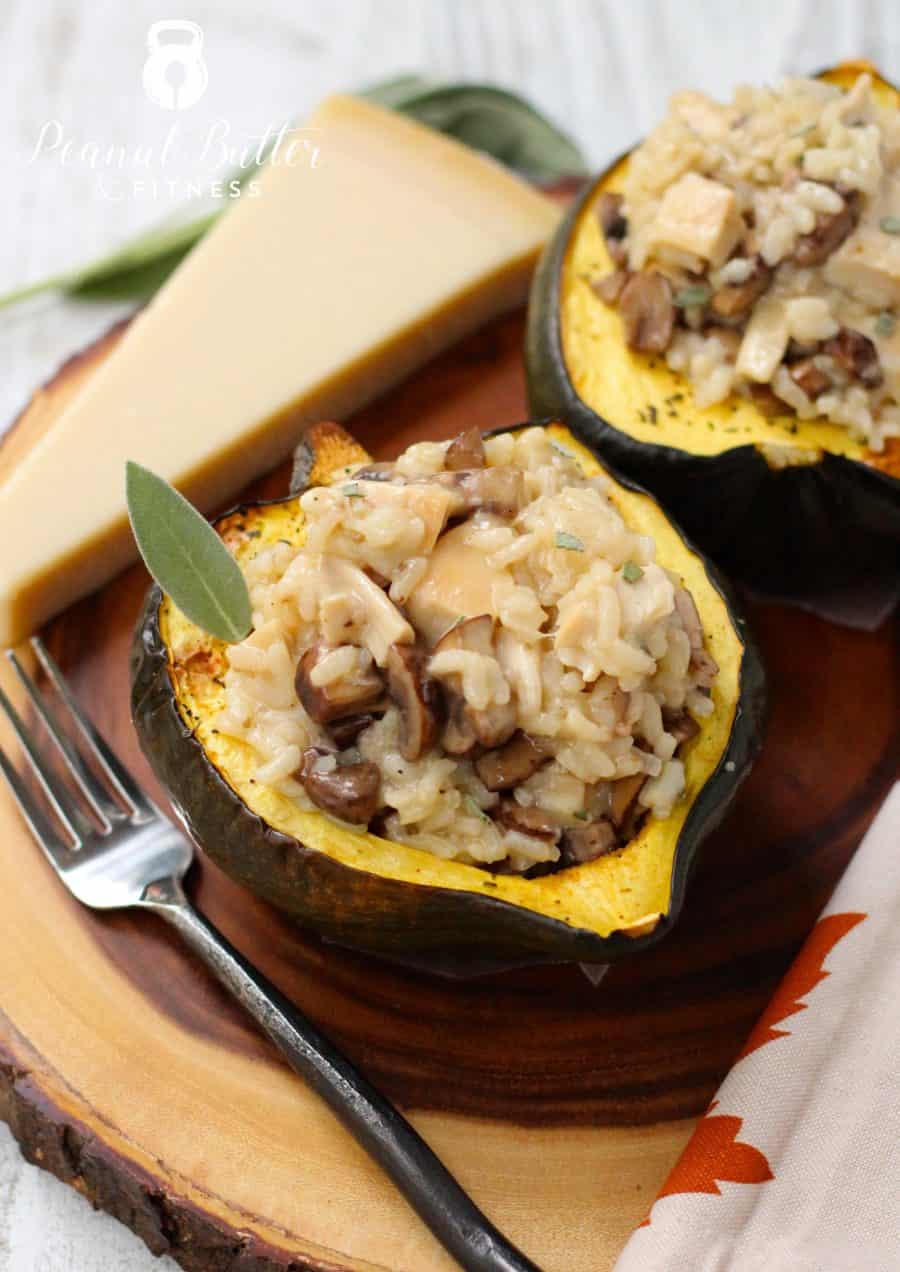 So many exciting things happening here that I almost forgot to point out my new logo!  See the watermark on the pictures??  I love it.  I can't take credit for it though…I hired a designer who is also finishing up my new website design!  Can't wait for you all to see it come together 🙂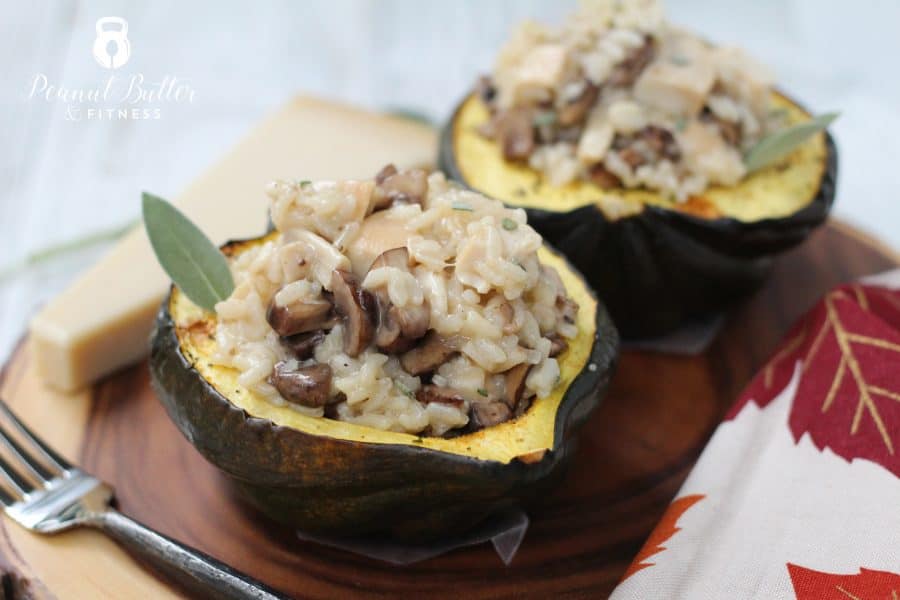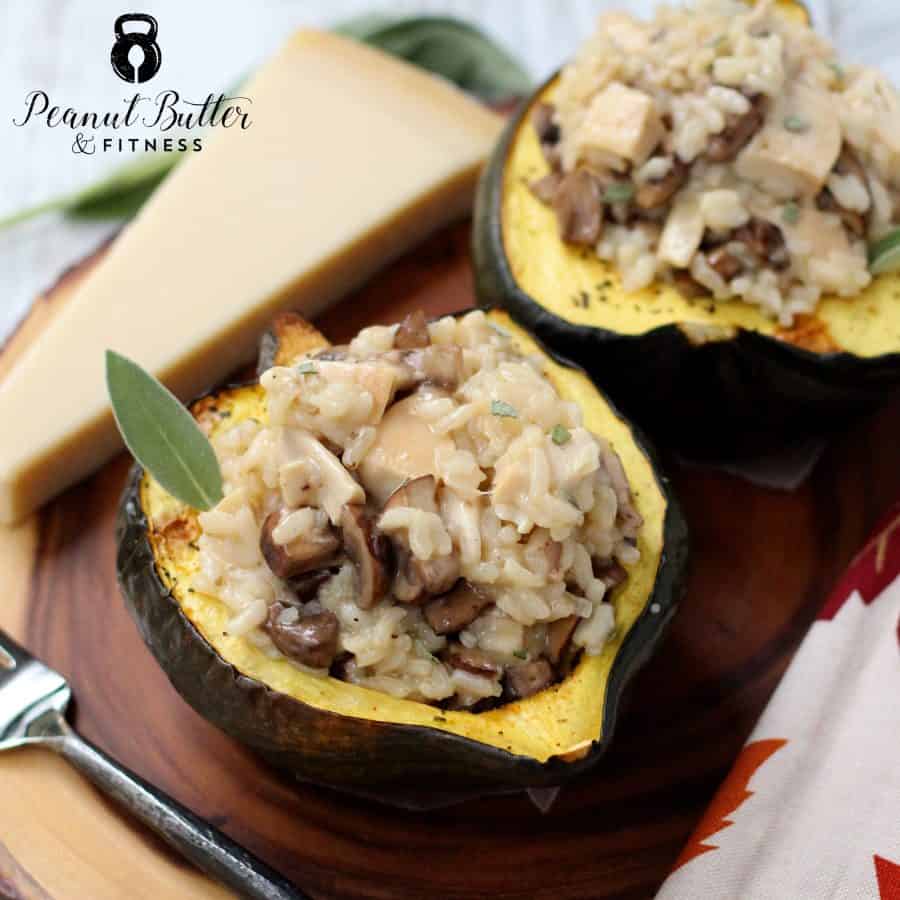 And because I told you that I went to Peru, here's some obligatory pictures of some awesome things we did there!  Machu Picchu of course, and some little lambs and locals in Cusco.  Such a beautiful country.