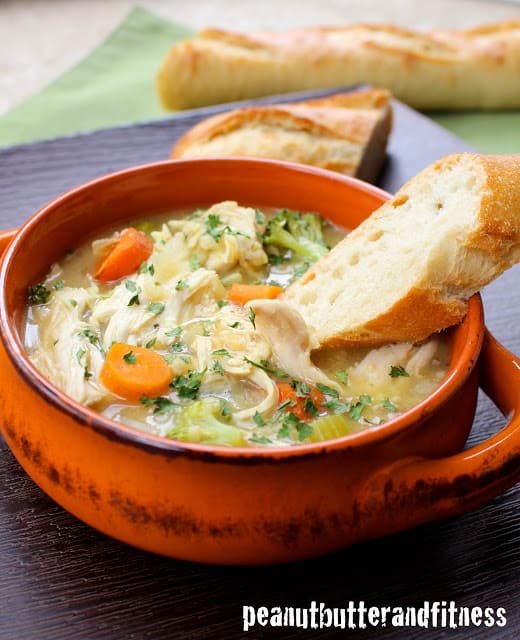 My first home made soup of the "winter!"  It's been raining a lot in San Francisco so it's perfect weather to cuddle up with a warm bowl of soup.  I added the broccoli in here because I wanted the soup to be a more complete meal than a lot of soups that don't have enough veggies.  Of course, people don't usually put broccoli in liquidy soups because they're worried it's going to get too soggy – but I like to live on the edge like that.  And so far, so good!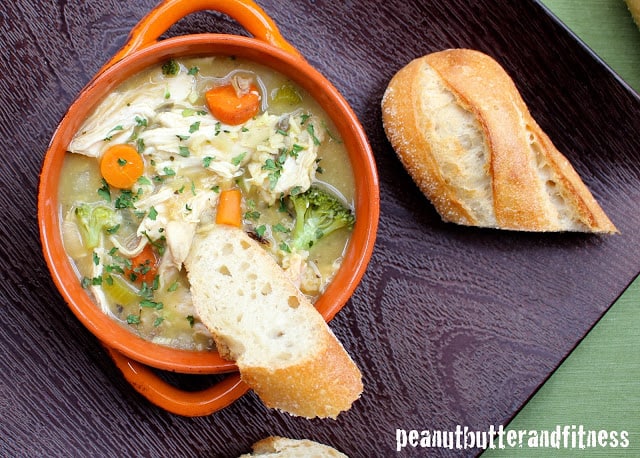 I put the wild rice on the bottom of the slow cooker because in my mind, the way you layer is important.  It could just be my slightly OCD tendencies coming out to play, but really, I'm pretty sure the chicken helps keep the rice under the liquid and cooking away.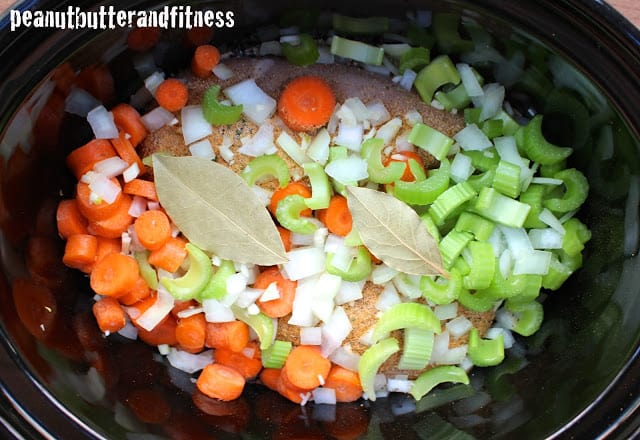 I set my slow cooker to high to cook while I was at the gym.  Then when I got home, I shredded the chicken and added the broccoli and it was all cooked and ready for me to eat when I got out of the shower.  Perfect timing!  But if you need it to sit for longer, turn it on low and cook for 4 hours before shredding the chicken.  I don't recommend cooking the broccoli for any more than 30 minutes still though!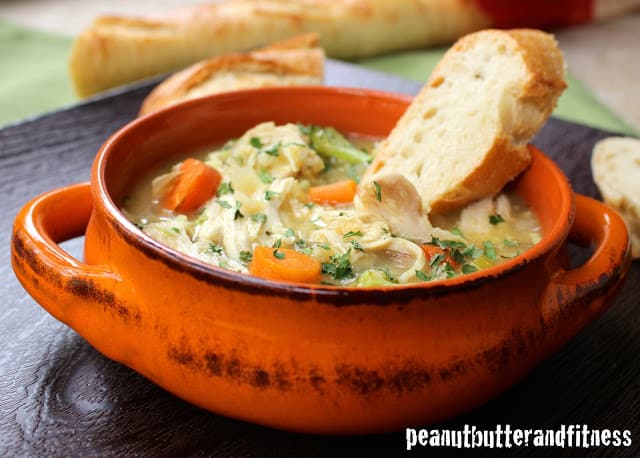 Chicken, Broccoli & Wild Rice Soup
Yield: 5 servings • Calories per serving: 261 • Fat: 4 g • Protein: 26 g • Carbs: 29 g • Fiber: 3 g • Sugar: 3 g • Sodium: 393 mg • Cholesterol: 55 mg
Ingredients:
1 lb chicken breast
2/3 cup O Organics Wild Rice mix
2/3 cup chopped yellow onion
2/3 cup chopped celery
2/3 cup sliced carrots
2 cups broccoli florets
4 cloves garlic, minced
4 cups Herb Ox Sodium Free chicken broth
10.5 oz can low sodium condensed cream of chicken soup
2 bay leaves
Add wild rice to the bottom of a slow cooker.  Add chicken on top of rice and sprinkle with Flavor God seasonings.  Then add onion, celery, carrots, garlic and bay leaves on top of the chicken.
Pour cream of chicken soup and chicken broth on top of vegetables and gently stir.
Cover and cook on high for 2 hours.
Remove chicken and allow to cool slightly, then shred with a fork and return to slow cooker.
Add broccoli and continue cooking on high for another 30 minutes. If the broccoli still seems a little crunchy, don't keep cooking it! It will soften up as it continues to sit in the warm soup.