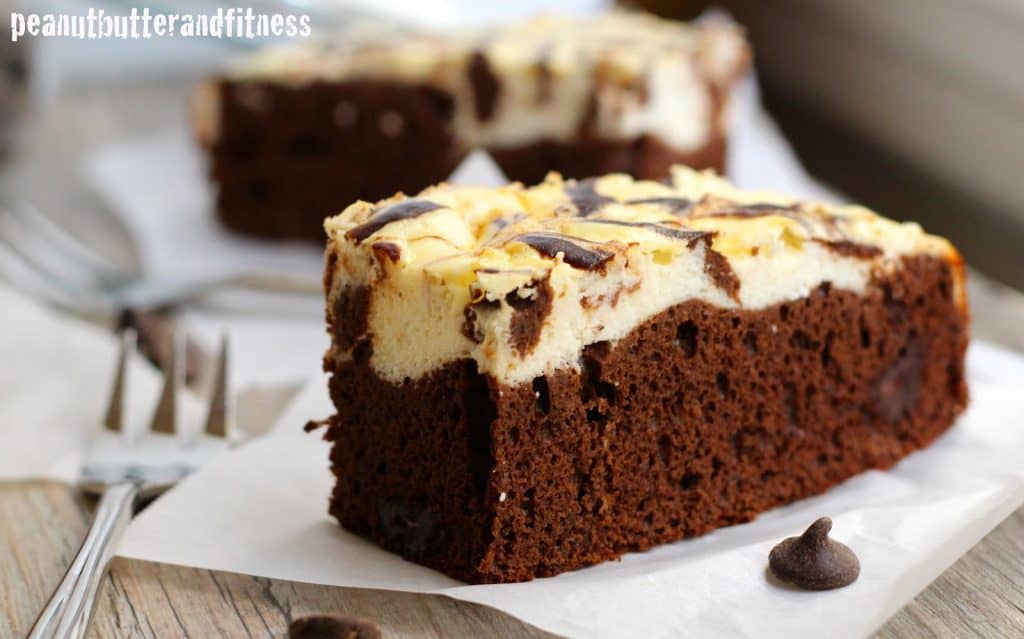 Once upon a time I decided I would come up with a recipe for cheesecake swirl black bean protein brownies.  And then they came out of the oven like a light, spongy cake.  Good thing this is the internet and I can just change the name to Cheesecake Swirl Protein Cake.  Boom.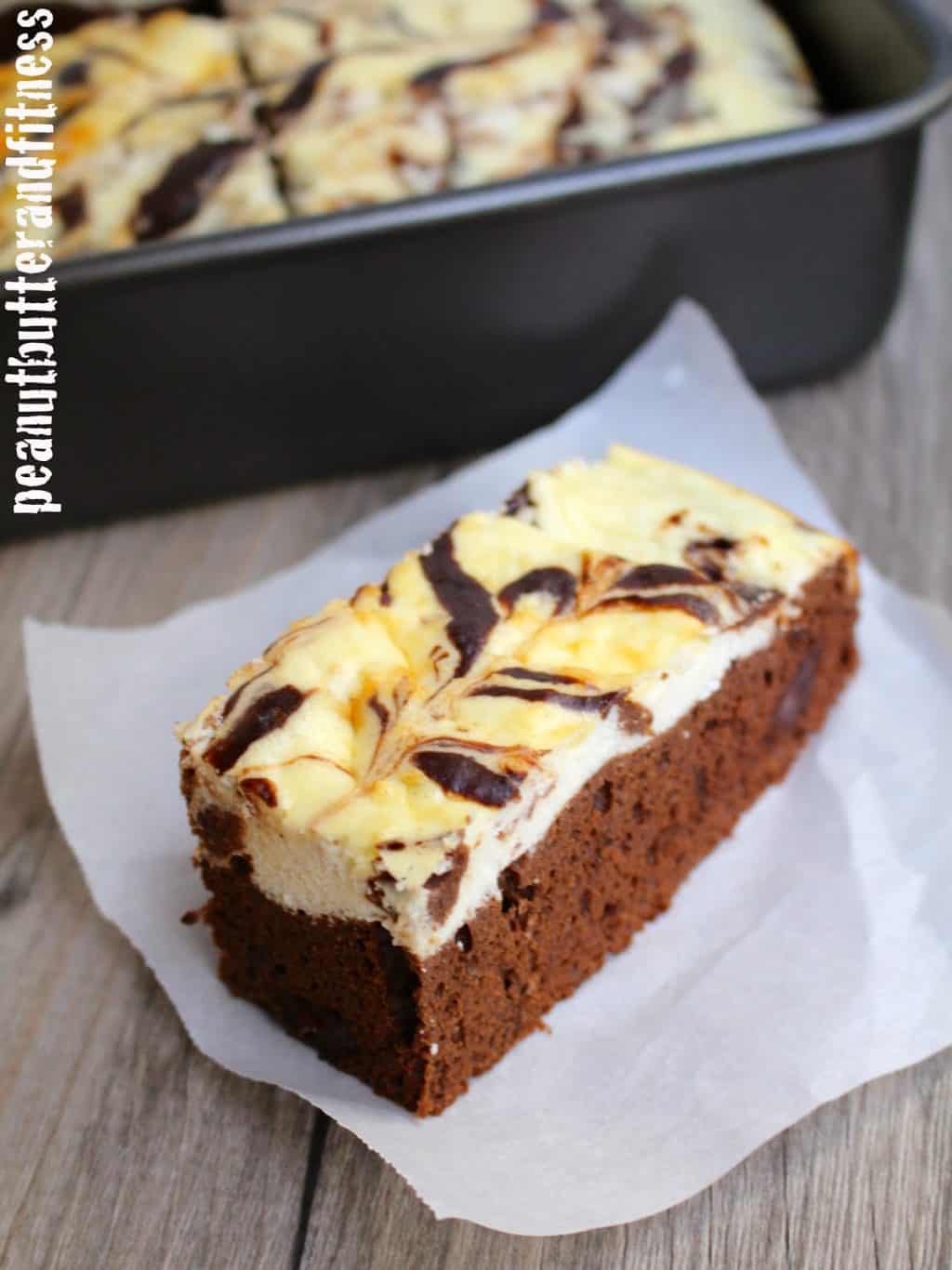 Who knew that a black bean dessert could by so light and fluffy?  Not me.  Until now! I overcooked mine just a tiny bit and the cheesecake topping is a little bit golden…so I adjusted the baking time in the recipe below.  Anyways, this cake is pretty damn delish…and pretty damn healthy at the same time!  Only 152 calories for one of these big slices, and that includes a whopping 13 grams of protein and 5 grams of fiber.  They're best served warm…and with milk of course, because cake and milk just go together 🙂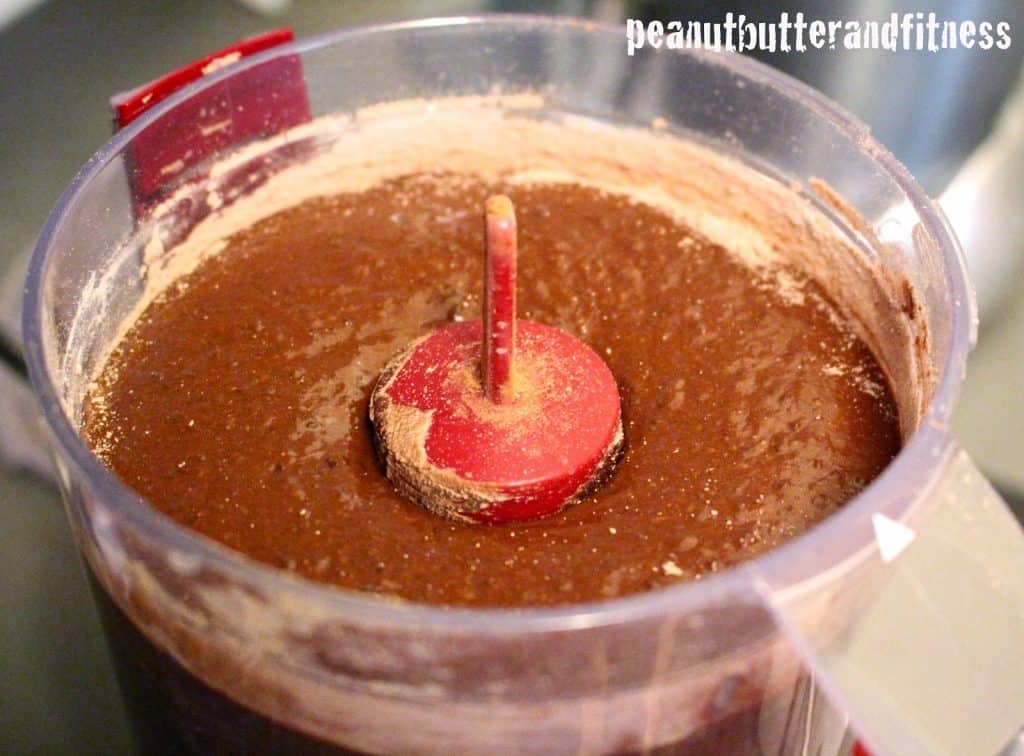 I probably should have known that this wouldn't turn out like brownies based on the consistency of the batter, but hey – you live and you learn.  And then you eat delicious cake.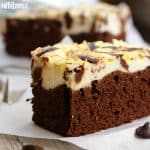 Cheesecake Swirl Protein Cake
Prep Time 20 minutes
Cook Time 25 minutes
Total Time 45 minutes
Servings 10
Calories per serving 152 kcal
Ingredients
Cake Ingredients:
15 oz can low sodium black beans drained and rinsed
3 tbsp unsweetened cocoa powder
3 tbsp Splenda brown sugar blend
2 tbsp Simply Jif peanut butter
1/4 cup Guittard 63% Extra Dark chocolate chips
1/2 tsp baking soda
1/2 tsp baking powder
1 tsp vanilla extract
1/3 cup unsweetened vanilla almond milk
1 egg
1 egg white
2 tbsp unsweetened applesauce
Cheesecake Swirl Ingredients:
3 tbsp fat free cottage cheese
1/3 cup Dannon Light and Fit Vanilla Greek Yogurt
1 egg white
1 packet Truvia
Instructions
Pre-heat oven to 350 degrees.

In a food processor, combine black beans, peanut butter, vanilla extract, brown sugar blend and almond milk until smooth. Add remaining cake ingredients except chocolate chips and blend until smooth. Mix in chocolate chips.

Spray an 8x8" baking pan with non-stick cooking spray. Pour cake mixture into pan and smooth until even. Set aside.

In a Nutribullet or food processor, blend cottage cheese, Greek yogurt and egg white until smooth. Add vanilla protein and Truvia and mix until smooth.

Pour cheesecake mixture evenly on top of cake mixture. Using a knife, swirl cheesecake mixture with the upper half of the cake mixture.

Bake at 350 degrees for 25-27 minutes. Allow to cool slightly, slice and serve.
Nutrition Facts
Cheesecake Swirl Protein Cake
Amount Per Serving
Calories 152 Calories from Fat 36
% Daily Value*
Fat 4g6%
Cholesterol 32mg11%
Sodium 204mg9%
Carbohydrates 16g5%
Fiber 5g21%
Sugar 7g8%
Protein 13g26%
* Percent Daily Values are based on a 2000 calorie diet.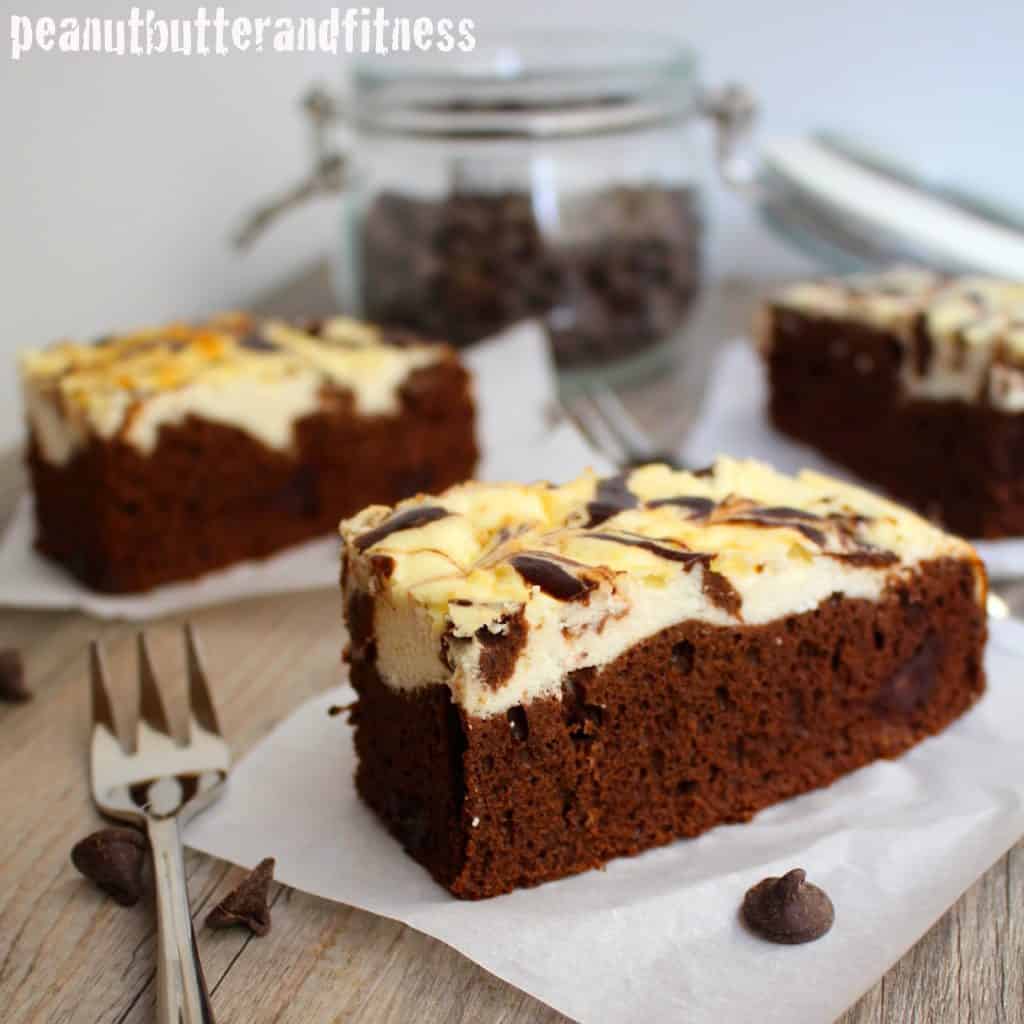 I use a lot of different kinds of protein in my baking, but I know not everyone wants to go buy 2 pound tubs of all these different protein flavors…so here's a secret:  Just get a trial size from Amazon!  Their stock changes all the time with what flavors they have, so check back often.  I've got a bunch of these little packs, plus a bunch of tubs (because I apparently have a protein fetish or something).