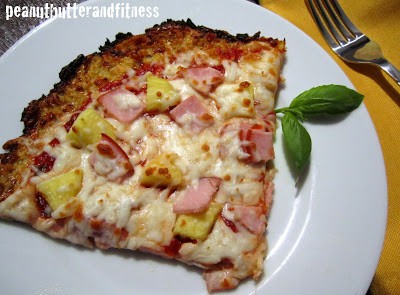 Time for a healthier version of my ultimate food weakness…Hawaiian pizza!! This is a recipe I adapted from Recipe Girl with just a few changes.  The crust doesn't taste like a giant vegetable, I promise 🙂  The texture is pretty good, although next time I will bake the crust just a little longer before I put the toppings on.  I didn't miss the dough at all, so if you're craving pizza but don't want to feel guilty after, this is the way to go!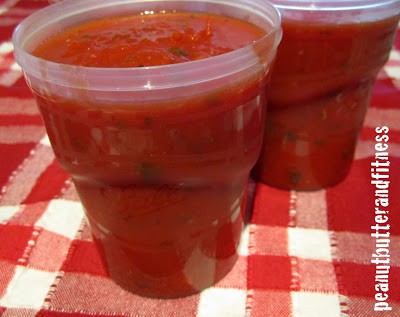 The first thing I did was make some marinara sauce.  I used a recipe from Skinny Taste for this, it's pretty delish and super easy to make.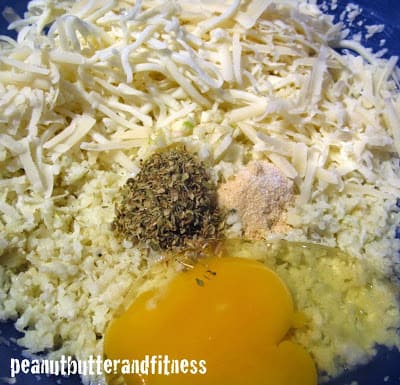 I grated most of a head of cauliflower with a regular large grater.  The original recipe called for a cup of shredded mozzarella, but I forgot to buy enough so I used half mozz and half Parmesan.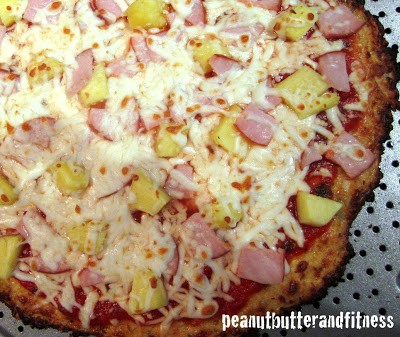 Cauliflower Crust Hawaiian Pizza
CRUST:
1/2 large head cauliflower (or 2+ cups shredded cauliflower)
1 large egg

1/2 cup finely shredded mozzarella cheese
1/2 cup shredded Parmesan cheese (fresh is best 🙂
1 teaspoon dried oregano
1/2 teaspoon minced garlic
1/2 teaspoon onion powder
TOPPINGS:
1/2 cup marinara sauce
1/2 cup finely shredded low-fat mozzarella cheese
3 slices Canadian bacon
1/2 cup pineapple chunks (fresh or canned)

Directions:
1. Shred the cauliflower into small crumbles. Place the cauliflower crumbles in a large bowl and microwave them (dry) for 8 minutes, then let it cool.
2. Prepare the crust: Preheat the oven to 450 degrees F. Spray a pizza pan with nonstick spray (or use a nonstick surface). In a medium bowl, mix the cauliflower crumbles with the remaining crust ingredients. Pat the "crust" into a 9 to 12-inch round on the prepared pan. Spray the crust lightly with olive oil or nonstick spray and bake for about 17 minutes (or until golden). Remove the crust from the oven and turn the heat up to broil.
3. Prepare the pizza: Spread the sauce on top of the baked crust. Sprinkle 1/4 cup cheese on top. Add the Canadian bacon and pineapple, then sprinkle the remaining cheese on top. Broil the pizza 3 to 4 minutes, or until the toppings are hot and the cheese is melted and bubbly. Cut into slices and serve.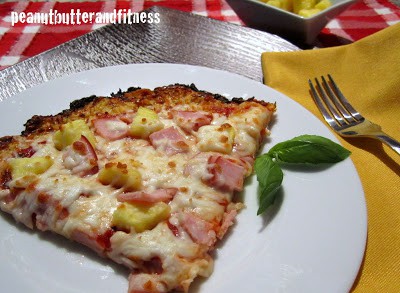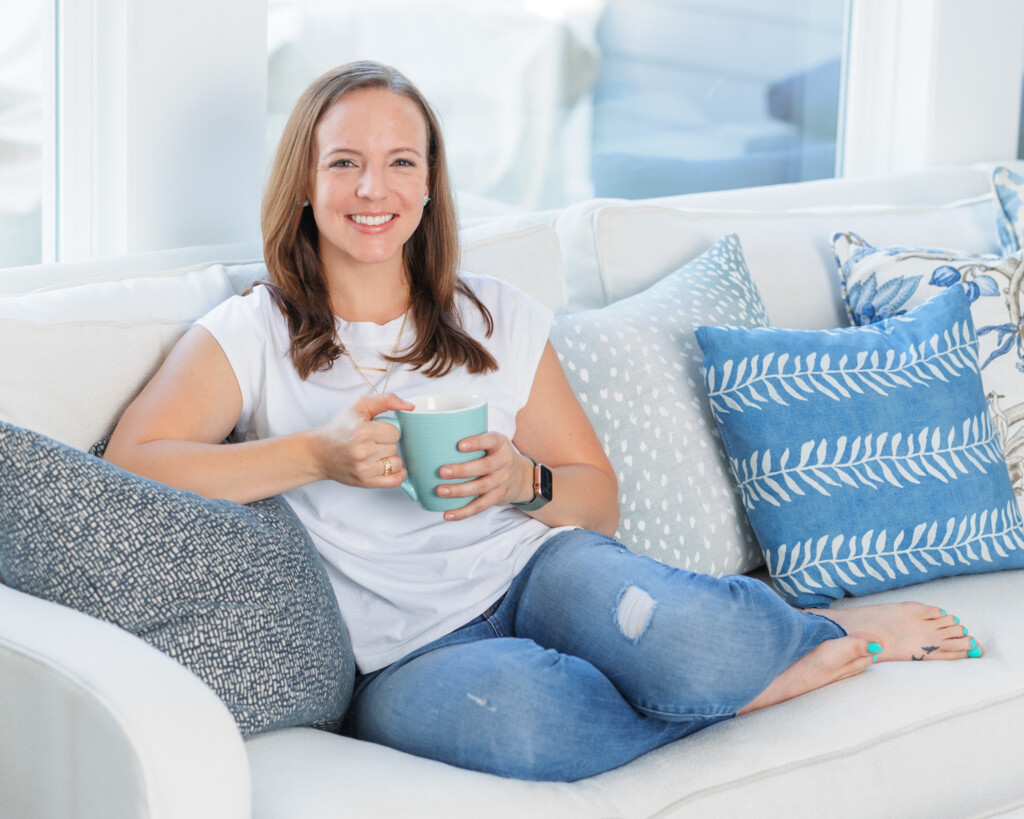 About Erin
Erin is the author behind Peanut Butter and Fitness. She started this website in 2013 as a way to keep track of her favorite healthier kitchen creations and meal preps. Today, she still loves playing with her food and camera while helping others strike a balance between indulgence and well-being.