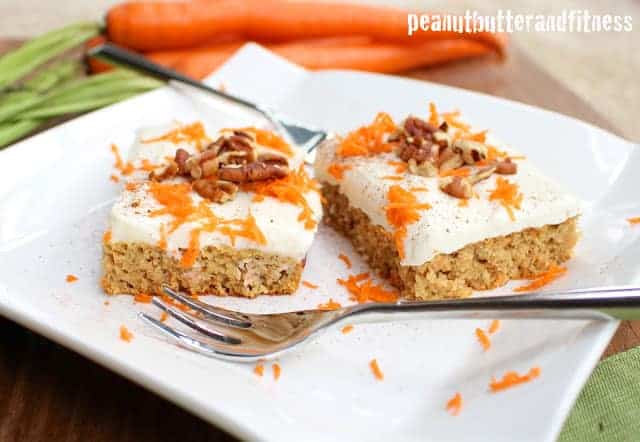 It's almost Easter, so put your bunny ears on and make these secretly healthy carrot cake bars! They taste so good and are so perfectly moist that you'll never know they're healthy. I used my co-workers as guinea pigs and the guy who always acts as my litmus test for whether something "tastes healthy" or not was very happy with these! Most of the time he doesn't even have to say anything, I can just tell by his face. You know what I'm talking about…his face kind of lit up when he bit into one of these which = success.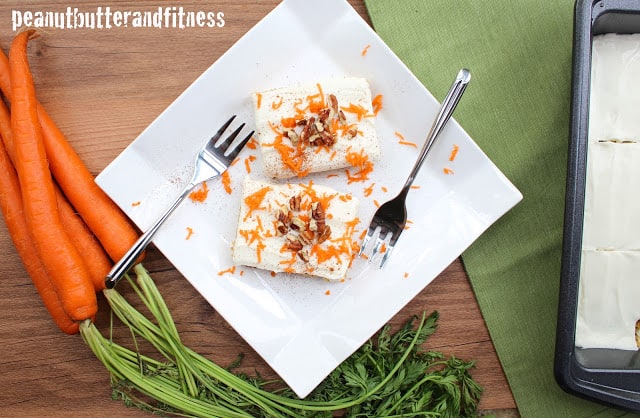 I used a 9×9 inch pan for my carrot cake bars and I thought they turned out great, but if you want a thicker bar, go for the 8×8 inch pan. You may need to add 1 or 2 minutes to the cooking time, just don't overdo it! I'd rather have a slightly gooey bar than an overcooked piece of cardboard. Although, honestly, with the applesauce, carrot and coconut milk in here, it would be hard to turn this mix into a piece of cardboard.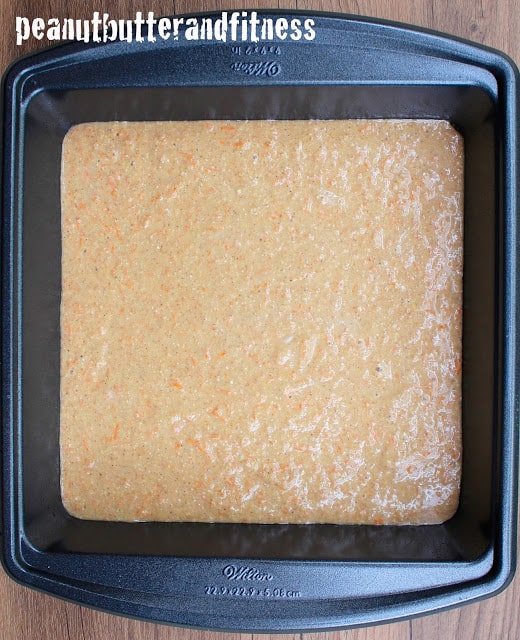 When making healthy baked goods with protein powder, it can be a struggle to keep the baked goods nice and moist without adding some kind of fat. Usually I turn to peanut butter, but of course then the dessert tastes like peanut butter (which is ALMOST always a good thing), but I didn't want that here. So I decided on coconut milk (the full fat kind!) and I couldn't be happier with the end product. I think I'll be using that a lot more in the future 🙂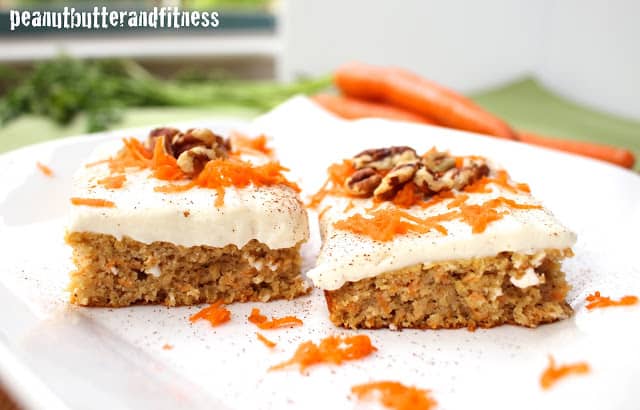 If you switch over to an 8×8 inch pan, you'll end up with some thicker cream cheese frosting on top of each slice which sounds kind of awesome.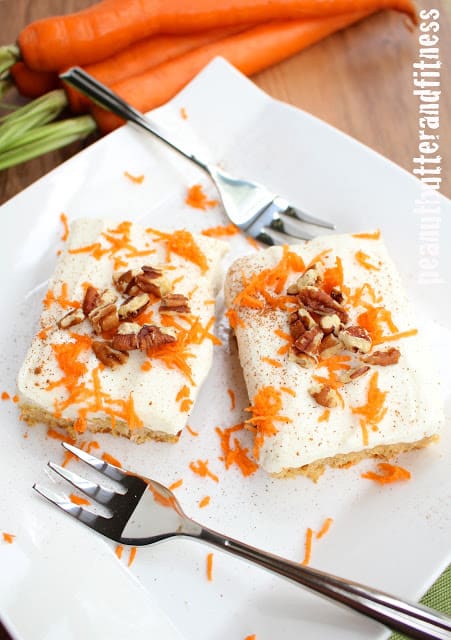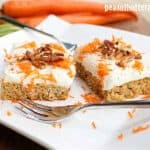 Carrot Cake Bars
Prep Time 15 minutes
Cook Time 13 minutes
Total Time 28 minutes
Servings 12 bars
Calories per serving 107 kcal
Ingredients
3/4 cup rolled oats , ground into oat flour
1/4 cup Splenda Brown Sugar Blend
1 tsp baking powder
1/4 tsp cinnamon
Pinch of nutmeg and sea salt
1/2 cup canned coconut milk (full fat)
1/2 cup grated carrot
1/4 cup unsweetened applesauce
1 egg
1 tsp vanilla extract
Frosting:
1/2 cup 1/3 less fat cream cheese , room temperature
1/2 cup Dannon Light and Fit Vanilla Greek yogurt
Optional toppings: chopped pecans, cinnamon & additional grated carrot
Instructions
Refrigerate canned coconut milk overnight to allow the thick coconut milk and coconut water to separate.

Pre-heat oven to 350 degrees.

Combine all dry ingredients for the bars in a large bowl. Add remaining ingredients except coconut milk. When adding the coconut milk, open the can from the bottom and discard the watery liquid, using only the thick cream. Mix batter just until combined.

Spray a 9"x9" baking pan with non-stick cooking spray, then pour batter into pan and spread evenly.  Bake at 350 degrees for 12-13 minutes or until a toothpick inserted into center comes out clean.

Whisk together vanilla protein and greek yogurt until smooth, then add cream cheese and mix again until smooth.  After bars have cooled, frost with cream cheese frosting, cut into 12 bars and sprinkle with cinnamon, chopped pecans and grated carrot before serving.
Nutrition Facts
Carrot Cake Bars
Amount Per Serving
Calories 107 Calories from Fat 45
% Daily Value*
Fat 5g8%
Cholesterol 28mg9%
Sodium 87mg4%
Carbohydrates 8g3%
Fiber 1g4%
Sugar 4g4%
Protein 7g14%
* Percent Daily Values are based on a 2000 calorie diet.