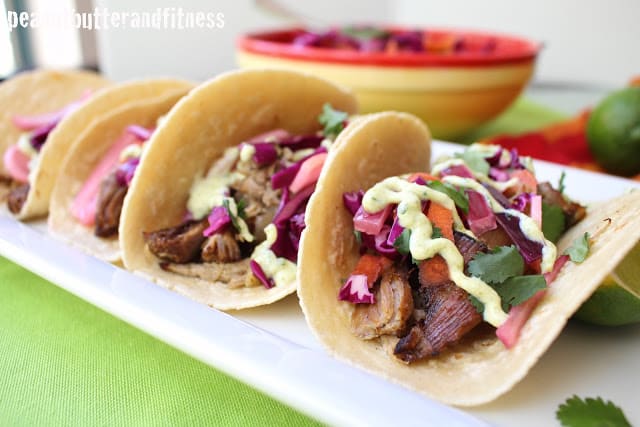 Who doesn't love tacos? I mean really.  I don't even need Taco Tuesday OR Cinco de Mayo as an excuse to make tacos.  I've had these bad boys on my list of "come up with a recipe and make this!" for a while now, I just finally had the opportunity and the convenient timing of a delightful Mexican holiday that we use as an excuse to eat and drink delicious things.
Don't be intimidated by all the components of these tacos – yes, they take some time but they're not difficult – and rest assured that the resulting product is totally worth it!  The carnitas are crispy, yet juicy at the same time, the cabbage slaw and picked red onions and radishes are tangy and bright and the poblano cream sauce is cool with just a touch of spicy.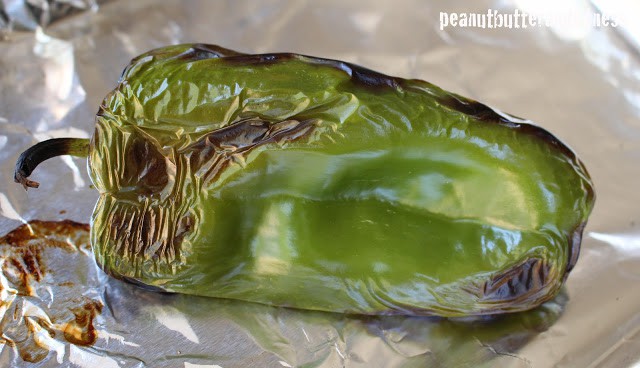 Now, if you follow my directions below, you won't end up with a poblano that's burned to a crisp on one side (you can't see it here) and still green on the bottom! The trick is to actually turn it over in the middle of broiling it.  But alas, I have the most sensitive smoke detector known to man (honestly, it goes off when I dry my hair) and I just couldn't handle hearing it blaring again yesterday.  No matter though – it still tasted perfect.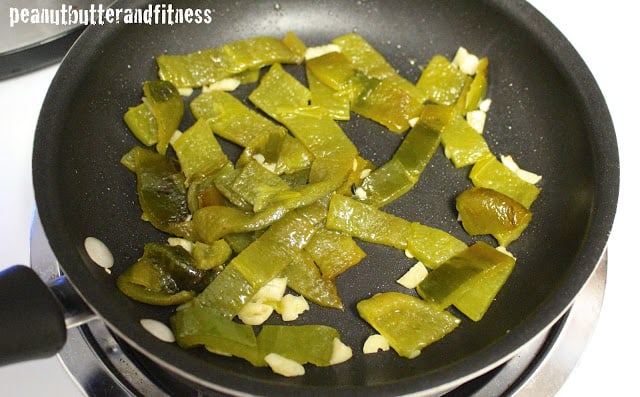 I tossed it in with the sautéing garlic to melt those flavors together a bit before getting them in the food processor to meet the Greek yogurt.  And if you don't have one yet, get yourself a little squeeze bottle to make fun designs with the cream sauce.  I got mine at Sur la Table where I also managed to buy some very expensive, very sharp toys.  Toys made by Germans.  Okay, okay. I bought a couple new knives and I'm really freakin' excited about it!!!  My old knives do not even compare.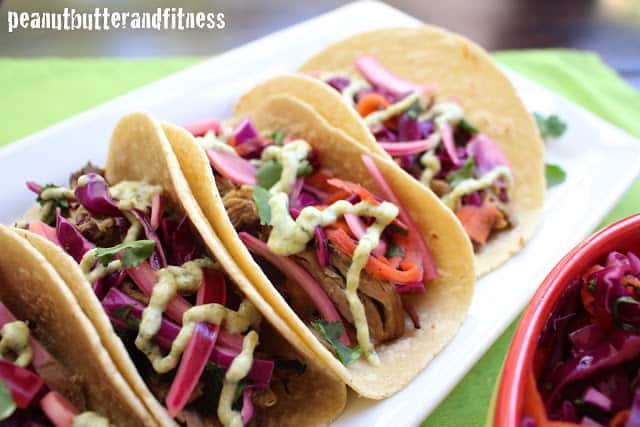 Carnitas Tacos with Red Cabbage Slaw and Poblano Cream Sauce
Yield: 6 servings • Calories per serving: 435 calories • Fat: 13 g • Protein: 32 g • Carbs: 47 g • Fiber: 5 g • Sugar: 12 g • Sodium: 784 mg • Cholesterol: 71 mg
Carnitas Ingredients:
3 1/2 pound bone in pork shoulder
1 orange
1 lime
1/2 cup sodium free chicken broth
1 white onion, chopped
4 garlic cloves, minced
1 tsp salt
1 tsp pepper
1/2 tsp cumin
1 tsp chili powder
1 tsp oregano
12 La Tortilla Factory White Corn Organic Tortillas (2 packages)
Red Cabbage Slaw Ingredients:
1/2 small head red cabbage, shredded
2 medium carrots, shredded
1/2 cup cilantro, chopped
1/4 cup seasoned rice vinegar
1/2 tbsp Truvia baking blend
1/2 tbsp honey
1/2 tsp salt
1/2 tsp pepper
Poblano Cream Sauce Ingredients:
1 poblano pepper
1 garlic clove, chopped
1 tbsp cilantro, chopped
1/2 cup plain, fat-free Greek yogurt
Juice of 1/2 small lime
1 tsp olive oil
Salt and pepper to taste
Pickled Red Onion and Radishes:
1/2 cup red onion, sliced
1/2 cup small radishes, sliced
1 cup water
1/2 cup apple cider vinegar
2 tbsp Truvia baking blend
2 tsp salt
Pickle red onion and radishes: Bring water to a boil, then stir in apple cider vinegar, Truvia and salt until dissolved.  Add red onions and radishes to a glass mason jar and pour water/vinegar mix over top until filled and red onions/radishes are completely covered.  Set aside in refrigerator for at least 1 hour (overnight for best flavor).
Carnitas: Rinse the pork shoulder under running water and pat dry with a paper towel.  Mix salt, pepper, cumin, chile powder and oregano, then pat spices onto all sides of pork shoulder.
Add onion, garlic and chicken broth to bottom of a slow cooker, then add pork shoulder on top with fat side up.  Squeeze orange and lime into slow cooker, then cook on low for 5-6 hours or until the meat has reached at least 145 degrees and can easily be removed from the bone and shredded.
Poblano cream sauce: While the pork is slow cooking, broil the poblano pepper until all sides are charred, about 5-10 minutes, turning once.  Pull the stem and seeds from the pepper, remove the skin and roughly slice.
Heat 1 tsp olive oil in a sauté pan over medium-high heat.  Add chopped garlic and sauté until fragrant, then add sliced poblano pepper and toss.  Place poblano and garlic into a food processor, process until roughly chopped and allow to rest until cooled slightly.  Add Greek yogurt, cilantro, lime juice and salt/pepper and process until mostly smooth.  Set aside in refrigerator.
Red cabbage slaw: Toss all ingredients and set aside in refrigerator.
Carnitas: Once pork shoulder is cooked, remove from slow cooker and cut as much fat away from the meat as possible.  Shred pork with two forks, then add shredded pork back into slow cooker juices and mix.  Again remove pork and spread onto a foil  lined, rimmed baking sheet.  Broil for about 5 minutes until the edges are browned and crispy, then mix and turn the shredded pork and continue to broil for another 5 minutes until visible edges are again browned and crispy.
Prepare tacos: Heat or broil tortillas until they have reached desired warmth/texture.  Add carnitas, red cabbage slaw, picked red onion/radishes and poblano cream sauce on top of tortillas and serve.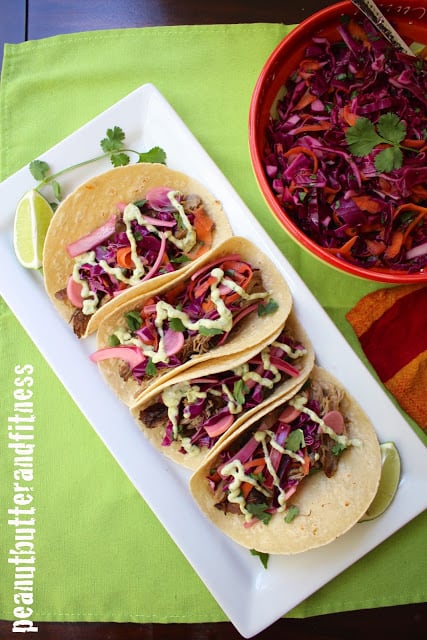 If you want to cut some fat and calories out of this recipe, go for a pork tenderloin instead of a pork shoulder.  Carnitas are traditionally made of pork butt or pork shoulder (both cuts actually come from the shoulder area) which have more fat and are less expensive – a good option if you're having a party and need to feed a lot of people.