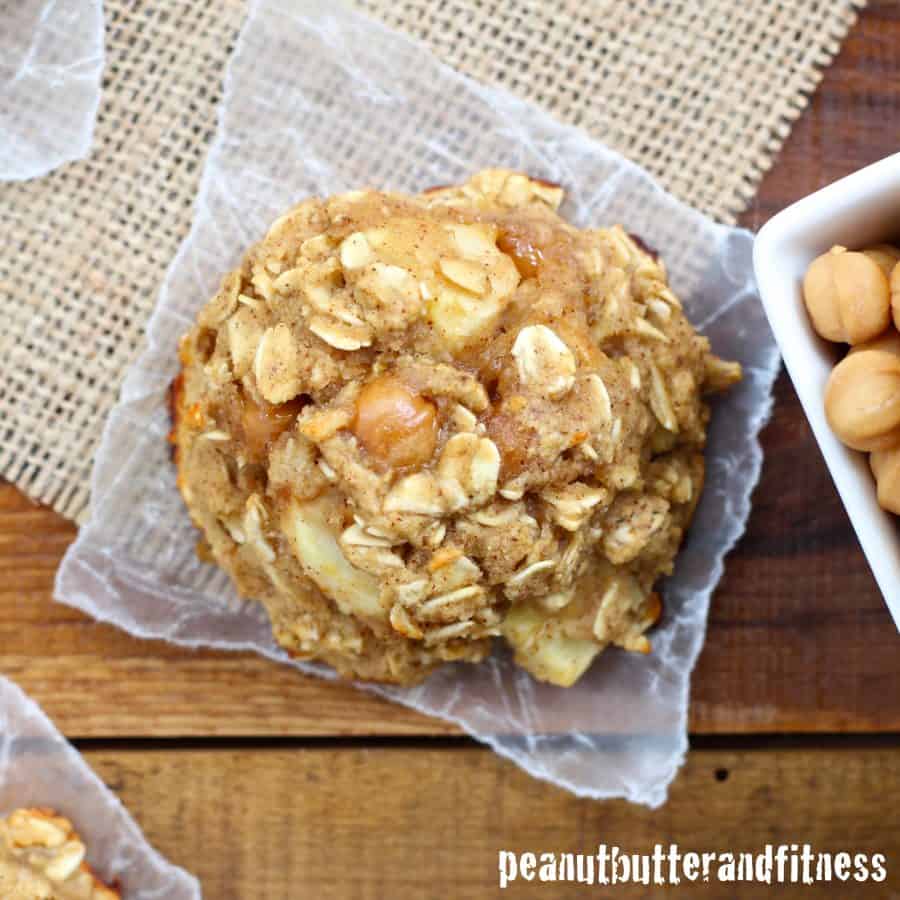 Why is it that fall recipes are so freakin' awesome?!  It's like everyone shifts into Pumpkin Spice Mode (PSM for short) and the delicious fall recipes can't stop, won't stop.  So now we've arrived at the next stop on my PSM recipe tour for the year…Caramel Apple Oatmeal Cookies.  Of course they have protein in them and I'd say they're about 85% healthy…it's hard to get around the fact that caramel is just not that good for you.  But it is so worth it.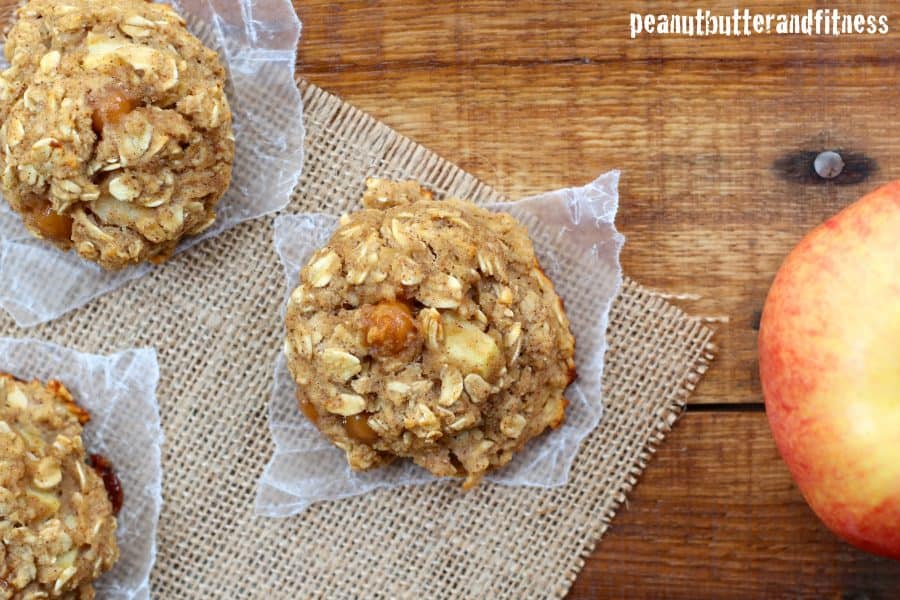 The first time I made this recipe I used Gala apples and they were delicious.  The second time, which happened to be yesterday when I was doing a photo shoot for my eBook (or rather, having a photo shoot done of me?), I used these awesome ones called SweeTango apples.  My crappy little city grocery store was all out of organic apples so I went for the prettiest, most delicious looking ones I could find on the non-organic shelves.  You should definitely try them if you get a chance.  They tasted like a cross between a Macintosh apple, a Gala apple and a Honeycrisp apple.  So good.  A quick Google search reveals that they are in fact a hybrid of a Honeycrisp apple and some other Minnesotan apple I've never heard of.  Give them a try if you can find them!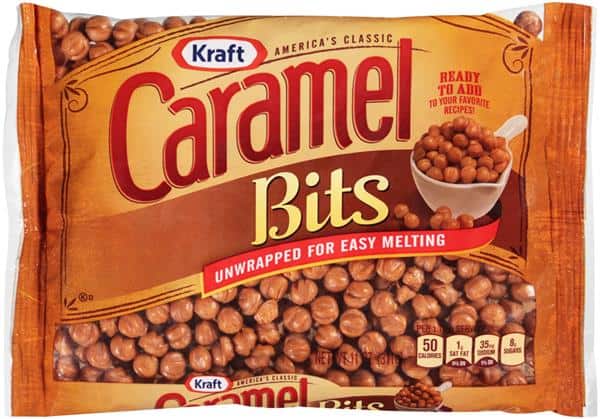 I used these fun little caramel bits in the cookies which is why they have that distinctive round shape.  Just pick them up in the baking section of your grocery store!  Amazon has them too but it's just as easy to get them first hand.  If you can't find these, just grab some of the caramel squares that come in wrappers and cut them up into 1/4″ chunks.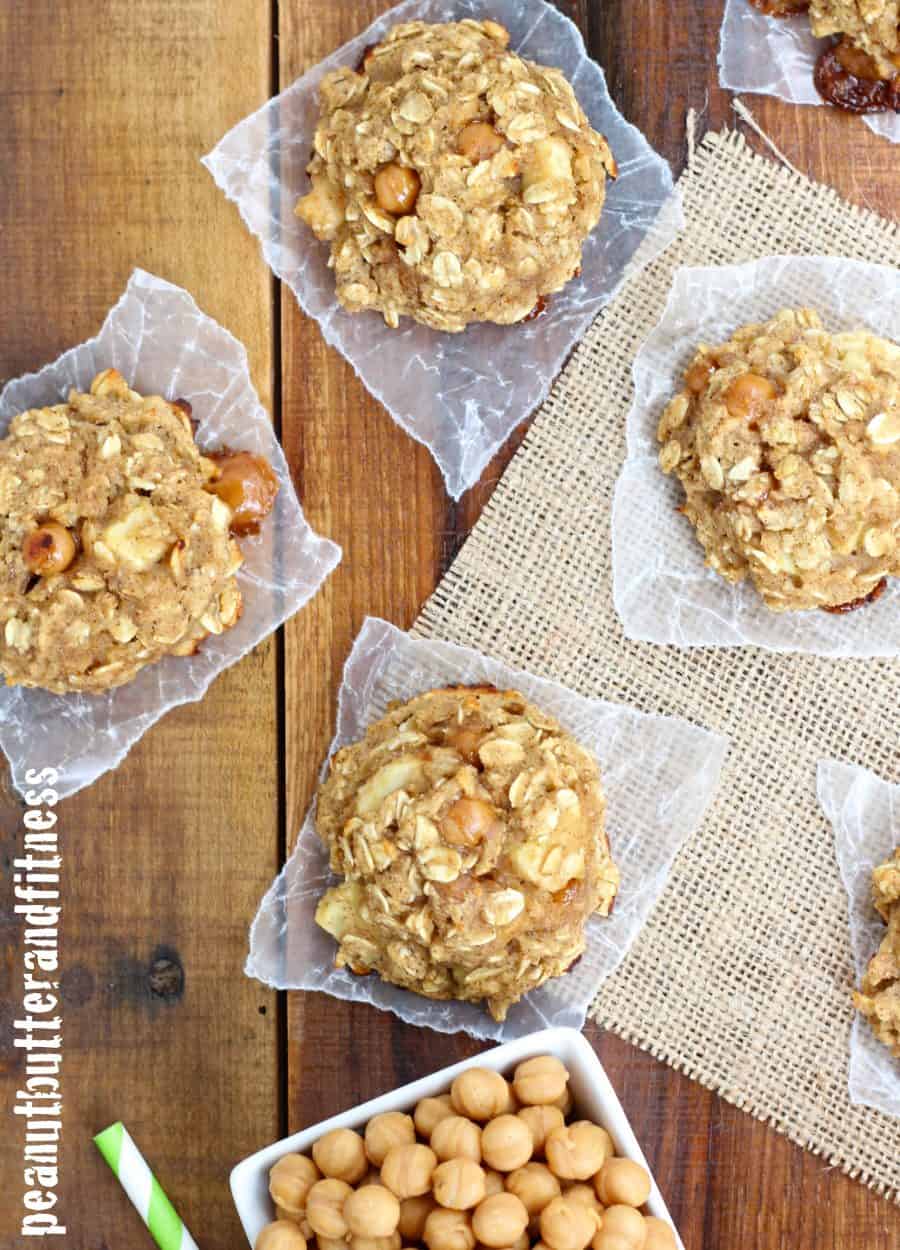 Caramel Apple Oatmeal Cookies
Yield: 14 servings • Serving size: 1 cookie • Calories per serving: 72 • Fat: 2 g • Protein: 3 g • Carbs: 13 g • Fiber: 2 g • Sugar: 4 g • Sodium: 48 mg • Cholesterol: 16 mg
Ingredients:
1 1/4 cup rolled oats
1/4 cup coconut flour
2 tbsp Monkfruit Sweetener or coconut sugar
1/2 tbsp tapioca flour
1 tsp ground cinnamon
1 tsp baking powder
1/8 tsp salt
1/2 cup unsweetened applesauce
1/2 cup apple, peeled, cored and chopped
1/4 cup caramel bits
1 egg
1 tsp vanilla extract
Directions:
Pre-heat oven to 350 degrees.  Line a baking sheet with parchment paper or SILPAT and set aside.
Mix all dry ingredients, then add wet ingredients and mix until just combined.
Using a medium cookie scoop, scoop cookie dough onto lined baking sheet.  If the scooped cookies have rough edges or chunks missing out of the top due to apple chunks in the way, use your fingers to mold the cookies back into a smooth, round scoop.  (The cookies will keep most of their shape while cooking.)
Bake for 10-12 minutes.  Cookies will feel slightly underdone, but do not cook longer since they will dry out and caramel may burn.  Allow cookies to cool on the hot baking sheet.