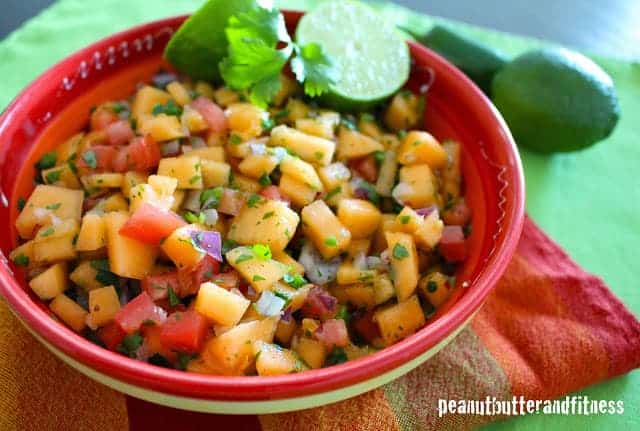 Cantaloupe salsa…who would have thought it could be so good? It's is a fun and unexpected twist on salsa – cool, refreshing and mellow.  And melon-y.  When I sat down to figure out a meal plan for the 3 day work weekend, I knew I wanted something extra clean but also something that would keep me excited instead of just blah.  Since melons are still stocked up in the grocery store unlike some of my usual go to fruits (ehem…peaches and blueberries), I figured now would be the perfect time to incorporate them into a recipe.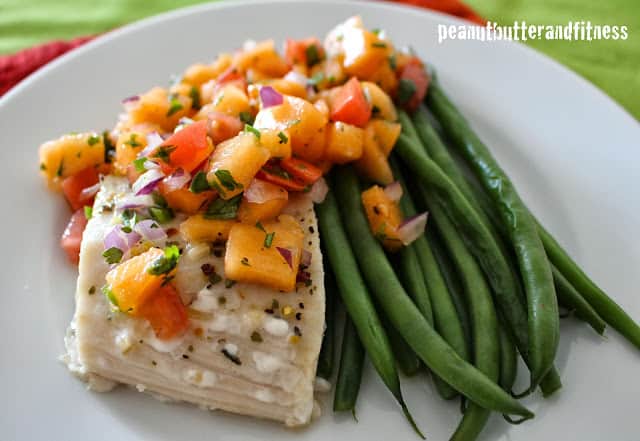 This pairs really well with fish – I put mine on some Mahi Mahi – but I also threw some on top of chicken for my meal prep.  It holds up through a quick zap in the microwave, not to worry 🙂  You could use it with chips too, but I think it might be a little too mellow for that.
The hardest part of this one is chopping up the cantaloupe…I had some issues.  I mean really, what's the best way to chop up a melon into little pieces? I do not have the answer.  Someone help me out!
Cantaloupe Salsa
Makes about 3 cups
2 cups diced cantaloupe

1/4 cup diced red onion

1/2 cup diced tomato

1 jalapeno pepper, finely chopped

2 tbsp chopped cilantro

Juice of 1 lime

1 tsp olive oil

Salt and pepper