Alright, so full disclosure on this recipe up front: I didn't think it turned out that great when I made it and it may have been a Skinnytaste unicorn.  Skinnytaste unicorn = I wasn't a huge fan right away.  I probably just made it wrong 🙁 Butttttt, I think with a couple of changes, I could succeed at making this dish awesome.
I got these "guilt-free noodles" from Quest Nutrition and have been really wanting to try them out.  They actually have almost the same texture of pasta but not much taste, so your toppings are what will give them flavor.  The fettuccine version only has 20 calories a serving and the spaghetti version only has 10!  They even have some fiber in them, and basically nothing else. I think individual bags are like $3 from the website and you can get them with Amazon prime too. Try them out, they're awesome 🙂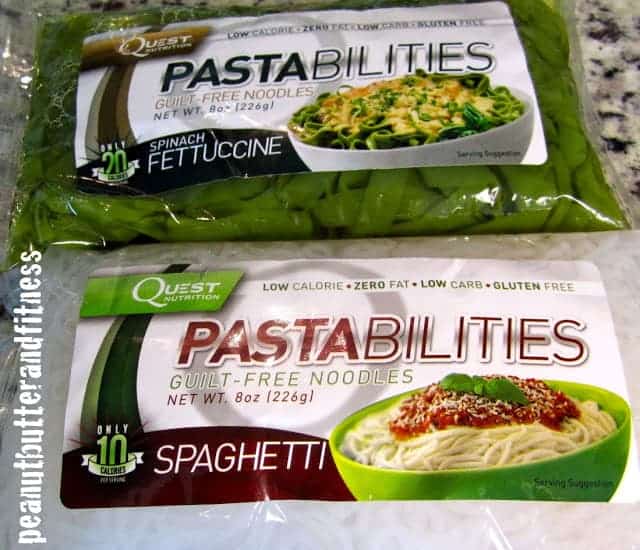 I added some julienned carrots and roasted corn to the dish for awesomeness, but I don't think that would have made the dish fail…
So I'm going to just put this recipe together like I will do it the next time I try it, not like I did it this time. I think a few changes would work well, but you can get the original from Skinnytaste here.  Btw, this makes a huge batch! I'd say 5-6 good size servings, I had to freeze some of it even with what I left out for meal prep.
Cajun Chicken "Pasta"
Ingredients:
1 package of Pastabilities spinach fettuccine
1 pound chicken breast strips
1 tbsp olive oil
1-2 tsp Cajun seasoning (I used Emeril's)
1 medium red bell pepper, thinly sliced
1 medium yellow bell pepper, thinly sliced
8 oz fresh mushrooms, sliced
2 carrots, julienned
1 1/2 cups corn (I used 2 medium corn cobs and roasted them)
1/2 red onion, sliced
3 cloves garlic, minced
2 medium Roma tomatoes, diced
1/2 cup fat free low sodium chicken broth
1/3 cup skim milk
1 tbsp flour
1/2 cup non-fat plain Greek yogurt
fresh cracked pepper
2 scallions, chopped
salt to taste
Smart Balance cooking spray
Directions:

Prep all your vegetables, separating the tomatoes, mushrooms and corn from the rest of the vegetables. In a small blender make a slurry by combining milk, flour and Greek yogurt. Set aside. Season chicken generously with Cajun seasoning, garlic powder and salt.


Drain the Pastabilities and rinse, then set aside in the refridgerator.


Heat a large heavy nonstick skillet over medium-high heat; spray with cooking spray and add half of the chicken. Sauté 5 to 6 minutes or until done, set aside on a plate and repeat with the remaining chicken. Set aside.


Add olive oil to the skillet and reduce to medium; add bell peppers, carrots, onions, and garlic to skillet, sauté 2-3 minutes.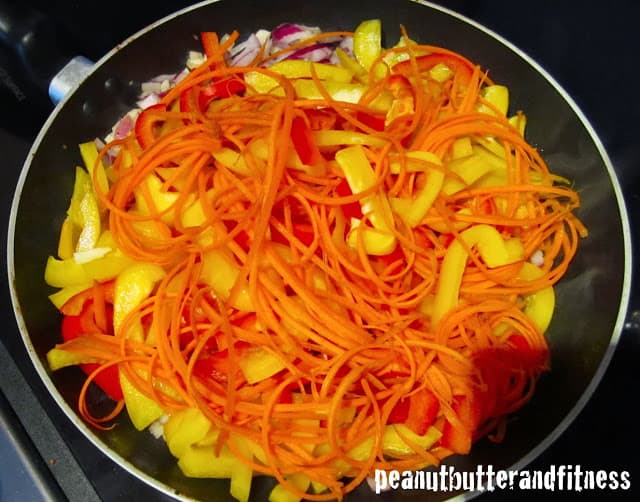 (I had to shift to a larger pot at this point – so many veggies!)


Add mushrooms, corn and tomatoes and sauté 2-3 more minutes or until vegetables are tender. Season with 1/4 tsp salt, garlic powder and fresh cracked pepper to taste.


Reduce heat to medium-low; add chicken broth and pour in slurry stirring about 2 minutes.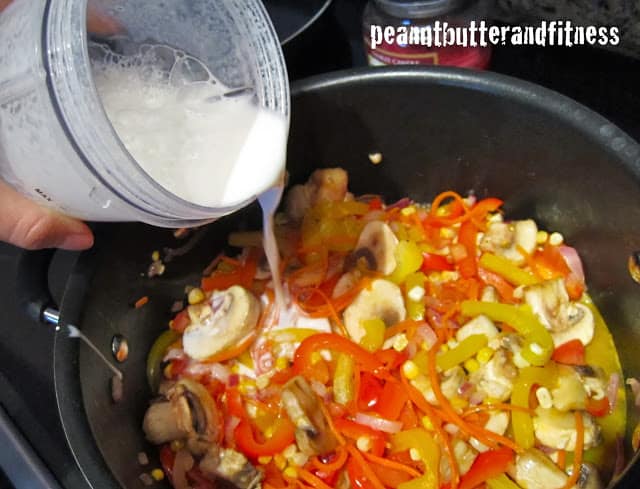 Return chicken to skillet; adjust salt and Cajun seasoning to taste, cook another minute or two until hot, then add linguine; toss well to coat. Top with chopped scallions and enjoy!