Here's the
thing about breakfast. I love it.
I love just about any breakfast food.
A lot. The problem? I can't
eat it at normal breakfast time or else I am miserable and sick all day. I strictly eat cereal and milk for
breakfast. Super lame, I know, but
I know what works for me, and breakfast at breakfast time just ain't it. Breakfast for dinner though? YESSSSS
PLEASE!
This month though, I'm on night shift, which means that they day after I come off of night shift I'm a complete zombie. Like non-functioning, can't wake up at normal time, runs into walls, thinks about killing people zombie. Switching back and forth between sleeping at night and during the day messes with my routine, so today I decided to hit the gym first thing, no food in me. Bad idea…the 3.5 miles on the treadmill didn't go too badly but then I tried to lift some heavy things and it did not go well. Once I dragged my butt back up to my apartment I cracked open a boiled egg white with a little salt for some protein and then made me some b-fast.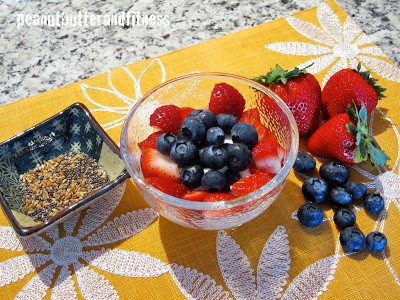 I love this combo as a mid-morning snack or my version of un-conventional breakfast. My one and only yogurt love is low-fat Activia. It's awesome, now no sugar added and only 60 calories in each cup. These cups are the perfect size…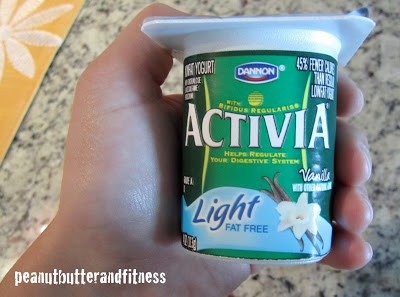 Throw in some strawberries and blueberries and add some delish grains and I'm good to go. I'm loving flax seeds and chia seeds lately, I go for 1/2 tablespoon of each. I usually find the chia seeds in the section with quinoa and rice and the flax seeds are usually in the breakfast aisle.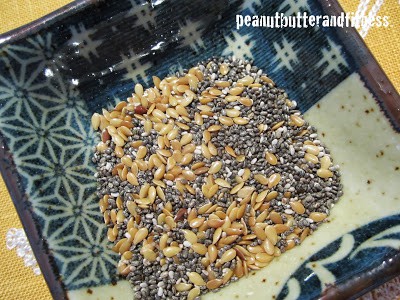 If you've never tried chia seeds before, I highly recommend it (they're the little black ones). Whenever you get them wet they soften up a little bit and if you soak them long enough they make a chia "gel." Some people make puddings with them as an alternative to tapioca but I like them when they still have some crunch.


And some granola for good measure. Yum!