Long weekends call for indulgent breakfast (or brunch), am I right?! This Bourbon Vanilla French Toast is exactly the kind of recipe for the occasion, with a little splash of bourbon to put the flavors over the top. Don't worry though, you'll only need 7 total ingredients, most of which are already in your pantry! If you want to up the indulgence even more, whip up some fresh homemade whipped cream and top it all off with maple syrup and berries.
The recipe and photos in this post are inspired by this one over at Broma Bakery. Sarah, the blogger/photographer/teacher behind Broma Bakery actually runs a whole line of food photography courses called Foodtography. I haven't attended one (yet), but I've been to one of her introductory webinars before. It's on my long list of things to do!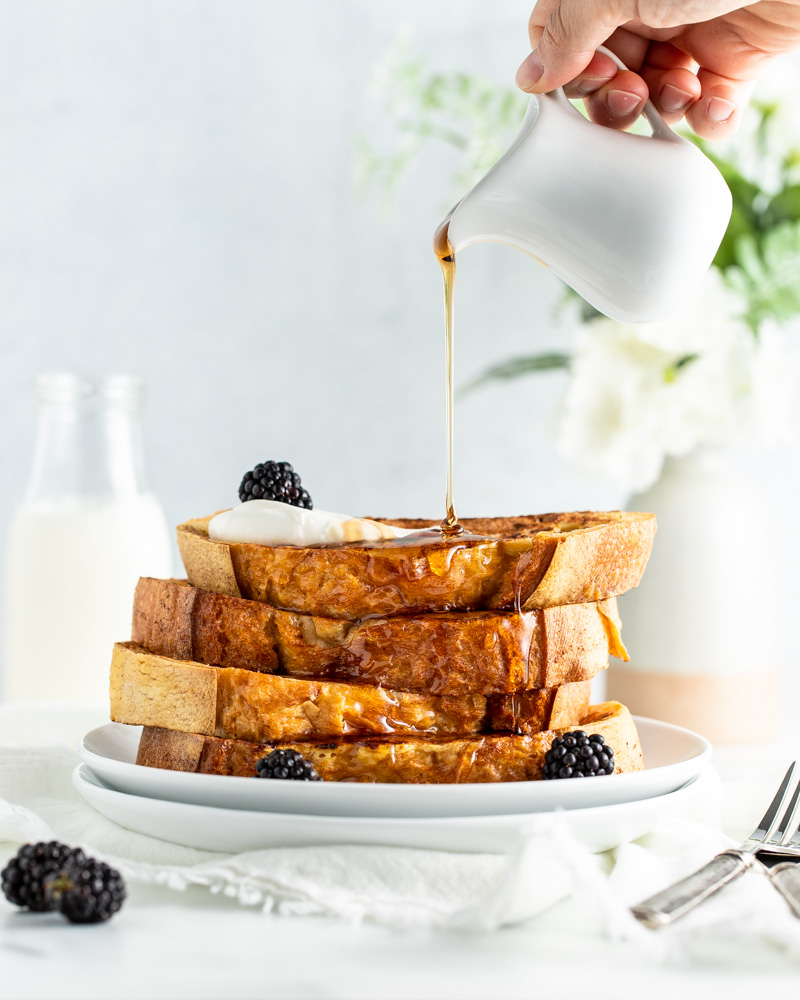 Ingredients and Substitutions
Bread – you can use just about any bread you like, but challah or brioche make the most tender, classic French toast. Just be sure it's at least a day old so that the custard doesn't make it overly soggy. I used sourdough here because I had some extra on hand after making another recipe. While sourdough is incredibly delicious, the crust can be a little too tough for perfect French toast.
Milk – Use whatever neutral tasting milk you prefer! I used almond milk, which doesn't have a strong flavor. Some non-dairy milks have a really strong flavor or are overly sweet – I'd stay away from those in this recipe.
Bourbon – Just about any decent bourbon or whiskey that you have on hand will do. The alcohol will get cooked out as things get toasty in the skillet, leaving behind a delicious, complex flavor without the bite of alcohol. The bourbon I used in this recipe has notes of butterscotch and cinnamon, which you can bet is perfect for French toast! You can always skip the bourbon if you prefer to go alcohol free.
Eggs – These are the key to cooking French toast – you need eggs in order to create a custard that soaks through the bread to achieve that classic texture. You can cut this down to 2 eggs if you don't have enough on hand!
Brown sugar – Just a touch of sugar to help bring out some sweetness in this French toast! Any type of sugar will work here, even maple syrup.
Cinnamon – you can also use pumpkin pie spice instead of cinnamon to help achieve that amazing holiday flavor combo!
Vanilla extract – Like salt in a savory dish, vanilla tends to enhance the flavors of a sweet recipe.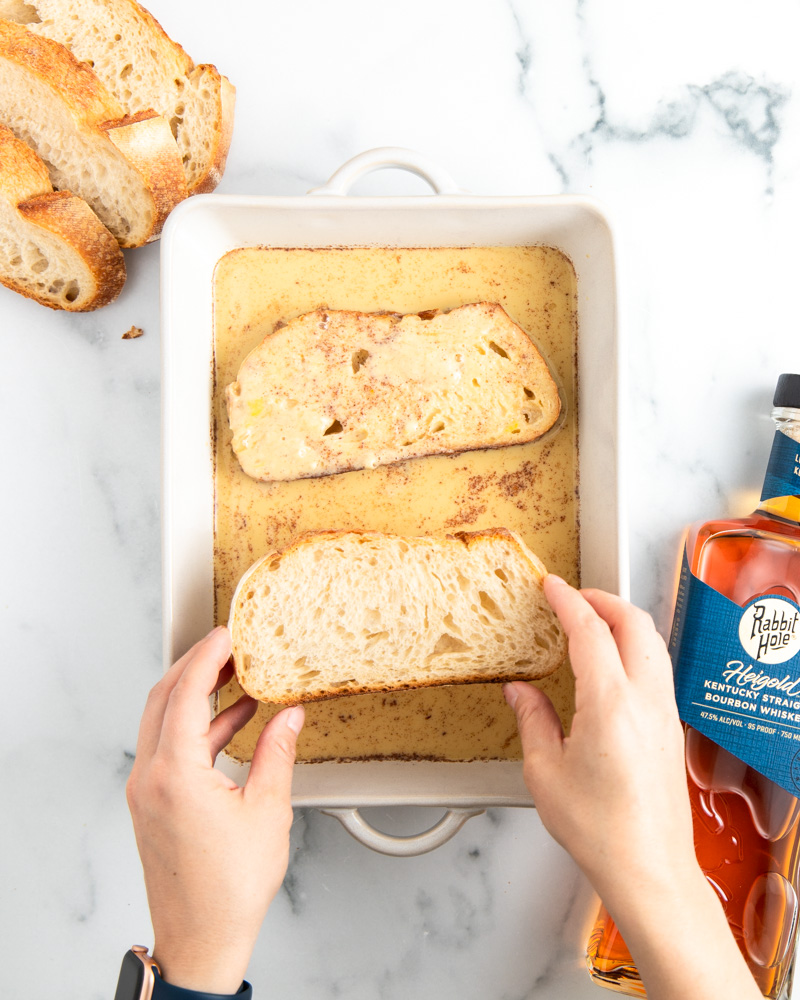 Shop for this Recipe
Here are some items I used to help make this recipe a success. Note: these are Amazon Affiliate links.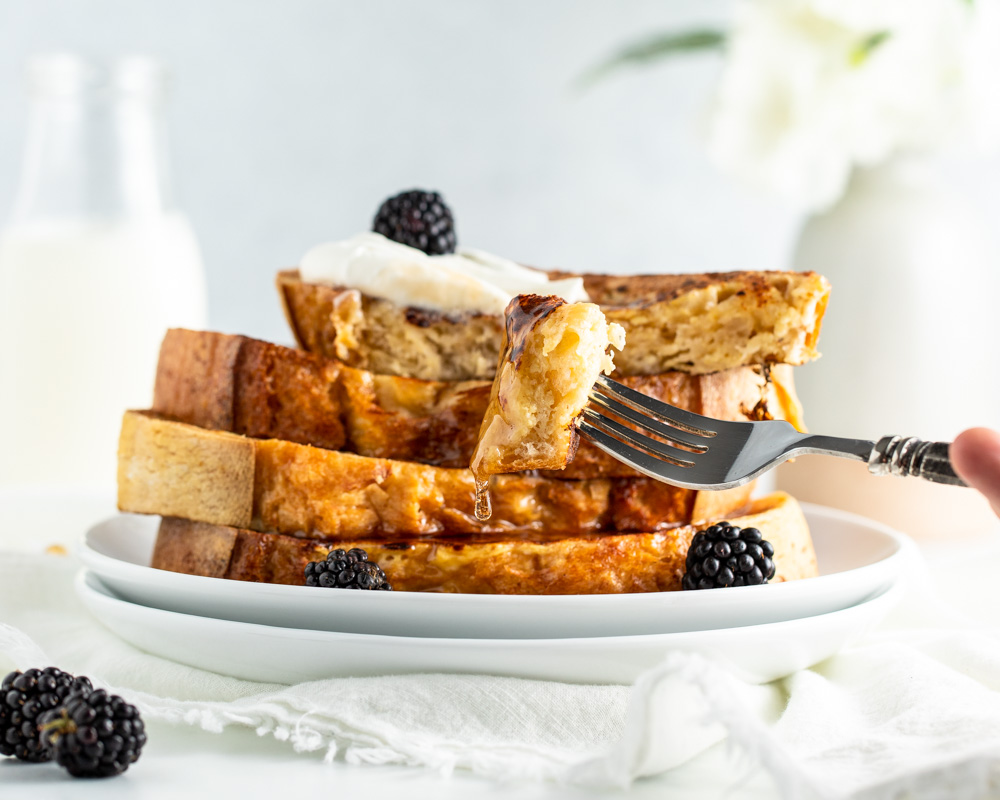 Recipe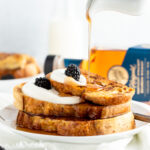 Bourbon Vanilla French Toast
Prep Time 10 minutes
Cook Time 10 minutes
Servings 3 servings
Calories per serving 257 kcal
Ingredients
6 3/4" slices day old Wegman's challah bread (171 grams)
1 cup unsweetened vanilla almond milk (8 fl oz)
3 large eggs
3 tbsp bourbon (1.5 fl oz)
1 tbsp vanilla extract
1 tbsp brown sugar (14 grams)
1/2 tsp cinnamon
Instructions
Heat large skillet or griddle over medium heat for 5 minutes.

Meanwhile, in a casserole dish or other shallow, wide dish, beat eggs with milk, bourbon, vanilla extract, brown sugar, and cinnamon.

Soak bread without oversaturating, about 30-40 seconds per side. Pick up bread and allow excess batter to drip off; repeat with remaining slices.

Optional: Melt 1 tablespoon butter in hot skillet or griddle.

Add prepared bread to skillet without overcrowding. Cook until golden brown, about 1 minute 45 seconds on first side and 1 minute on the second. Serve immediately.
Recipe Notes
Click here or scan the barcode below to log this food in My Fitness Pal.
A note on nutrition info and bourbon: the macros listed above are estimated based on the assumption that all alcohol that soaks into the bread cooks off completely. However, I cannot guarantee that all alcohol will cook off, so if you're tracking macros closely, you may want to assume that 1-2 tsp of alcohol remains per serving in the final cooked French toast, adding about 20-30 calories and 5-6 grams of carbs (or 2-3 grams of fat) per serving. Read more here about tracking alcohol macros.
Nutrition Facts
Bourbon Vanilla French Toast
Amount Per Serving (2 slices)
Calories 257 Calories from Fat 72
% Daily Value*
Fat 8g12%
Cholesterol 215mg72%
Sodium 384mg17%
Potassium 151mg4%
Carbohydrates 33g11%
Fiber 2g8%
Sugar 9g10%
Protein 12g24%
* Percent Daily Values are based on a 2000 calorie diet.