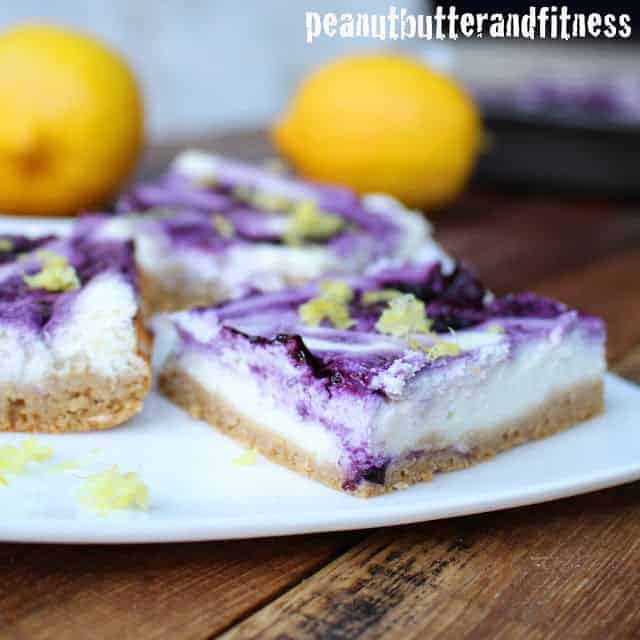 Raise your hand if you want some of this blueberry and lemon summer deliciousness?  I'll just go ahead and assume your hand is raised because these are so pretty and honestly, who doesn't like blueberries?  Probably a lot of people, but please don't break the bad news to me because they're my favorite.  It may have something to do with my memories of picking buckets full of them from my grandparent's blueberry patch and all the subsequent blueberry deserts we had 🙂   Blueberries just have a way of reminding me of summer and it's that time of year!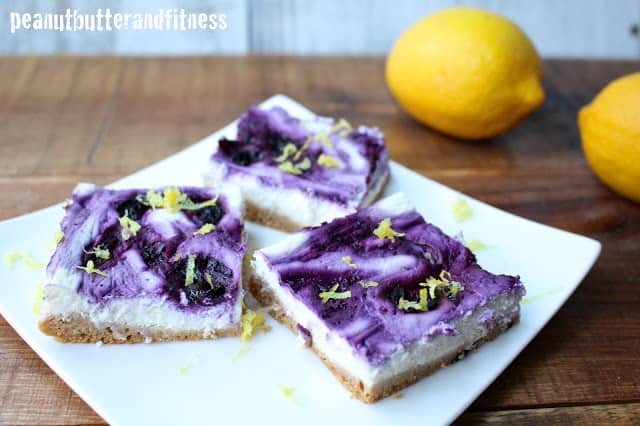 This is a fun little combo cheesecake bar that you can grab and go, which makes it easy to take to picnics or parties. Just keep it on a freezer brick/ice block/in the cooler until you're ready to serve them, lest they melt and get gooey in the summer heat.
Let me show you the progression of building these pretty little thangs…it's so easy and no one would ever guess!  So first…the blondies.  I used peanut butter in them as a fat source/binder but you really don't taste peanut butter when you bite into them.  It's hidden well.  But if you are allergic to peanuts, sub it with some creamy almond butter (I like Barney's brand regular and Barney's brand bare because it's legitimately smooth, unlike most almond butters) and of course sub out the PB2 with almond flour.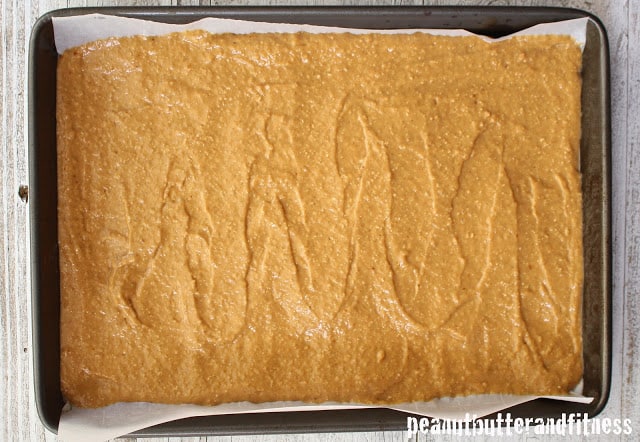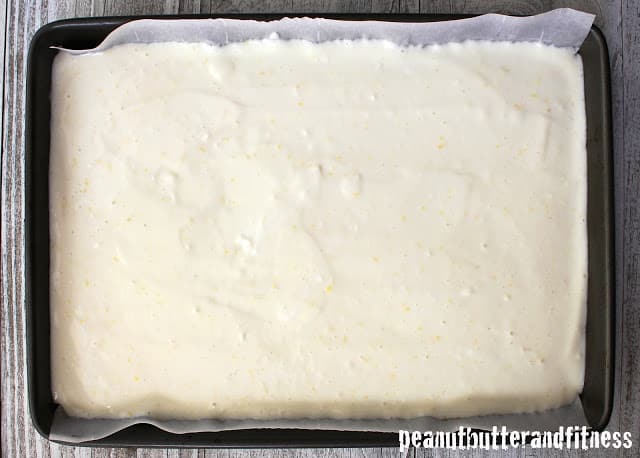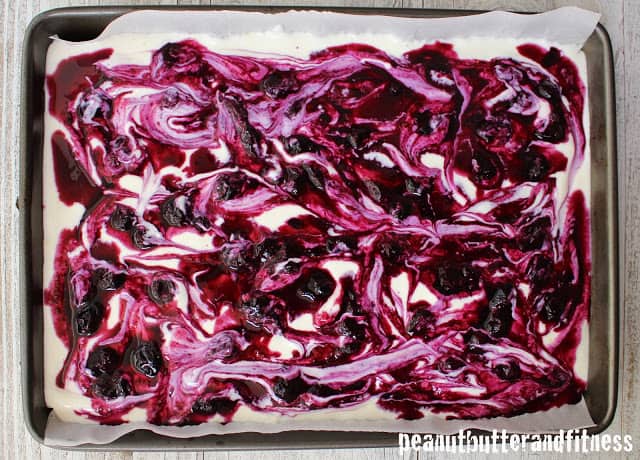 The swirl is essential for the look of these bars, but don't worry about making it perfect.  As long as you spread the blueberry chunks out evenly and can see purple and white throughout the top of the cheesecake, you'll be just fine! I just used a regular butter knife to do this.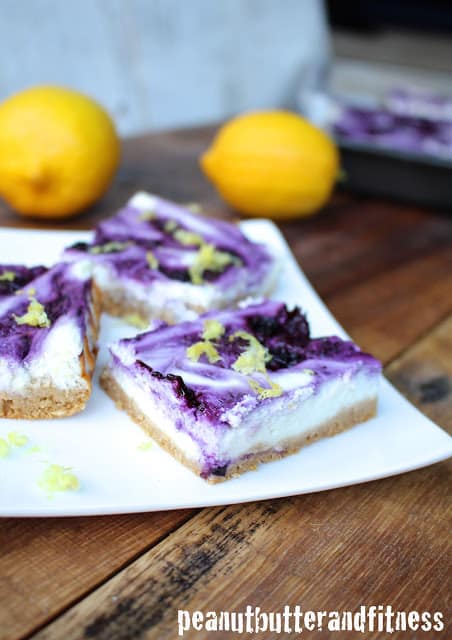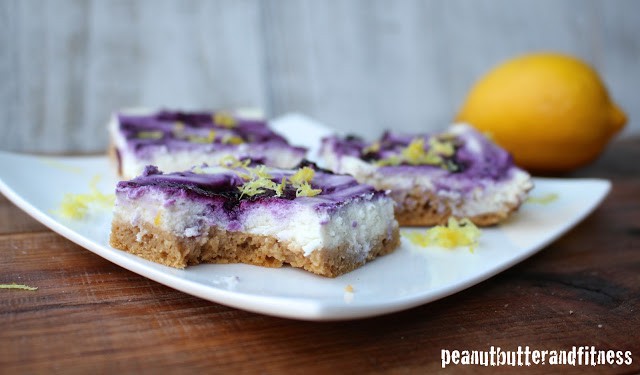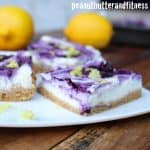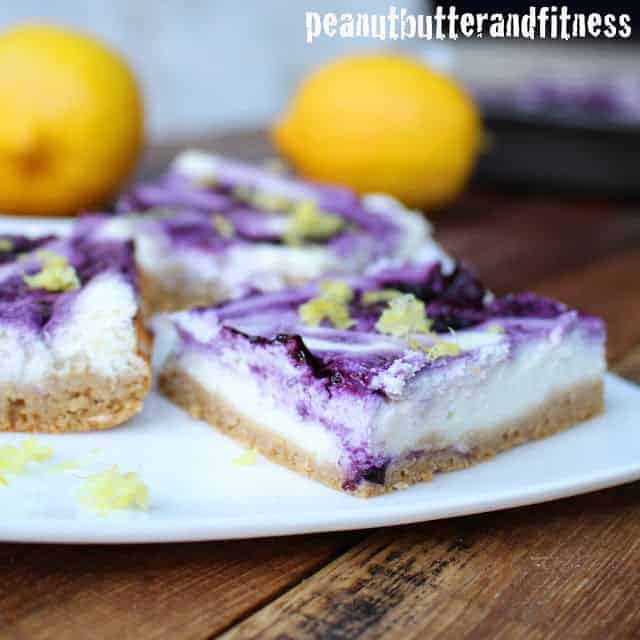 Blueberry Lemon Protein Cheesecake Blondies
Prep Time 20 minutes
Cook Time 25 minutes
Total Time 45 minutes
Servings 20 slices (1 slice per serving)
Calories per serving 77 kcal
Ingredients
Blondie Ingredients:
1/2 cup rolled oats milled into oat flour
1/3 cup coconut sugar
2 tbsp PB2 powdered peanut butter
1 tsp baking powder
1/4 tsp cinnamon
1/3 cup unsweetened applesauce
1/4 cup Skippy Natural creamy peanut butter melted
1/4 cup Dannon Light and Fit Vanilla Greek Yogurt
1 egg
1 1/2 tsp vanilla extract
Cheesecake Ingredients:
1/2 cup plain non-fat Greek yogurt
1/2  cup Dannon Light and Fit Vanilla Greek Yogurt
1/2 cup fat free cottage cheese
2 egg whites
1 tbsp lemon zest
1/2 tsp lemon extract
45 mg pure Stevia or 1 Truvia packet
3/4 cup blueberries
1 tbsp lemon juice
Instructions
Pre-heat oven to 325 degrees.  Line a rimmed 9"x13" baking sheet with parchment paper, set aside.

In a small saucepan, bring blueberries and lemon juice to a boil over medium-high heat, then lower heat to continue simmering blueberries for 5 more minutes.  Set aside in refrigerator.

Mix dry blondie ingredients, then stir in wet ingredients except egg.  Once combined, add egg and mix until smooth.  Pour into lined baking sheet and spread evenly.  Set aside.

In a food processor or NutriBullet, add cottage cheese, lemon extract, egg whites and Stevia.  Blend until smooth, then add Greek yogurt, lemon zest and protein powder.  Continue to blend until smooth, then tap container against counter top to release air bubbles.

Pour cheesecake mixture over blondie batter and spread evenly.  Add blueberry mixture on top of cheesecake by the spoonful, then swirl with a knife.

Bake at 325 degrees for 25 minutes, or until edges are just golden brown and center of cheesecake is mostly set.  Allow to cool to room temperature, then refrigerate at least 4 hours before cutting.
Nutrition Facts
Blueberry Lemon Protein Cheesecake Blondies
Amount Per Serving
Calories 77 Calories from Fat 18
% Daily Value*
Fat 2g3%
Cholesterol 18mg6%
Sodium 56mg2%
Carbohydrates 8g3%
Fiber 1g4%
Sugar 5g6%
Protein 6g12%
* Percent Daily Values are based on a 2000 calorie diet.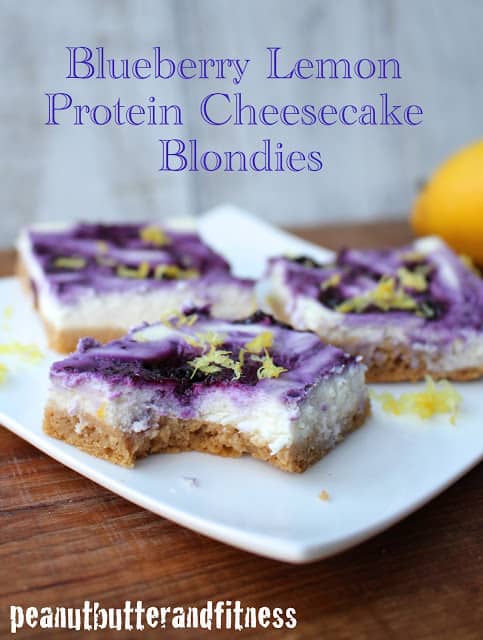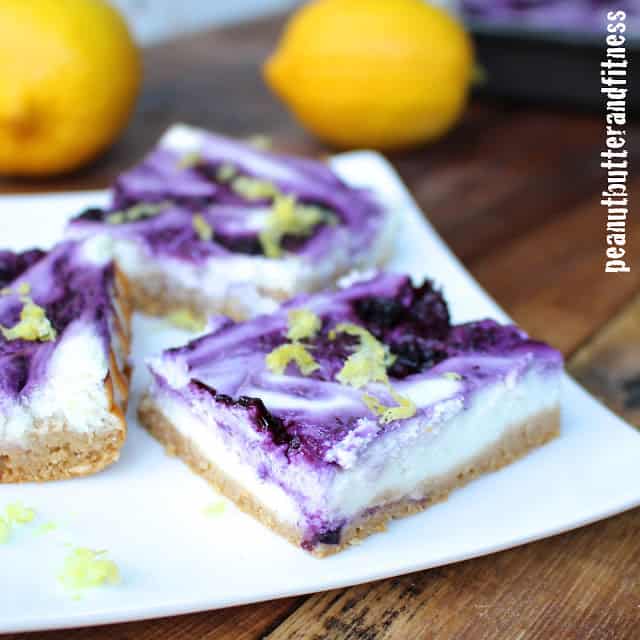 I love it when my food looks purple, don't you??