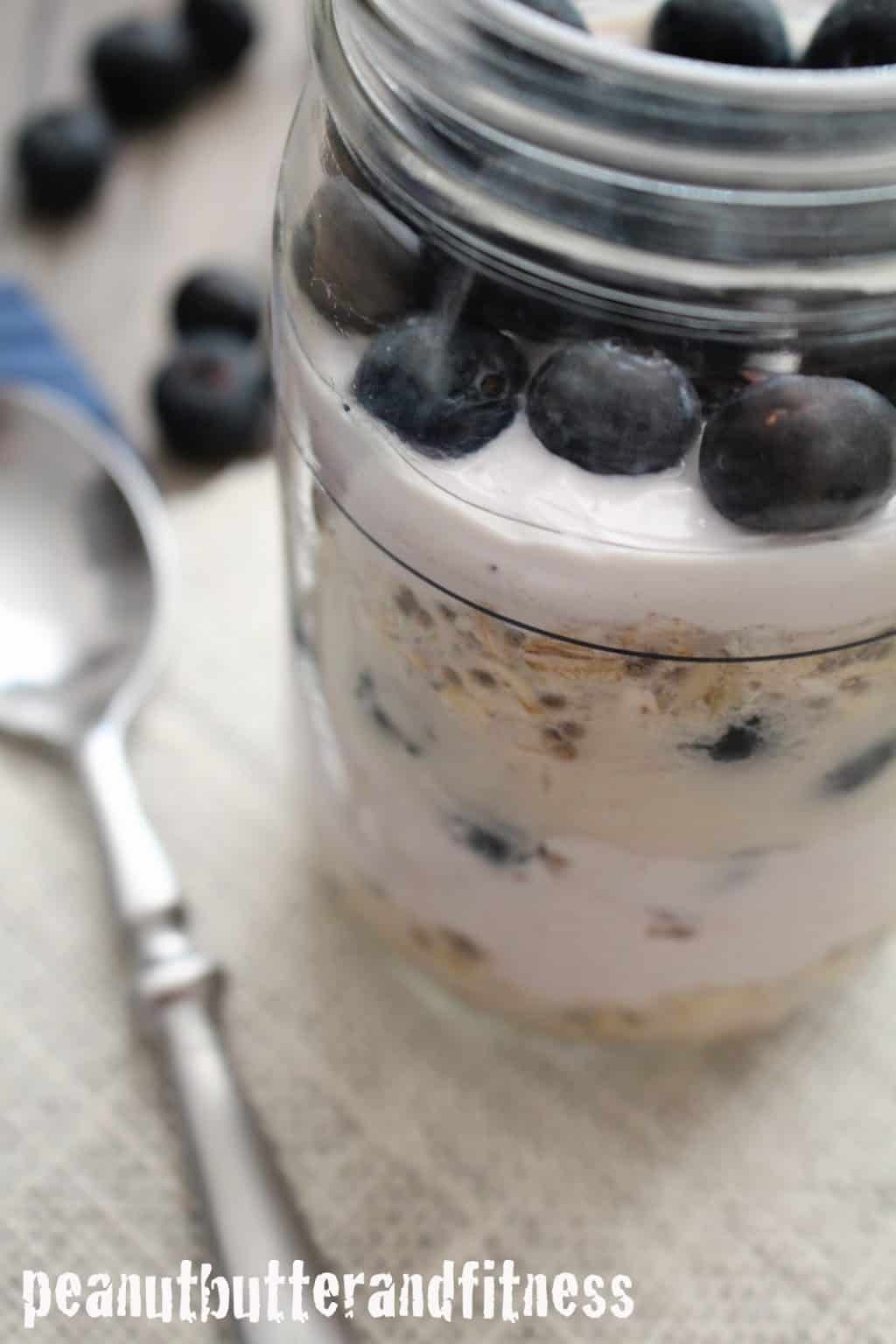 Here's a new overnight oats recipe I tried out a couple weeks ago…it's taken me a really long time to post the recipe like I promised in one of my meal prep posts.  Sorry! I've been really busy.  You know, just looking for a new apartment in San Francisco, getting ready to move, getting ready for a west coast trip and watching obscene amounts of Sara Bareilles videos.  It really can't be helped.  Here's my new favorite video 🙂 Don't get bored in the first 10-15 seconds of the song, trust me it will be worth it! But maybe don't listen to it with the kiddos around.  She curses like a sailor and I love it.  I can't wait to see her in concert!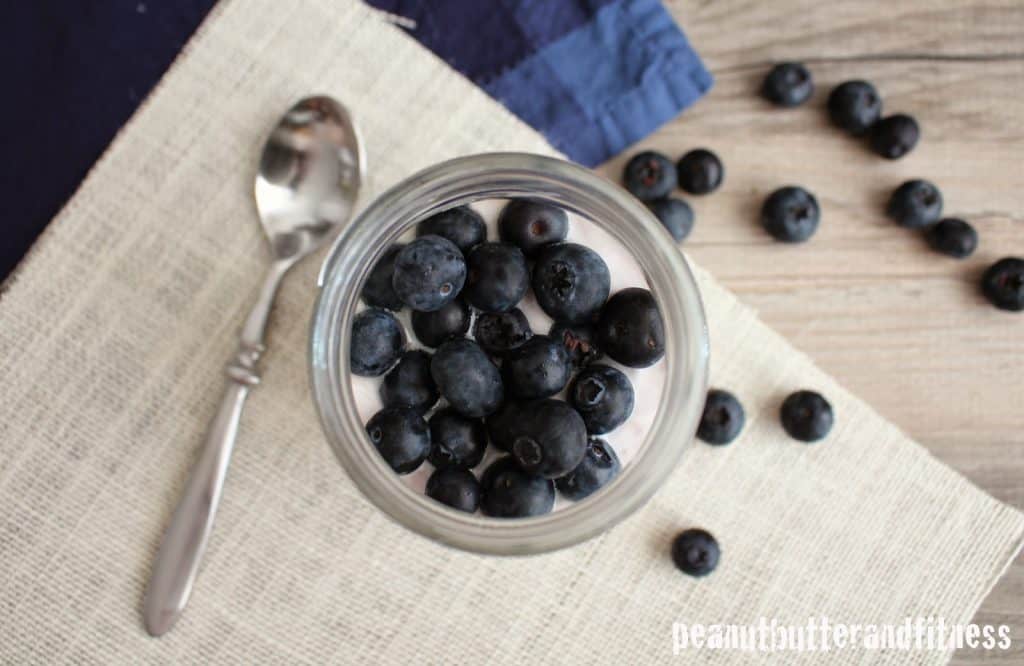 Now, as for the oats – these are also awesome.  Cheesecake is a great way to start the day, but maybe not so great for the bod. So I cleaned it up and stuck it in a jar.  You could change up the fruit to whatever berry you like best, raspberries would probably be awesome in this too.  I used blueberry Greek yogurt to boost the flavor, so swap the blueberry for whatever fruit you're using.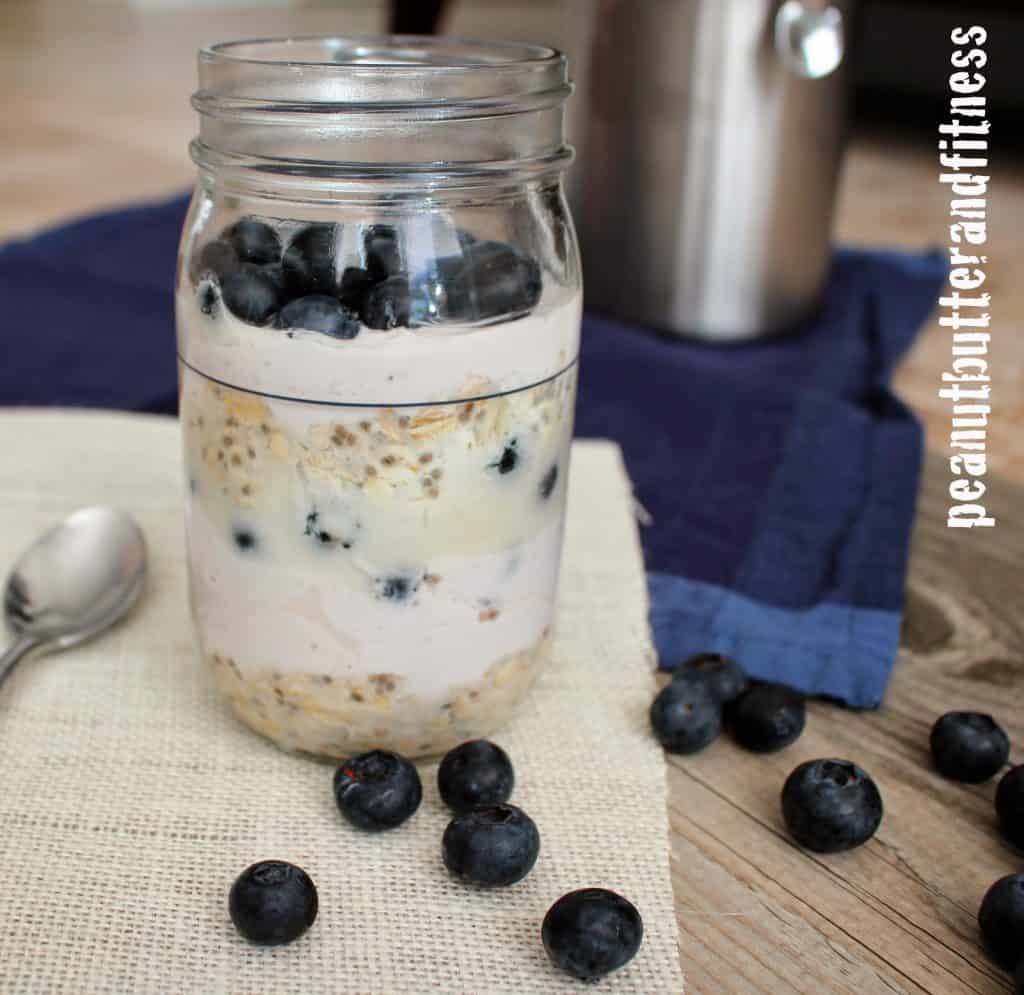 Blueberry Cheesecake Overnight Oats
Prep Time 10 minutes
Total Time 10 minutes
Servings 1 serving
Calories per serving 320 kcal
Ingredients
1/3 cup rolled oats
1/2 cup unsweetened vanilla almond milk
1/2 tbsp chia seeds
1/2 cup blueberries
2 tbsp Philadelphia Fat Free Cream Cheese
1/4 cup blueberry Stonyfield Organic Non-Fat Greek yogurt
Instructions
Whisk together almond milk and protein powder until smooth.  Mix in chia seeds and rolled oats.  Set aside.

In a small bowl, combine cream cheese and yogurt.  Set aside.

In a resealable container or jar, layer oat mixture, cream cheese mixture and blueberries.  Refrigerate overnight.
Nutrition Facts
Blueberry Cheesecake Overnight Oats
Amount Per Serving
Calories 320 Calories from Fat 54
% Daily Value*
Fat 6g9%
Cholesterol 5mg2%
Sodium 335mg15%
Carbohydrates 44g15%
Fiber 8g33%
Sugar 15g17%
Protein 23g46%
* Percent Daily Values are based on a 2000 calorie diet.