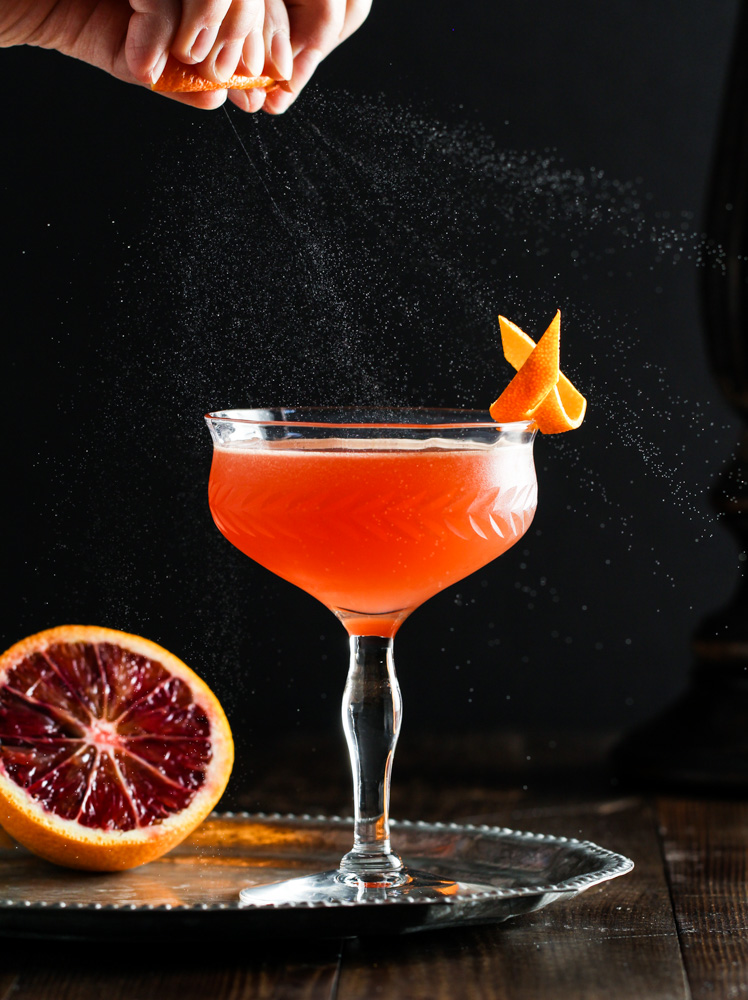 It's almost New Year's Eve! What's your go-to cocktail for the occasion? In the last couple of years I've gotten really hyped about Sidecars, and this Blood Orange Sidecar is an easy twist on the classic. Instead of lemon juice, I used blood orange juice, giving the drink that bright orange-pink color. If you can't find blood oranges near you, just use lemon juice…add a little food color if you want to brighten it up a bit 😉 I recommend Meyer lemons if you can find them.
Now, I should probably mention that I tend to make a slightly sweeter, less boozy version of a Sidecar than a lot of the classic recipes you'll see from bartenders. That's partly because I don't want to get wasted with one drink, but also because I'm not into super booze forward drinks. My idea of balance might be different than yours – I'd recommend playing with the ratios of simple syrup to juice to alcohol to find exactly what you like. I'm betting you can land on some version of a Sidecar that you love, even if it's not my ideal recipe.
I've done the same with my ideal Daiquiri recipe that I'll have to share sometime (I'm talking about a shaken daiquiri, not a frozen one;)). Both the Sidecar and Daiquiri are simple, booze forward drinks, but I've been able to find the balance that I love with both when making them at home!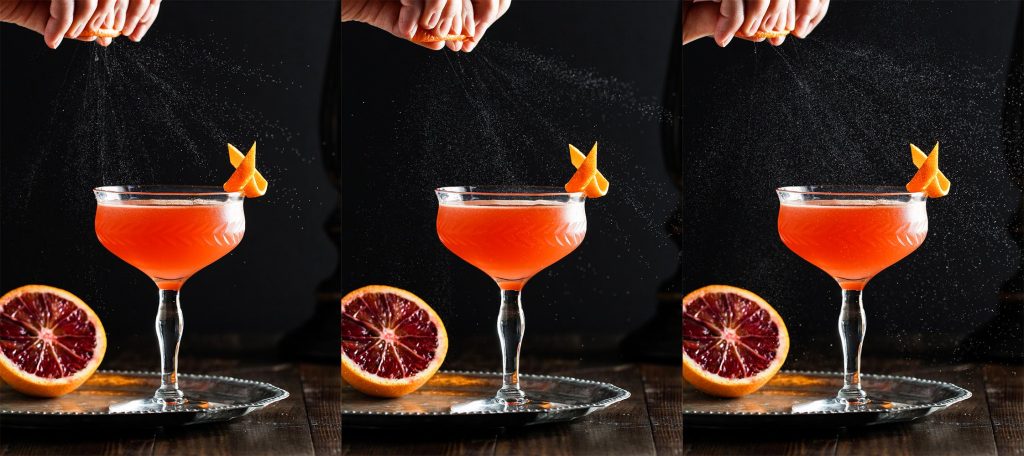 This cocktail was my first time attempting a zest shot, inspired by @highproofpreacher's #HitMeWithYourZestShot challenge on Instagram. Isn't it wild how much citrus oil can be squeezed out of just a little piece of orange peel?! It may look like it's all for show, but "expressing" a citrus peel over a cocktail can add a ton of aroma and flavor. It can even help bring balance to the drink since the citrus oil adds flavor without adding sweetness. Even if you've never seen a bartender do it, grab a knife or sharp peeler and give it a try! Just be sure that when you're squeezing the peel, you sort of fold the peel onto the bitter/white side and point the outside of the peel at your drink. Otherwise you'll end up with citrus oil all over yourself instead of your drink. You can see what I mean in the 1st photo in this post.
Cheers!
Here are some items I used to make this recipe a success. Note: these are Amazon Affiliate Links.
Recipe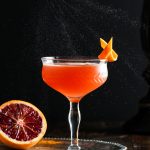 Blood Orange Sidecar
Prep Time 5 minutes
Total Time 5 minutes
Servings 1 serving
Calories per serving 189 kcal
Ingredients
1 oz cognac
1 oz Cointreau
0.75 oz blood orange juice (use lemon juice for classic flavor)
0.5 oz simple syrup
Instructions
Add all ingredients to a shaker and add plenty of ice. Shake vigorously for 5-10 seconds.

Strain into a coupe and garnish with orange peel before serving.
Nutrition Facts
Blood Orange Sidecar
Amount Per Serving
Calories 189
% Daily Value*
Carbohydrates 22g7%
Sugar 14g16%
* Percent Daily Values are based on a 2000 calorie diet.
For my macro trackers out there, I wasn't able to create a My Fitness Pal barcode for this recipe since I would have had to decide for you whether to put the alcohol calories in as carbs or fats – that's up to you! The 22 carbs listed here are from the juice, simple syrup, and a little sugar in the Cointreau. For my non-macro trackers, here's more info on what I'm talking about.