Oh, what's up breakfast for dinner? Maybe I "accidentally" forgot to thaw enough mahi fillets when I was meal prepping to be able to eat real dinner food for dinner last night.  Never to fear! Pancakes are here 🙂 I really don't feel bad since I missed out on pancake Sunday this week.  Sorry I didn't even bother taking pictures of my meal prep this week…it wasn't incredibly exciting.  Or impressive.  Plus I had to hurry up and make pancakes before bedtime snuck up on me! 
Ok, so pancakes – is there anybody out there who's favorite cake is black forest?  Chocolate and cherries? Chocolate covered cherries? Bueller?
It's actually not my favorite, I'm just curious.  Black forest is a cake that kind of falls by the wayside for me…I'd rather have some peanut buttery concoction.  Or red velvet.  Or carrot cake. But when I'm making breakfast (or breakfast for dinner), I want (read: need) some fruit in my life!  Cherries aren't my typical breakfast fruit, so of course I decided I should try it out.  The results are delicious!  And this kind of looks like a sundae with a cherry on top right? Welp, that's sort of what it tasted like.  If you had any notions of skipping out on the yogurt/protein mixture on top – DON'T DO IT.  Trust me.  The creamy sweetness brings together the rich chocolatey taste of the fluffy pancakes and the tart sweetness of the cherries.
The pictures are not quite as delicious looking as real life with this stack. I neglected to put all of the cherry "syrup" on top for the photo op since I thought it would overpower the glamour of the pancakes.  Did I mention I was in a hurry to eat?

Seriously though – the cherry syrup/sauce concoction was delicious and I'm sorry I didn't show you more of it.  Here's a consolation prize:
Like how bad my iPhone pics are compared to my real ass camera?  You're welcome for that little demonstration 🙂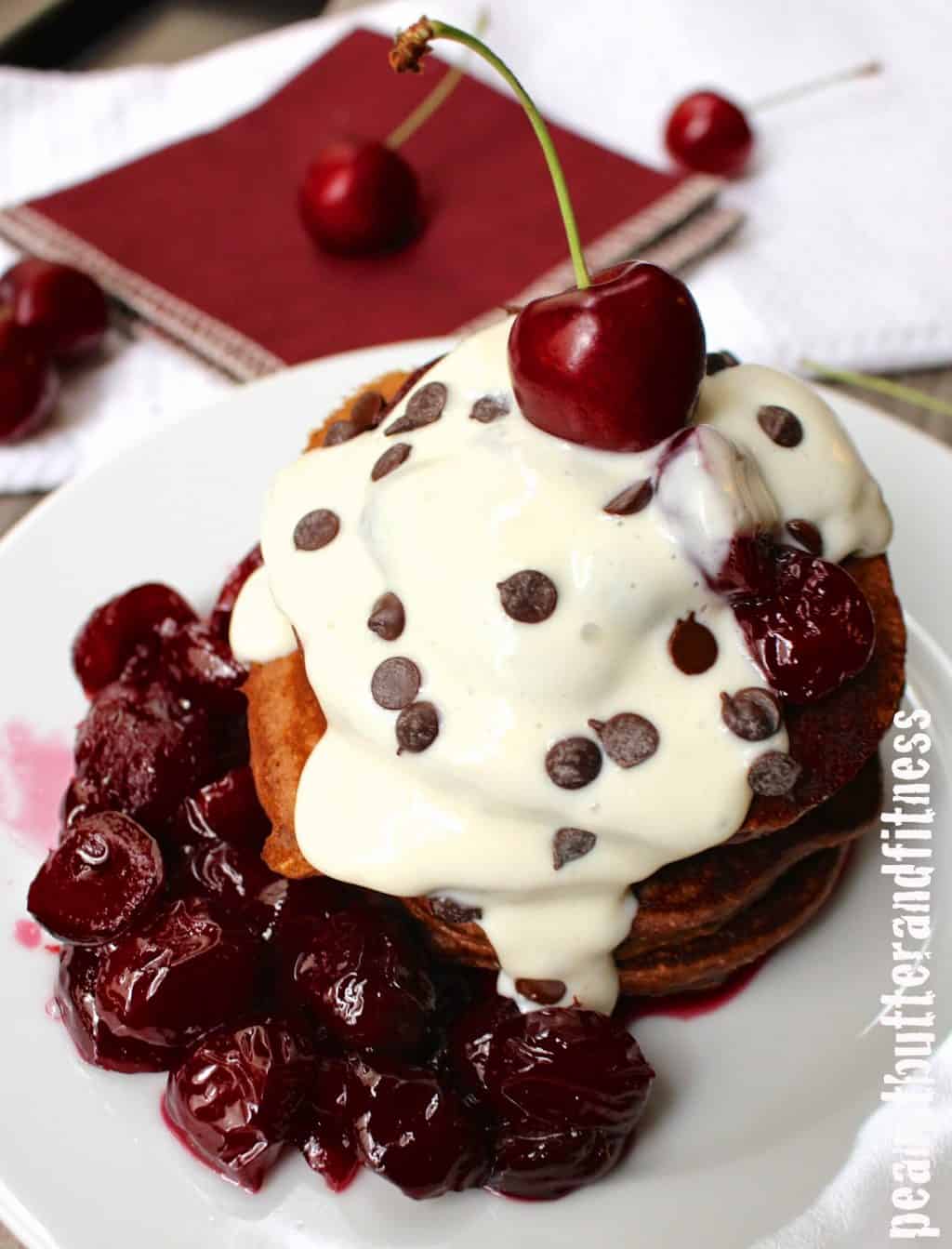 I maybe used closer to 1 cup of cherries than 1/2 cup.  But do what you feel is right.  And if you feel like adding a tbsp of honey instead of Truvia, just do it.  I tried to keep the macros under better control in this recipe than I did when I made Peach Crisp Protein Pancakes 🙂