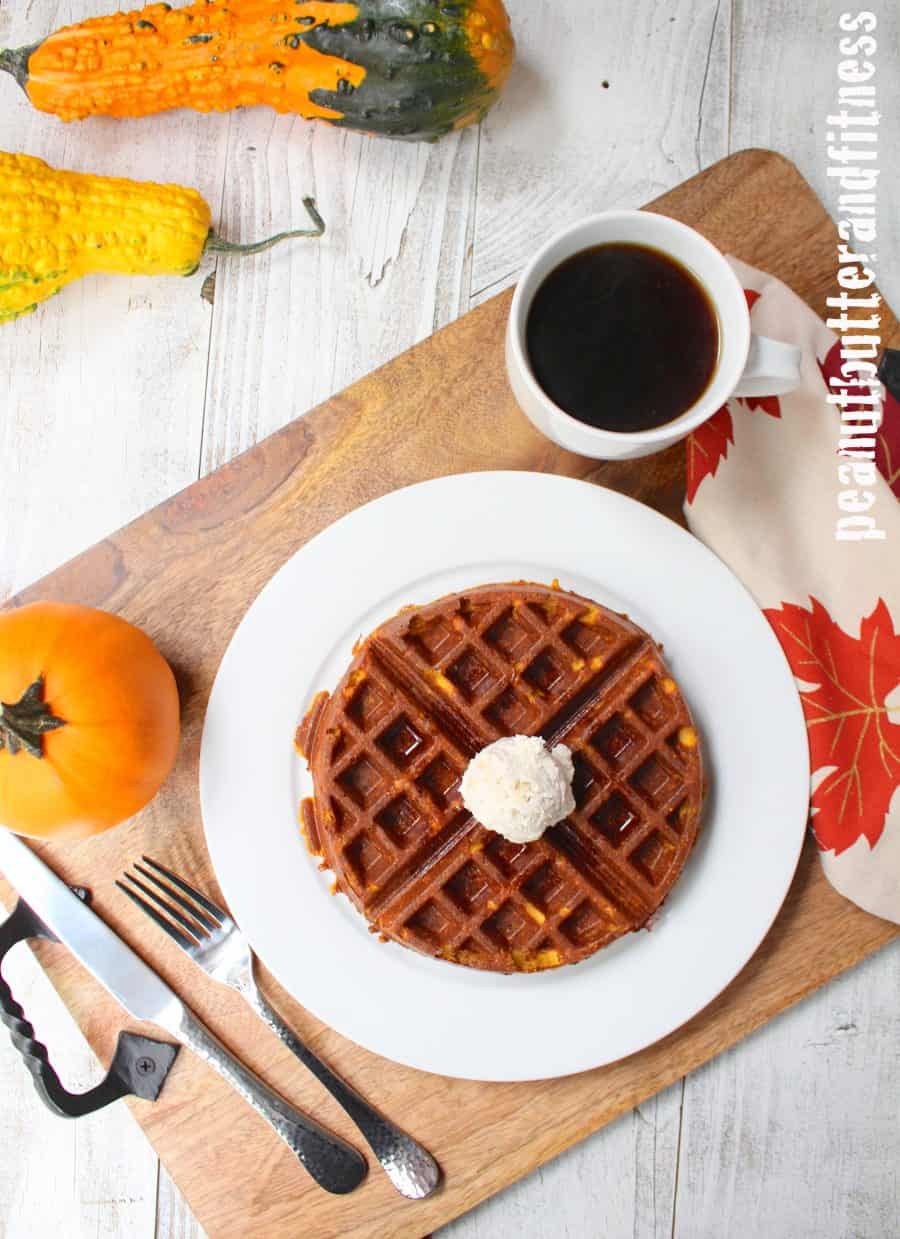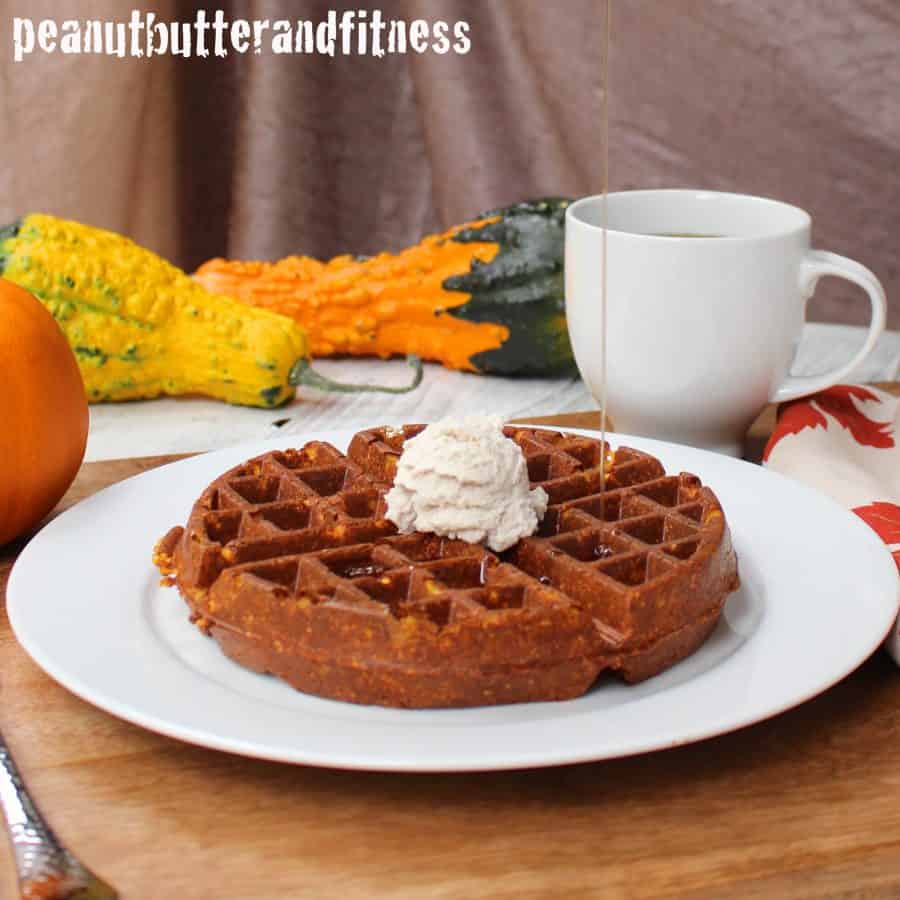 Let me start of by saying that yes, I do cook things other than breakfast and dessert.  I just happen to be hoarding some recipes (including some awesome meal preps) in order to give you all a big surprise next month!  So for now, you get breakfast in the form of Gluten Free Pumpkin Protein Waffles.  Don't be sad because these waffles are awesome – crispy on the outside and light and fluffy on the inside.  Just as a Belgian waffle should be (at least in America, IDK what a Belgian waffle is really like in Belgium).  Oh yeah, and it's my first pumpkin recipe of the season, which is always cause for celebration!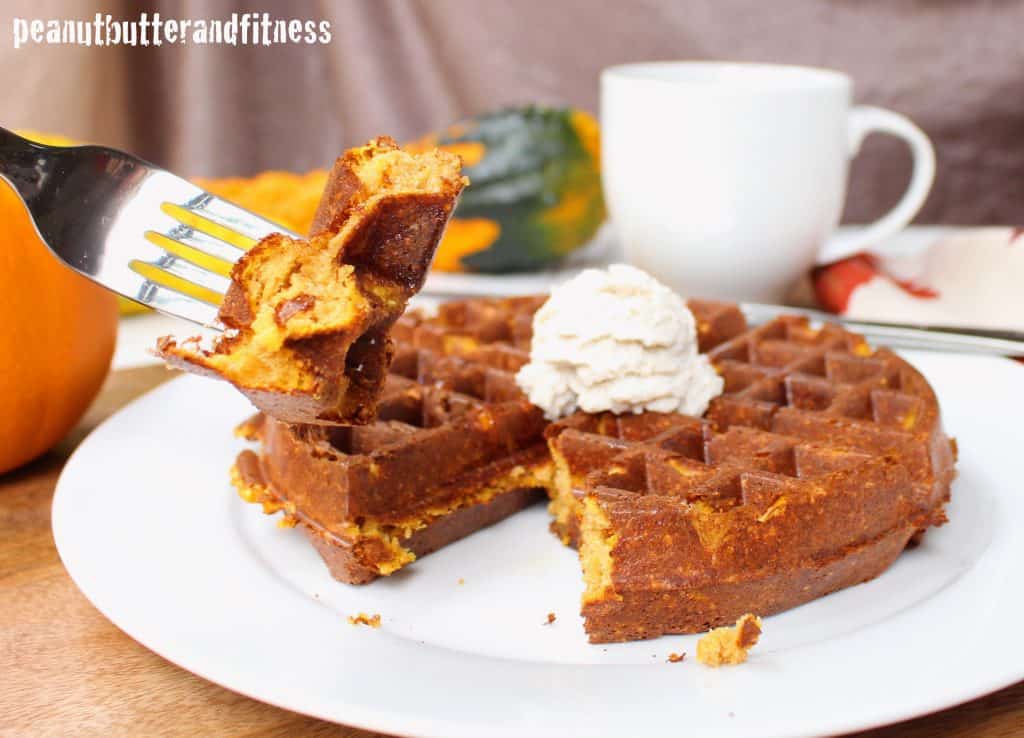 Anywho, your waffle maker is key here!  I happen to have just purchased a brand spankin' new waffle maker to cook up this bad boy today.  As I was scrolling through Amazon to snag a link so you could see the beast of a waffle maker I got this week, I discovered that they literally came out with a new model THE DAY AFTER I bought mine.  Ain't that some shit?!?  I just keep telling myself that it's like buying an iPhone…you don't want the original model of a new one.  Just wait for the "S" model to come out and it is sure to have all the kinks worked out.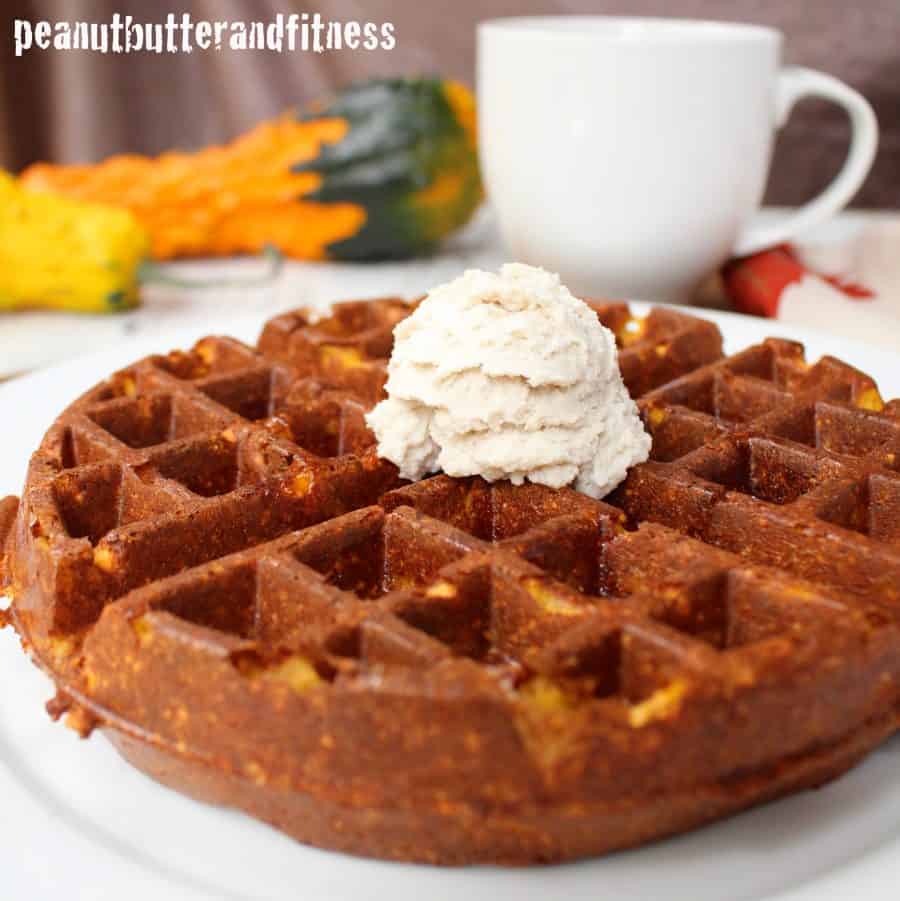 If you want to get the waffle maker that I got, go to Amazon and check out the Waring Pro Double Belgian Waffle Maker.  It may or may not be the kind they use in a lot of hotels 😉  Oops.  And if you want the newer model, check out the Cuisinart Double Belgian Waffle Maker.  It's so new that no one has even reviewed it yet!  I will say that I enjoy mine immensely, even though I've only used it once and my first batch came out in lots of waffle-y little pieces because I cooked it too hot and not long enough.  You can try a cheaper model, but really, we all know how frustrating it can be when your waffle maker sucks (right?! I'm not alone here am I?).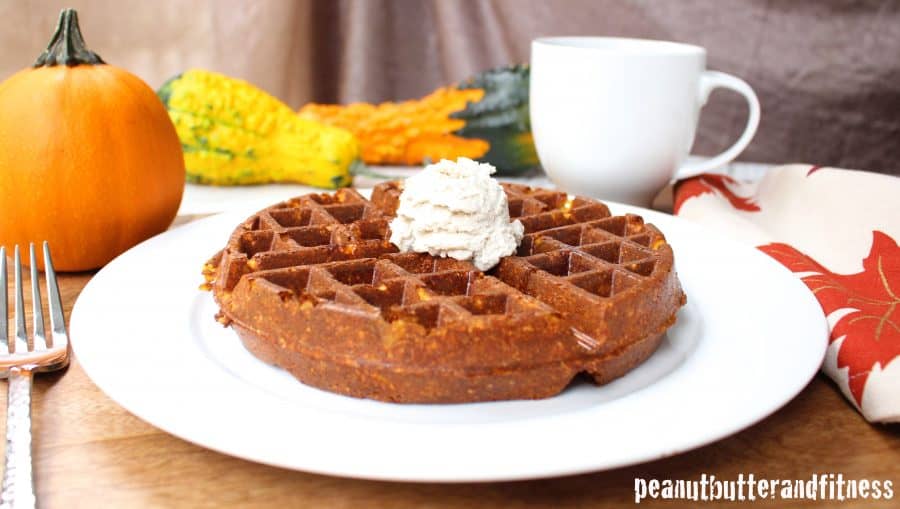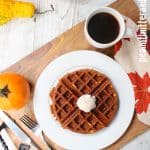 Gluten Free Pumpkin Protein Waffles
Prep Time 20 minutes
Cook Time 10 minutes
Total Time 30 minutes
Servings 2 waffles
Calories per serving 398 kcal
Ingredients
1/2 cup pumpkin puree
1/4 cup unsweetened vanilla almond milk
1 egg + 1 egg white room temperature, whisked
1 tbsp maple syrup
1 tbsp Earth Balance Buttery Spread with Olive Oil
1/4 cup almond flour
1 scoop grass fed whey protein
3 tbsp tapioca flour
1/4 tsp baking soda
1/4 tsp baking powder
1/4 tsp cinnamon
"Whipped Cream" Ingredients:
Instructions
Refrigerate a can of coconut milk overnight.  In the morning, flip can upside down and open from the bottom.  Pour the creamy liquid off the top, reserving the harder coconut milk that separated overnight.*

Using a hand blender, blend reserved coconut milk with casein protein powder and vanilla extract until smooth and light.  Set aside in refrigerator.

Pre-heat your waffle maker (I set my Waring Pro to a heat setting of 4).

Combine all dry waffle ingredients in a bowl, then add wet ingredients and mix until just blended and smooth.

Pour half of your waffle batter into one side of your waffle maker, ensuring it is spread to the edges.  Close that side of the waffle maker, flip and repeat.  Cook waffles for about 5 minutes or until they reach desired done-ness.

Top waffles with whipped cream before serving.
Recipe Notes
It will be obvious to you when you open the can of coconut milk where the hardened coconut cream is relative to the creamy liquid that you first see.  Don't be afraid to just pour out the liquid on top - the coconut cream will be too hard to pour out of the can.
Nutrition Facts
Gluten Free Pumpkin Protein Waffles
Amount Per Serving
Calories 398 Calories from Fat 198
% Daily Value*
Fat 22g34%
Cholesterol 112mg37%
Sodium 373mg16%
Potassium 78mg2%
Carbohydrates 28g9%
Fiber 4g17%
Sugar 11g12%
Protein 26g52%
* Percent Daily Values are based on a 2000 calorie diet.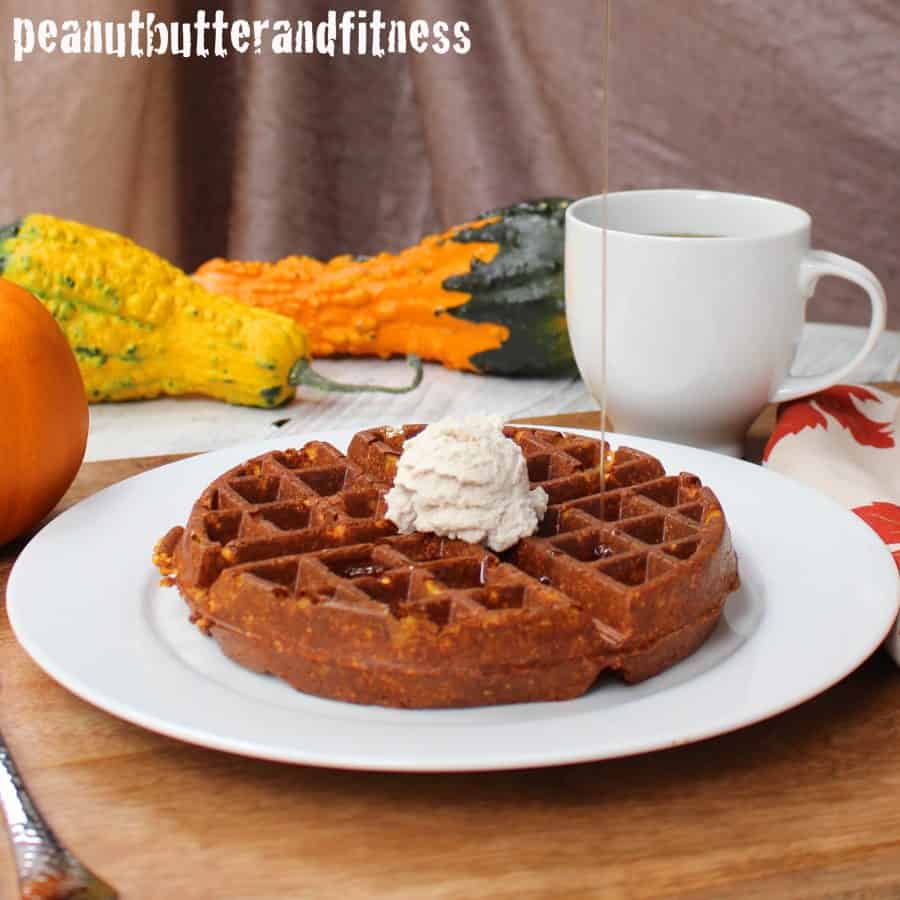 You can easily make a bunch of these waffles ahead of time and use them for meal prep!  Either stick them in an airtight container in the refrigerator and reheat them in the waffle iron, a toaster oven or a wide toaster OR you freeze them for even longer and re-heat them the same way.  I'd recommend cooking the ones you're using for meal prep on a slightly lower temperature so they can crisp up when you reheat them.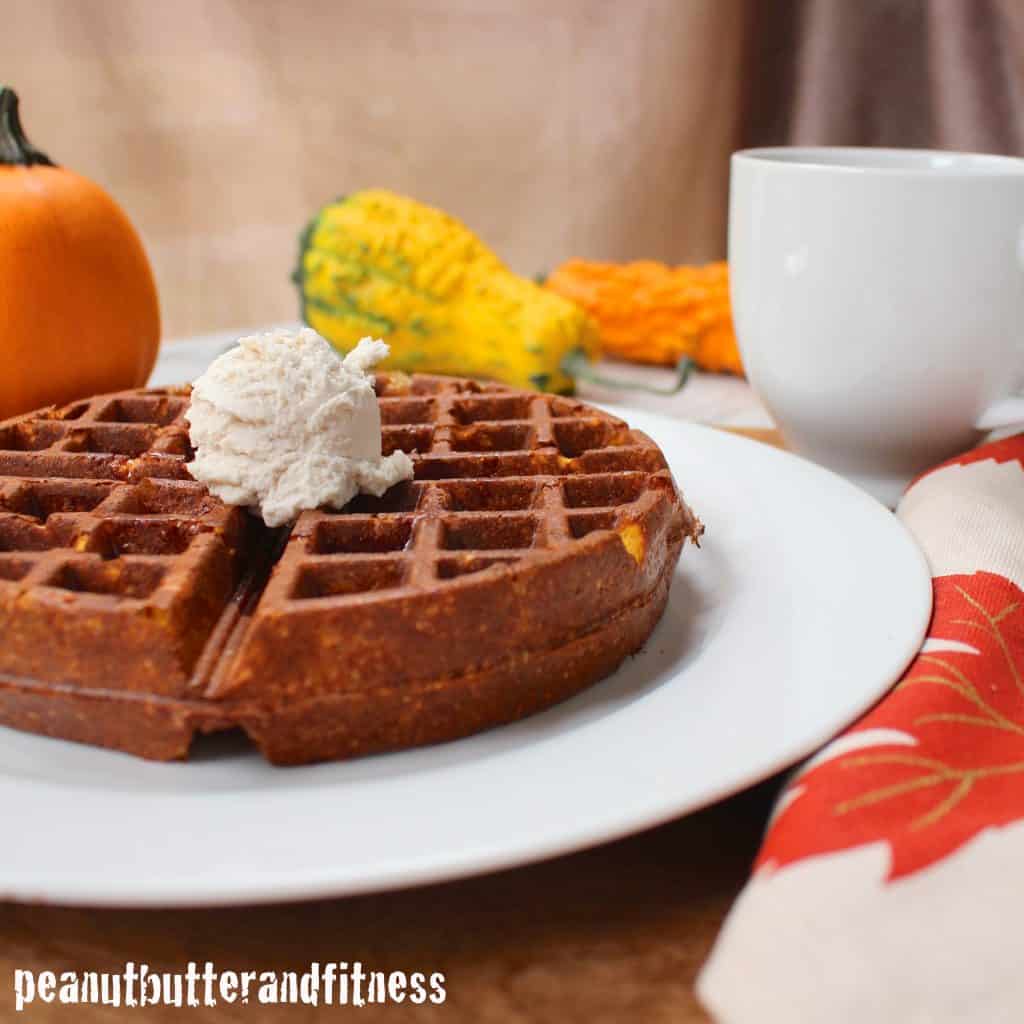 SaveSave